Blazing Saddles: The Grape Escape – Cycling from Phuket to Oz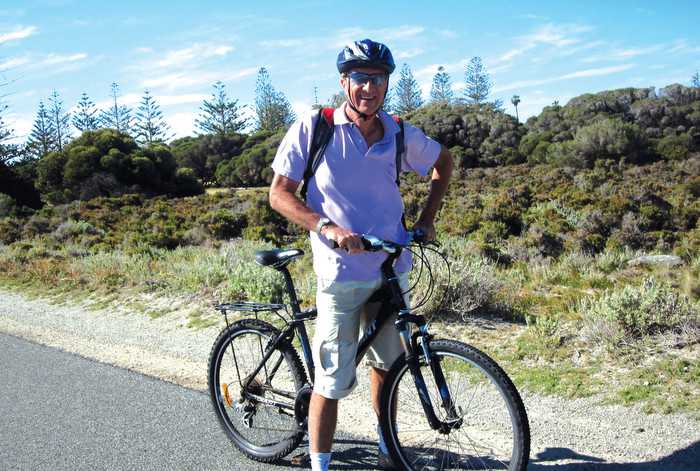 PHUKET: At first blush you'd be hard pressed to find a link between Phuket's Chalong area and the world-famous Australian wine-producing region of Hunter Valley, some three hours' drive north of Sydney. But there's certainly one strong link in the friendly form of Greg and Liz Johnson, the founders of Delish Cafe located in the Fisherman Way Business Gardens on Rawai Road.
Greg and Liz moved to Phuket some years ago and decided to open Delish Cafe in December 2010, as exactly the sort of friendly Aussie-style hangout that they themselves would like to frequent.
Their hands-on dedication and friendliness have turned Delish into one of Phuket's best cafes, and every day it's full of happy locals and visitors alike enjoying superb breakfasts, Liz's wonderful home baking, some of the island's best coffee and the warm welcome they receive when they walk in.
Before moving to Phuket, Greg was a well-respected winemaker at the iconic Rothbury Estate in the beautiful Hunter Valley, and Liz opened and ran the first winery restaurant in that part of the world – the famous "Happy Valley" at the Drayton's Winery.
Delish is a popular hangout for cyclists in the south of the island, and one day, as I was re-hydrating there after a ride, I happened to mention to Greg and Liz that I was heading "Down Under" with my bicycle. The Johnsons immediately suggested that I do a bit of cycling around their old stomping grounds, the Hunter Valley, and gave me a few local celebrities to look up, if I made it there.
So it was that I flew into Sydney a few weeks ago to re-discover the joys of biking around that quintessential cyclist-friendly city where thousands of residents regularly bike to work, or to the ubiquitous beaches for sport, recreation and fun. There are many wonderful parks, and cycle tracks seem to run everywhere, including over the Harbor Bridge itself and along the harbor foreshore, allowing marvelous vistas of the iconic waterway and its famous Opera House.
One reason for being Down Under was to take my godson for an evening Harbor Bridge climb to celebrate his 19th birthday. This we achieved on a fabulous October evening, with the city lighting up below us as we scaled the curving steel arches into the heavens – and as a huge cruise liner
departed from its berth and steamed up the harbor with a thousand camera flashes popping pictures from its decks of us on the bridge climb above them.
I subsequently drove to the Hunter Valley and found one of the bicycle rental shops which seemed to be everywhere as I travelled around in Oz. I hired a good mountain bike in the town of Cessnock and set off to cycle through some of the various wineries of this beautiful river valley. Not only is this a great source of exercise to counteract all the drinking and eating that you tend to do in the Hunter, but it gets you up close and personal with the rolling green hills, lush vineyards, blue skies and fresh country air.
You can plan your ride around, as I did, by visiting various winery cellar doors, tasting the fine local varietals as you go. This, of course, has a built-in constraint as the local police are certainly on the look-out for imbibers who have gone over the limit… whether they are in charge of a car, or indeed a bicycle!
After a three-hour morning ride, I cycled west of Cessnock over to the stunning Mount View peak in the Brokenback Range and toiled uphill for a half an hour.
My reward greeted me when I breasted a green hillside along a dusty unpaved road, as I cycled through the gates of "Bistro Moline". The famous owner, Robert Moline, was initially recruited by Liz Johnson of Delish Cafe when he moved to the Hunter from France in 1973, and Liz had suggested that I look him up.
Robert went on to become one of the most important pioneers of the wonderful cuisine for which the Hunter is now famous and received The Order of Australia for his endeavors.
Robert opened his current restaurant, Bistro Moline, in 2011 serving outstanding French provincial cuisine in the most stunning surroundings overlooking rolling hills, terraced vineyards and silently grazing cattle.
As I sat down to a fabulous lunch washed asunder by a light wine from the Briar Ridge Vineyard, the vines of which were spread out before me, I realized that Phuket is the most amazing place for making possible the serendipitous sort of connections that had led me here.
And so I raised a silent toast to Greg and Liz back at Delish in Chalong and wondered how I was going to get my bike back to the rental shop after such a delightful liquid lunch.
— Barry Daniel
Keep in contact with The Thaiger by following our
Facebook page
.
Out of 37 countries, Thailand has the worst pension system, says Bloomberg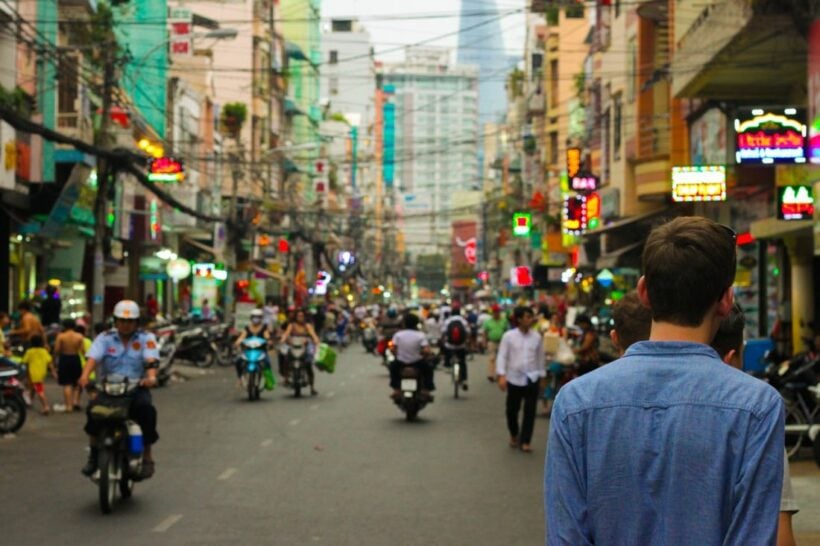 Thai Residents reports that on Sunday, Bloomberg published an article on the world's best pension systems, using information gathered from the 2019 Melbourne Mercer Global Pensions Index.
The survey looked at the pension systems of 37 countries with metrics including employee rights, savings, the number of homeowners, growth of assets, and growth of the economy. The purpose of the analysis was to determine what was needed to improve state pension systems and to gauge the level of confidence citizens had in their state pension system.
The Netherlands and Denmark were found to have the world's best state pensions, with Australia, Finland, Sweden, Norway, Singapore, New Zealand, Canada, and Chile next. Out of all 37 countries, Thailand finished last, with what the report described as an extremely ineffective and ambiguous system.
"Thailand was in the bottom slot and should introduce a minimum level of mandatory retirement savings and increase support for the poorest."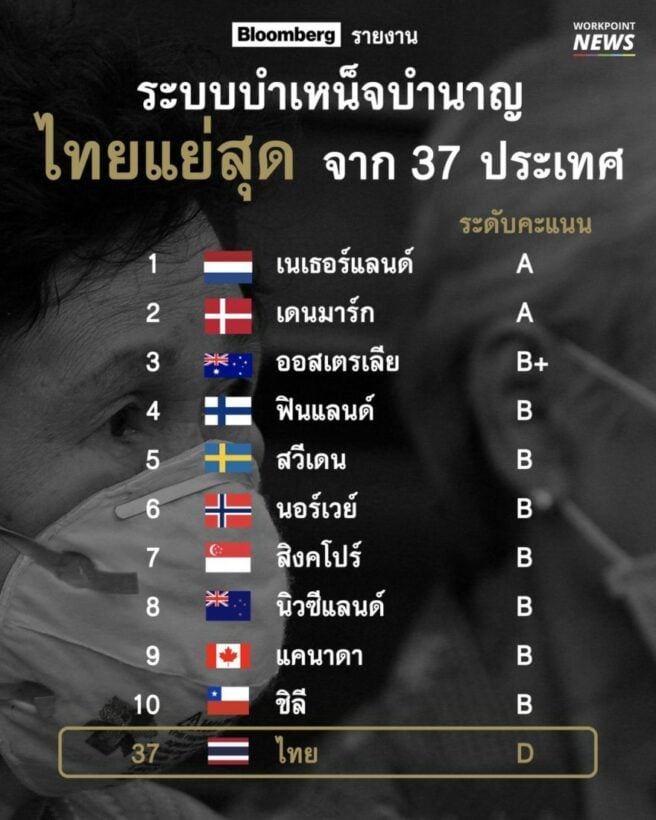 Photo: WorkpointNews
Thai Residents states that only those employed within the government system in Thailand are eligible for a pension based on salary. For most Thai citizens, pension amounts vary from 600 baht to 1,000 baht a month, depending on the recipient's age.
A report carried out by The Securities and Exchange Commission (SEC) advises Thai citizens to have at least 4 million baht saved by the time they retire, but Thai Residents reports that 60% of Thai retirees have less than 1 million baht in savings, with one in three citizens who have reached retirement age are forced to continue working in order to survive.
SOURCE: thairesidents.com
Keep in contact with The Thaiger by following our
Facebook page
.
Tax on salt content being considered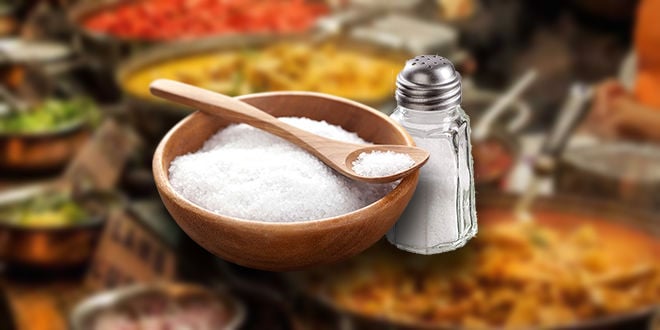 The Excise Department is considering imposing a tax on the salt content of food to encourage food producers to reduce the sodium content of snacks, instant noodles and seasoning cubes.
The director of the Office of Tax Planning said that the department is discussing a limit on the amount of sodium food can contain, in line with the standard set by the World Health Organization (WHO), which is 2,000 milligrams of salt per day.
In reality, Thai people consume an average of 1,000 milligrams per meal, making their daily intake well above WHO guidelines, according to the director.
He said any tax imposed would be at a level which would encourage food producers to reduce the sodium in their processed food without being punitive, adding that the proposal isn't intended to generate more tax revenue, but to help protect the health of consumers. Excessive sodium in the diet can lead to high blood pressure and kidney disease.
Fish sauce, soy sauce and salt would not be taxed.
SOURCE: thaipbsworld.com
Keep in contact with The Thaiger by following our
Facebook page
.
Water shortage warnings in 22 provinces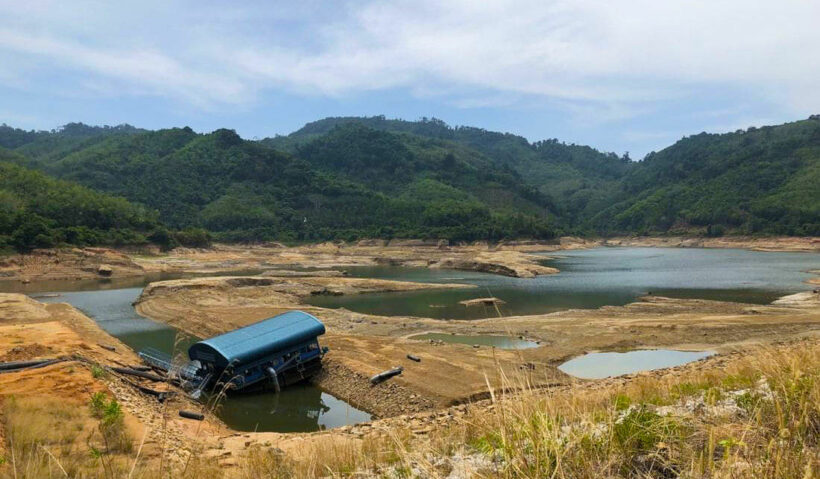 People living in 22 Thai provinces are being warned to prepare for shortages of drinking water during the upcoming dry season, due to start on November 1st.
The warning was issued by the National Water Resources Office, citing low levels in reservoirs, which are the main sources for tap water production waterworks in 22 provinces.
Areas at risk identified by the office are in northern, north-eastern, eastern and southern provinces.
Measures have been adopted by agencies charged with dealing with water shortages. including dredging water channels to allow greater volumes of water to flow into reservoirs, drilling underground wells, enlarging storage ponds and the purchase of water to supply to those in urgent need.
The Royal Irrigation Department has announced that people should use water sparingly.
There are currently about 6 billion cubic metres of usable water in reservoirs in the affected provinces, with 5 billion cubic metres reserved for consumption and ecological preservation, leaving only 1 billion cubic metres for use in agriculture.
This means farmers in the Chao Phraya river basin may not be able to grow a second crop of rice this year.
SOURCE: thaipbsworld.com
Keep in contact with The Thaiger by following our
Facebook page
.