Phuket Books: An entrepreneur's journey in life – Don Battles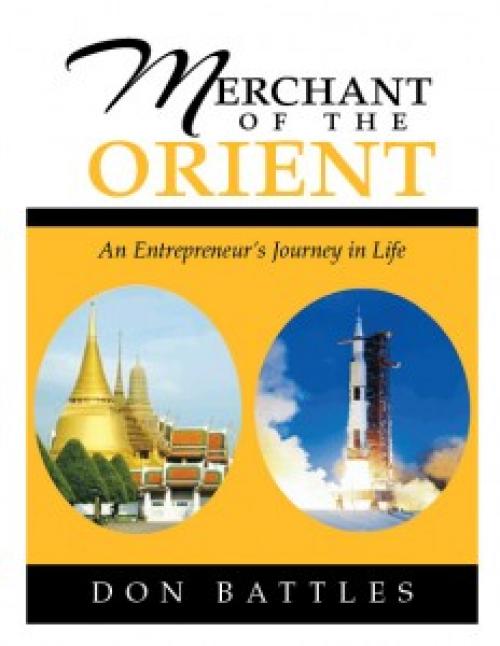 PHUKET: A book that is self-published is called a vanity project. Don Battles shows a big chunk of vanity. Subtitled An Entrepreneur's Journey in Life, his autobiography Merchant of the Orient (Xlibris Corp. 2013, 292pp) is printed on glossy A4 sized paper and costs over 60 American dollars.
The text is clear and free of typos, yet weakened by the chronic repetition of words and phrases: "needless to say", "fortunately", "difficult", "a mess", "a big mess".
The author does not strain for any descriptive brilliance: "Hollywood was beautiful and wonderful." "Amsterdam was full of life and very enjoyable." "Paris in the springtime was simply beautiful."
But for all his stylistic flaws, is the story of Don Battles worth reading? Hell yes!
This is the classic American dream story of rising from abject poverty to wealth through hard work, pluck, luck and true grit.
Battles was born in 1934, the son of a steel mill worker in Gadsden, Alabama. The family lived in a company house and bought groceries at a company store and never really felt secure against hunger until they rented their own place and began a farm.
Still, there was no electricity or running water and a horse and buggy was their only form of transport. Like many other Southerners, Battles escaped a life of poverty by joining the military.
In the Air Force, he proves to be a crafty operator, dealing in clandestine liquor sales and hopping free flights around the US. In Alaska, he and a friend construct a well-stocked under-the-snow bolt hole to escape winter maneuvers.
He gets his engineering degree from Auburn University. He has a lot of women, and notes this humorous aside: "I met a half-ugly woman in class that I temporarily took up with. My mom said she was full ugly and didn't like her, so I ended my relationship with her."
Degree in hand, he joins the nascent American space program, crisscrossing the country from California to Florida and then going to Huntsville, Alabama, working heroic hours to serve the original seven Mercury astronauts until the successful Apollo moon landings.
He married a second generation Lebanese nurse, sired three sons and eventually settled in Atlanta, Georgia, where he stumbled into the steel-making business, eventually selling his two patented steel-making inventions around the world.
He had trouble communicating in a steel mill in Wales: "They couldn't understand my Southern American English and I couldn't understand their Welsh."
So he bought the steel mill staff beers at the Brains Beer Pub and taught them his version of English every night for a month.
At a gala farewell lunch, the plant manager gave a speech in pristine Alabaman. It was a rousing success.
He hated Russia and used his unspent rubles to paste the wall of his hotel room with the words "Russia sucks". India sucked too, as did South Korea, but he loved Thailand.
He set himself up in Bangkok and hired his first employees out of bars in Pattaya and Patpong. This cheeky HR pattern would hold for nearly four decades.
But he was anything but frivolous in dealing with the best and brightest leaders of the Thai steel industry.
He even made a year-long effort to learn Thai at AUA. But the Crash of 1997 put paid to his steel business days and he retreated with his staff to Phuket.
Here he entered the final stage of his life: the food and restaurant business. He stumbled into it by accident, buying an abandoned mini-mart which morphed into a successful barbecue restaurant.
This prompted the move to the landmark Don's Mall near Nai Harn Beach, Phuket: supermarket, wine store, delicatessen, butcher shop, bakery, bar and 300-seat food court.
He expanded his business to Bangkok, Koh Samui and Chiang Rai and even entered into an abortive jalapeño pepper scheme in China.
Human and natural disasters – coups, street riots and the tsunami – eventually ended this business too and he settled into rustic retirement with his new Thai wife Nat in
Chiang Rai .
He is pushing 80 now, having lived a long, and for this reader, a very interesting life.
'Merchant of the Orient: An Entrepreneur's Journey in Life ' by Don Battles is available from Amazon, in paperback, hardcover and digital form.
— James Eckardt

Join the conversation and have your say on Thailand news published on The Thaiger.
Thaiger Talk is our new Thaiger Community where you can join the discussion on everything happening in Thailand right now.
Please note that articles are not posted to the forum instantly and can take up to 20 min before being visible. Click for more information and the Thaiger Talk Guidelines.