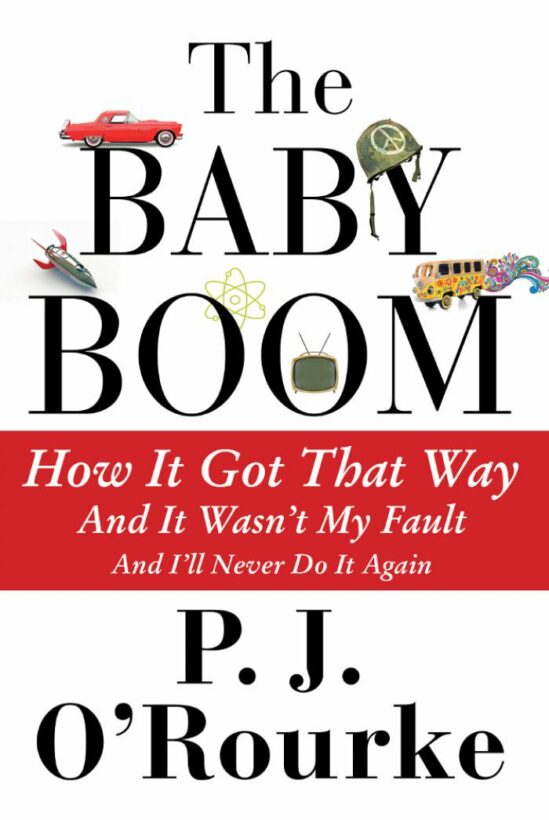 I used to have high hopes for PJ O'Rourke as the Fresh Prince of American Journalism. If Tom Wolfe had invented the New Journalism in the 1960s, and Hunter S Thompson Gonzo Journalism in the 1970s, PJ O'Rourke broke new ground in the 1980s with Holidays in Hell, fiercely funny dispatches from chaotic hellholes and communist sumps around the world. He would later cover the Gulf War in Give War a Chance, but since then he has been content to rusticate himself in New Hampshire and pontificate on passing political mores. He has written 16 books in total, some of them very funny.
In his new book, he is losing his touch. Great title though: The Baby Boom: How It Got That Way and It Wasn't My Fault and I'll Never Do It Again, (Atlantic Monthly Press, New York, 2014, 263pp). He has covered this material before. The essence of his life story is that he was born a Boomer in 1947, turned drug-happy hippie radical in the 1960s and reverted to a conservative Republican in the decade that followed.
This book is his meditation on his own generation and it has some good lines. Of his parents' generation, he writes:
"During the 1960s we would talk about our parents, as a group, in a way that today we would be embarrassed to talk about militant Islamic fundamentalists, as a group. Our depth and breadth of prejudice would shock every one of our twenty-first century sensibilities, if we ever thought about it. Which we don't because, later still, we got all soppy and sentimental about the Greatest Generation just in time to put them in nursing homes or the grave."
First, O'Rourke takes us on a jaundiced tour of his Boomer boyhood in 1950s Toledo, Ohio: street games, summer camp, scouting, Sunday school, sports and schoolboy pranks.
"Meanwhile, what were the girls doing? I don't know. Boys didn't notice. Boys didn't notice anything that wasn't loud, fast or about to explode. . . And girls weren't married to us yet, so we didn't make them explode."
Then came the teenage years and the vital discovery of beer. "Beer was the multivitamin of Baby Boom male adolescence… Beer made us brave, cheerful and sick all over the kitchen floor. The effects of beer were extraordinary. What else could have made a teenage boy mop the kitchen?"
Why was this generation so opposed to the Vietnam War?
"The Baby Boom was having a party, and the Vietnam War interrupted it. Try it yourself. Go to a beer blast at midnight and suggest all the guys leave, get buzz cuts and do push-ups."
And then came drugs. "Ring around the roach clip. Pocket full of bad trips. Grass, speed, acid. We all fall down. Spinning and giddy, we spoke as children, understood as children, thought as children, and instead of putting away childish things we got put away for them – in jail and mental institutions."
I could go on cherry-picking clever quotes, but the general tone of this book is meandering and flaccid, straining for jokes and settling for puns and word play. This is the literary equivalent of vaudeville slapstick: anything for a laugh.
Only at the end does O'Rourke rise to a rhetorical crescendo of good sense. Observing that Baby Boomer values – "We're willful, careless, rash, vain, indulged, and entitled." – have taken over North America, Europe and the wealthier parts of Asia and South America. He notes that this bodes ill for leaders of men bent on world domination. "For totalitarianism to work, everyone has to keep a straight face," he exclaims.
"The Baby Boom was laughing at the communists. Finally, on November 9, 1989, the East German communists, being sensitive to ridicule the way Germans are, gave up on Marxist/Leninism, and the Berlin Wall came down."
Boomers around the world respond with gales of laughter to strutting dictators, "looking around for their followers and wondering why everyone is following Keith Richards. It will be a terrible world for Authority. The Baby Boom will not countenance it. We turn our face from Authority. Indeed, we turn our ass toward it. We moon Dominion."
— James Eckardt

Join the conversation and have your say on Thailand news published on The Thaiger.
Thaiger Talk is our new Thaiger Community where you can join the discussion on everything happening in Thailand right now.
Please note that articles are not posted to the forum instantly and can take up to 20 min before being visible. Click for more information and the Thaiger Talk Guidelines.