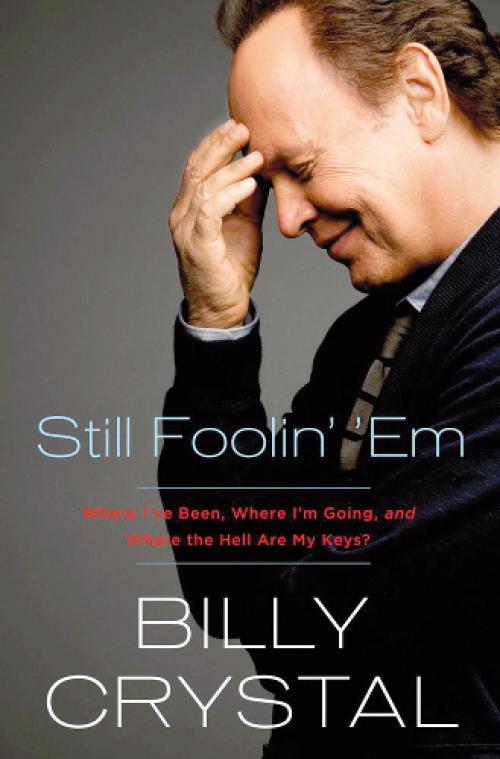 PHUKET: "I've always felt that the key to good sex is variety. That's why God gave us two hands."

"Babies are the toughest take-home exam of your life."

"And I'm really annoyed at teachers who have *** with students. It seems like once a week you hear of a thirty-five-year-old math teacher who had *** in her car with some sixteen-year-old. I am furious. Where was she when I was growing up?"

"Granddads and grandsons are a great combination because they both think that a fart is the funniest thing in the world, and the average grandfather produces more natural gas than the state of Oklahoma."

Billy Crystal's memoir Still Foolin' 'Em (Henry Holt and Company, New York, 2013, 272pp) is choc-full of good jokes. Subtitled Where I've Been, Where I'm Going, and Where the Hell are My Keys?, this is Billy Crystal looking back on his comic career from the vantage point of 65 years. Unlike some of his stand-up peers, he has never been an angry, obscene comedian. He has starred in three classic genial comedies – When Harry Met Sally, City Slickers and Analyze This – hosted the Oscar Awards nine times and launched a long-running Broadway show about his late father, 700 Sundays. He does not get bleeped on late night talk shows.

He's an odd duck in Hollywood. He has only one wife, his high school sweetheart Janice, and has never been in rehab. He grew up short and Jewish in Long Beach, Long Island, where his heroes were the New York Yankees and Mickey Mantle in particular. His reflections on being Jewish include:

"With the Chinese New Year, there are dragons, parades, firecrackers. With New Year in America, there are big parties, the ball drops in Times Square, you get drunk, tell someone you love them, and throw up on their shoes. With the Jewish New Year, we fast, we can't turn on the lights, we confess our sins. Happy New Year! What a party! A bunch of guilty, hungry people sitting in the dark."

After hardscrabble years as a standup comic, he scored his first success on TV by doing an imitation of Muhammad Ali being interviewed by sportscaster Howard Cosell. After his success, both Muhammad Ali and Mickey Mantle became his close friends.

Everyone, it seems, has befriended Billy Crystal. This leads to his book's big flaw: lavish, schmaltzy praise for every showbiz notable in Hollywood and New York. This becomes awfully tiresome.

So it is most refreshing when he unloads on someone. When he was casting about for an actor to play Curly, the crusty old cowboy hero in City Slickers, he offered the part to Charles Bronson who roundly dumped F-bombs on Crystal because Curly dies early in the movie. The part instead went to Jack Palance who went on to win an Academy Award. At the Cannes film festival, Crystal made eye contact with Bronson and wanted to inquire: "F*** who?"

Crystal concludes his book with a meditation on his last act: death. He has this advice about dealing with heirs: "Never tell them how much money you're leaving them in the will. That's just an incentive for them to write the words DO NOT RESUSCITATE on your chest when you're napping."

Crystal is not religious but narrates a spooky tale about the death of his beloved Uncle Berns. When his uncle was on his deathbed, Crystal's father, who died when he was 14, appeared to him in a dream, dressed in a long black coat and cowl, and said: "Let him go. It's time."

After Uncle Berns died, Alma, his long-time Jamaican nurse, confided to Crystal that his uncle had told her that his brother had come to him in the middle of the night, dressed in a black coat and cowl, and told him, "It's time, let go, you'll be all right."Alma's reaction?

"So I said to Berns, tell your brother not to come around here no more."

Crystal's memoir is hugely entertaining. If he doesn't dish dirt on all the sleazy Hollywood types he's met in his long career, it's probably because he's just not that type of guy.

— James Eckardt

Join the conversation and have your say on Thailand news published on The Thaiger.
Thaiger Talk is our new Thaiger Community where you can join the discussion on everything happening in Thailand right now.
Please note that articles are not posted to the forum instantly and can take up to 20 min before being visible. Click for more information and the Thaiger Talk Guidelines.