Thai Life
Diving: Herd of seahorses corralled off Mosquito Island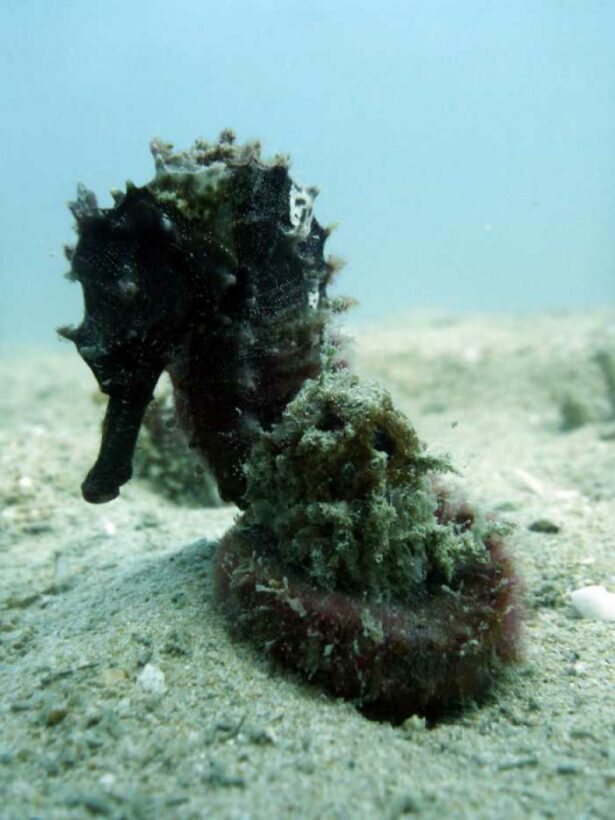 PHUKET: Off the north end of Mosquito Island, part of the Phi Phi archipelago, is a steep sloping hard coral reef. Happily, the staghorn corals there have not yet been destroyed by the anchors of speedboats just around the corner. However, it's not these elegant hard corals that make this rarely visited dive site a must, it's what lies beyond.
The steep reef quickly gives way to sand and underwater scrub land, which is reminiscent of the deserts of the American Southwest. The sandy dive site stretches out into the blue, broken up only by sparse heads of brightly colored soft broccoli corals.
Like all good adventures, there's a prize nestled out there somewhere – we aren't just cruising the sands for nothing – we are seahorse hunting.
Diving with Zeavola's dive shop presents the advantage of a good location, as the dive center is situated on the north end of Phi Phi Don, putting Mosquito Island, just a 10-minute boat ride away.
Luckily, the dive center agrees to accommodate the custom trip – an attempt to photograph the enormous species of seahorses known as the great seahorse, Kellogg's seahorse or offshore seahorse (Hippocampus kelloggi), which can grow up to the size of a banana.
At a depth of 20m, deco time (your non-decompression limits) becomes the limiting factor for the dive, which makes Nitrox a smart choice. However, we have no extra tanks waiting in the shallows and only air strapped to our back, so our total dive time is limited to about 45 minutes.
With only one dive allocated for the hunt, the pressure is on, and the first 10 minutes quickly slip by. There is quite a difference between searching the deep blue hoping that a giant manta ray appears of its own volition and scanning the seabed for a treasured marine creature.
If you fail to see a giant manta ray, well there just wasn't a manta – bad luck. However, if you fail to find one of the well-known masters of underwater camouflage, well, maybe you just aren't very good at finding seahorses.
Zeavola's master of seahorse-spotting, Saroj "Peng" Panan, wasn't available to join the dive, so today the resort's activity manager, Jennifer Arbuthnot is on seahorse duty.
Out in the sand, a half-buried car tyre appears. There aren't any seahorses inside – nothing for their tails to clutch onto – but there is a small juvenile nurse shark that clearly wants to be left alone.
Moving on, with the pressure of the steadily descending deco time mounting, we continue to scan the sands. We carefully hover over each surreal broccoli coral – one of the distinctive life forms on the planet the Dr Suess would have no doubt approved of – looking for the tell-tale shape of a seahorse.
In the distance, there is a strange, small curve, something that catches the trained eye. There she is, although not a Kellogg's seahorse, but another species, smaller and bashful, but nonetheless a full-grown adult about 16cm long from tail to snout.
Pulling ourselves away from the solitary creature – it would be easy to spend an entire dive just photographing a single seahorse – the hunt is renewed with vigor.
There – another seahorse. Making our way to the second find, a single seahorse adrift in the sand, we stumble upon a third seahorse.
As our deco time hits the five-minute mark and the need to start safely moving toward shallower waters draws close, a fourth seahorse – a different species than the others, but again not a Kellogg's seahorse – appears in the soft-coral scrub lands.
It's hard to leave it behind, as seahorses are prone to sympathetic anthropomorphism. Even though they're voracious predators with an incredible kill rate, they emote a shy, bashful and sometimes even coy demeanor. There's a tangible desire to nestle into the sand next to them and give them time to open up – to reveal another side of themselves.
Additionally, having spotted four seahorses once we hit the "right" place, it's hard to leave, simply because we are so clearly on the cusp of even further discoveries. Nonetheless, Jenny motions for us to move up into shallower water, away from the wonders below.
Still, when you are diving safely, there's always a next time…
— Isaac Stone Simonelli