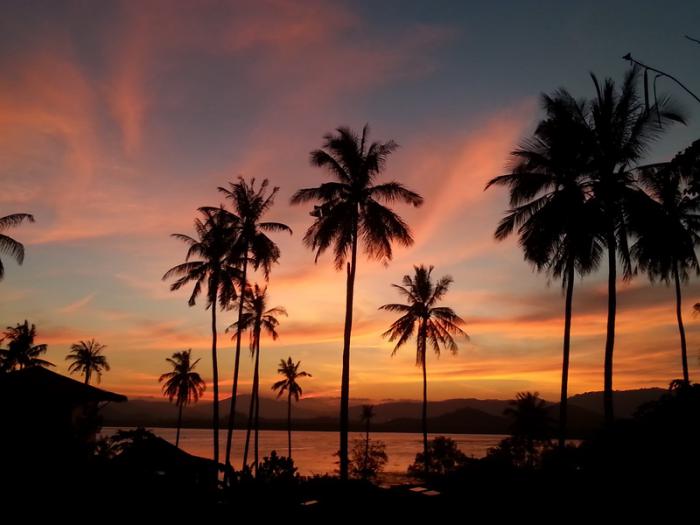 PHUKET: I FIND myself writing increasingly about the concept of "escape" from Phuket these days. Talking to fellow cyclists and other residents alike, the need to find a sanctuary away from the everyday hassles, stress, traffic and urbanization of Phuket keeps coming up. It seems that the work week is taking its toll on people living in Phuket and so a depressurizing and recharging escape to a nearby tranquil location is increasingly sought. This is particularly true of poor blighted cyclists, who face not only heat and pollution, but continual danger in pursuit of their passion for pushing pedals.
When my friend Wayne "Red" Graham told me about the boutique villa he was buying in the newly-opened Jindarin Beachside Resort on Koh Maphrao, or Coconut Island, literally a five-minute boat ride from Phuket's east coast, it sounded exactly the sort of proximal cycling escape that my soul was craving.
Koh Maphrao is a small isle about 2.5 kilometers by 1.5km, located just 500 meters off Phuket's east coast, near the popular Laem Hin seafood dining piers just north of Phuket Town. Koh Maphrao is still rather undeveloped because, amazingly enough, there's no electricity on the island apart from private generators. However, during my March 2014 visit, contractors were, at last, erecting power poles… a cause of great celebration among the 400 or so resident Muslim islanders.
It took us only five minutes by long-tail boat, my mountain bike balanced precariously in the prow, to reach Koh Maphrao's main pier, on the island's west coast. The island is roughly rectangular and a good quarter of its southwestern corner is covered with mangrove forest, home to long-tailed Macaques and a breeding nursery for all sorts of local fish. There's only one paved road through the heart of the island from west to east, starting at the pier and finishing at a viewpoint in the east coast jungle, but there are lots of hilly and rocky tracks to entertain and challenge the pioneering mountain biker.
The main village is located on the northern coast, next to the first resort built on Koh Maphrao –The Village Coconut Island. Fishing and farming are the two main occupations and rubber trees, plus local fruits and vegetables, are grown in the central part of the island.
There are only three easily reachable beaches, the longest one being on the northern coast in front of the Village Coconut Island Resort; the second one on the southern coast, where the Jindarin Beach Club itself is situated, and the third one is a secluded little cove, accessible by bike, on the east coast.
In the late afternoon when it had cooled down a little, I cycled to the northeastern part of the island which is wild and superb with some mountainous rainforest. The one paved road gradually degenerates into a dirt track which follows the east coast up to its central part, where a crumbling, closed-up bungalow resort with a dilapidated restaurant stands. There are still some people living in this corner of the island – retired Europeans living their dream in peace, seemingly far away from it all, but in reality just five minutes by boat from Phuket. This is certainly one of the great advantages of settling here as a retired Aussie couple I met told me. While the island is still unspoilt and undeveloped, it's only a short drive and boat ride to all the amenities (and hassles) of Phuket. The best of both worlds in fact!
Cycling around the hilly eastern part of the island proved quite challenging, with some steep rocky climbs, but the view to the east was worth it, as on a clear evening like the one I enjoyed, you can see the Phi Phi Islands and even the hazy outline of the Krabi coast.
After the ride, I settled down with Red on the terrace of his boutique villa at the Jindarin Resort. The Resort is being built as a natural "fantasy-land" focused on nature, with cart paths and nature trails leading to grass-roofed cottages with their own Robinson Crusoe pier, a swimming pool and a sand-between-your-toes club house and beach bar.
Jindarin boasts a genuine bucolic charm and is light years away in character and psychology from Phuket. Yet, as we sat there quaffing icy-cold beer on Red's lovely terrace, I felt I could almost reach out and touch the lights as they flickered amidst the vegetation back on the main island.
Koh Maphrao is certainly a delightful place to visit if you're a cyclist looking to discover authentic local life and a glimpse of the past where most of the modern world's travails have yet to arrive. And it's only a five minute boat ride away!
— Baz Daniels
📱 Download our app on Android or iOS for instant updates on your mobile
📧 Subscribe to our daily email newsletter
👍 Like/Follow us on Facebook
🔔 Subscribe to or Join our YouTube channel for daily video updates
"Mommy, there's a snake!" – Expat in Phuket shares her story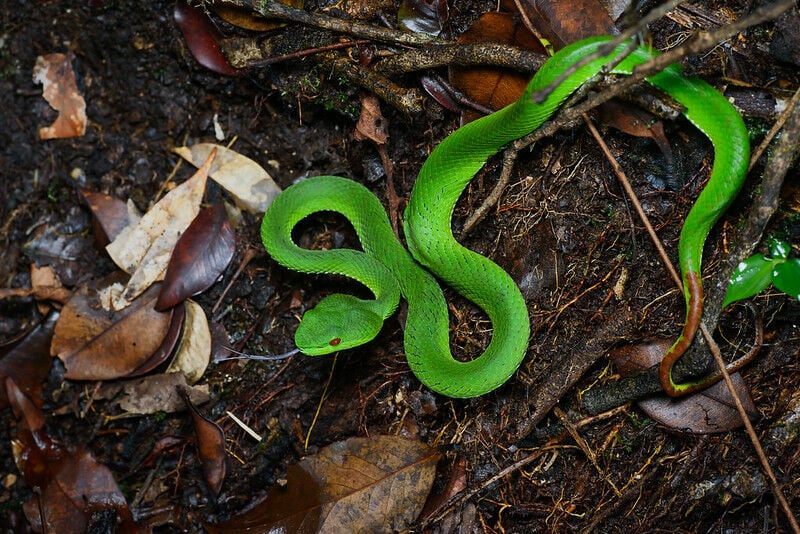 The following story was written by Amy Sukwan, an American who has been living in Thailand for 7 years.
To share a story with The Thaiger, click HERE.
"Mommy, there's a snake!" my 8 year old daughter Eliza said, waking me up in the middle of the night.
I came out of our modest bungalow in Phuket at some unholy hour in the middle of the night, to see what my daughter's whole "snake" thing was about. In the light of our front porch light, about 3 metres from our front door, 3 of our cats were surrounding something that looked at first to me to be a stack of rotting bananas.
"Eliza it's nothing." I tried to assure my daughter. Right at that moment the rotting bananas rose up into an aggressive posture as 3 cats circled it, hissing viciously. It was a surreal sight in the porch light.
"Mommy can you kill it!" My daughter begged me, as the thing, about four feet or over a meter long, lashed at one of our cats, who was quick enough to jump away. The snake had a big head that I could see in the porch light. It was distinctively mallet shaped, in what I was pretty sure was the viper class.
As much as I wanted to go back to sleep and pretend that this was all a bad nightmare, I now had a crying, frantic daughter who was terrified for her cats and a situation that I was quickly recognizing was pretty bad. Mai dee.
I needed to call in backup – my Thai husband. Eliza was already screaming his name. "Ka! Loon Ka!" My 8 year old screamed.
---
There are many venomous snakes in Thailand. Most people know about cobras but the viper class is the most deadly in the world, as vipers are both unpredictable and very difficult to charm. I was looking at a pit viper of some sort, I was pretty sure.
Snakes normally don't bother you if you don't bother them. But interactions are most common late in the dry season in Thailand, as it is now, in late March, as the snakes slither around houses in search of water. Thais don't want them around for obvious reasons. You don't want venomous snakes to breed and make babies close to your homestead.
If you are not sure if a snake is venomous or not, a good rule of thumb is to look at its head size in proportion to its body size. If the snake head is close to the same size as the rest of its body, and the snake is generally more wormlike in appearance, it is probably not venomous. If the head is large, say two or more times the diameter of the body, it might be poisonous. This does not constitute medical advice. If you get bitten by a snake, you should go to the hospital.
---
My husband woke up as Eliza was screaming for him. He came out groggily but as soon as my daughter pointed at the snake he saw the problem. "No good! I kill!" Ka said as he grabbed a machete from our kitchen rack. He wasted no time in coming to this decision.
So after being bathed in the surreal sight of three cats circling a hissing, striking, and very likely deadly serpent under our porch light, I got to be treated to an even weirder view. Ka went full Steve Irwin on the snake as he danced around with the machete. The viper sideswiped and tried to strike him. Then, it suddenly backlashed and made contact with his knee. Both me and Eliza cried out from the sidelines.
"She bit me!" Ka said as he macheted the viper's mid body, and then its neck. Among my many shortcomings is a complete inability to gender snakes. So I will remain with my husband's classification of the viper as female.
The snake stilled over the course of several minutes as my eight year old screamed in terror. It still seemed to be wiggling even five minutes later, though its body slowly stilled. Ka helped me put it in a plastic bag.
"You go hospital now!" I screamed at him.
"No worries. She don't bite me with poison." Ka seemed sure of this. He'd grown up on a 50 rai spread of backwoods in Phuket and was something of a designated snake killer.
My husband had tracked and killed a 5 foot long snake months before, which he had assured me had no poison, but which he had not wanted around the house. I was able to identify that one through Google images and a snake discussion group as an Indochinese Rat snake, which was indeed not venomous.
There was only one bite mark on his knee the viper had come in from an unusual angle and only one fang had punctured through. But I could see from closer inspection of the now dead snake what I had already known. It looked like a dark green Pit Viper. She was about 4 feet long, or maybe 130 centimetres. The poor girl had probably been looking for water.
Symptoms of a poisonous snake bite include pain at the site, swelling, and changes in heart rate or breathing. Needless to say Ka is still alive and well, and probably had enough experiences of snakes to know that this was a dry bite, or one without venom, as about 50% of snake bites are. I wouldn't have taken my chances on this, though.
The reason that poisonous baby snakes are thought to be more deadly is not because they have more venom, but because they always release venom when they do bite. I prayed in Buddhist style for the snake to have a better life next time, as she had made merit by not killing either our cats or my husband. But for the amateurs out there, I wouldn't advise going to Steve Irwin about these things. Normally snakes bite you because you bother them.
---
It turns out that sometimes you chase the story. And sometimes the story chases you.
I'd seen a recent post on The Thaiger asking for guest bloggers to share their stories regarding Thailand. I think I laughed out loud on reading it. After 7 years in the "Land of Smiles," with 2 Thai husbands and after giving birth to 2 children here, I'd like to think I've seen it all. I probably have 10,000 stories.
But what do I want to write about? Should I mention my early days as a farang in Thailand, during the time when I was working as an OPC for a timeshare? Do I want to give advice on making visas, as an American staying in Thailand or for a Thai going to America? Should I talk about going to Thai hospitals? Or maybe I should write something about Thai Buddhist funeral proceedings? I've put my first husband and both my mother and father in law in the ground at Wat Prathong. Should I talk about ASQ and travelling during Covid madness? Or should I mention the Full Moon Party on Koh Pha Ngan? I've been to five of those, personally.
This weekend I was harvesting cashew fruit with a Thai friend of ours in Phuket who has a large spread of family land. We burnt the cashew nuts, and I thought that this would make a great story, as many farang ask me about growing and harvesting practices in my little outback area. Unfortunately a quick Google search revealed that cashew nuts are dangerous, even to people without allergies, as they contain a chemical close to poison ivy. Only professional processors should deal with cashew nuts, in short. I've been eating the fruit and burning the nuts for years. But I gathered that life is too dangerous. So much for that story.
📱 Download our app on Android or iOS for instant updates on your mobile
📧 Subscribe to our daily email newsletter
👍 Like/Follow us on Facebook
🔔 Subscribe to or Join our YouTube channel for daily video updates
Thai Airways food landing in 7-Eleven next month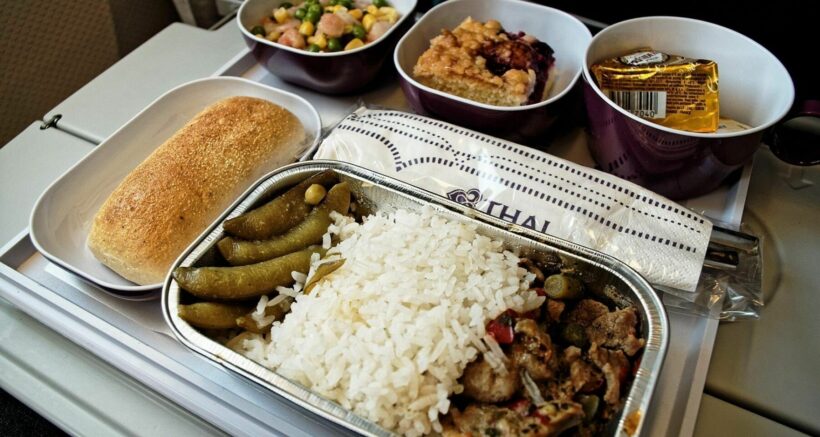 Warning. Some low-altitude turbulence is coming to a 7-Eleven near you. Thai Airways has cooked up a new money-making scheme during Covid-19 to sell its airline food in 7-Eleven. Set to take off on April 15, the mostly grounded and indebted airline will attempt to offset its losses during the pandemic by selling food in the ubiquitous convenience store and other supermarkets throughout Thailand.
It's a clever strategy for a struggling company, but will customers take the bite? Surely a few crispy pork and rice dishes will knock the edge of that 300 billion baht debt!
Claiming that their busy flight schedule has always previously stood in the way of the airline's foray into the fast food market, Thai Airways now has the supply (and time) with most flights grounded by the pandemic's decimation of the travel industry and less hungry mouths to feed in the sky.
The first meals schedule to arrive on the shelves of 7-Eleven just after the Songkran holiday are Thai Airways' halal chicken biryani dish, and the traditional Thai dish nam phrik long ruea, crispy and fluffy fish and sweet pork served in a fermented shrimp chilli paste. The primary push into the food industry will be more unusual meals to stand out in 7-Eleven's selection.
The question remains whether the food selection will fly off the shelves, but the airline's hopes are high after their airline launched pop-up restaurants in September and the public ate it up. It seems that, contrary to a million stand-up comedy jokes about how terrible airline food is, people have really missed it with so much cancelled travel due to border closures and restrictions.
Thai Airways hopes this creative departure from their main business will help bolster the struggling airline, who were previously denied a government bailout after declaring bankruptcy last year. They have tried everything from the pop-up restaurants to jumbo yard sales to renting out flight simulators. Even with the sharp reduction of flights due to the pandemic, flying will still be the company's main mealticket, but they hope meal sales will make up for low ticket sales until the travel industry recovers.
So stow your tray table and fasten your seat belt as we see if the 7-Eleven offerings of Thai Airways' food takes off.
(The Thaiger has a better solution. Let 7-Eleven lease Thai Airway's grounded planes and run the whole business instead)
SOURCE: Coconuts Bangkok
📱 Download our app on Android or iOS for instant updates on your mobile
📧 Subscribe to our daily email newsletter
👍 Like/Follow us on Facebook
🔔 Subscribe to or Join our YouTube channel for daily video updates
Banquet for ghosts held in Chon Buri cemetery – some food left over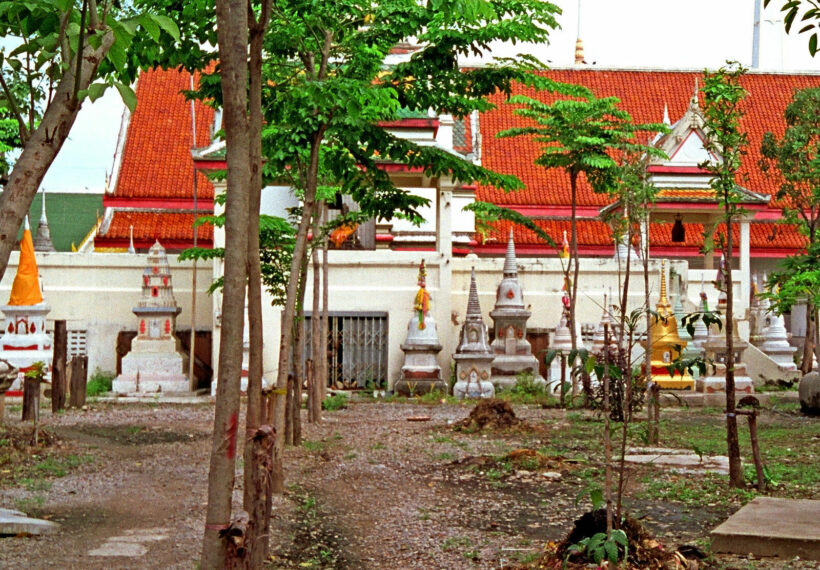 To fulfill a woman's dying wish, townspeople in the Panthong district of Chon Buri hosted an elaborate banquet for ghosts in a local cemetery this week. The 36-table extravaganza was set up 43 year old Tanawan Choti. His mother had asked him to give a free banquet for all the ghosts of her friends and family that had died before her… a welcome party to the afterlife.
Tanawan honoured his mother's request earlier this week before she passed away, with a no-expense-spared feast featuring food and drinks, luxury dishes and silverware, and entertainment for the ghosts of honour. Living speech-makers imparted their best wishes to the Chon Buri ghosts. The locals set up the 36 tables for a Chinese-style banquet and entertained the guests for about an hour.
A local event food service worker said that, despite years in the industry, this was the first ghost dinner he'd catered for. He said he found it "abnormal to serve the paranormal and was left with a ghastly feeling working in the cemetery". (We figure there was quite a lot of food left over as well.)
While graveyards are not common in Thailand, since Buddhists cremate their dead, burials still occur amongst descendants of Chinese-Thai people. Regardless of religion or heritage, belief in ghosts or other paranormal phenomenon is common throughout Thailand. Spirit houses are frequently built outside local homes for ghosts to live in, and serviced every day with fresh offerings.
While the otherworldly banquet may be viewed by some with confusion or scepticism, the feast did have a real-world happy ending, Eakkaluck explained…
"After finishing the banquet ceremony, the food was given to poor people in the area as unfortunately, it appeared the ghosts could not actually consume earthly substances."
SOURCE: The Pattaya News
📱 Download our app on Android or iOS for instant updates on your mobile
📧 Subscribe to our daily email newsletter
👍 Like/Follow us on Facebook
🔔 Subscribe to or Join our YouTube channel for daily video updates