Putin to Ukraine rebels: postpone secession vote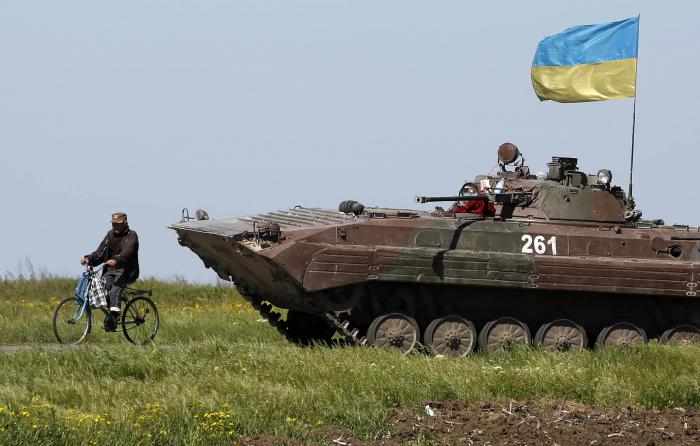 PHUKET MEDIA WATCH
– World news selected by Gazette editors for Phuket's international community
Putin to Ukraine rebels: postpone secession vote
Reuters / Phuket Gazette
PHUKET: Russian President Vladimir Putin called on pro-Moscow separatists in Ukraine to postpone a vote on secession just five days before it was to be held, potentially pulling Ukraine back from the brink of violent dismemberment.
It was the first sign the Kremlin leader has given that he would not endorse a referendum planned for Sunday by pro-Russian rebels seeking independence for two provinces in the east, and Russian analysts said they believed the rebels would heed Putin's call to put off the vote.
In what could be a breakthrough in the worst crisis between East and West since the Cold War, Putin also announced he was pulling Russian troops back from the Ukrainian border.
NATO, the Pentagon and the White House all said they had seen no signs of a Russian pull-back from the frontier, where Moscow has massed tens of thousands of troops, proclaiming the right to invade Ukraine to protect Russian speakers.
But Putin's comment suggested that any Russian military incursion into eastern Ukraine was off the agenda for now.
"We call on the representatives of southeastern Ukraine, the supporters of the federalisation of the country, to postpone the referendum planned for May 11," Putin said.
He said this would create conditions for dialogue between the Ukrainian authorities in Kiev and the separatists.
"We're always being told that our forces on the Ukrainian border are a concern. We have withdrawn them. Today they are not on the Ukrainian border, they are in places where they conduct their regular tasks on training grounds," Putin said.
NATO Secretary General Anders Fogh Rasmussen said during a visit to Poland: "Russia should live up to its international commitments and stop supporting separatists and scale back troops from the border, so political solutions can be found."
Putin spoke in Moscow after talks with the head of the Organization for Security and Cooperation in Europe, who said the security and rights body would soon propose a "road map" to defuse the Ukraine crisis.
PEOPLE'S ASSEMBLY
A pro-Russian separatist leader said the separatists would consider Putin's call to postpone their referendum at a meeting of their self-proclaimed People's Assembly on Thursday.
"We have the utmost respect for President Putin. If he considers that necessary, we will of course discuss it," Denis Pushilin told Reuters in Donetsk, a city of 1 million people which the rebels have proclaimed capital of an independent "People's Republic of Donetsk".
Ukrainian Prime Minister Arseniy Yatseniuk dismissed as "hot air" Putin's call for the referendum to be postponed.
The White House said the "illegitimate, illegal" vote should be cancelled rather than postponed.
Since a pro-Russian president was ousted in an uprising in February, Putin has overturned decades of post-Cold War diplomacy by proclaiming the right to send troops to Ukraine and seizing and annexing Crimea.
A rebellion in the east has raised the prospect that Ukraine, a country of around 45 million people the size of France, could be carved up or even descend into civil war, pitting Russian-speaking easterners against pro-European Ukrainian speakers in the West.
Residents in areas held by the pro-Moscow rebels were stunned by Putin's remarks at a time when the region seemed to be hurtling towards inevitable independence and a week of bloodshed had brought animosity towards Kiev to a fever pitch.
"Maybe Putin doesn't understand the situation? There is no way this referendum isn't happening," said Natalia Smoller, a pensioner who has been bringing food to rebels manning a roadblock in Slaviansk, a town turned into a fortified redoubt where fighters withstood a government advance this week.
Nevertheless, experts predicted the separatists would heed Putin's call to stand down for now.
"Among those confronting Ukrainian troops, a certain logic should prevail under which they understand that without the support of Russia and thereby the Russian army, they could be subjected to heavy military strikes," said Yevgeny Minchenko, a political analyst friendly to the Kremlin.
Russian share prices surged after Putin's remarks, seen as reducing the likelihood of damaging new sanctions. The MICEX index .MCX shot up 3.64 percent.
MILITARY CAMPAIGN

Ukrainian government troops have launched a military campaign to retake territory held by separatists this week. Troops briefly captured the rebel-held city hall in the eastern port of Mariupol overnight, but quickly abandoned it, leaving it back in the hands of the separatists.
Witnesses said the soldiers left after smashing furniture and office equipment. The smell of tear gas hung in the air inside the building which was largely empty in the morning, with activists in gas masks clearing debris.
Pro-Russian activists were rebuilding barricades outside the building where separatist flags flew and patriotic songs blared from loudspeakers.
In a boost for the rebels, one of their leaders, Pavel Gubarev, was released from detention in exchange for three members of the Ukrainian security services, a spokesman for the separatists' military headquarters in Slaviansk said.
The United States and European Union, which have so far imposed limited sanctions Russian individuals and small firms, have threatened to impose much wider sanctions if Moscow takes further steps to interfere in Ukraine. Sunday's planned referendum was seen as a potential trigger.
Moscow has denied Western accusations that it was orchestrating the rebellion in Ukraine's east, where Ukrainian forces have been largely unable to reassert control.
The prospect that further sanctions might be imposed on Moscow has already hurt Russia's economy indirectly by scaring investors into pulling out capital and forcing the central bank to raise interest rates to protect the rouble.
A range of European companies that do business in Russia – as diverse as Italian appliance maker Indesit IND.MI, Danish brewer Carlsberg CARLb.CO, Finnish tyre maker Nokian Tyre NRE1V.HE and Swedish cosmetics firm Oriflame ORIsdb.ST, announced results on Wednesday that blamed the crisis for hurting their bottom lines.
French bank Societe General SOGN.PA wrote down the value of its Russian arm Rosbank by $730 million, blaming the economic uncertainty caused by the Ukraine crisis.
— Phuket Gazette Editors
📱 Download our app on Android or iOS for instant updates on your mobile
📧 Subscribe to our daily email newsletter
👍 Like/Follow us on Facebook
🔔 Subscribe to or Join our YouTube channel for daily video updates


Find more SE Asian News courtesy of Thaiger.

Broke? Find employment in Southeast Asia with JobCute Thailand. Rich? Invest in real estate across Asia with FazWaz Property Group. Even book medical procedures worldwide with MyMediTravel, all powered by DB Ventures.

Bitcoin sheds nearly 15% of its 'value' in one day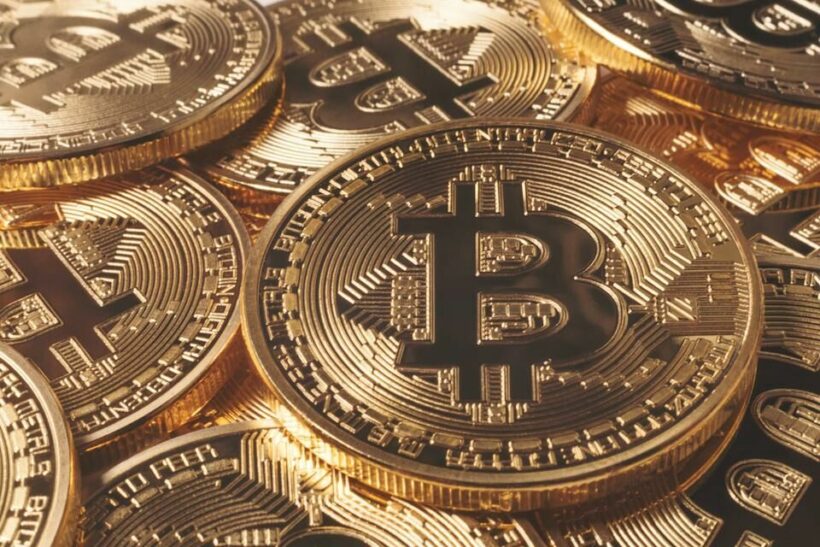 After a meteoric, and probably unsustainable rise and rise over the past 12 months, Bitcoin has suffered a short and sharp mini-crash over the weekend, dropping nearly 15% of its value in less than an hour – a stark warning of the cryptocurrency's unpredictable volatility.
Bitcoin dropped in 'value' from about US$59,000 to US$51,000 before rebounding. Ethereum and Dogecoin also suffered dramatic and sudden losses, before clawing back some of their losses.
This time last year Bitcoin was simmering around US$7,725 after bumping up and down on the spot since 2018. But last year, fuelled by fears of an over-heated US stock market, Covid volatility (whatever that is), government handouts and people-with-too-much-time-on-their-hands, Bitcoin went on a spectacular climb to peak at US$63,588 last Tuesday. But Newton's first law (the scientist, not me) kicked into action, and with venom.
The price of a single Bitcoin hit a low of US$52,810.06 Saturday after tumbling more than US$7,000 in just one hour, before stabilising.
The drop on Saturday appears to have been triggered by a Twitter rumour that the US Treasury would crack down on money laundering schemes involving cryptocurrencies. Separately, Reuters reported a power blackout in China's Xinjiang region, where a lot of Bitcoin 'mining' happens, was blamed for the steep dive.
That information came from data website CoinMarketCap.
The sudden rise of the cryptocurrencies over the past 12 months has drawn a lot of attention from governments and investors, and RobinHood-esque day trade brigade. Coinbass went public, and therefore 'mainstream', last Wednesday.
"All eyes are on Coinbase… as the cryptocurrency exchange prepares for its first day of trading as a public company on Nasdaq under the ticker symbol 'COIN'.
Coinbase's market debut is a special event for several reasons. First, it will be Nasdaq's first major direct listing, an unusual route for companies to go public without the underwriting of an investment bank." – USA Today
Then Dogecoin had a 500% rally – an 'asset' that was created as a joke 8 years ago – on April 16. 500%!!!
The fervent supports of cryptocurrencies, almost a cult, are having their moment and proving, for now, that they can have their day in the financial sun as well. With Coinbase's successful debut on Wall Street last week, they've gone all suit and tie.
Last year's sharp, and very tempting, rise in Bitcoin values has the wider financial market talking about the bubble in the cryptocurrency market – Bitcoin has more than doubled in value since the start of this year. The market will decide whether that bubble will continue to grow or do what bubbles eventually do.
At the end of 2017 the Bitcoin digital token rose in value to nearly US$20,000 before crashing to almost US$3,000 the following year.
For now, it's all eyes on the cryptos to see which way they move. The only thing that can be guaranteed is that their valuations will remain volatile and that there will be winners and losers.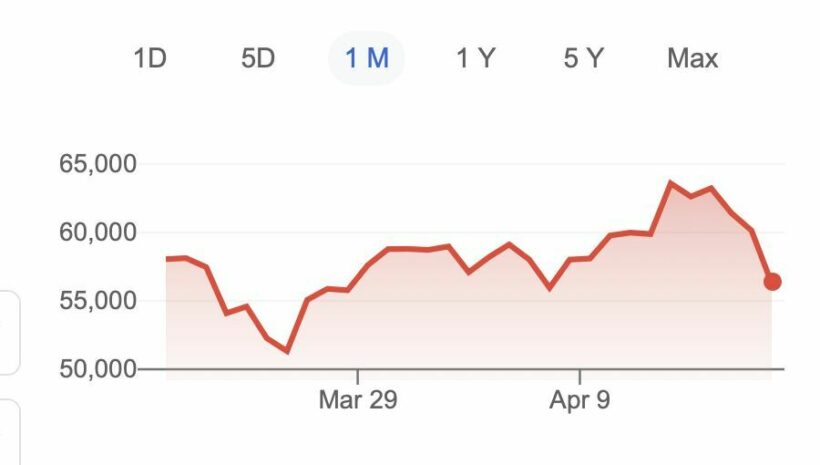 📱 Download our app on Android or iOS for instant updates on your mobile
📧 Subscribe to our daily email newsletter
👍 Like/Follow us on Facebook
🔔 Subscribe to or Join our YouTube channel for daily video updates
World's most travel-friendly passport list – 2021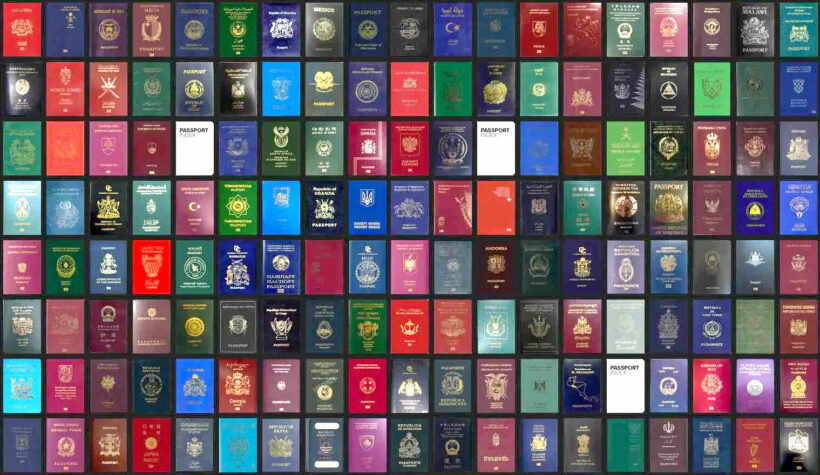 The Henley Passport Index, which rates which passports are the most travel-friendly, has just released the list for 2021, with Japan once again at the top of the list.
But the Index noted that this international travel freedom comparison is mostly theoretical at the moment since Covid-19 continues to limit most travel worldwide. With a Japanese passport, travellers can enter 193 countries without a visa or with a visa-on-arrival. On the other end of the list, an Afghanistan passport can only get into 26 countries. The gap of 167 countries is the widest gap since the Henley Passport Index began tracking this data 15 years ago in 2006.
Singapore kept its second-place this year standing with just one less destination than Japan, followed by Germany and South Korea tied for 3rd place with 191 destinations. The rest of the top 10 are mainly European countries, with the exception of New Zealand and the US as part of the 5-way tie for 7th place with 187 destinations, and Australia and Canada tied for 9th place with 185 destinations.
The US and UK passports took a tumble, once tied for the most travel-friendly passport back in 2014, now losing ground slipping to 7th place. On the other hand, United Arab Emirates strengthened diplomatic ties worldwide and jumped 50 spots this year from 65th all the way to 15th. Over the decade, the climb is even more dramatic, with the Emirates exploding from 67 destinations 10 years ago up 107 destinations to 174 this year. China did well also, climbing 22 places since 2011, up to number 68 on the list.
Thailand's passport is tied with Saudi Arabia at 66th with 79 destinations available without an advance visa.
The full list of most travel-friendly passports…
1. Japan (193 destinations)
2. Singapore (192)
3. Germany, South Korea (191)
4. Finland, Italy, Luxembourg, Spain (190)
5. Austria, Denmark (189)
6. France, Ireland, Netherlands, Portugal, Sweden (188)
7. Belgium, New Zealand, Switzerland, United Kingdom, United States (187)
8. Czech Republic, Greece, Malta, Norway (186)
9. Australia, Canada (185)
10. Hungary, Lithuania, Poland, Slovakia (183)
Henley and Partners predict that the spread in passport access will mirror Covid-19 affected travel. Rich and mobile regions like the US, UK, EU and UAE are getting access to vaccination, hastening their ability to travel, while poorer and developing economies are experiencing a much slower vaccine roll-out.
Experts from Syracuse University, the University of Pittsburgh, and the Migration Policy Centre predict this trend will continue with potentially devastating long-term effects.
Countries that can afford and facilitate vaccination for their citizens quickly will be able to welcome travellers in for tourism and business and be able to travel more themselves. Conversely, countries that can't afford the storage and distribution of vaccines will be less able to travel or welcome tourism income, widening a global wealth gap.
Remote working and the digital nomad lifestyle has been booming in recent years and with Covid-19 forcing businesses to adapt to telecommuting, the post-pandemic world will see more remote working, and countries falling behind with vaccinations will suffer the long-term loss in tourism dollars too.
SOURCE: CNN
📱 Download our app on Android or iOS for instant updates on your mobile
📧 Subscribe to our daily email newsletter
👍 Like/Follow us on Facebook
🔔 Subscribe to or Join our YouTube channel for daily video updates
The Queen sits as a lonely figure as she bids farewell to her husband Prince Philip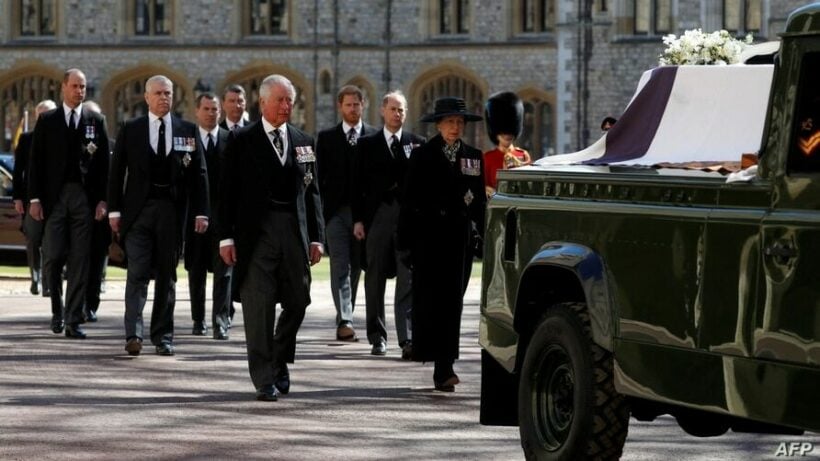 Prince Philip was laid to rest Saturday afternoon, UK time, in a simple but soulful funeral ceremony honouring his lifetime of service to the UK, the Commonwealth and his wife of 73 years, Queen Elizabeth II.
Clad in black, her head bowed in prayer, the elderly monarch set an example for the UK community during the Covid pandemic, socially distancing herself from the rest of her family.
Prince Philip died just 2 months short of his 100th birthday – some reflected that he was just 2 months away from receiving a telegram from his wife.
The service at Windsor Castle was light on pageantry but steeped in military and royal traditions. The whole pre-funeral procession and service was held away from the public eye, entirely within the grounds of Windsor Castle, but a full live stream of the proceedings was shown on UK TV and internet services.
Instead of the expected nearly 1,000 mourners, there was a mere 30 allowed inside the grounds of the castle to take part in the procession and service, although there was a larger entourage of socially-distanced musicians, camera-people, guards and organisers on site.
Attending were Prince Charles his wife Camilla, Prince Andrew, Prince William and his wife Kate, and Prince Harry, who had returned from the US without his pregnant wife Meghan. The Queen and Prince Philip's other children, and grandchildren, were also in attendance.
The most poignant image from the entire ceremony was the lone figure of Queen Elizabeth, entirely in black with a black face mask and hat, a very human and frail figure who spent the entire service buried in deep contemplation, rarely raising her head to watch the proceedings. Whilst the service was all about remembering the service and duty of her consort, Prince Philip, there were few who wouldn't have been thinking of the 94 year old woman sitting all alone, grieving the loss of her husband.
Britain officially observed 1 minute of silence in honour of Prince Philip just before the funeral started.
The Duke of Edinburgh's coffin arrived at the chapel in a modified Land Rover conceived by the prince. Known for his sense of humour and off-the-cuff one-liners (that often got him into hot water), the arrival of his own coffin in an army-green pick-up truck was his final poke at the outrageous pageantry he often shied away from.
His coffin was draped in his personal standard with his Royal Navy cap, sword and a wreath of flowers sitting atop.
Prince Philip was placed in the vault along with the remains of 24 other royals, including 3 kings of England. But following the Queen's death, the pair are expected to be buried in the Royal Burial Ground on the Frogmore Estate close to Windsor Castle.
Along with Philip's children and grandchildren, the 30 funeral guests included other senior royals and several of his German relatives. Philip was born a prince of Greece and Denmark and, like the queen, is related to mash-up of European royal families.
The two sons of Price Charles and Princess Diana, William and Harry, were seen walking together after the service and chatting as mourners were leaving the chapel.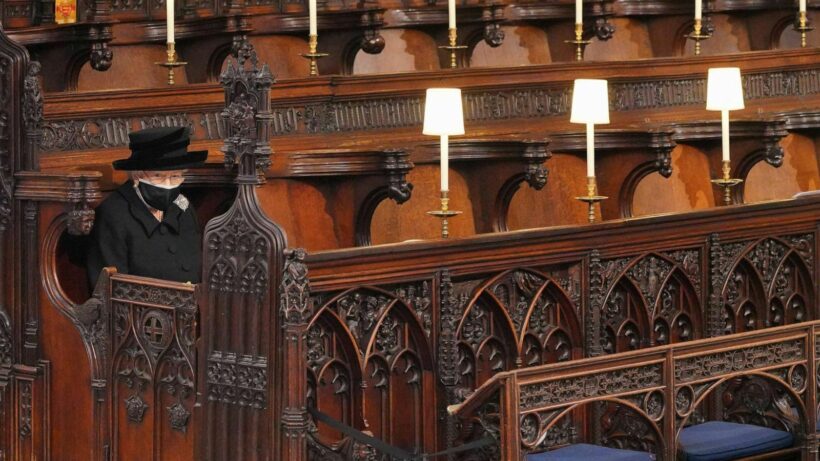 📱 Download our app on Android or iOS for instant updates on your mobile
📧 Subscribe to our daily email newsletter
👍 Like/Follow us on Facebook
🔔 Subscribe to or Join our YouTube channel for daily video updates