Chiang Rai's Suwit Jaipom unveils charcoal portrait of HM King Bhumibol Adulyadej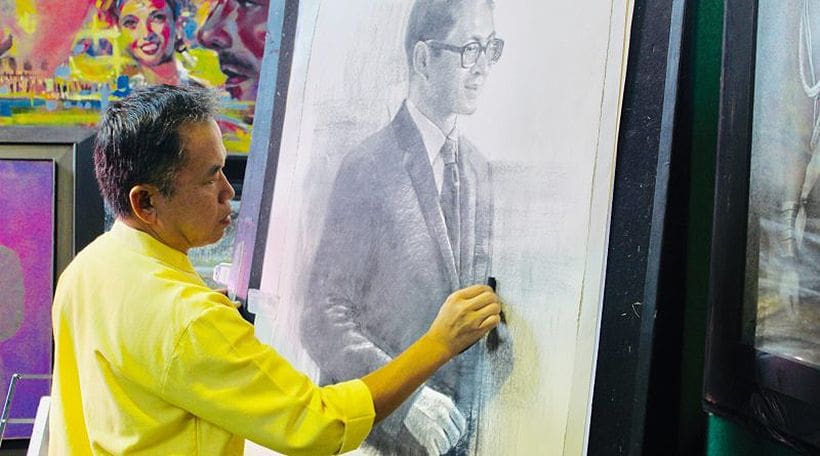 PHOTOS: localnews2010.com
A Chiang Rai Artists, Suwit Jaipom, has unveiled a portrait of the late HM King Rama IX, that he has recently created to mark the second anniversary of King Bhumibol Adulyadej's passing.
At his studio in Ban Pang Lao in the capital district of Chiang Rai, Suwit Jaipom, the president of ArtBridge Chiang Rai and local artist, has created portraits of His Majesty the late King Bhumibol Adulyadej. He also displayed his new work, a charcoal drawing of the late monarch.
The artist said he began the portrait earlier this week and intended to complete it by October 13, when the nation honors the revered King two years after he passed away.
According to Mr Suwit, he has chosen charcoal made from grape vines as the medium for this drawing while the paper used. The work is set to be displayed to the public for the first time at an exhibition in Chiang Mai.
The artist added that he has named his latest work "Father of the Land" due to his belief that His Majesty will continue to be called 'father' by all Thais. In the drawing, King Bhumibol is depicted as smiling as if he is giving his people an assurance that he will always be with them.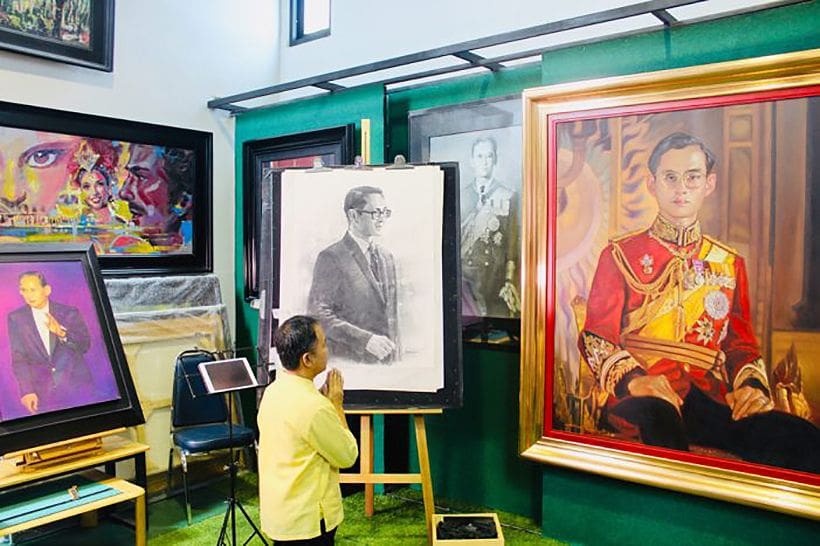 SOURCE: Chiangraitimes.com
Keep in contact with The Thaiger by following our
Facebook page
.
Chiang Rai quarantines 26 returnees from Phuket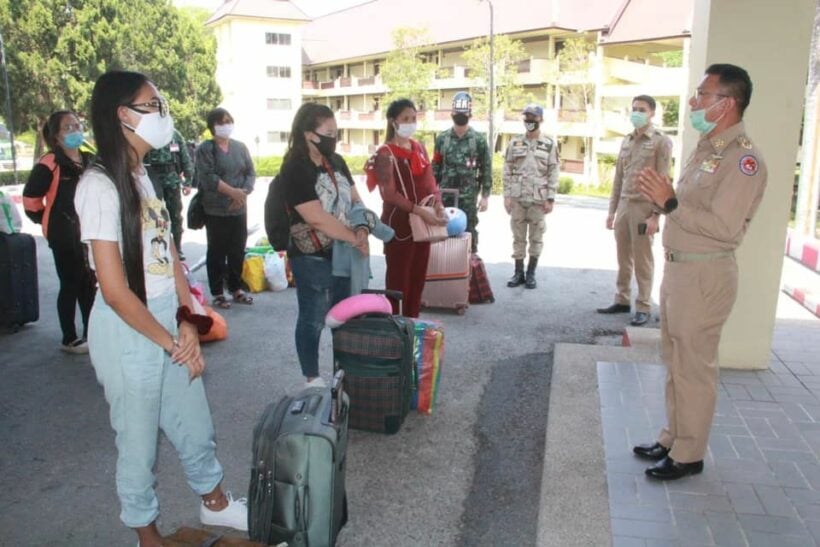 26 returnees from Phuket back to Chiang Rai arrived home on 2 passenger coaches today and were immediately placed in 14 day quarantine. The 26 arrived at the Wiang Indra Riverside Resort in Chiang Rai province (by the way, it looks VERY nice!).
The Deputy provincial governor of Chiang Rai welcomed them and asked them to adhere to the precautionary measures set by the health department. Thorough screening was reportedly conducted by Chiang Rai health officials and they were also reminded to eat only well cooked food, use a personal serving spoon when eating, wash their hands regularly, practice social distancing and most importantly wear face masks at all times.
Meanwhile a group of 400 Thais returnees from foreign countries were placed in state quarantine facilities in Chonburi province yesterday. 7 hotels in Pattaya City have been designated state quarantine facilities. The hotels have been approved by the health department for Thais returning from abroad. Around 2,000 returnees are now being quarantined there. Yesterday's 400 returnees, that had been stranded in Italy, Malaysia, Japan and Taiwan, arrived at Suvarnabhumi Airport before travelling to the quarantine facilities in Chon Buri.
Health officials today reported 11 returnees from overseas tested positive for Covid-19. The 11, 5 of them masseurs, raised Thailand's total cases to 3,065 since the outbreak began.
"We can say that there are no new locally infected Covid-19 cases as far as official reports are concerned. Even more, all the new cases reported daily were infected in other countries."
Of the 3,065 accumulated cases, 2,945 (96%) have recovered, with 14 more patients released over the previous 24 hours. Just 63 patients remained in hospital. The death toll remains at 57.
SOURCE: Chiang Rai Times
Keep in contact with The Thaiger by following our
Facebook page
.
Accomplice in Chiang Rai robbery found hanging in Phayao forest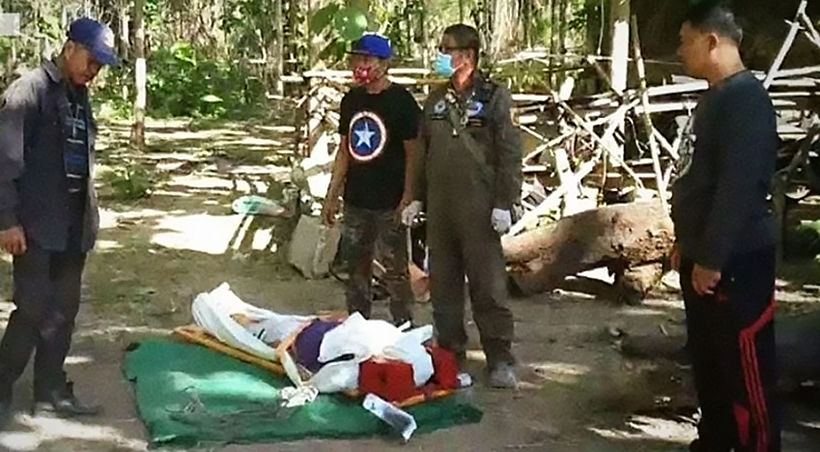 The alleged motorcycle driver in a recent Chiang Rai robbery has been found hanging in a forest in the upper northern Phayao province, in an apparent suicide. Two men pulled off the daring daytime robbery of more than a million baht in Chiang Saen district last Monday. Both men were then tracked down by police.
The first suspect, identified only as "Sitthichok," a former Chiang Saen agricultural cooperative employee, was arrested yesterday. Police say the man confessed to stealing 1.05 million baht with his brother in law to pay off gambling debts. He says he left the gun used in the robbery with a friend after committing the heist. The friend then allegedly contacted police after he heard about the crime.
Police say Sittichok at first denied all charges and claimed no connection with the robbery, but after further interrogation he confessed, also giving up his brother in law as the motorcycle driver.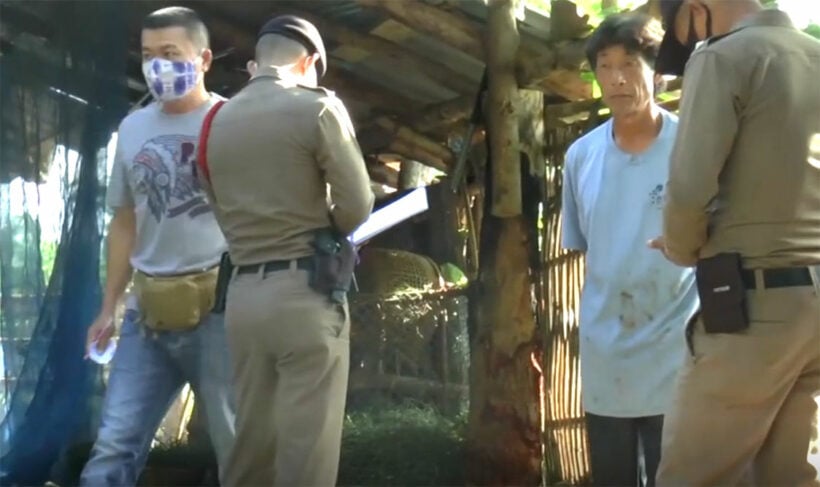 Sitthichok had only 200,000 baht remaining from of the 1,005,000 he stole. He told police the rest was used to pay off gambling debts.
The brother in law, 48 year old Cheunjai Konkham, was found dead by the police in the Phayao forest. Police assume he committed suicide, choosing death over a lengthy prison sentence.
Authorities say a forensic team has collected evidence and had also sent the body for a postmortem examination.
SOURCE: Chiang Rai Times
Keep in contact with The Thaiger by following our
Facebook page
.
One of the robbers in Chiang Rai arrested – VIDEO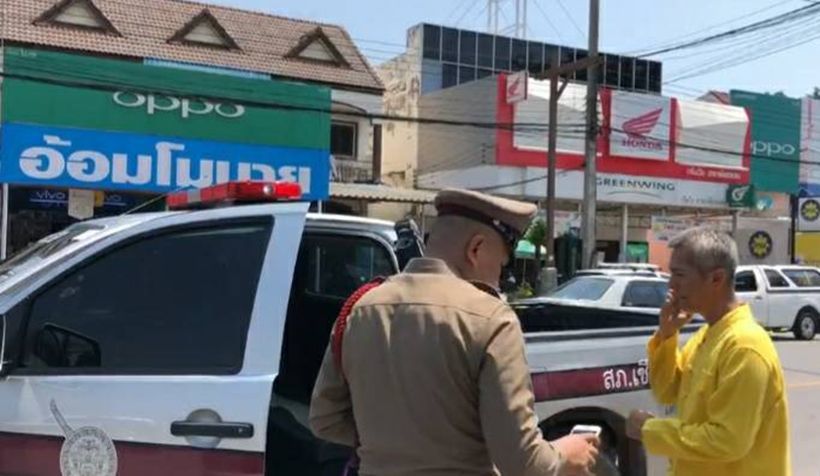 UPDATE: Police have arrested a suspect from Monday's robbery that took place in Chiang Saen district in Chiang Rai, when a pair of robbers stole 1.05 million baht outside a Krungthai Bank. 2 men on a motorbike managed to escape and a manhunt was ordered. Read more HERE.
When officials arrived at the crime scene they found 46 year old Watcharin, the driver, who was waiting in his vehicle in front of the bank. Watcharin told authorities that he went to the branch to withdraw cash to be used in an agricultural cooperative. He withdrew 1.05 million baht and put the cash in a purse.
While in his car and about to leave, one of the robbers knocked on his window. Thinking it was someone he knew, Watcharin opened the door, at which point the man threatened him with a gun before fleeing on a the back of a motorbike.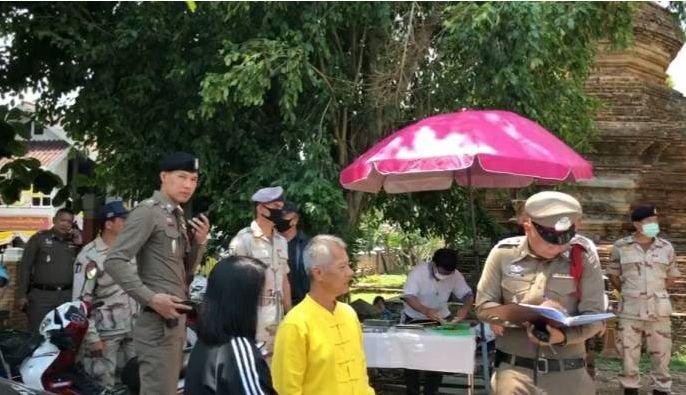 Security camera footage and witnesses revealed that there were 2 robbers, both wearing a full-face helmets. After grabbing the cash, the robbers headed south.
Police have arrested a suspect identified as "Sitthichok" after tracking down the gun used in the crime. He initially denied all charges and claimed no connection to the robbery but police say he eventually confessed. Sitthichok told officers he once worked in the cooperative, which is how he knew when Watcharin would go to the bank.
Sitthichok claims to have only 200,000 baht left after spending 800,000 baht in one day. Police are still seeking the other suspect.
SOURCE: Thai Residents
Keep in contact with The Thaiger by following our
Facebook page
.