Similans re-open with tight new restrictions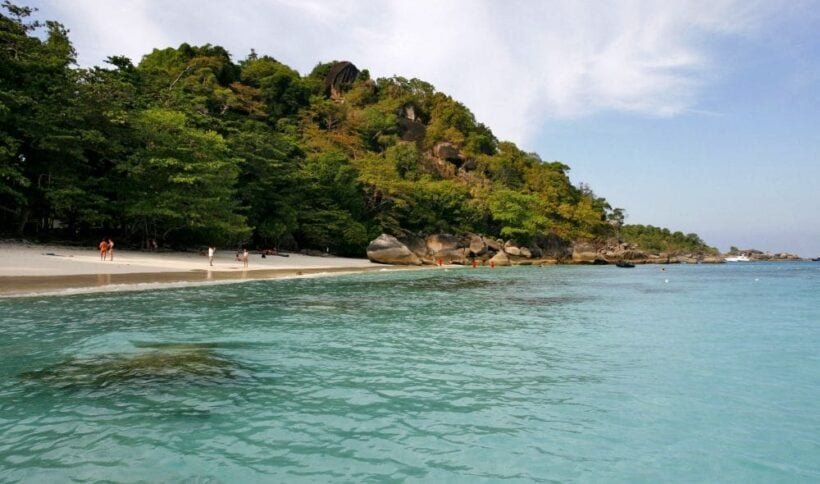 by Pratch Rujivanarom
The number of visitors to the Similan Islands will be capped at 3,850 people per day as part of new tourism management reforms to preserve the pristine natural beauty of the islands and promote sustainable eco-tourism.
When Mu Koh Similan National Park reopens today, tourists will discover some changes on the islands; they will find more tranquil beaches but also tighter enforcement of rules by national park officials to make sure that both tourists and the picturesque natural beauty around them will be safe.
Mu Koh Similan National Park chief Ruamsin Manajongprasert says the new tourism management plan has been revised to deal with two major challenges that the national park had been facing – excessive tourism and ecosystem degradation.
"Since Tachai Island is closed to all visitors due to environmental damage caused by tourism activities, the Similan Islands are the destination where the mass groups of tourists are diverted to," Ruamsin said.
"Therefore, the National Park, Wildlife and Plant Conservation Department [DNP] decided that it was now time to come out with tougher tourism management rules in order to ensure that tourism activities at Mu Koh Similan National Park will be sustainable and cause less harm to the fragile ecosystems of the islands."
He said starting from this tourism season, every tourist boat will have to notify the national park and get permission first before entering the islands. No more than 3,325 visitors will be allowed per day for one-day trips and 525 visitors per day will be allowed on scuba-diving tours at Similan Islands.
There will be no overnight stays at the islands.
"I am confident that our national park officers are now ready to perform their duties to look after the tourists' safety and preserve the islands' rich ecosystems, which will ensure that our next generations will have a chance to appreciate the natural beauties of our national parks," Ruamsin said.

Prof Dachanee Emphandhu, a lecturer at Kasetsart University's Faculty of Forestry and a researcher on tourism management and carrying capacity of Mu Koh Similan National Park, said if the measures were successful, the tourism management reform at Similan Islands would become an inspiration for other marine national parks to emulate.
"This is not the first time that the DNP is trying to limit the number of tourists and enforcing tighter rules to preserve natural resources and the ecosystems of the national parks. But this time it is different, as the officers of the DNP and the Mu Koh Similan National Park are very determined about tourism management reform, because the existence of our unique and priceless marine ecosystems are at stake," Dachanee said.
However, tourism business operators arn't happy with the reforms at Similan Islands. They regard the national park's new tourism management rules as too radical and also too suddenly enforced, hence most of the operators are unable to adapt to such extreme changes and will unavoidably suffer severe damage to their business.
One of the tour operators in Mu Ko Similan National Park, Torphong Wongsathienchai, revealed that due to the significant adverse impacts to tourism business from the new tourism management rules at Similan Islands, he was forced to lay off 120 employees in order to keep his company operational.
"I have no choice but to ask many of my staff members to resign and put their families in financial uncertainty," Torphong said.
"We totally support sustainable tourism management at Similan Islands, because the picturesque nature of the islands is a goose with golden eggs for us, but we want the change and enforcement to be gradual so that the tour operators can adapt."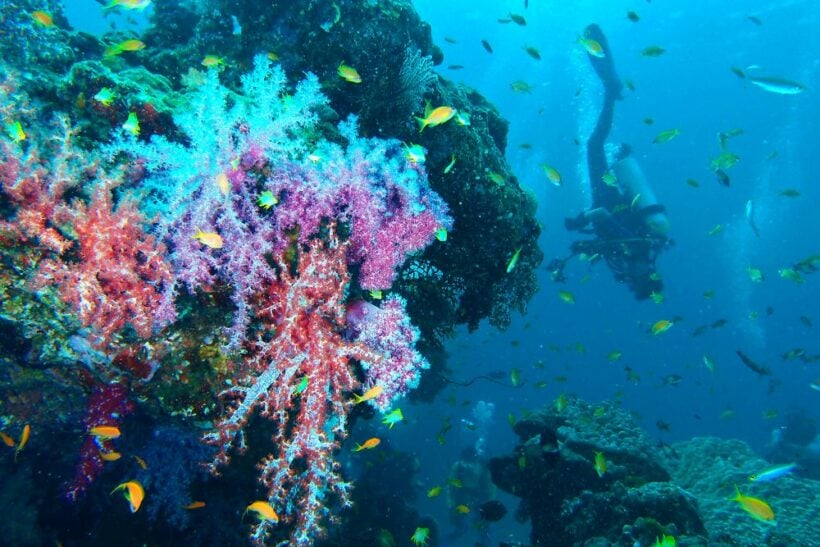 SOURCE: The Nation
Keep in contact with Thaiger by following our Facebook page.
Never miss out on future posts by following Thaiger.
How Thailand's domestic tourism market fell in love with Khao Lak during a pandemic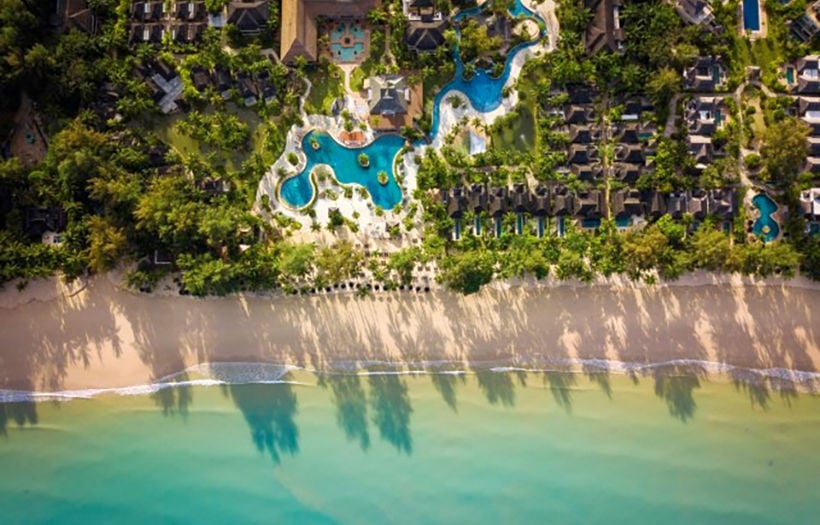 While Thailand's doors remain mostly shut to international tourists, Thailand's domestic travel wanderlust has turned Khao Lak into an Instagram hero. In the first 2 months of this year, according to research by consulting group C9 Hotelworks' new Khao Lak Hotel Market Update occupancies soared above 80%.
With the Covid-19 lockdowns, occupancy plunged in April and May, but as domestic travel re-started mid-year on the back of government-initiated 'We Travel Together 'incentive, the destination has slowly but surely gained traction from both fly and drive-in Thai markets.
Khao Lak's surf scene has become a national social-media sensation with Pakarang Beach and Memories Beach Bar the epicentre of a photo tourism movement – bolstered further by Instagram favorite hotels, Michelin Guide Southern-Thai restaurants, and the rediscovery of Takua Pa Old Town.
Over the past five years, the expansive white sand oceanfront strip of destination hotels in Khao Lak has continued a march North towards Takua Pa. Fueling much of this development is larger greenfield land parcels and a nearly completed four-lane highway expansion from the gateway airport in Phuket. C9's report indicates a hotel supply of 114 registered tourism establishments with 9,542 rooms and a further 2,283 keys in the pipeline.
With 73% of incoming supply being chain-operated, the influx of global brands includes Pullman, Marriott, Sheraton, AVANI, and Holiday Inn.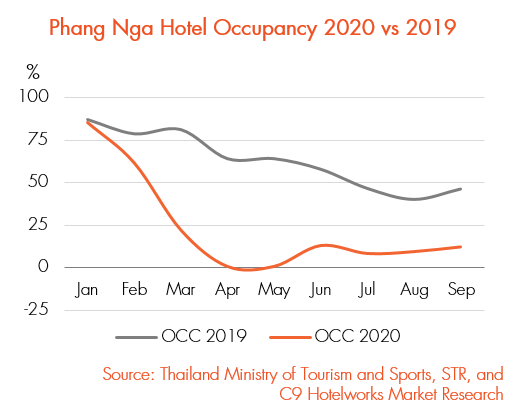 Despite Thailand's tourism downturn, some hotel owners are taking the opportunity to complete projects and launch their properties in the marketplace. One example is Kamontip Phunratanamala, Managing Director of Khao Lak Inter Co. and co-owner of the new 253-key Pullman Khao Lak Resort which will soft-open on December 1, who says "owning a hotel is a long-term proposition, you have to take a long-term view of the destinations' tourism potential and take the bad times with the good times."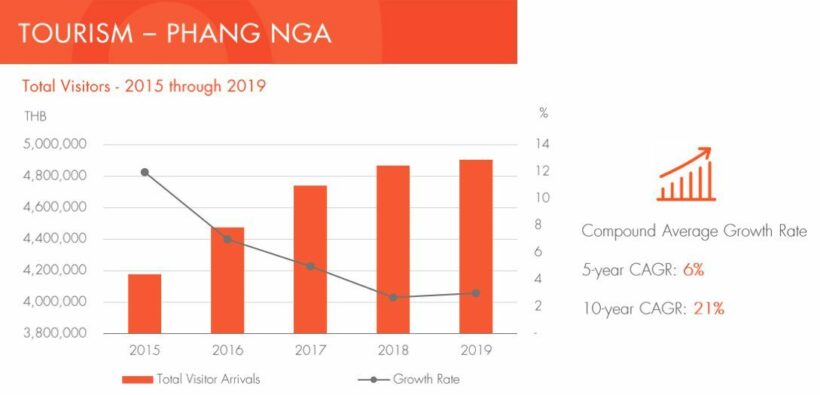 Talking about the evolving geographic changes in Khao Lak's hotel scene, while the panoramic pristine seaboard continues to stretch upwards into an emerging tourism Gold Coast, there is an increasingly grassroots 'sense of place' movement afoot. Take the Pullman's commissioning of noted Thai sculptor Jatuporn (Yui) Wongtong also the co-founder of Artslonga. Her signature 'Tree of Life"' sculpture that is installed in the arrival area is heavily influenced by the culture of Takua Pa and speaks of nature and indigenous materials.
Looking beyond the end of surf season which runs from just the after Songkran holiday period (April) through November, local hotels are pinning hopes that the government domestic travel incentive which is due to expire at the end of January will be extended to at least mid-2021 or until international tourists are allowed to come back to the country in larger numbers. Adding to that, the continued influx of social media bloggers and influencers heading South is already creating a ripple effect in demand, most notably with the Similan and Surin islands as day trips from Khao Lak. It may not be a typical high-season but for now, the domestic tourists are a welcome sight for stressed hoteliers and tourism businesses.
To read and download the full report click HERE.
(Khao Lak is in the province of Phang Nga, a 2 hour drive north from the Phuket International Airport)
Keep in contact with Thaiger by following our Facebook page.
Never miss out on future posts by following Thaiger.
5 injured after engine explodes on Phang Nga speedboat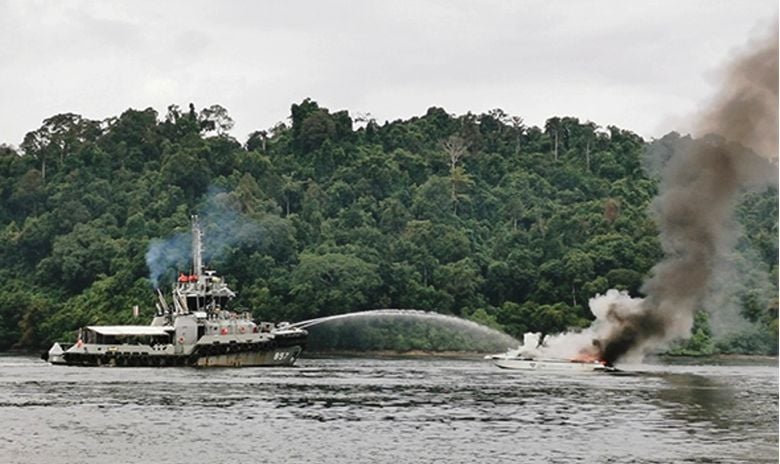 5 people have been injured, 3 seriously, after a moored speedboat caught fire in Phang Nga province yesterday. The incident happened around 8.30am. The boat was tied up to the Thap Lamu boat pier, where most Similan Island-bound private tour boats depart from and return to. The injured were all crew from the boat.
According to witnesses, the captain started the boat's engines and sparks started spitting out for the engine casing, followed by an explosion. 5 crewmen were injured, 3 of them seriously, including the boat's skipper. They were rushed to Vachira Phuket Hospital, about a 90 minute drive away, and the other 2 with minor injuries were sent to the Khao Lak medical centre, just 8 kilometres away. There were no tourists on the speed boat at the time of the incident.
A Navy boat dragged the burning vessel away from the pier into the middle of the channel to prevent the fire from spreading to other boats moored at the pier.
The commander of the 2nd Naval Area, sent the HTMS Panyi to the scene to try and put out the fire, secure the area and tow the burning boat away.
The harbour's entrance is small and an isthmus of land offers protection to boats from the Andaman Sea's wind and waves. Many speed boats are usually moored in the harbour servicing the popular dive trips out to The Similan Islands. Local fishing boats also use the harbour.
SOURCE: Chiang Rai Times
Keep in contact with Thaiger by following our Facebook page.
Never miss out on future posts by following Thaiger.
Similan Islands to reopen on October 15 with 'new normal' policy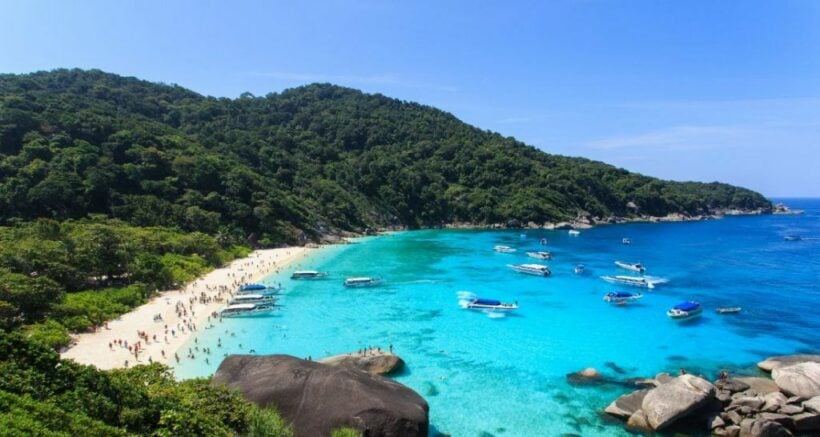 After being closed for the season, the Similan Islands National Park is opening back up on October 15, but this time with a "new normal" policy like social distancing, temperature checks and requiring staff and visitors to wear face masks. The national park in the Phang Nga province closes every year from mid-May to mid-October due to unsafe weather conditions.
The province's deputy governor Boonterm Ranumas says he expects the park's opening bring in domestic tourists, boosting revenues for vendors and tourism operators in the area.
The islands have a limit on the number of visitors to prevent ongoing environmental damage. Since the island is just opening under the new normal policy, visitors need to register before arriving to the island. Scuba diving excursions and overnight boat tours will be available.
"Some areas on the island are still closed during the re-opening but every national park officers are ready to assist and monitor travelers throughout their visit. A group of local volunteers would also gather to collect garbage around the island and to encourage visitors to protect the island environment."
SOURCE: Pattaya News
Keep in contact with Thaiger by following our Facebook page.
Never miss out on future posts by following Thaiger.