Thai Life
Chasing vampires, running from zombies at Thanyapura Neon Night Run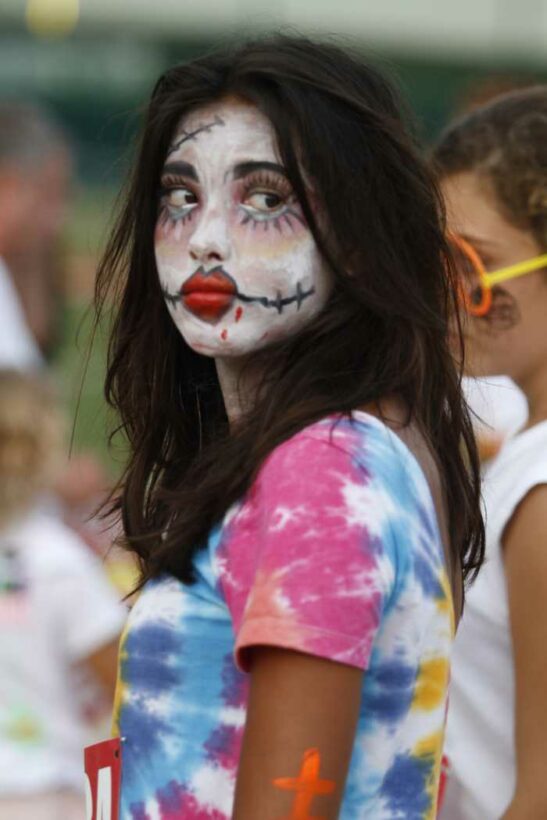 PHUKET: Nothing provides better motivation to run fast and far than a bunch of bloodthirsty zombies chasing you, does it? Those who showed up at Thanyapura on November 1, could check the effectiveness of this motivational technique for themselves. With a bunch of zombies as well as vampires, witches, ghosts and other creepy creatures hunting the sport center's grounds, the Halloween edition of the Neon Nigh Run, proved that running really is for everyone.
The fund-raising Neon Night Run events at Thanyapura has quickly become a fun island tradition, attracting larger numbers of both contestants and spectators each year. Last Saturday an extra spooky layer of Halloween makeup and dressing up was added to the usual theme of bright lights, face painting, flashing neon and lively music.
Still, it was running that was the focus that night, with no less than four different runs: two Big Kids dashes of 1,500m (one for girls and one for boys), Open 5K and Open Relay. And even though at times it might have been difficult to figure out if it were the werewolves chasing the vampires or the other way round, each race's results were carefully booked and awards presented to the winners.
Caleb Sadler topped the podium in the Big Kids dash 1,500m for boys while his female counterpart, Sammy Mclnnes won the Big Kids dash 1,500m for the girls. Amnart Nicolas Murphy was victorious in the Open 5K run and the Open Relay was won by the Fat Dudes team from Luxembourg… certainly not so fat anymore after the run.
Tradition obliges and except for the runs, there was a selection of treats awaiting those who attended the Halloween night run, with a variety of snacks, drinks and souvenirs sold from the nearby stalls. Another treat awaits the children at the Yaowawit School in Phang Nga to which part of the proceeds from the event were donated.
— Maciek Klimowicz