Blazing Saddles pedals through Provence – Phuket Explore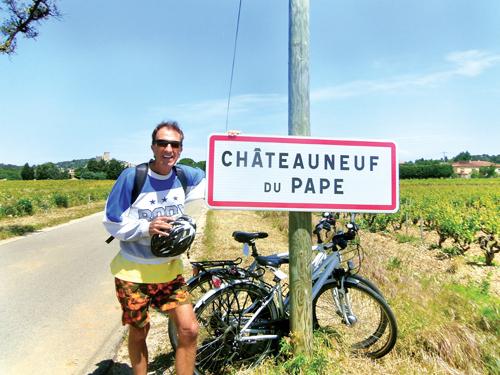 PHUKET: The delights of Soi Bangla in Phuket's party town of Patong are of course a source of continual distraction, yet even the most hardened acolyte must occasionally take a break from the pleasures of the amber nectar and recharge his batteries in quieter, more bucolic locales.

So it was that I recently found myself on a cycling trip down the riverside paths and country lanes of Provence, from Avignon to Aigues Mortes in the Camargue.

On the first day, as I resolutely pedaled (my beret set at a rakish angle, a string of onions bouncing about my neck and an unlit Gauloise plastered to my lower lip) I fell into a reverie comparing cycling in Phuket and Provence.

On first inspection the comparison seems to have as much affinity as Paris Hilton and Albert Einstein, but after a lunchtime stop beside the ancient fountain in Chateauneuf -du-Pape and imbibing some of that famous town's fine libations, certain parallels began to announce themselves.

Wind for example, is a constant bedfellow of the gadabout pedal-file, whether the monsoonal variety lashing off Nai Harn Beach, or this day's ardent mistral blusters whistling untrammeled across the vineyards of Southern France and threatening to throw me unceremoniously beneath the wheels of passing trucks laden with ripe grapes en route to meet their crushing destiny, the same I would have met, if indeed that had eventuated.

I pedaled resolutely onwards, as the long distance cyclist must, and as evening fell, I reached my home for the night, a converted barge by the name of Estello, moored just south of Avignon, along side the banks of the Rhone. Here a second parallel asserted itself.

At ride's end in Phuket, slaking one's rampant thirst in out door roadside restaurants is a ritualistic reward for the endeavors of the ride. Often a game of Takraw will be starting among the locals as the first beer hisses into the iced glass.

In Provence, I found myself in a Cypress-shaded village square, seated at a local café and guzzling biere presse as villagers dusted off their boules for the evening's game of Bocce.

Day two of my "French Revolutions" saw me gliding through the meadows alongside the Rhone southwards from Villeneuve-les-Avignon. The open fields were carpeted in sunflowers and poppies as though Van Gogh and Monet had themselves recently passed this way and painted the pyrotechnic panoramas.

Phuket is similarly blessed with intensely psychedelic blossoms such as Heliconia, Fangipani and Bougainvillea, which form the characteristic cycling backdrops in certain parts of the island.

I then cycled to the valley of the Gardon River where the Romans built a glorious three-tiered aqueduct known as the Pont du Gard in the first century AD. This World Heritage site is a stupendous feat of engineering which carries water over 50 kilometers to the city of Nimes and falls only 80 vertical centimeters in all that distance. It might be a stretch of the imagination to suggest that our own stupendous feat of engineering being constructed underneath Central Festival crossroads could turn into a (sub) aqueduct during the rainy season. But picnicking underneath the Pont du Gard I couldn't help think that Ital-Thai could learn a great deal about engineering from the Romans.

Day three of my trip was through one of the most pristine landscapes of Provence, as I rode along rustic roads to the medieval village of Boulbon, nestled within the folds of the La Montagnette. Here I happened upon another similarity to Phuket as I came upon the boisterous weekly market.

Markets in Phuket and Provence are a part of the fabric of daily life, not only to buy fresh produce at the best prices, but as a social meeting points for the exchange of gossip; eating and drinking and for a large dose of sanuk.

The Boulbon market boasted a wonderful selection of local produce as well as handicrafts and artwork. On a little traffic island in the middle of the town, an accordion band was belting out their version of Roll out the Barrel and indeed the abundant outdoor cafés seemed to be doing exactly that as enthusiastic diners set about their liquid lunches.

As I rode on, I noticed that the icons and buildings of religious and superstitious belief permeate the landscape. In Provence the underpinnings of these artifacts are Judeo-Christian rather than Animist, Brahman and Buddhist as in Phuket, but the parallels are striking.

On day four I cycled through the magnificent Abbey of Saint-Michel-de-Frigolet then down to the 17th century castle of Barbentane at the confluence of the Rhone and Durance rivers from whence many crusades into North Africa were launched. In Phuket you might ride past Wat Chalong, or under the implacable gaze of the Big Buddha, where roadside spirit houses line the roadside, as do crucifixes in Provence. Clearly belief in the mystical realms remains a deeply ingrained part of both cultures.

My week ended cycling alongside the low-lying marshes and canals of the Camargue to the ancient walled city of Aigues Mortes and the Mediterranean. This region is famous for both its wild bulls and fabulous pink Flamingos which reminded me of the ubiquitous hump-backed buffaloes and cheeky mynahs that are a common backdrop to my Phuket rides.

However, the most striking parallel between the experience of cycling through Provence and Phuket, is the glorious feeling of traveling freely through the natural world – a part of the gloriously passing landscape, rather than being sealed off from it in a hurtling, polluting vehicle. As American writer William Saroyan said: "I love the bicycle, I always have. I can think of no sincere, decent human being, male or female, young or old, saintly or sinful, who can resist the bicycle."

I'll drink to that.


— Baz Daniels
Keep in contact with The Thaiger by following our
Facebook page
.
Out of 37 countries, Thailand has the worst pension system, says Bloomberg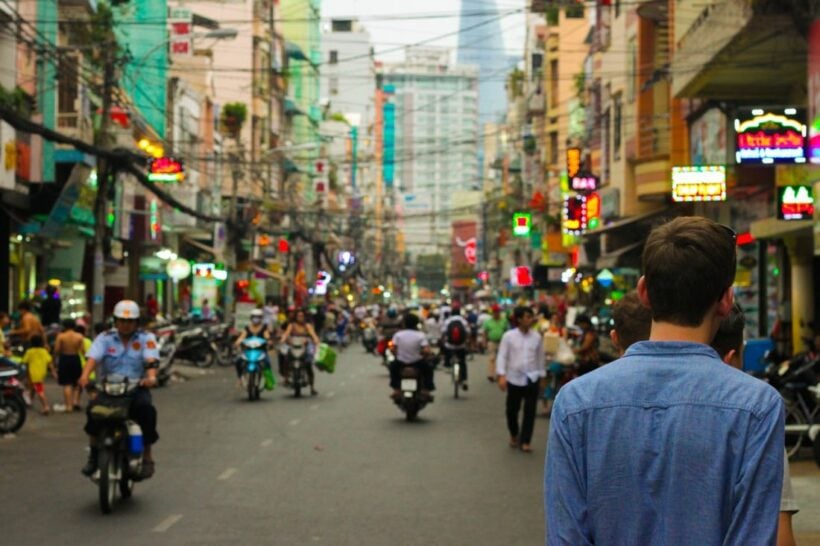 Thai Residents reports that on Sunday, Bloomberg published an article on the world's best pension systems, using information gathered from the 2019 Melbourne Mercer Global Pensions Index.
The survey looked at the pension systems of 37 countries with metrics including employee rights, savings, the number of homeowners, growth of assets, and growth of the economy. The purpose of the analysis was to determine what was needed to improve state pension systems and to gauge the level of confidence citizens had in their state pension system.
The Netherlands and Denmark were found to have the world's best state pensions, with Australia, Finland, Sweden, Norway, Singapore, New Zealand, Canada, and Chile next. Out of all 37 countries, Thailand finished last, with what the report described as an extremely ineffective and ambiguous system.
"Thailand was in the bottom slot and should introduce a minimum level of mandatory retirement savings and increase support for the poorest."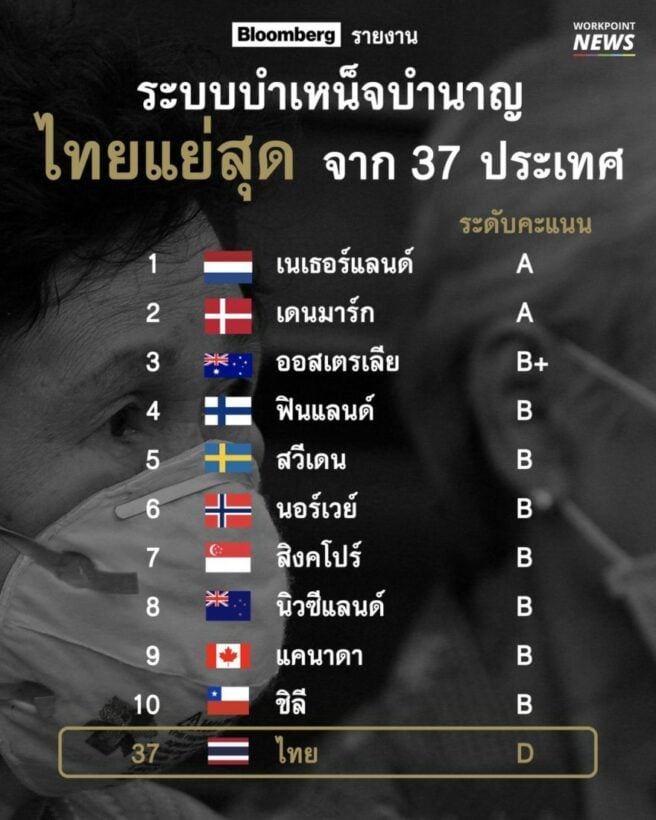 Photo: WorkpointNews
Thai Residents states that only those employed within the government system in Thailand are eligible for a pension based on salary. For most Thai citizens, pension amounts vary from 600 baht to 1,000 baht a month, depending on the recipient's age.
A report carried out by The Securities and Exchange Commission (SEC) advises Thai citizens to have at least 4 million baht saved by the time they retire, but Thai Residents reports that 60% of Thai retirees have less than 1 million baht in savings, with one in three citizens who have reached retirement age are forced to continue working in order to survive.
SOURCE: thairesidents.com
Keep in contact with The Thaiger by following our
Facebook page
.
Tax on salt content being considered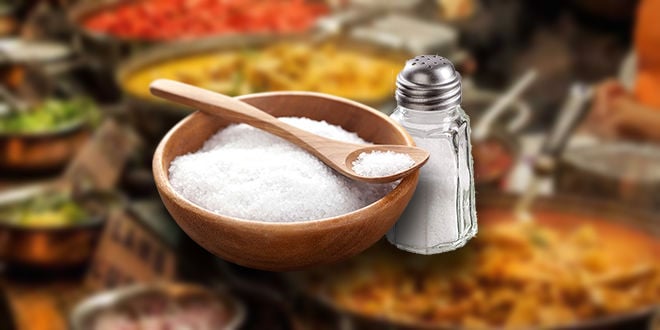 The Excise Department is considering imposing a tax on the salt content of food to encourage food producers to reduce the sodium content of snacks, instant noodles and seasoning cubes.
The director of the Office of Tax Planning said that the department is discussing a limit on the amount of sodium food can contain, in line with the standard set by the World Health Organization (WHO), which is 2,000 milligrams of salt per day.
In reality, Thai people consume an average of 1,000 milligrams per meal, making their daily intake well above WHO guidelines, according to the director.
He said any tax imposed would be at a level which would encourage food producers to reduce the sodium in their processed food without being punitive, adding that the proposal isn't intended to generate more tax revenue, but to help protect the health of consumers. Excessive sodium in the diet can lead to high blood pressure and kidney disease.
Fish sauce, soy sauce and salt would not be taxed.
SOURCE: thaipbsworld.com
Keep in contact with The Thaiger by following our
Facebook page
.
Water shortage warnings in 22 provinces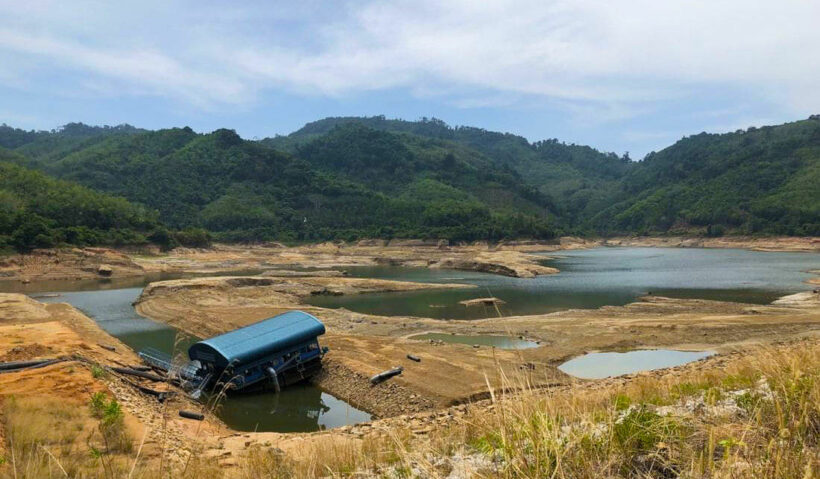 People living in 22 Thai provinces are being warned to prepare for shortages of drinking water during the upcoming dry season, due to start on November 1st.
The warning was issued by the National Water Resources Office, citing low levels in reservoirs, which are the main sources for tap water production waterworks in 22 provinces.
Areas at risk identified by the office are in northern, north-eastern, eastern and southern provinces.
Measures have been adopted by agencies charged with dealing with water shortages. including dredging water channels to allow greater volumes of water to flow into reservoirs, drilling underground wells, enlarging storage ponds and the purchase of water to supply to those in urgent need.
The Royal Irrigation Department has announced that people should use water sparingly.
There are currently about 6 billion cubic metres of usable water in reservoirs in the affected provinces, with 5 billion cubic metres reserved for consumption and ecological preservation, leaving only 1 billion cubic metres for use in agriculture.
This means farmers in the Chao Phraya river basin may not be able to grow a second crop of rice this year.
SOURCE: thaipbsworld.com
Keep in contact with The Thaiger by following our
Facebook page
.