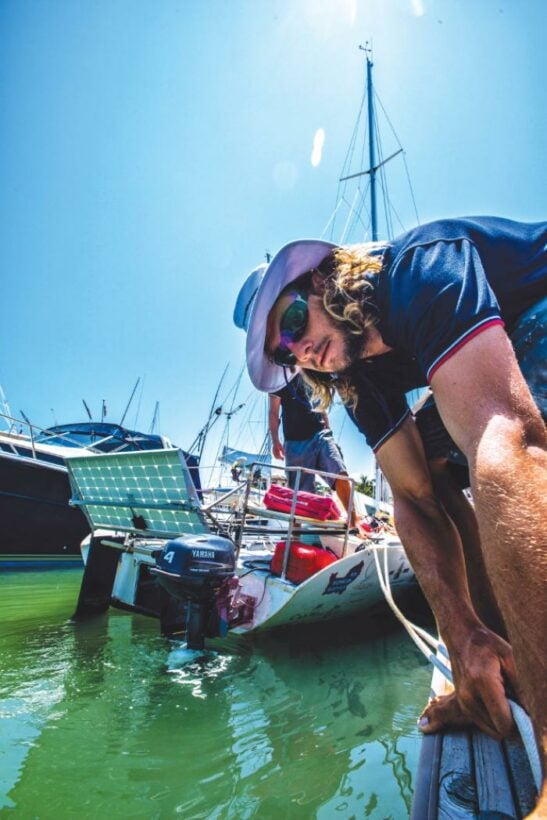 There are two crazy Frenchmen sailing around the world on a tiny boat and they are here in Phuket but leaving in one hour. That was the first word we heard at the Gazette of the adventurers who were in Phuket on a brief hiatus from their voyage in Poseidon's watery world.
Scenes from great ocean-faring tales were instantly resurrected in my mind, such as In the Heart of Sea, the real-life story full of tragedy, suffering and cannibalism, which was the inspiration for Moby Dick, and Sailing Alone Around the World, the epic maritime journey of Joshua Slocum's solo sail around the world.
While they were scrambling to stock up on provisions and prepare for the next leg of their journey from Phuket to Sri Lanka before the tide started going out, intrepid sailors Alexandre Seux, 27, and Florian Masniere, 26, were gracious enough to sit down for a word with the Gazette.
Having departed Normandy, France in September 2012, the two Frenchmen looked the part: shoulder length hair bleached by the sun and whipped into a frenzy by the wind, bronzed skin from a year and a half out in the elements and a certain look in the eye that hints at some sort of water-borne wisdom only obtainable from time spent at sea.
"The project was to do a world tour, circumnavigation, on a 6.5 meter (21 foot) boat, so the challenge was to do the world tour with a small boat," says Alexandre matter-of-factly.
The looming question was… why use a small boat? "The small boat is because we had no money. If we had bought a big boat, the sponsors would have looked at us and said 'enjoy your trip on your 40 foot', it's too easy."
The boat they chose to use is a Mini Transat 6.50 named Adonf. The Mini Transat is a purpose-built yacht designed for the solo transatlantic yacht race of the same name. Because of the extreme isolation one must endure in the race it has been called "mad" – likely as a reference to the state of mind one must be in by the finish.
Built in 1992, the Frenchmen's Mini Transat lives up to its name, it is quite small indeed, having a length of 6.5 meters and a beam of 3 meters. However, the design enables the craft to plane like a motorboat and is capable of speeds up to 25 knots. Designed to sail single-handed, the rigging and quarters below deck were only intended for a single person. Since they have been exceeding the boats intended weight, they have had to deal with constant repairs of failing equipment.
"We have been sailing from Normandy to Spain, Portugal, Caribbean, then we crossed the Panama canal, we sailed to Galapagos and then the Marquesas in Polynesia. We stopped in Polynesia for four months because we broke our mast and at that time we needed to find more money," explained Alexandre. "We were going upwind and that was not a good idea, we should have gone downwind. We didn't make a good choice."
After limping their boat from the "middle of nowhere" to Polynesia with a storm sail and the boom upended pretending to be a mast, they were forced to wait it out on the hard for a new mast to be shipped from the US. This delay gave them an opportunity to follow-up on another facet of their journey.
"The other part of the project is the economic project. When we tried to raise sponsorship, we talked about the sailing project, but we also told them that we will meet entrepreneurs around the world and write articles about them," said Alexandre. The two sailors are passionate about sustainable development and corporate social responsibility (CSR). A significant focus of their project has been to search out entrepreneurs whose work promotes environmental stewardship.
With the new mast finding its way to Polynesia, and being fitted in place, they pointed the bow of their tiny boat west north-west and continued on to Bora Bora, the Philippines, Tonga, Fiji, the Cook Islands, Vanuatu, Papua New Guinea, Malaysia, Singapore and, finally, Phuket. After a year and a half and roughy 15,000 nautical miles, they were able to rendezvous with family and friends for three weeks on Phuket.
There are far too many stories from their incredible adventure to publish on this page and they still have another six months to go. Alexandre told the terrifying story of Florian falling overboard in the middle of the night, the 19 tedious days it took to cover 1,000 miles to the Galapagos in the doldrums and the saddening truth of not being able to catch any fish for two months in the empty seas around Southeast Asia.
Preparing their boat, which looked like a tender compared to the boats surrounding it at the Royal Phuket Marina (RPM), they looked at home and eager to ride the tide out to sea on the next week-long leg of their journey to Sri Lanka. There, they hope to secure sponsorship to continue on the final push back to Normandy. Alexandre explained that, "After Sri Lanka there is a lot of piracy, we are not sure how we will manage it. The idea might be to load the boat on a cargo [ship] from maybe India to Egypt to avoid the risk and go sailing in the Mediterranean."
The sailors wanted to thank Assistant General Manager of RPM Mete Izmen for allowing them to dock there for their stay as well as providing them with equipment to dry dock their boat for repairs.
It appeared that they have been the subject of certain judgments thus far in their trip. As they "battened down the hatches" and prepared to depart, Alexandre offered a final thought, "We know what it looks like, 'two guys on a small boat sailing together', but it's not what you think." So, ladies, have at them.
To learn more about or follow the rest of their sailing journey, visit ideesdumonde.org or find them on Facebook at Defi Voile 6.50
— Jeremie Schatz

Join the conversation and have your say on Thailand news published on The Thaiger.
Thaiger Talk is our new Thaiger Community where you can join the discussion on everything happening in Thailand right now.
Please note that articles are not posted to the forum instantly and can take up to 20 min before being visible. Click for more information and the Thaiger Talk Guidelines.