US President announces break with WHO, new sanctions against China, and more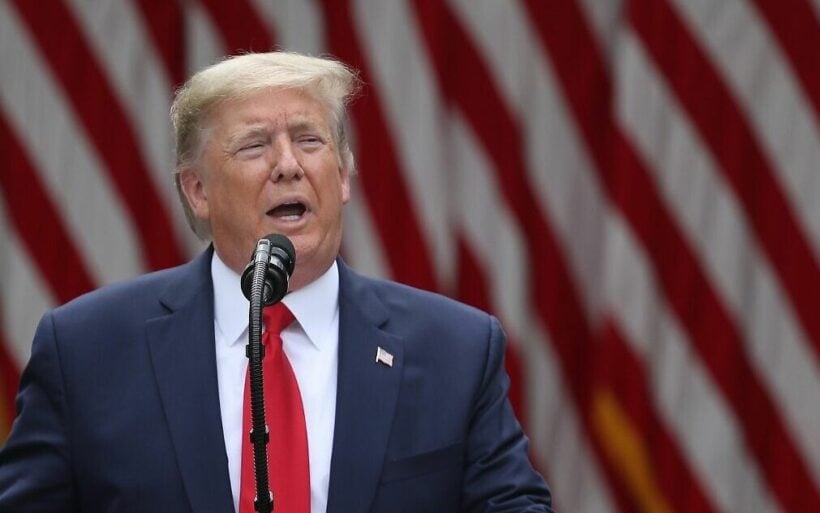 China, the World Health Organisation, Twitter, social media generally, new security laws in Hong Kong, bans on some foreign nationals and proposed retaliations against the Chinese.
And that was all in just one media conference in the rose garden at the White House by US President Trump. The President, without even mentioning the Covid-19 crisis or the overnight violence in numerous US cities, launched a blistering attack on the Chinese government. He listed a litany of "misdeeds" that ranged from the violation of Hong Kong's freedoms, espionage, and announced an unspecific inventory of retaliatory measures.
The invective will plunge US-China relations into the deepest crisis since relations resumed between the two nations in the 1970s, led by President Nixon. Two years of carefully curated trade negations are now in tatters between the two countries.
"They've ripped off the United States like no one has ever done before. Beijing has raided our factories and gutted American industry."
The US President cast Beijing as a central foil he will use as a platform in the remaining months of his re-election campaign for the Presidential elections in November. He painted Beijing as an existential geopolitical threat. His strong rhetoric is a gamble that will rattle world trade and diplomatic relations whilst the world struggles to emerge from the global Covid-19 pandemic.
Just the night before, massive protests roiled the US cities of Minneapolis and Atlanta after the death, in police custody, of an African American man, but Mr. Trump made no mention of the incidents that have become an incendiary distraction from the country's struggles with Covid-19.
President Trump called out China for "espionage to steal our industrial secrets, of which there are many," and accused Beijing of "unlawfully claiming territory in the Pacific Ocean" and threatening freedom of navigation. He blasted the Chinese government for passing a national security law that he claimed would undermine Hong Kong's autonomy.
"Going forward the US will no longer grant Hong Kong special status on trade or in other areas and instead will apply the same restrictions to the territory it has in place with China."
His statement would strip Hong Kong of special conditions relating to extradition, trade, travel and customs the US had previously granted it. The proposed sanctions would have a profound effect on trade and travel between Hong Kong and US citizens and businesses.
But, wait, there's more. He then announced the US will pull out of the World Health Organisation even as the Covid-19 pandemic continues to spread across the globe, most notably in his home country. President Trump claimed that China has "total control" over the WHO and its 194 nation states.
He also claimed that China had pressured the WHO to "mislead the world" over the origins of the coronavirus pandemic, calling it the "Wuhan virus".
"Health funding would be redirected to other worldwide and deserving, urgent global public health needs."
"This week China unilaterally imposed control over Hong Kong security… a plain violation of Beijing's treaty obligations with the United Kingdom."
"Hong Kong is no longer sufficiently autonomous to warrant the special treatment that we have afforded the territory."
He said his administration would begin the process of eliminating policy exemptions that give Hong Kong different and special treatment, including extradition treaties, export controls on dual-use technologies.
"The US will also revoke Hong Kong's preferential customs and travel status."
In reality, the steps would have very little immediate financial impact. In 2019, the US imported less than $5 billion of goods from Hong Kong that President Trump could hit with new tariffs. But, in comparison, the US exports over $30 billion a year to Hong Kong.
At this stage there has been no official response from the Chinese government which will likely take the weekend to digest the gravity and extent of the US President's statements.
President Trump is also widely expected to announce a restriction on Chinese students. About 350,000 visit the US to study each year paying high fees to United States universities. Joint scientific research between the two nations is also expected to be scrapped.
Shortly after the press conference the White House then issued a presidential proclamation suspending US entry for Chinese graduate and postgraduate students and researchers that takes effect at noon on Monday.
The proclamation claimed that authorities in the People's Republic of China "use some Chinese students, mostly post graduate students and post-doctorate researchers, to operate as non-traditional collectors of intellectual property. These students are at high risk of being exploited or co-opted by the PRC authorities and provide particular cause for concern."
Meanwhile, Twitter doubled down in an escalating row with the President, saying tweets he made at the height of the overnight violence in ,Minneapolis which implied that protesters in the city could be shot, "glorified violence", the first time it had applied such warnings to any public figure's posts.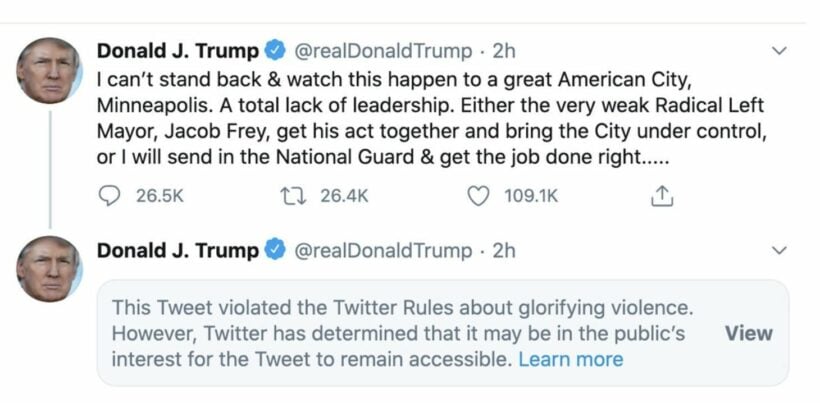 The highly public to-and-fro between President Trump and Twitter punctuated a week of conflict between the outspoken President and the loudspeaker itself. On Wednesday he accused Twitter of "stifling free speech" saying he would "not allow the social media companies to operate unfettered".
In an act of retaliation, he signed the executive order on Thursday taking aim at Section 230 of the Communications Decency Act, which provides the liability shield to the tech companies. It is unclear if this blunt tool can be enacted and could be unconstitutional.
Keep in contact with The Thaiger by following our
Facebook page
.


Find more SE Asian News courtesy of The Thaiger.

Broke? Find employment in Southeast Asia with JobCute Thailand. Rich? Invest in real estate across Asia with FazWaz Property Group. Even book medical procedures worldwide with MyMediTravel, all powered by DB Ventures.

US ambassador meets deputy PM to discuss Thailand's "great investment potential"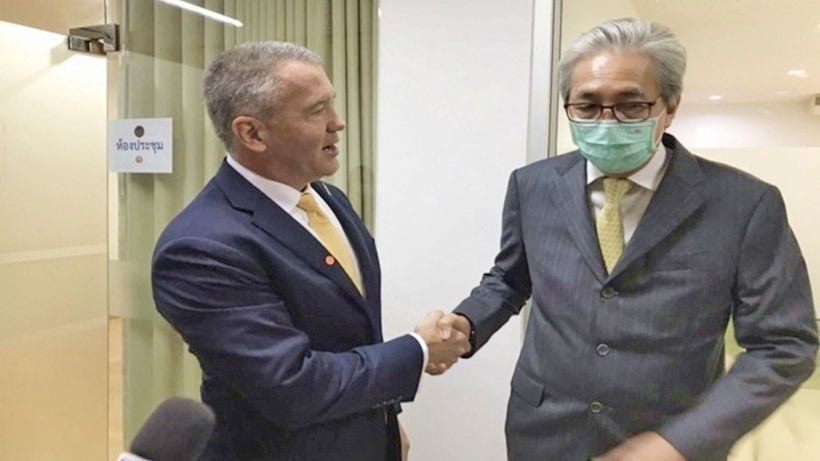 US Ambassador to Thailand Michael George DeSombre, who raised eyebrows in May when he described the US as "a better friend than China," has praised the kingdom's "great investment potential", highlighting the expansion of current projects and further support for industry as ways to promote further cooperation. Deputy PM Somkid Jatusripitak welcomed the ambassador to the open discussion amongst key trade officials.
The US Ambassador chose not to wear a facemark during the visit.
The DPM and the ambassador discussed cooperation between the 2 nations, to help strengthen the economies of both countries and promote more US investment in Thailand. The ambassador says Thailand has huge potential and suitability for US companies to invest, especially as part of the supply chain of the South East Asia region.
Somkid says DeSombre is enthusiastic about the development of mutual economic relations, revealing that the ambassador proposed ideas on what industries should receive more support from both sides.
The ambassador expressed confidence that Thailand will become a technological hub in the region, with immense growth potential in the manufacturing and service sectors, as well as stock exchanges that could connect to Hong Kong and Shenzhen.
"Thailand provides excellent medical services, an area which could be expanded to reach more clients and patients…. related agencies are ready to develop mutual exchange packages through the Board of Investment, to promote competitiveness and attract investment."
The DPM said Thailand doesn't need standalone investment from individual companies, but rather demands investment packages, which the ambassador says he'll be proposing soon.
Somkid also stressed that he's still working on the country's domestic and international economic affairs, while declining to comment regarding the recent political developments in ruliing Palang Pracharath Party.
Thailand's economic ministers will meet on Friday to discuss 2 main economic packages.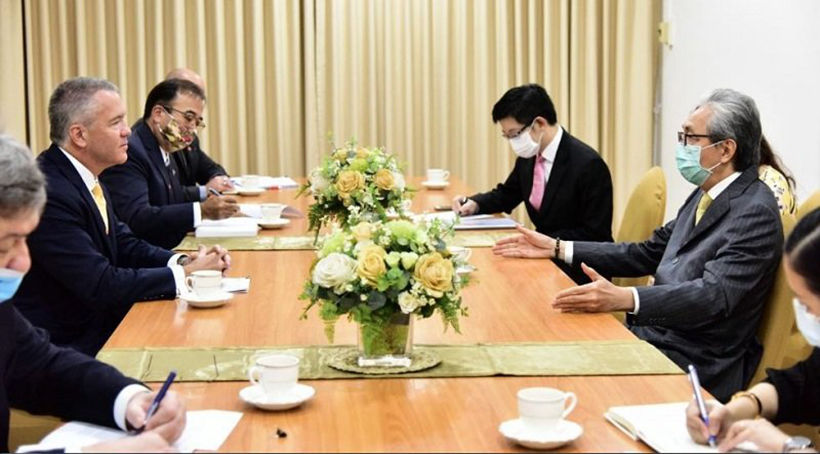 SOURCE: NNT
Keep in contact with The Thaiger by following our
Facebook page
.
Thailand gets quarantine "red light" from UK, "green light" from EU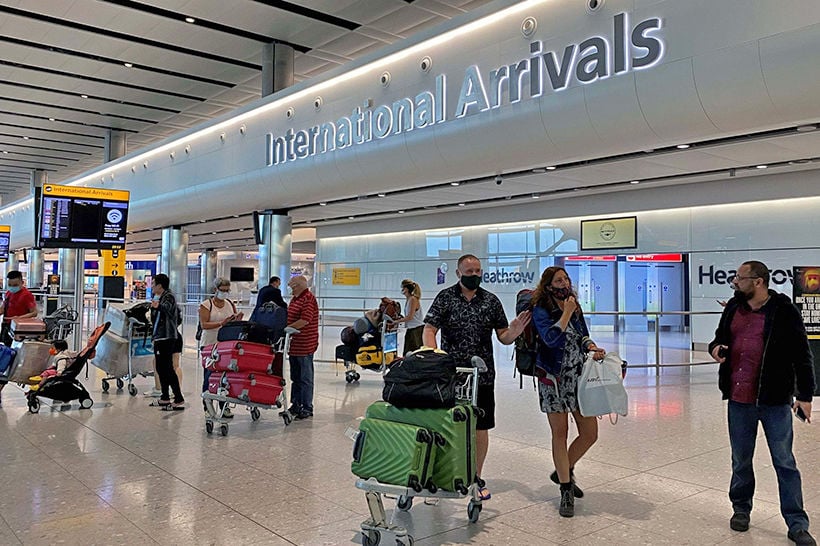 Despite reaching 41 days without a locally transmitted case of Covid-19, Thailand is still designated as a "red light" country and Thais arriving in England will still be required to self-isolate for 14 days. Updated guidelines published on the UK Government website on Friday list 59 countries and territories for which no quarantine will apply, starting July 10. Thailand, earlier included in the list, has now been deleted.
"If you have been to or stopped in a country that is not on the travel corridors exemption list you will have to self-isolate until 14 days have passed since you left that country."
Scotland, Wales and Northern Ireland will each announce their own separate rules depending on how the new regulations work in England.
Unsurprisingly, the US, Brazil and India are not on the "travel corridors exemption list," but neither is Thailand, despite earlier reports it would be, and despite its success in eliminating local transmission of the virus. The list will be subject to regular reviews.
Thailand is one of just 15 countries to which the EU has agreed to open its borders. The UK government has put Thailand on a separate list of countries deemed "safe for citizens to visit", but anyone returning from a trip to Thailand will still have to endure the 14 day quarantine.
Asian nations on the UK exemption list include Vietnam, Japan, Taiwan, South Korea and Hong Kong, who have all brought Covid-19 transmission under control, though there have been some scattered outbreaks of new cases in Japan and Korea.
Under the new rules, a "traffic-light system" – red, orange and green – will be used for different countries depending on their coronavirus contagion levels.
'Orange' countries will have reciprocal arrangements in place with England, while green countries, such as New Zealand, are deemed safer than England. Orange countries include France, Italy and Spain, which are among the most popular holiday destinations for Britons.
But the US, with over a quarter of the world's infections, and Greece, another popular travel destination, will be designated with a red light, requiring 14 days of self-isolation.
SOURCES: Bangkok Post | Thai Examiner
Keep in contact with The Thaiger by following our
Facebook page
.
India aims to have Covid-19 vaccine by mid-August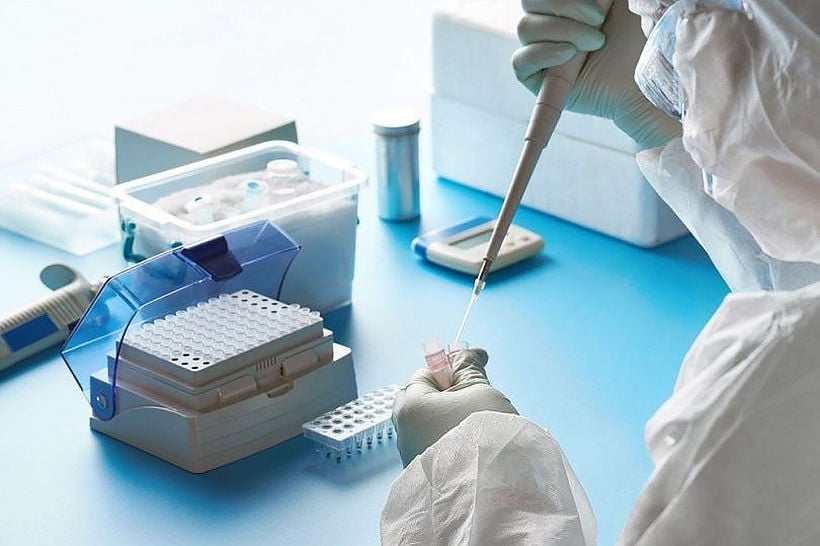 But scientists are skeptical at the speed of the development. India has announced its plan to take its first Covid-19 vaccine from human trials to general use by mid-August, just 6 weeks from now. Bharat Biotech International, an unlisted vaccine maker, received regulatory approval to start human clinical trials for its experimental vaccine earlier this week, but it's already got India's top medical research body expediting the process.
Bloomberg reports that a July 2 letter from the Indian Council of Medical Research to clinical trial sites said the vaccine is "envisaged to be rolled out for public health use by August 15, after completion of all clinical trials," and that it's "one of the top priority projects which is being monitored at the topmost level of the government."
There is no evidence that Bharat Biotech's vaccine is safe for human use, not to mention effective at providing any protection, short or long term. The "envisioned" timeline is far shorter than other front-runner vaccine efforts from American and Chinese drug makers, most of whom started human clinical trials months ago, and are now entering the last of 3 stages of testing.
There has never been an effective vaccine developed for any of the coronavirus family of diseases – SARS, MERS, the 'common cold' – 229E (alpha coronavirus), NL63 (alpha coronavirus), OC43 (beta coronavirus), HKU1 (beta coronavirus) – or Covid-19 (SARS-CoV-2). Influenza (Flu) is NOT a coronavirus.
The announcement of a potential vaccine underlines India's desperate need to find a way to stem the coronavirus, which has infected nearly 650,000 people and killed over 18,600 in the country, making it Asia's new epicentre with the world's fourth-largest outbreak. In its letter, the ICMR urged the trial sites to enroll volunteers by Tuesday.
The proposed speed has alarmed many in the medical fraternity. According to a tweet from a medical researcher at India's Manipal University…
"Such an accelerated development pathway has not been done EVER for any kind of vaccine, even the ones being tried out in other countries. Even with accelerated timelines, this seems rushed and hence, has potential risks."
The government of Indian PM Narendra Modi is anxious to create the impression it has gained control over the outbreak, after abandoning a costly lockdown that caused tremendous economic suffering without slowing the spread of the virus. The August 15 deadline for the Bharat vaccine may reflect that political pressure: that's the day India celebrates its Independence from the British.
SOURCE: Bloomberg | Bangkok Post
Keep in contact with The Thaiger by following our
Facebook page
.