Asia News Today | Taiwanese army reserves on high alert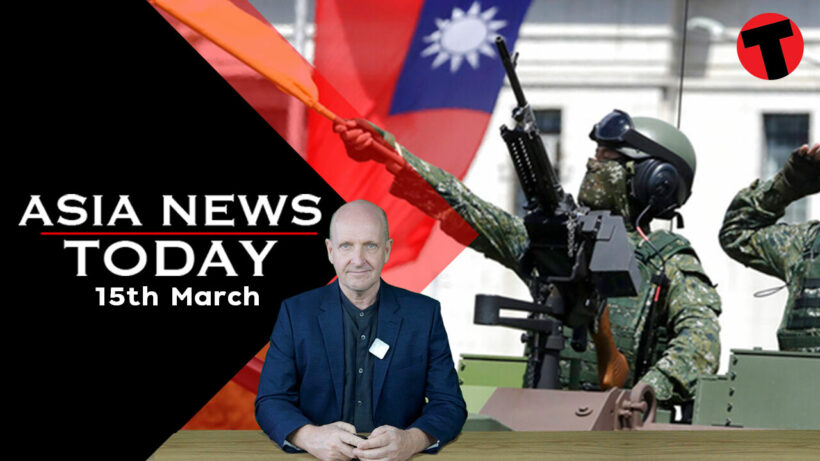 Hundreds of Taiwanese army reserves have carried out training exercises after a call from the Taiwanese president calling for "unity" as the island keeps an eye on China's reaction to the invasion of Ukraine. Taiwan has kept its military reservists on high alert over the past year.About 400 personnel took part in target training and combat simulations yesterday in efforts to keep the island's defences in readiness for any aggression from China. President Tsai Ing-wen dressed the reservists over the weekend stressing the need for unity if the call comes to defend the island. She" said…. The recent situation in Ukraine once again proves that the protection of the country, in addition to international solidarity and assistance, depends on the unity of the people."The sabre-rattling from China has escalated since Ms Tsai took office in 2016 and the growing rhetoric between the US and China since the same time. Chinese warplanes have been breaching Taiwan's air defence zone with greater frequency and Moscow has declared its cards, siding with Beijing, saying that Taiwan is "an inalienable part" of China. Yesterday's Taiwan's Ministry of National Defence reported that 13 Chinese warplanes, including 12 fighter jets, entered Taiwan's declared airspace.
---
Fugitive businessman Jho Low, the alleged mastermind of the 1MDB scandal, is said to have stolen the equivalent of US$1.42 billion during bond transactions that the Goldman Sachs Group arranged for the Malaysian national wealth fund. An FBI agent, Eric Van Dorn, claimed the amount under oath as a witness in the bribery trial of ex-Goldman Sachs banker Roger Ng yesterday. He also testified against former Malaysian PM Najib Razak, telling the jury that he earned US$756 million from the US$6.5 billion raised in the 1MDB bond offerings. He also threw the former PM's stepson, Riza Aziz, under the bus testifying that he pocketed US$238 million in the deal. Among others involved in the huge international scandal, Van Dorn named Khadem al-Qubaisi, a former MD of Abu Dhabi's state-owned International Petroleum Investment, a guarantor of the 1MDB transactions, claiming that he received the equivalent of US$472.8 million.Van Dorn explained in detail how he tracked the money and that payments were made to at least 16 recipients, explains that Roger Ng was paid US$35.1 million, while former Goldman Sachs banker Tim Leissner, who pleaded guilty to the fraud, was paid US$73.4 million.Former Malaysian PM Najib was convicted in Malaysia and sentenced to 12 years in prison, but is currently free during an appeal over the conviction.
---
Japan's defence ministry reported yesterday that six Russian naval vessels passed through a passage of water between the country's northernmost prefecture of Hokkaido and Russia's Sakhalin island. The incident was reported by Japanese Maritime Self-Defense Force vessels on Sunday night. They reported that the six vessels included a destroyer, a submarine, and a missile tracking ship, all heading towards the Sea of Japan. Russia's navy has stepped up maritime drills involving more than 20 warships in waters between Russia and Japan since February. Last Thursday and Friday, a total of 10 Russian naval ships passed through the Tsugaru Strait between Hokkaido and Japan's largest island of Honshu. Russia has confirmed the military exercises, saying that they were taking place around a chain of islands controlled by Russia, but the disputed islands are also claimed by Japan.Japanese defense ministry officials yesterday claimed that the ramping up of Russian military activity appears to be in parallel with its invasion of Ukraine.
---
An in another regional naval incursion, the Philippines Department of Foreign Affairs has called China's ambassador to Manila to protest the Chinese Navy's incursion in the Sulu Sea for 3 days from January 29 this year. The official protest claims claims the passage of a Chinese Electronic Reconnaissance Ship in Philippine waters was illegal and violated the country's sovereign rights. At the time, a Philippine Navy vessel challenged the Chinese Reconnaissance ship, which said it was exercising "innocent passage" at the time… the equivalent of "just passing through".Filipino defence officials say the Chinese vessel's movements, "didn't follow a track that can be considered as continuous and expeditious"… claiming they "lingered in the Sulu Sea for three days". The Filipinos told the Chinese ambassador that Chinese vessels must "desist from entering Philippine waters uninvited and without permission."
---
Myanmar is suffering a series of frequent power outages following the military coup 13 months ago. Oil and energy price hikes are also adding to the woes of the Burmese. But the Military Junta responded by claiming that transmission equipment at hydro-power plants has been destroyed by militant forces. The energy ministry also announced yesterday that some natural gas-fueled power plants in Myanmar have suspended operations because of the surging fuel costs. In Yangon, traffic lights remain switched off and business are resorting to power generators to stay open. Larger factories are also complaining about outages lasting up to 10 hours at a time.Residents are also sharing on social media that power cuts can last all night, making it too hot to sleep without fans.
---
A routing of China's stock market yesterday cost some of the country's richest tycoons more than US$52 billion. Zhong Shanshan, China's so-called king of bottled water, lost more than US$5 billion, stock in his Nongfu Spring Company tumbled 10% in Hong Kong trading.In another case Tencent's Pony Ma dropped the equivalent of US$3.3 billion. Tencent shares crashed after news emerged that the company is facing a record fine for violating anti-money laundering rules.The plunge in Chinese stocks accelerated after a report suggesting Russia has approached Beijing for support with the war in Ukraine. The report has raised concerns over a potential backlash against Chinese companies. Bloomberg reports that the Hang Seng China Enterprises Index sank the most yesterday since November 2008, while the Hang Sang Tech Index tumbled 11%.Meanwhile, the Wall Street Journal has reported the People's Bank of China discovered that its online WeChat Pay service had allowed the transfer of funds for illicit purposes. They report that there's a raft of other alleged illegal transfers. Last Friday Didi Global shares slumped a record 44%, another ride-hailing app, suspended preparations for its Hong Kong public listing.
Asia
Video
World News

Join the conversation and have your say on Thailand news published on The Thaiger.
Thaiger Talk is our new Thaiger Community where you can join the discussion on everything happening in Thailand right now.
Please note that articles are not posted to the forum instantly and can take up to 20 min before being visible. Click for more information and the Thaiger Talk Guidelines.