Chinese 'fake moon' to replace street lights described as 'lunacy'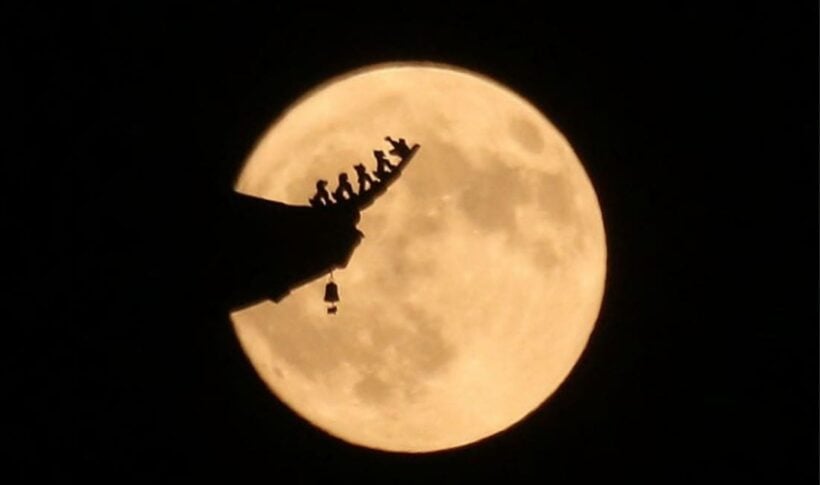 by The Star – Asia News Network
A Chinese city's plans to launch a man-made moon to replace street lights has been met with incredulity online. Or maybe it's just an attempt to steal the monthly Full Moon party at Koh Phangan? (With a fake moon they could hold an event every night!)
Chengdu, in southwest China's Sichuan province, announced last Tuesday it was planning to launch an "illumination satellite" by 2020, People's Daily reported, adding that it would have eight times more light than the real deal.
"Is this The Onion?" asked one Weibo user, referring to the US satirical news site. "Chengdu, have you lost it?" asked another.
Other users invoked Hou Yi, from Chinese mythology, who shot down nine suns, to come and shoot down the extra moon. Some called the plan an outright scam.
The bizarre idea – essentially a giant mirror that will reflect sunlight – was also called a ploy to start implementing 24-hour work shifts by some Weibo users, while others joked how happy it must have made the manufacturers of insomnia medication.
This is not the first time a city has attempted to light up using fake moons. The Norwegian town of Rjukan installed three large computer-controlled mirrors to track and reflect sunlight in 2013; in the 1990s, Russian astronomers succeeded in launching a satellite into space to deflect sunlight back to Earth, but a second attempt in 1999 failed.
The idea of an extra moon, which is said to be able to produce enough light to illuminate an area between 10 and 80km (six to 50 miles) in Chengdu, is fraught with real environmental threats.
According to the New World Atlas of Artificial Sky Brightness, light pollution in Chengdu now completely obscures the night sky, to the point that the sky is just not visible from the city.
According to the International Dark Sky Association, which advocates for the protection of night skies, living under light-polluted skies is a grave health hazard as our biological clock evolved to match the day-night cycle, and exposure to artificial light at night has been linked to an increased risk of obesity, sleep disorders, depression and more.
Artificial light also throws animals off their natural day-night rhythms. Baby sea turtles, for example, which find their way to the ocean by detecting the light coming from the horizon, often get lured into streets by city lights, where they are crushed by vehicles or die from lack of water.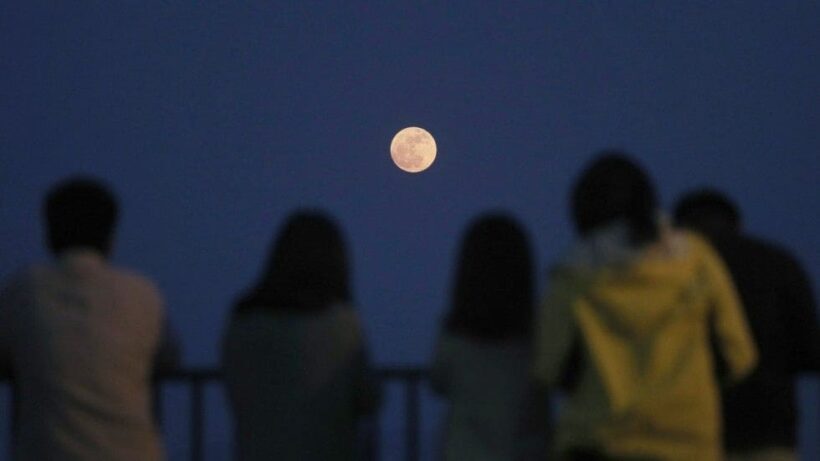 SOURCE: The Nation
Keep in contact with The Thaiger by following our
Facebook page
.


Find more SE Asian News courtesy of The Thaiger.

Broke? Find employment in Southeast Asia with JobCute Thailand and SmartJob Indonesia. Rich? Invest in real estate across Asia with FazWaz Property Group or get out on a yacht anywhere with Boatcrowd. Even book medical procedures worldwide with MyMediTravel, all powered by DB Ventures.

Coronavirus UPDATE: Bad 24 hours in UK and US, Panama comes up with novel prevention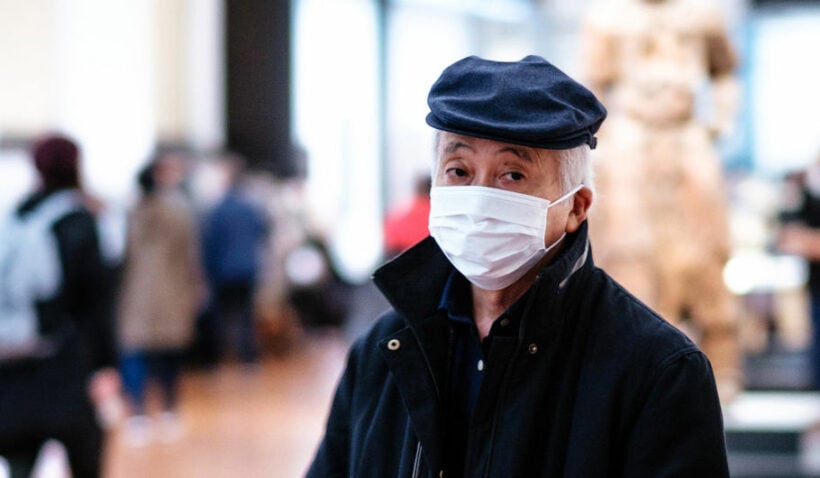 World totals surged in the past 24 hours to reach 935,287 cases since the start of the outbreak of the Covid-19 coronavirus in late December (totals read at 7.50am Thai time). The case numbers will likely move through the 1 million milestone in the next 24 hours.
47,192 people have died as a result of the Covid-19 virus and 194,000 have recovered. Whilst the worldwide reporting and testing remains 'lumpy', the trends indicate where the world's main hotspots are. Everyone is looking for a 'flattening of the curve', a graph that is still heading almost almost straight up with little sign of a short-term respite, at least globally.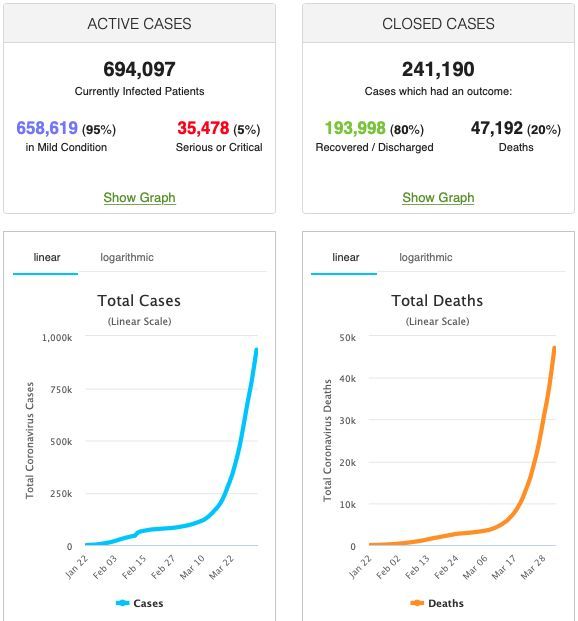 The US has had both its worst day of new cases and sad deaths. 214,836 people are now infected in total, 26,306 new cases added in the past 24 hours. 1,046 people have died in the US in the last day. European countries and Iran also continue to struggle with containment of the virus.
Here is a list of 14 countries with the largest amount of cases in the world…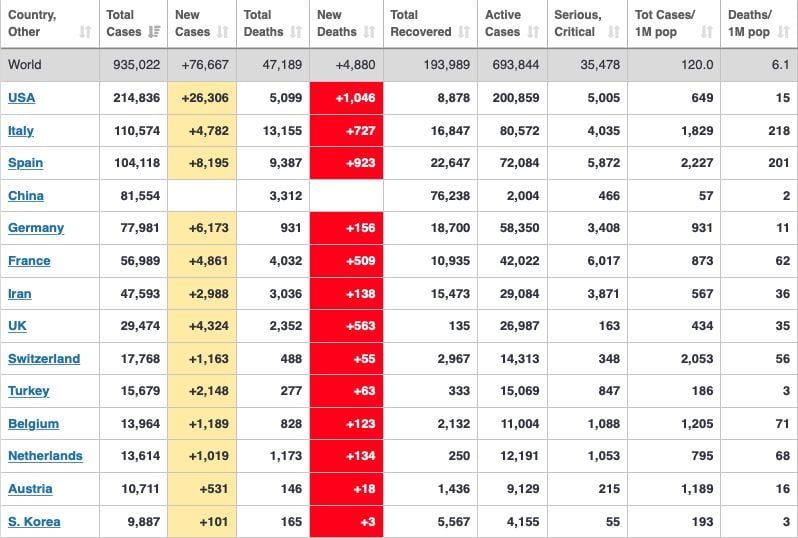 Here are snippets of other coronavirus-related news from around the world….
US
Florida state is telling their residents to stay at home on the day the number of US coronavirus cases skyrocketed past 200,000. Meanwhile, the debate revs up in the US whether all Americans should be wearing a mask and taking a lead from most Asian countries where the wearing of a mask has been a popular preventative measure.
More data, showing people without any symptoms of Covid-19 is fuelling the spread of the disease, has US medical officials rethinking whether the general public should be wearing masks. But the World Health Organisation, while it says it is reviewing its advice, maintains its stance that there is no need to keep your mouth covered if you are not a patient or health worker.
CHINA
If it wasn't published in The Guardian we would likely gloss over this news. But cat owners may need to be more cautious about contact with their fluffy pets, after a Chinese study has revealed Covid-19 can be transmitted between cats.
The team at the Veterinary Research Institute in Harbin, China, found that cats are "highly susceptible to Covid-19 and appear to be able to transmit the virus through respiratory droplets to other cats". On the plus side, dogs, chickens, pigs and ducks were found to be unlikely carriers of the infection.
The findings followed reports earlier this week of a pet cat in Belgium being infected with the coronavirus. About a week after the cat's owner started showing symptoms, the cat also developed breathing difficulties, diarrhoea and vomiting, and subsequent tests at the University of Liège showed the cat was infected with coronavirus.
THAILAND
Thailand's now has 1771 cases, with 120 new cases confirmed over the last 24 hours and 2 more patients dying.The government's Centre for Covid-19 Situation Administration made the announcement this morning (April 1). The cases are divided into three groups…
The first group of 51 are connected to cluster cases. One person joins the "boxing match cluster," 11 had worked at or visited entertainment venues, one had attended a religious ceremony in Malaysia, and 38 had had close contact with other confirmed cases.
The second group is made up 39 people, of whom 23 recently returned from overseas (6 Thais and 2 foreigners from travelling, and 16 who attended a religious ceremony in Indonesia). 14 were working in crowded areas or had close contact with foreigners, and one medical staff.
The path of infection for third group, of 30, is being investigated.
PANAMA
Panama has introduced a new measure to combat the spread of the novel coronavirus – separating the sexes. It started yesterday. Only women can leave their homes to buy necessities on Mondays, Wednesdays and Fridays. Panamanian men will be allowed to do the same and run errands on Tuesdays, Thursdays and Saturdays.
Everyone has to stay home on Sundays. The restrictions will last for at least 15 days, according to government officials in Panama.
US
Another corporate pivot where a cigarette manufacturer is turning to something much more useful. The makers of Camel, Lucky Strike and Pall Mall cigarettes is turning its attention to the development of a coronavirus vaccine.
British American Tobacco announced that their biotech subsidiary, Kentucky BioProcessing, is working on a possible vaccine for the Covid-19 coronavirus that, they claim, could be cultured in lab-grown plants closely related to tobacco.
The biotech firm, which helped develop an experimental Ebola treatment in 2014, is one of dozens of companies around the world racing to develop a vaccine for Covid-19.
The development of vaccines typically takes years, but scientists and government authorities are hoping to fast-track the process to prevent the second and third waves of outbreaks of the virus. Many experts caution that a vaccine is at least 18 months away.
UK
The UK government is facing growing pressure to ramp up coronavirus testing and restrictions on movement, as Britain reported its biggest daily increase in deaths. Some 2,352 virus patients died yesterday, up 563 in a day.
PM Boris Johnson, himself having tested positive and in isolation, says testing was "massively increasing" and it was "the way through" the pandemic.
Yesterday's announcement marked the first time the UK has reported more than 500 deaths over 24 hours from Covid-19.
AUSTRALIA
A third death in Queensland overnight brought Australia's national toll of coronavirus-related deaths to 23 as the CSIRO (Australia's scientific research organisation) begins to trial two potential Covid-19 vaccines in Geelong, Victoria, where they are testing on ferrets before hopefully moving to human trials a few months later.
PHILIPPINES
Philippines awaits Chinese expert team as cases rise to more than 2,000. An Police lock up 'curfew breakers' in dog cage in Philippines.
SINGAPORE
Boom time for golf in Singapore with courses full; spending time outdoors seen as 'safe'
INDONESIA
Indonesia declares health emergency. President Joko Widodo announces $24.7 billion package to minimise virus' impact
VIETNAM
Vietnam has announced a national lockdown to fight COVID-19, with nearly 100 million people ordered not to go outside except for food and medical needs. And the state-run Vietnam News Agency stopped printing English-language newspaper until April 15, after one of its reporters tested positive for Covid-19
MALAYSIA
The Malaysian government urged women to 'dress up and stop nagging husbands' during lockdown, then apologises for post.
---
Stay up to date with all the latest news at Covid-19 coronavirus. And here is the latest Thailand News Today daily update…
Keep in contact with The Thaiger by following our
Facebook page
.
Coronavirus UPDATE: Bangkok NOT being locked down, sobering forecast for US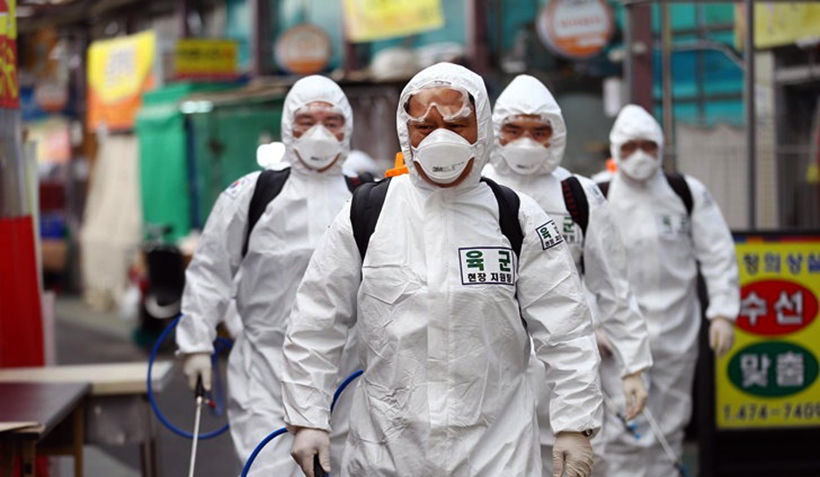 Across the world the total number of Covid-19 cases has reached 858,000 (8am Thai time), registering 42,114 deaths and 177,141 people fully recovered. In the US, the number of cases has reached 187,729 – nearly 24,000 new cases in the past 24 hours and 726 people dying over the past day. Here is our page for all the latest Covid-19 news, 24 hours a day.
Italy and Spain have also had similar daily spikes in new cases and deaths as Europe struggles to 'flatten the curve' of the steep rise in cases. Here are the stats from the top 10 countries in the world (the statistics are only an indication and rely on full reporting and vary because of regional testing). worldometers.com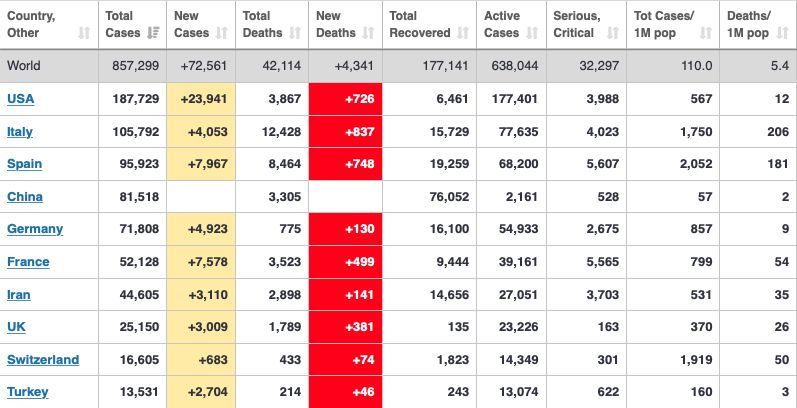 Here are some snippets of coronavirus news from around the world…
THAILAND
In Thailand, the Department of Disease Control of the Ministry of Public Health confirmed 127 new Covid-19 coronavirus cases in its daily press briefing yesterday. 1 more death was also reported, bringing the national total to 10 since the outbreak began in January. The latest number raises the total number of confirmed infections in Thailand to 1,651.
Meanwhile the Thai government is reported to be mulling the following possible additional preventative measures although NONE of these have been actioned at this stage.
• considering banning alcohol sales (there have been partial bans of sales in some provinces already)
• considering cutting all public transport services
• considering preventing people from moving between provinces
• considering extending the emergency decree by 2-3 months
BANGKOK
Bangkok's city hall has dismissed as false reports that it is announcing a full lockdown to keep city residents in their home. Pol Capt Pongsakorn Kwanmuang from the Bangkok Metropolitan Authority says that the rumours of a full lockdown could have been triggered by mixed messages from a meeting of BMA executives on Monday. He says that no further measures have been tabled or proposed at this time.
"The BMA executives didn't discuss any further lockdown measures at the meeting."
UK
A 13 year old boy in London is thought to be Britain's youngest known victim of the Covid-19 virus. The teenager died at the King's College Hospital in Camberwell, south London. The hospital statement expressed its "thoughts and condolences" to the boy's family.
"Sadly, a 13 year old boy who tested positive for Covid-19 has passed away, and our thoughts and condolences are with the family at this time. The death has been referred to the Coroner and no further comment will be made."
ASIA
The Covid-19 pandemic is "far from over" in Asia, according to a regional spokesperson for the World Health Organisation, Tarik Jasarevic.
"China has slowed transmission of the virus and passed one peak in the outbreak. The challenge now is to prevent a resurgence of new cases. This is going to be a long-term battle."
China and South Korea have both delayed key national college entrance exams over growing fears of a second wave of coronavirus cases, underlining the difficulties countries face in returning to normal life even after successfully reining in infections.
SOUTH KOREA
South Korea, which was one of the first countries outside China to show a breakout of coronavirus cases, has now "flattened the curve" of new cases. The country how adds an average of 100 new cases a day. South Korea has postponed its annual college entrance exam and cancelled the planned reopening of schools. There are still groups of cases in churches, hospitals and nursing homes flaring up with other cases coming across the country's borders, according to officials.
UK
Police in the UK have come under fire for some over zealous reaction to the requests for social distancing in Britain – drones filming couples as they take their dogs for a walk through country areas, drivers sent to court after being spotted on the road, person warned publicly on a Twitter feed for dropping in on his father's 78th birthday. Police have also put black dye in a picturesque lake at Harpur Hill in Buxton to stop people going there to take photos.
There is growing concern in the UK around draconian tactics and alleged "overreach" by police forces since the PM Boris Johnson (who remains confined in his home after testing positive last Friday) announced lockdown measures on March 23.
US
America's top scientists battling the coronavirus have estimated that Covid-19 could be responsible for killing 100,000 to 240,000 US residents, despite social distancing measures that have closed schools, banned large gatherings, limited travel and forced people to stay at home.
Dr. Anthony S. Fauci, the country's leading infectious disease expert, and Dr. Deborah L. Birx, coordinating the coronavirus response on behalf of the US government, presented the grim projections at a White House briefing yesterday. They described the projections as "our real number" but pledged to do everything possible to reduce it as the US President solemnly watched on.
Dr. Fauci and Dr. Birx say the number of deaths could be much higher "if Americans did not follow the strict guidelines vital to keeping the virus from spreading". The models shown at the over-2-hour media conference showed that more than 2.2 million people could have died in the US if nothing were done to try to stop the spread of the virus. President Trump echoed that message saying that now is not the time to relax.
MALAYSIA
The Malaysia government's orders to stay-at-home has prevented major daily spikes in coronavirus infections, according to optimistic government projections yesterday. But the World Bank continues to warn that the trade-reliant country's economy will shrink this year for the first time in more than a decade.
Malaysia recorded 140 new coronavirus cases and six deaths on Tuesday, taking the total number of infections to 2,766 with 43 fatalities. Nearly half of its infections are linked to a religious gathering held late last month.
The country, reporting the highest number of cases in south east Asia, has imposed month-long restrictions on travel and non-essential business that run until at least Apr 14.
Keep in contact with The Thaiger by following our
Facebook page
.
Lockdowns, closures mean cleaner air in European cities

Lockdowns, travel restrictions and factory closures due to the Covid-19 coronavirus pandemic are having some unexpected positive consequences. Satellite images show that cities around Europe, including Brussels, Paris, Madrid, Milan and Frankfurt, are showing a huge reduction in air pollution average levels of noxious nitrogen dioxide over compared with the same period last year.
New images, including heat maps, released by the European Space Agency and analysed by the nonprofit European Public Health Alliance, show the changing density of nitrogen dioxide, which can cause respiratory problems and cancer. (Weather events can influence air pollution, so the satellite pictures took a 20 day average and excluded readings where cloud cover reduced the quality of the data.)
In Madrid, average nitrogen dioxide levels decreased by 56% week-on-week after the Spanish government banned nonessential travel on March 14.
In abandoned Venice, dolphins were supposedly spotted in spotted in the city's legendary canals, though this turned out to be "fake news." The canal water, nonetheless, is clearer because of the huge decrease in boat traffic.
The EPHA says people living in polluted cities may be more at risk from the virus because prolonged exposure to bad air can weaken the immune system, making it harder to fight infection.
"That connection is very likely, but because the disease is new, it still has to be demonstrated."
China also recorded a drop in air pollution in its major cities during February, when the government imposed draconian lockdown measures to contain the epidemic.
But in some regions of Poland, pollution levels remained high during the period despite its lockdown, possibly due to the prevalence of coal based heating. EEA data show that air pollution causes around 400,000 premature deaths each year in Europe.
SOURCES: Thai PBS World |Reuters
Keep in contact with The Thaiger by following our
Facebook page
.