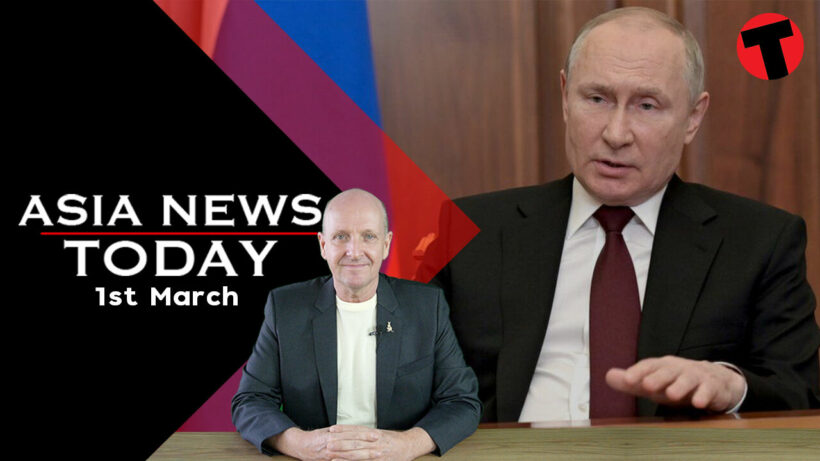 Asia-Pacific market have risen today as investors navigated the changing situation in Russia and Ukraine.Japan's Nikkei 225 gained 1.4%. The S&P 200 in Australia was up 1.2%. In South Korea markets are closed for a holiday today. Chinese tech giant Baidu is also expected to announce its fourth-quarter results today…. pundits are expecting a softer Q4 than expected.China's official manufacturing Purchasing Managers' Index will also be released today. US West Texas Intermediate crude oil futures rose slightly to just over US$96 per barrel in Asia trade.Spot gold, traditionally a safe haven in times of uncertainty, was trading around US$1,907.
---
Toyota Motor Corporation has suspended work at all of its Japanese factories after a supplier shut down computer systems across the manufacturer's network over concerns about a possible cyberattack. Toyota says it is temporarily halting all 28 production lines at 14 factories due to the system failure. At this stage Toyota say they aren't sure how long it will take to completely check their computer systems but are aiming at a restart tomorrow. Toyota's manufacturer of metal, plastic, and electronic parts say they found evidence their computer network was being accessed from outside the company, raising concern about a possible cyberattack and leading Kojima Industries to shut the system down. The latest incident is another interruption for Toyota as they try to return to full production following other temporary factory closures in January and February because of microchip shortages and Covid-related disruptions.Making a short comment on the matter, Japanese PM Fumio Kishida said the government would investigate the incident and whether Russia was involved in the cyberattack.
---
Rights groups are accusing Indonesian soldiers of killing one child and critically injuring six others after accusing them of stealing a weapon from a soldier in Indonesia's Papua region. 12 young children were reportedly arrested on Sunday after an Indonesian soldier at the Tapulinik airport reported his weapon missing. While in custody seven of the children were allegedly beaten so badly… six ended up in hospital and a 12 year old died. The ages of the injured boys or the others taken into custody have not been provided at this stage. The Legal Aid Foundation in Papua accused the soldiers of committing an act of barbarism against the children. Three other men are now suspected of committing the theft. The Indonesian military were accused of killing three schoolchildren in West Papua back in November 2020, while one child was killed and another wounded when government forces clashed with separatist insurgents in October last year.
---
In Thailand it's Russians out and Saudis in. In the past few days the arrivals of Russian flights have turned to a trickle – just one flight into Thailand today… a Phuket arrival from Ural Airlines serving a far-flung Siberian city. The daily arrival of a Boeing 777 from the national Russian airline Aeroflot in Phuket was conspicuously absent this morning.Whether Thailand decides to ban flights from Russia or not, it's somewhat of a moot point now as the Ruble has tumbled from around 1 Ruble equaling 43 Thai Baht to as low as 30 baht this morning. But the Russian cloud has been replaced with a silver lining from Saudi Arabia. The first flight from the Saudi flag carrier arrived with 56 passengers in a Boeing 787 after a hiatus of 32 years. You can read up about the Blue Diamond Affair sometime. Anyway, Thai tourism officials are hoping the flights from Riyadh, on Mondays, Wednesday and Fridays, may replace some of the Russian tourist numbers. In the wake of the Thailand Pass Test & Go reboot, Russian travellers have been the most popular arrivals into Thailand. Let's hope they can sell more than 56 seats in future flights out of Riyadh.
---
Singapore is now imposing export controls on items that could be directly used as weapons in Ukraine to inflict harm. The Singapore cabinet is also blocking certain Russian banks and financial transactions, with a spokesperson saying that specific measures are being worked out, and these sanctions will be announced shortly. The announcement included the following words… "we continue to value our good relations with Russia and the Russian people. However, we cannot accept such violations of sovereignty and territorial integrity of another sovereign state."The Singapore stand has been replicated by South Korean counterparts – a rare stand against Russia by both nations.Singapore is one of 82 co-sponsors of a recent UN Security Council resolution condemning Russia's aggression against Ukraine. The resolution was not passed as Russia – a permanent member of the security council – vetoed the vote. The resolution was supported by 11 of the 15 security council members, with China, India and the UAE abstaining.
---
A Filipino court has heard that a former BBC Radio 1 DJ tried to arrange sex with children as young as 12. Mark Page, who was on the BBC in the 1980s, allegedly used charities and business as a cover to meet the young Filipinos. Mr Page, now 62 is denying five charges of arranging the commission of a child sex offence. The court heard three offences were on webcams in 2016 and two in person after he travelled to the Philippines. Jurors were told Facebook monitors raised concerns after finding messages which exploited children. Cleveland Police carried out a search warrant at Mr Page's home in January 2020. Officers seized his phone, tablet and computer, which were analysed, and showed Mr Page had been in contact with children in the Philippines and had arranged payments by money transfers. The trial continues.
---
Finally 7-Eleven has opened its first unmanned store in Seoul. Instead you'll run into a customer engagement system, a sort of artificial intelligence that will greet customers, interact with them and tell them about special promotions. You'll even be able to engage in conversations with the artificial intelligence. DeepBrain AI is the provider of the new service, a company developing AI systems that can engage in real-time conversations. The system was installed last August but is now going to fly solo as a pilot for unstaffed stores in the future.
If its anything like Siri or Alexa, there will be some strange responses….

Join the conversation and have your say on Thailand news published on The Thaiger.
Thaiger Talk is our new Thaiger Community where you can join the discussion on everything happening in Thailand right now.
Please note that articles are not posted to the forum instantly and can take up to 20 min before being visible. Click for more information and the Thaiger Talk Guidelines.