World
World News: US Navy was warned; France, Russia squabble; Mexico's Acapulco in chaos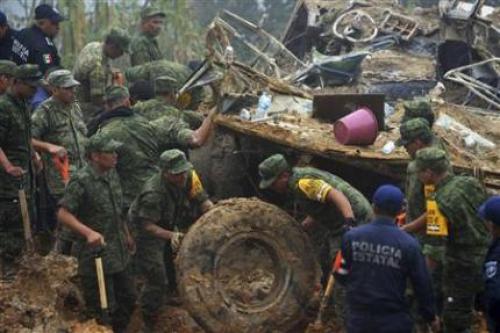 PHUKET MEDIA WATCH
– World news compiled by Gazette editors for Phuket's international community
U.S. Navy was warned that Washington shooter 'heard voices'
Reuters / Phuket Gazette
PHUKET: Rhode Island police warned the U.S. Navy last month that Washington Navy Yard gunman Aaron Alexis had reported "hearing voices," raising further questions about how he gained security clearance at the complex where he went on a shooting rampage.
Officials say Alexis, a Navy contractor and former Navy reservist, opened fire at the Naval Sea Systems Command on Monday, killing 12 people before police shot him dead.
The shooting – a mile and a half (2.5 km) from the U.S. Capitol and three miles (5 km) from the White House – sent shockwaves through Washington.
The Pentagon said it would review security at military installations around the world and the White House promised to review standards for federal government contractors.
A Defence Department Inspector General's report published yesterday revealed security lapses that allowed 52 convicted felons to gain access to Navy facilities because budget cuts had undermined vetting.
Meanwhile, the U.S. capital paused to remember the victims, aged 46 to 73, who included retirees, parents and a bird lover.
Police in Newport, Rhode Island, were so concerned about Alexis' behaviour on a business trip there in August that they alerted Navy police.
Alexis told police he believed people were following him and "sending vibrations into his body," according to a Newport police report.
He told police that he had twice moved hotels to avoid the noise he heard coming through the floor and the ceiling of his rooms, and that the people following him were using "some sort of microwave machine" to prevent him from sleeping.
"Based on the naval base implications and the claim that the involved subject, one (Aaron Alexis) was 'hearing voices,' I made contact with the on-duty Naval Station police," a Newport police officer wrote, adding that he faxed his report of the incident to Navy police.
The Newport police report said Navy police had promised to check if Alexis was in fact a naval base contractor.
Asked for comment, a spokesman said the Navy was looking into the matter, without confirming any details.
In addition, CNN reported that Alexis had contacted two Veterans Administration hospitals recently and was believed to be seeking psychological help.
"Initial reports indicate that this is an individual who may have had some mental health problems," U.S. President Barack Obama told Spanish-language network Telemundo.
"The fact that we do not have a firm enough background check system is something that makes us more vulnerable to these kinds of mass shootings.
The Navy gave Alexis an honourable discharge despite a series of eight to 10 misconduct charges, ranging from traffic offenses to disorderly conduct.
Security clearance

Using a valid pass as an information technology contractor with a private company, Alexis entered the Naval Sea Systems Command headquarters with a shotgun – bought legally in Virginia – and gained access to a handgun after he started firing, officials said.
He started picking off victims in a cafeteria from a fourth-floor atrium, witnesses said. Eight people were hurt, three with gunshot wounds, before Alexis was killed in a gun battle with police.
A U.S. defence official said a National Agency Check, a type of background check, was completed on Alexis in August 2007 and he was determined eligible to handle "secret" material in March 2008. Such clearances are valid for 10 years, meaning Alexis had no need to renew his.
Alexis' employer said it had enlisted a service to make what appeared to be two standard, employment background checks on him over the past year, finding only a traffic violation while twice confirming his "secret"-level security clearance with the U.S. Defence Department.
"The latest background check and security clearance confirmation were in late June of 2013 and revealed no issues other than one minor traffic violation," The Experts, an information technology company, said in a statement.
Alexis was arrested on September 4, 2010, in Fort Worth, Texas, on a misdemeanour charge of discharging a firearm. He was also arrested in Seattle in 2004 for shooting out a construction worker's car tires in an anger-fuelled "blackout" triggered by perceived "disrespect," police said. In 2008, he was cited for disorderly conduct in DeKalb County, Georgia, when he was kicked out of a club for damaging furnishings and cursing.
In each case, the charges were dropped.
People who knew Alexis said they were shocked by the shooting, describing him as a lover of Thai culture who worshipped at a Buddhist temple in Texas, although one acquaintance told reporters he had an unnatural affection for violent video games.
The Navy Yard was closed to all but essential personnel yesterday . Military police were stationed at the four entrances, checking the identifications of the employees who were being allowed back in. Other personnel milled around outside, hoping to retrieve cars that remained locked inside the gates.
"I've never ever felt unsafe at this place," said David Berlin, a civilian who works at the Navy Yard as an assistant program manager building weapons systems. "If someone wants to skirt the rules, they can do that, but you trust your colleagues."
(Additional reporting by Mark Hosenball, Deborah Charles, Ian Simpson, and Alina Selyukh; Writing by Daniel Trotta; editing by Christopher Wilson)
Envoys seek U.N. resolution on Syria as France, Russia squabble
PHUKET: Diplomats from five key nations kicked off talks yesterday on a Western-drafted U.N. Security Council resolution to eliminate Syria's chemical weapons even as France and Russia clashed over Moscow's insistence that Syrian President Bashar al-Assad's is innocent of an August 21 poison gas attack on civilians.
The negotiations among the American, British, French, Russian and Chinese diplomats in New York focused on a draft resolution on Syria's chemical weapons arsenal to be put before the 15-nation U.N. Security Council.
The U.S.-British-French draft is intended to support an American-Russian deal reached in Geneva last Saturday calling for Syria to account for its chemical weapons within a week and for the removal and destruction of the arsenal by mid-2014.
U.N. diplomats said it remained unclear when a vote on the resolution could take place.
Meanwhile, Israel, Syria's neighbour that has been warily eyeing a civil war that has killed 100,000 people since it began in 2011, shifted from its non-committal public stance and said it wanted to see Assad toppled.
Violence flared anew along Syria's tense border with Turkey as a car bomb exploded on the Syrian side of the main Bab al-Hawa border crossing, killing at least seven people and wounding 20, the Turkish news agency Dogan said.
The meeting of diplomats from the five permanent, veto-wielding powers of the Security Council came a day after U.N. investigators confirmed the use of sarin nerve agent in the August 21 attack. The United States, Britain and France said the report proved beyond any doubt that Assad's forces were responsible.
The U.N. report's findings triggered
— Phuket Gazette Editors

Join the conversation and have your say on Thailand news published on The Thaiger.
Thaiger Talk is our new Thaiger Community where you can join the discussion on everything happening in Thailand right now.
Please note that articles are not posted to the forum instantly and can take up to 20 min before being visible. Click for more information and the Thaiger Talk Guidelines.