World
Phuket Gazette World News: Ukraine frees tortured activist as president returns to work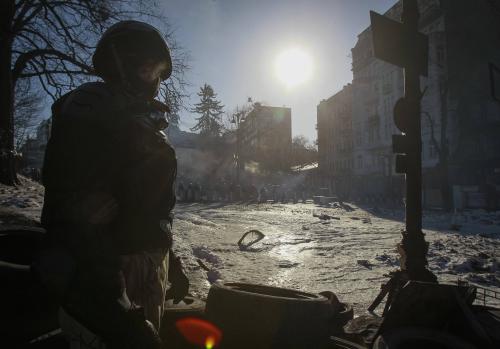 PHUKET MEDIA WATCH
– World news selected by Gazette editors for Phuket's international community
Ukraine frees tortured activist as president returns to work
Reuters / Phuket Gazette
PHUKET: The Ukrainian government bowed to intense Western pressure on Sunday to let an opposition activist fly abroad for treatment after his abduction, torture and then attempted arrest by police outraged critics of President Viktor Yanukovich.
The embattled head of state, caught in a tug of war between Russia and the West and facing mass protests that have prompted fears of civil war, announced he would return from four days of sick leave on Monday. It was unclear whether he might resume hesitant moves toward compromise or hit back at his opponents.
Either way, he is under scrutiny from the European Union and United States, who want him to compromise, and from Moscow, which is holding back much needed financing until he names a new government following last week's departure of his prime minister in a concession that failed to appease the protesters.
Dmytro Bulatov, 35, whose bloodied face and account of being "crucified" during a week in the hands of mysterious kidnappers has dominated opposition media since Friday, flew to EU state Lithuania. Intense negotiations with Western diplomats had led to a court lifting a charge of "mass disorder" against him, on which police had tried to arrest him at a Kiev clinic.
"Without the support of the European community this would not have happened," former world champion boxer and opposition leader Vitaly Klitschko told Reuters. "International pressure gives us a chance to fight for freedom in Ukraine."
Yanukovich has been caught in a dilemma since a last-minute change of heart in November saw him reject a trade deal with the European Union and turn instead for support for a crippled post-Soviet economy to Ukraine's old master Russia, which had threatened ruinous trade sanctions if Kiev allied with the EU.
Since then, a decade after the "Orange Revolution" brought a dramatic political U-turn, protesters have occupied Kiev's main square and taken public buildings in other cities, first demanding he revive the EU deal and now pushing for the removal of Yanukovich and a wealthy elite they see as dictatorial, corrupt and beholden to Russian President Vladimir Putin.
EU-U.S. plan
EU foreign policy chief Catherine Ashton said she was working with the United States on a "Ukrainian Plan" to help support the economy through a period of political transition – an idea that may be designed to help Ukraine cope with any backlash from Moscow, on which it relies for trade and energy.
Yanukovich retains the loyalty of a substantial section of the 45 million population, notably among Russian speakers in the east. A weekend poll showed he would top a multi-candidate presidential election with about 20 percent of the vote.
But following at least six deaths in street fighting over the past two weeks in which hardline militants have appeared on opposition barricades, Ukraine's neighbours have become ever more alarmed at the prospect of violent instability.
Western officials, some of whom met Klitschko and other opposition leaders at an international security conference in Munich over the weekend, have been trying to push the rival sides toward compromise, diplomats say.
Russian officials, too, while condemning what one senior parliamentarian called "aggressive colonists" from the EU, have also spoken of a role in promoting a peaceful settlement.
The EU's Ashton is due in Kiev on Tuesday for her latest talks and U.S. Assistant Secretary of State Victoria Nuland will also visit Ukraine again in the next few days.
Ashton told the Wall Street Journal that Washington and Brussels were developing a package of aid and guarantees to shore up the economy while a broad-based interim government could approve political and economic reforms and prepare for presidential elections, currently due next year.
That could help Ukraine weather any withdrawal of support from Russia, which in November pledged $15 billion of aid.
Opposition leaders, who addressed a crowd packing Kiev's Independence Square on Sunday, spoke of international mediation. President Barack Obama said the United States was working to promote talks on a peaceful resolution in Ukraine.
President returns
Yanukovich, 63, announced on Thursday he was taking sick leave for a severe respiratory infection, though he continued to sign legislation, including the repeal of laws curbing rights to protest and a conditional amnesty for dozens arrested during demonstrations – neither of which satisfied his critics.
Some suggested his illness was an excuse for political breathing space after Arseny Yatsenyuk, parliamentary leader of the main Batkivshchyna opposition party, turned down an offer of taking over as prime minister a week ago.
On Sunday, Yanukovich issued a statement saying he was well after treatment and planned to be at work on Monday – raising expectations he is ready to make further moves on the crisis.
Klitschko, a former world champion heavyweight boxer, told supporters at the Kiev rally that he and other opposition leaders discussed with Western officials in Munich bringing in international mediators to smoothe talks with the president.
Yatsenyuk called on the authorities to free 116 prisoners, as well as the leader of his party, ailing former prime minister Yulia Tymoshenko, whose freedom has also been a demand of the European Union since she was jailed in 2011.
Opposition leaders said they had assurances of economic support from the West if they could take power from Yanukovich and spoke of new elections and amendments to the constitution that would curb the presidency and bolster parliament. Yanukovich supporters say that would mean political paralysis.
Some opposition leaders have urged the EU to impose sanctions to hurt the business and financial interests of the president and his leading supporters. However, few Western governments see that as worthwhile at present.
In a video distributed by the U.S. embassy, Obama called for a democratic process to produce a government with "greater legitimacy and unity". "That's going to be challenging but we're trying to help on the negotiations on that," he said.
Braving Arctic winds at the rally in Kiev on Sunday, protester Vladimir Timofeyev said: "People here today got a boost because we were hoping for international support."
— Phuket Gazette Editors