Phuket Gazette Thailand News: Doubt lingers over poll outcome; Did PM slip-up?; Four dead in Pattani attack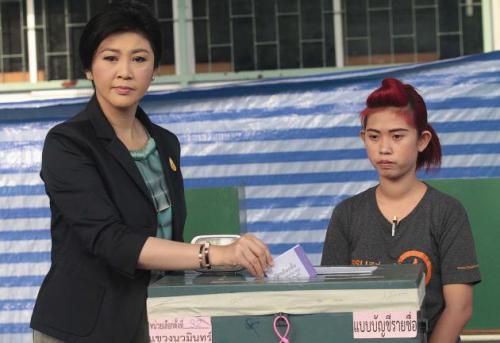 PHUKET MEDIA WATCH
– Thailand news compiled by Gazette editors for Phuket's international community
Doubt over poll outcomeThe Nation / Phuket GazettePHUKET: Despite the government's claim of "victory" after voting was conducted in 89 per cent of the country's 375 constituencies yesterday, many factors point to the high likelihood that this election – marred by boycotts and a long rowdy protest – could end up being declared void.
An unusually low voter turnout was reported in many provinces, even in part of the North and Northeast where the ruling Pheu Thai Party has enjoyed popularity. In southern provinces, voter turnout was estimated at 20 to 30 per cent, much lower than previous elections.
Voter turnout was a little over 40 per cent in Chai Nat, less than 50 per cent in Phichit, about 50 per cent in Ayutthaya, according to local election officials.
There were reports of a high number of "no votes" in many provinces, as eligible voters ticked the box at the bottom of the ballot paper to vote for "none of the above". No votes were mostly in Bangkok and urban areas of the provinces.
Voting could be held without problems in 59 provinces, at 83,669 out of all 93,952 polling stations, according to EC secretary-general Puchong Nutrawong. The EC would unveil the voter turnout figure today, he said.
In Bangkok, 516 out of 6,671 polling stations were closed.
EC members will convene a meeting today to discuss ways to solve the election-related problems. EC member Somchai Srisuthiyakorn also is scheduled to meet this afternoon with Labour Minister Chalerm Yoobamrung, who is in charge of the government's Centre for Maintaining Peace and Order.
An estimated 12 million people, or 25 per cent of all 48.7 million eligible voters, have failed to cast ballots – two million during advance voting on January 26 and another 10 million yesterday, according to an Election Commission (EC) official.
However, Somchai later said between 8 and 10 million eligible voters have been unable to cast their votes in more than 10,000 polling stations where voting was disrupted.
Traffic Police yesterday reported few cars and no congestion in Bangkok, which was unusual for a voting day.
In Bangkok, voting was successful in about 92 per cent of the polling stations, the EC said.
Caretaker Prime Minister Yingluck Shinawatra said after the voting closed yesterday that she was satisfied the election could be completed without violence. She thanked voters for "helping to maintain democracy" and thanked officials involved in holding the election and providing security at polling booths.
Suthep Thaugsuban, leader of the ongoing anti-government protest, said yesterday that it was the "first time to have so many eligible voters boycotting an election". His People's Democratic Reform Committee campaigned for no voting before political reform.
The EC said an announcement of election results has been postponed because of problems including the blocking of advance voting and the failure to hold voting in many seats.
"Today, we cannot announce the overall results of the election," EC chairman Supachai Somcharoen said in a TV broadcast.
The snap election went off without violence, as many had worried, with voters in 306 of 375 constituencies able to cast ballots.
Supachai said 37 constituencies nationwide could not be opened at all for voting, while in 32 constituencies, only some polling stations could be operated. Of the 93,952 polling stations, only 83,813 or 89 per cent were able to open for voting, he said.
The election was completed in 59 provinces, but it had to be cancelled in nine provinces, and revoked in some areas in another nine provinces.
The EC could not declare the results until "advance voting" is completed. Some of the absentee polling held on January 26 was revoked after the anti-government protesters blocked polling stations. Advance voting has been postponed till February 23, but the EC has yet to schedule new voting.
Results for 125 MP seats in the party-list system of proportional representation will not be available until voting in all constituencies.
Some politicians from the opposition Democrat Party have petitioned the Ombudsman's Office for the poll to be declared void, citing the fact voting is not organised on the same day, as required by law.
Although the EC could not give results, Chalerm claimed that Pheu Thai Party expected to win 265 to 280 MP seats.
The PDRC will close its Lat Phrao and Victory Monument protest sites and move to Lumpini Park today due to security concerns, following repeated gunfire and blast attacks by unknown assailants.
Most polling stations in South fail to openThe Nation / Phuket GazettePHUKET: Sunday's election hit a major snag in the southern region, with most polling stations there unable to operate.
Of 12,335 polling stations in the South, only 3,104 were able to open yesterday.
But the election went smoothly in the north and the northeast, the solid political support bases of the Yingluck Shinawatra-led government, which called the snap election.
The anti-government People's Democratic Reform Committee (PDRC), which is led by Suthep Thaugsuban, has called on its supporters to press for political reform before an election is held.
A huge number of southern residents have thrown their support behind the PDRC, with many of them turning out in full force to thwart the snap election in their home provinces.
The south is also a stronghold of the Democrat Party, which boycotted yesterday's election.
"Not a single polling station was able to open in nine southern provinces," Election Commission (EC) deputy secretary general Thanis Sriprathes said yesterday.
In Songkhla, the PDRC members have surrounded the Hat Yai Post Office for days to block distribution of ballots and ballot boxes. Without these tools, polling stations could not open in many southern provinces yesterday.
In most provinces in the region, no officials turned out to man the polling stations anyway.
All polling stations in Trang, Songkhla, Phatthalung, Chumphon, Ranong, Surat Thani, Phang Nga, Phuket and Krabi remained closed.
Thanis added that some polling stations in five other provinces – Prachuap Khiri Khan, Satun, Nakhon Si Thammarat, Yala and Pattani – were also closed.
Some polling stations shut down in the presence of protesting PDRC members, who showed up nearby.
No party-list ballots were cast at any of the southern polling stations that managed to open yesterday, because the papers had been blocked from distribution at the Hat Yai Post Office.
The PDRC members in Surat Thani declared victory after the EC officially announced yesterday that no voting would take place in their hometown.
In Songkhla, many PDRC protesters erupted in joy for the same reason.
In Trang, a local leader of the PDRC vowed to continue pressuring the government. "We will neither stop nor back down," Saksarit Sriprasart said.
The PDRC has been pushing for the establishment of a "People's Council" to implement reform in the country. It says this will prevent ill-intentioned politicians from hurting the country. According to the PDRC, the election will be held after the reform.
Yingluck called the House dissolution late last year in the face of massive protests, which have gained momentum since the Lower House's pre-dawn move to pass the controversial amnesty bill.
Despite continued pressure from the PDRC ever since, her administration has insisted that the general election is a means to
— Phuket Gazette Editors
Keep in contact with The Thaiger by following our
Facebook page
.
Never miss out on future posts by
following The Thaiger
.
Thailand News Today | Digital Travel Pass, Chiang Mai outbreak, Alcohol ban | November 30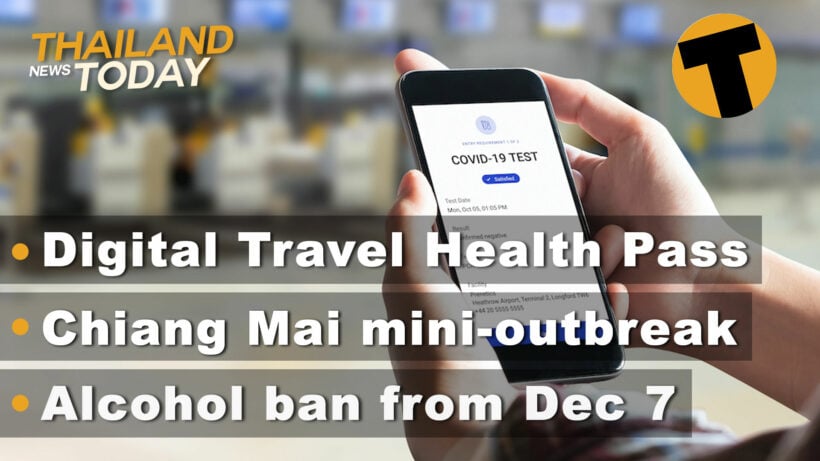 Monday's edition of Thailand News Today.
An international Digital Travel Pass could be the magic bullet to restart global tourism
A new international Travel Pass, a sort of digital health certificate, may be the way forward for countries to re-open their borders and international airlines to get their planes back into the air.
The International Air Transport Association says the 'digital' certificate will support the safe reopening of borders.
As Covid-19 testing and the results becomes more reliable and nuanced, Governments are looking to testing as a means of limiting most of risks of Covid-19 when reopening their borders. The hope is that the new Travel Pass will replace the quarantine regime imposed by many countries and the hopes that a vaccine alone will solve the problems.
2 more cases identified in the northern Thailand Covid-19 mini outbreak
2 more people have been confirmed as infected with Covid-19 in the current mini-outbreak in Northern Thailand.
In this case both women had crossed the Thai/Myanmar border and worked at the same bar in Myanmar as the original patient, feared to be a potential super-spreader.
The 2 women, aged 23 and 26, illegally crossed the Burmese border at Mae Sai district, Chiang Rai, from a border town on the Burmese side of the border, last Thursday night.
All 3 went to work there last month, but returned to Thailand after Burmese health authorities imposed a curfew from midnight to 4am.
Another 4 people have since been identified as "high risk" and are all being tested today. When added to the food delivery and hotel staff, the amount of people considered "at risk" could be up to 30.
Children injured on Hua Hin carnival ride, no safety certification submitted
3 children were injured when a carnival ride malfunctioned at the Hua Hin Red Cross Festival in Prachuap Khiri Khan.
The required safety certification had not been submitted and local officials are investigating. Carnival rides now are closed for the rest of the festival.
10 children were on the ride around 10pm Friday when the hydraulics system broke, causing the arms of the ride to drop to the ground. The injured were taken to the Bangkok Hua Hin Hospital with some bruises. Doctors said all the kids are now fine.
Twitter suspends Thai royalist linked account which spread pro-government propaganda
A Thai royalist-linked account was suspended on Twitter following a review by Reuters reporters that found the account was spreading pro-government and pro-monarchy propaganda.
Reuters says they found tens of thousands of tweets from accounts amplifying the pro-government agenda, which an expert claims is a move to counter the pro-democracy movement.
Twitter said… "The account in question was suspended for violating our rules on spam and platform manipulation."
In October, Twitter suspended 926 accounts linked to the Royal Thai Army which were "amplifying pro-government propaganda." The Army denies they were associated with the accounts.
Ron Howard to direct cave rescue feature film 'Thirteen Lives' in Australia
The Australian Government is putting up A$13 million for a live-action feature film called Thirteen Lives, based on the Chiang Rai Tham Luang cave rescue story.
The film will be shot in Queensland, Australia in the hinterland areas behind the Gold Coast.
The film will be directed by Ron Howard and will start filming in March 2021. The state's Gold Coast hinterland will double for Thailand with a similar hot, humid climate and landscape.
Thirteen Lives follows the story of the 2018 Tham Laung cave rescue of the 13 members of the Mu Pa football team, trapped in a cave by heavy rain and flooding in Chiang Rai, and the international rescue that followed.
The first major feature film about the rescue operation was The Cave, released in October 2019. The film was quite critical of the Thai red-tape which hampered much of the early rescue efforts.
Ban on sales and promotion of alcohol online starts December 7
From December 7 you'll no longer, officially, be able to purchase alcohol online in Thailand.
The Thai government will prohibit the sales and promotion of alcoholic drinks on every online platform from December 7.
The ban includes direct sales, promotion and introduction of alcoholic products online, but will not include electronic payments of purchases at retail stores, restaurants and bars.
Keep in contact with The Thaiger by following our
Facebook page
.
Never miss out on future posts by
following The Thaiger
.
Police officer allegedly shoots and kills married couple, injures ex-wife at Isaan restaurant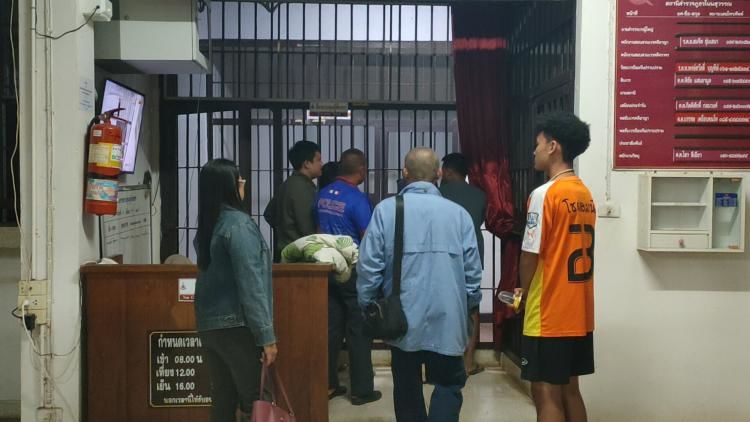 A police officer was arrested for allegedly firing shots in an Isaan restaurant, killing a married couple and severely injuring his ex-wife. 44 year old Aram Sangchai is facing charges of premeditated murder.
Aram had just returned home to the Isaan province Buri Ram from Bangkok after working with a police unit at the November 27 pro-democracy protest. The Bangkok Post says Aram "stormed" into the restaurant with a handgun and opened fire. He waited at the restaurant and surrendered to police.
The victims were taken to the Non Suwan Hospital where Jaran and Somkid Sukwong, ages 42 and 37, were pronounced dead. Aram's ex-wife, 42 year old Nucharin Kaewchaturat, was transferred to Buri Ram Hospital and is in serious condition.
SOURCE: Bangkok Post
Keep in contact with The Thaiger by following our
Facebook page
.
Never miss out on future posts by
following The Thaiger
.
Children injured on Hua Hin carnival ride, no safety certification submitted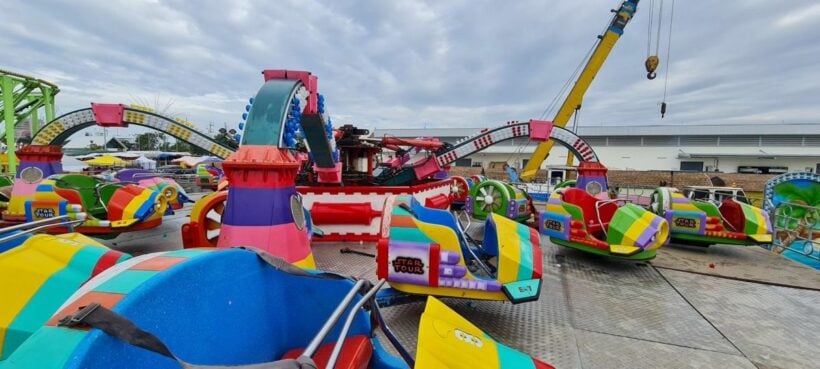 3 children were injured when a carnival ride malfunctioned at the Hua Hin Red Cross Festival in Prachuap Khiri Khan. The required safety certification was not submitted and local officials are investigating, according to Mayor Nopphon Wutthikul. Carnival rides now are closed for the duration of the festival.
"Preliminary inspection revealed that they had yet to submit safety certification signed by licensed engineers from related government agencies. We will further investigate this matter to find out if there was misconduct by any official."
The children were on an octopus amusement ride when the hydraulics system failed. Children rode in colourful cars attached to arms that arch and connect to a central axis, resembling the shape of an octopus. The central axis spins and goes up and down.
10 children were on the ride around 10pm Friday when the hydraulics system broke, according to the festival organiser Pannee Klomtheri. A Facebook user made a post saying she saw the ride collapse. Pannee says the injuries are not serious.
"Three children were injured and were sent to Bangkok Hua Hin Hospital with some bruises. Doctors said all the kids are now fine. There was no death caused by the incident."
Pannee says the octopus ride and other nearby rides will be closed while local officials inspect the site. The festival ends on December 6.
SOURCE: Nation Thailand
Keep in contact with The Thaiger by following our
Facebook page
.
Never miss out on future posts by
following The Thaiger
.