World
Phuket Gazette World News: Scores dead as Syrian forces drop 'barrel bombs' on Aleppo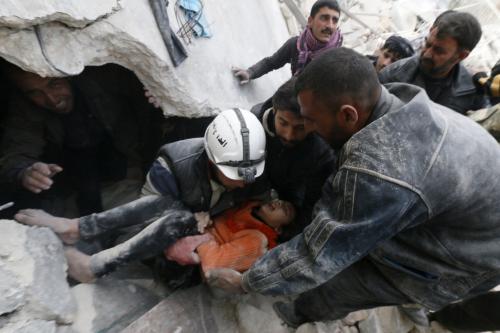 PHUKET MEDIA WATCH
– World news selected by Gazette editors for Phuket's international community
Scroes dead as Syrian force drop 'barrel bombs' on Aleppo
Reuters / Phuket Gazette
PHUKET: Syrian military helicopters dropped more improvised "barrel bombs" on the northern city of Aleppo on Sunday, a monitoring group said, bringing the death toll to at least 83 people in the latest episode of a campaign that many consider a war crime.
Most of the victims killed since Friday have been civilians from the city's eastern districts, including women and children, according to the British-based Syrian Observatory for Human Rights, which has a broad network of sources across Syria.
The use of barrel bombs – oil drums or cylinders packed with explosives and shrapnel – has drawn international condemnation, not least from Western powers at last week's peace talks in Switzerland.
The first round of negotiations wound up on Friday without progress towards ending Syria's three-year civil war or reducing the violence, which regularly kills more than 100 people a day.
Western powers proposed a U.N. Security Council resolution in December to condemn the use of barrel bombs, which they say indiscriminately target civilians. The weapons have killed well over 700 people in Syria in the past six weeks.
But Russia, a staunch ally of President Bashar al-Assad, has repeatedly blocked such plans in the Security Council.
Syrian authorities say they are targeting the rebels who control large portions of Aleppo, Syria's largest city and once its business hub.
Amateur videos posted online by opposition media activists showed scenes of panic from recent aerial bombardments.
Bombs erupt in flames
In one video, a young man carries the limp body of a child through a wrecked residential neighborhood whose buildings are barely discernible through thick clouds of white dust. Dazed children shield their faces with their shirts as a man leads two screaming women covered in soot away from the apparent site of the attack.
Another video shows barrel bombs falling from the sky – small black dots that fall through the air before erupting in flames and thick grey smoke.
Other videos show men pulling a girl from under the remains of a building said to have been destroyed by bombing.
The Observatory said there was heavy congestion at a checkpoint in a southwestern neighborhood after the government closed it to traffic, preventing residents from fleeing the bombardment and related clashes further east.
The military also used barrel bombs in the suburbs of the capital Damascus over the weekend and carried out conventional shelling and air strikes in several other cities and villages around the country, the Observatory and other activists said.
Their reports could not be independently confirmed.
Free Syrian Army (FSA) rebels in the southern province of Deraa – where the first protests of the Syrian revolution broke out in 2011 – announced advances in a new battle they called "Geneva-Hawran", named jointly after the Swiss peace talks and a region in southern Syria.
In an online video statement, a rebel leader said fighters had seized several checkpoints from government forces, destroyed a few of their tanks and inflicted casualties.
A news bulletin on Syrian state television said the army had killed "several terrorists" in the same area, including five fighters from other Arab countries.
The language of war
Firas al Hawrani, a spokesman for the offensive, told Al Arabiya television the battle was intended to support the Western-backed opposition that attended negotiations in Geneva.
"It is an expression of support for the Syrian opposition that is waging war against this tyrannical regime and is trying to convince the world that the regime does not understand the language of politics. It only understands the language of war," he said.
In the north, militants from the al Qaeda-linked Islamic State in Iraq and the Levant (ISIL) seized control of an area on the Turkish border called al-Raa'i, the Observatory said.
ISIL freed more than 400 people from a prison in the area who had been held by the rival Islamist Liwa al-Tawhid unit, and clashes between the two groups continued nearby, according to the monitoring group.
In the eastern province of Deir al-Zor, ISIL seized the Koniko gasfield from the Nusra Front and other Islamist rebels who had controlled it for several weeks after wresting it from tribal gunmen. Koniko has one of the largest gas plants in Syria.
Fighting between ISIL and rival factions seeking to push it out of rebel-held swathes of northern and eastern Syria initially led to a rollback of ISIL dominance late last year along the border and in cities such as Aleppo, Idlib and Raqqa.
But as the intra-rebel conflict has raged on, ISIL has retaken some areas. Both sides have lost more than 1,400 fighters to clashes and suicide car bombs.
Since March 2011, more than 130,000 people across Syria have been killed and nearly 6 million forced from their homes.
The conflict began with popular protests against four decades of Assad family rule but evolved into a civil war after a crackdown by security forces led to an armed uprising.
— Phuket Gazette Editors