Phuket Gazette World News: Syria fighting intensifies; UK, France clear to send arms; US McCain meets rebels; Turkey forgers busted; Ireland defends Apple tax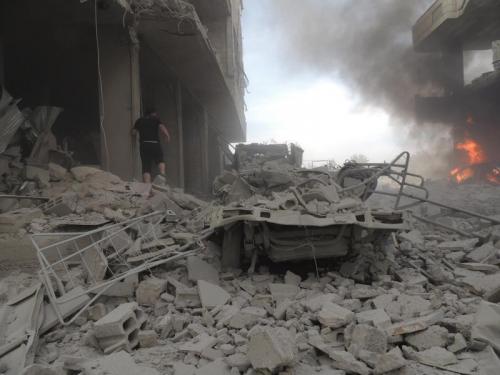 PHUKET MEDIA WATCH
– World news compiled by Gazette editors for Phuket's international community
Syria fighting rages, more chemical attacks reported
Reuters / Phuket Gazette
PHUKET: Heavy fighting raged around the strategic Syrian border town of Qusair and the capital Damascus on Monday and further reports surfaced of chemical weapons attacks by President Bashar al-Assad's forces on rebel areas.
The Syrian military pounded eastern suburbs of Damascus with air strikes and artillery and loud explosions echoed around al-Nabak, 80 km (50 miles) north of the capital, where fighting has cut the highway running north to the central city of Homs, the pro-opposition Syrian Observatory for Human Rights group said.
Syrian government offensives in recent weeks are widely seen as a campaign to strengthen Assad's negotiating position before a proposed international peace conference sponsored by the United States and Russia.
Opposition activists said Syrian troops backed by Lebanese Hezbollah fighters were pressing a sustained assault on Qusair, a town long used by insurgents as a way station for arms and other supplies from Lebanon.
For Assad, Qusair is a crucial link between Damascus and loyalist strongholds on the Mediterranean coast. Recapturing the town, in central Homs province, could also sever connections between rebel-held areas in the north and south of Syria.
Hezbollah's deepening involvement in Qusair has raised fears of renewed civil war in neighbouring Lebanon, where two rockets hit the Shi'ite Muslim movement's stronghold in south Beirut on Sunday and one was fired from south Lebanon towards Israel.
The rockets struck hours after Hezbollah leader Sayyed Hassan Nasrallah promised that his anti-Israel guerrillas, fighting alongside Assad's forces, would win whatever the cost.
A Lebanese security source said another 107mm rocket, which did not go off, had been aimed at Beirut airport. The launch sites were near Aitat, in the hills just south of the capital.
U.N. Secretary-General Ban Ki-moon voiced "deep concern" overnight at Hezbollah's admitted combat role and the risk that the Syrian conflict will spill into Lebanon and other neighbouring states.
Ban urged all concerned "immediately to cease supporting the violence inside Syria and instead to use their influence to promote a political solution to Syria's tragedy".
The diplomacy so far appears only to have intensified the violence, especially around Qusair and Damascus.
In Harasta, an eastern Damascus suburb largely under rebel control, dozens of people were suffering the effects of an apparent overnight chemical attack, according to opposition sources. Video showed victims lying on the floor of a large room, breathing from oxygen masks.
The sides in the conflict, now in its third year, have accused each other of using chemical weapons. France's Le Monde newspaper published first-hand accounts on Monday of apparent chemical attacks by Assad's forces in April.
The newspaper said one of its photographers had suffered blurred vision and respiratory difficulties for four days after an attack on April 13 on the Jobar front, in central Damascus.
Another video from Harasta overnight showed at least two fighters being put into a van, their eyes watering and struggling to breathe while medics put tubes into their throats.
It was not possible to verify the videos independently, given the difficulties of media access in Syria.
A doctor interviewed in another video said the alleged chemical attack in Harasta was revenge for a rebel raid on nearby military checkpoints. He complained of a severe shortage in staff and medical supplies to treat "dozens of wounded".
Syria, which is not a member of the anti-chemical weapons convention, is believed to have one of the world's last remaining stockpiles of undeclared chemical arms.
As Washington and Moscow seek to bring the warring parties to the negotiating table, European Union foreign ministers gathered in Brussels to discuss calls from Britain and France to ease an EU embargo on arming Syrian rebels.
All EU sanctions on Syria could collapse unless the 27-nation bloc agrees on the fate of the arms embargo before it expires on June 1, but several EU members oppose any change.
British Foreign Secretary William Hague signalled that Britain was prepared to see EU sanctions fall apart rather than retreat from his demand to give more support to rebels. If the EU could not agree, then "each country will have to ensure it has its own sanctions," Hague declared.
Austrian Foreign Minister Michael Spindelegger, whose country provides U.N. observers posted between Syrian and Israeli forces on the Golan Heights, opposed any arming of rebels, saying the EU should remain a "peace community".
The U.S.-Russian initiative provides the first slim hope in almost a year for a diplomatic end to a conflict that has cost more than 80,000 lives and caused a refugee exodus that the U.N. refugee agency expects to top 3.5 million by the end of 2013.
China, which along with Russia, has three times blocked U.N. Security Council action on Syria, said on Monday it would join the proposed peace conference. A Foreign Ministry spokesman said it would make efforts with all concerned to "push for an early, just, peaceful and appropriate settlement of the Syrian issue".
Damascus has indicated it will take part in the talks, but the fractured opposition, which has previously required Assad's exit to be guaranteed before any negotiations, has yet to lay out its position and remains mired in internal quarrels.
The opposition crisis deepened on Monday when liberals were offered only token representation, undermining international efforts to lend the Islamist-dominated alliance greater support.
To the dismay of envoys of Western and Arab nations monitoring four days of opposition talks in Istanbul, the 60-member Syrian National Coalition thwarted a deal to admit a liberal bloc headed by opposition campaigner Michel Kilo.
The failure to broaden the coalition, in which a Qatari-backed bloc influenced by the Muslim Brotherhood is prominent, could sap Saudi support for the revolt.
The coalition's Western backers had wanted more seats for liberals, an idea backed by Saudi Arabia, which had been uneasy about Qatar's rising influence, coalition insiders said.
France again urged the Syrian opposition to restructure and to clarify its position on the Geneva talks. "We repeat our desire to see the leadership structure of this National Syrian Coalition broadened," the French Foreign Ministry said.
U.S. Secretary of State John Kerry and Russian Foreign Minister Sergei Lavrov were due to meet in Paris on Monday to discuss the conference they want to hold in Geneva in June.
In Geneva, U.N. human rights chief Navi Pillay appealed for international action to halt the killing and urged the U.N. Security Council to ensure war criminals in Syria faced justice.
"Confronted with the flagrant disregard of international law and human life on every side, I feel utter dismay," she said, as she reeled off the latest atrocities reported to her office.
EU failure allows UK, France to arm Syrian rebels
Reuters / Phuket Gazette
PHUKET: Britain and France are free to supply weapons to Syrian rebels fighting President Bashar al-Assad from August, after attempts to renew an EU arms embargo on Syria failed on Monday.
After
— Phuket Gazette Editors

Join the conversation and have your say on Thailand news published on The Thaiger.
Thaiger Talk is our new Thaiger Community where you can join the discussion on everything happening in Thailand right now.
Please note that articles are not posted to the forum instantly and can take up to 20 min before being visible. Click for more information and the Thaiger Talk Guidelines.