Thailand
Phuket Gazette Thailand News: Gangs suspected in Bangkok blast; Red shirts, white masks; Tusks trimmed after fatal elephant attack; All silent on Bangkok F1 noise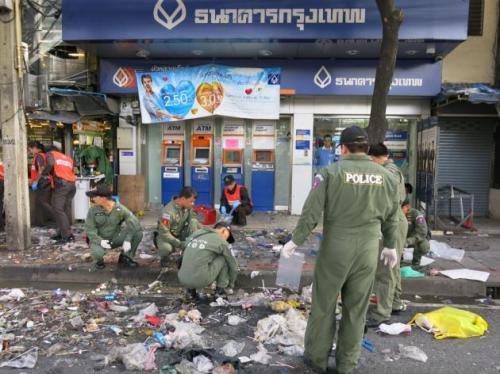 PHUKET MEDIA WATCH
– Thailand news compiled by Gazette editors for Phuket's international community
Police suspect gang rivalry behind Ramkhamhaeng blast
The Nation / Phuket Gazette
PHUKET: Police suspect that conflict between gangs involved in extortion from roadside vendors was behind the small explosion on Ramkhamhaeng Road, near Ramkhamhaeng University, on Sunday night.
Police and National Security Council secretary-general Paradorn Pattanathabutr ruled out linking the blast with the insurgency in the deep South.
The explosion occurred at a roadside stall at the mouth of Ramkhamhaeng Soi 43/1, at 8.50pm. Seven people, including passers-by, were injured.
Metropolitan Police Commissioner Pol Lt-General Khamronwit said that although a home-made bomb was used in the attack, the composition of the bomb was different.
He said the types of nails used in the bomb were different from those assembled in the southern border provinces. He said the bomb was apparently aimed at intimidating, not at taking lives like in the deep South.
Khamronwit said police would need more time to gather evidence and information before they could establish an exact motive of the attack. He added that police have not yet ruled out conflicts between gangs demanding protection fees from roadside vendors as a possible motive.
A bomb-disposal officer, who asked not to be identified, told The Nation that the maker of the bomb apparently wanted to make it look like attacks in the South. However, the bomb on Sunday night used less powerful explosives and it was stuffed with a lot of nails, in distorted shapes, the officer said.
He said bombs used in the southern insurgency attacks were more powerful and aimed at taking lives or causing serious injuries as the bombs used sharp and straight nails and pellets to harm victims.
Government Spokesman Teerat Ratana-sevi said Prime Minister Yingluck Shinawatra was informed of the explosion on Sunday night and she had ordered security agencies to urgently investigate the incident.
Teerat said police were checking for possible motives. Investigators initially suspected business conflict as the motive for the blast. However, terrorism has not yet been ruled out, the spokesman said.
He said the PM had instructed the police to step up security around Ramkhamhaeng University. Teerat denied earlier reports that police had arrested a suspect.
Paradorn said he had evaluated the situation and believed that the explosion was not related to southern insurgency because the facts were different.
Bangkok Governor Sukhumbhand Paribatra said the Bangkok Metropolitan Administration will extract records from security cameras near the spot and give them to the Metropolitan Police. The records would come from cameras at the mouth of Soi Ramkhamhaeng 27, 41/1 and 53.
Red shirts join in cyber war of the masks
The Nation / Phuket Gazette
PHUKET: Red shirts and pro-government supporters have kicked off a "red mask" campaign in opposition to the white masks of anti-Thaksin groups.
The campaign was born after Facebook users adopted the so-called Guy Fawkes white masks on Saturday to criticise the government and former prime minister and de-facto party leader Thaksin Shinawatra.
A Facebook user page named "Seu Moun Chon Khon Sua Dang", (red shirt mass media), posted a message yesterday: "Please all red cyber warriors gather to attack an anti-government Facebook page at 9 o'clock every night by reporting on their page 'It's spam or a scam'. Please change your profile photos to 'red mask'. Please send this message to your red-shirt friends to join in this campaign. War is started."
"Seu Moun Chon Khon Sua Dang" postings on its target page included:
https://www.facebook.com/pages/Dislike-Yingluck-For-Concentration-Citizen/177571372320131?fref=ts"target="
https://www.facebook.com/redbuffstupid?fref=ts"target="
https://www.facebook.com/Yingluck.Dissolve?fref=ts"target="
https://www.facebook.com/SaiTrongPhakSanam?fref=ts"target="
https://www.facebook.com/poojidtakorn?fref=ts"target="
https://www.facebook.com/RwmKhwamHaKhxngNaykYingLaksn?fref=ts"target="
https://www.facebook.com/serithai.net"target="
https://www.facebook.com/Watchred?fref=ts"target="
An "Ultra Daeng Sayiew" page called for a red-shirt cyber attack on the Democrat MP Sirichok Sopha page at 2pm.
Sirichok said he didn't worry about the red mask project because it did not have many people contributing to it. Also, he wasn't concerned if the red shirts should report his page to Facebook because he did everything within the law.
Deputy Government Spokeswoman Sunisa Lertpakawat said no matter if it was white or red masks, in the social media and in the real world everyone had a constitutional right to express political opinions, as long as they conformed to the law.
Tusks trimmed after fatal attack
The Nation / Phuket Gazette
PHUKET: The tusks of a 27-year-old elephant in the Ayutthaya Elephant Palace and Royal Kraal have been cut after the animal attacked tourists on Saturday, killing a woman.
The elephant palace's owner Laithongrien Meephan said he would fully support the attacked tourists and warned visitors to refrain from getting close to animals without a mahout's supervision or at night.
A rite to trim Plai Ngam's metre-long tusks by 20 centimetres was held yesterday after the beast on Saturday evening attacked a Saraburi couple, killing the wife and injuring the husband's leg.
Laithongrien said the rite was to free the slain person's spirit that remained with the elephant after it had killed someone. Releasing the spirit would teach the beast a lesson about what it shouldn't do because elephants are large mammals with the ability to think, he said. After the rite, Plai Ngam would be chained in a corral indefinitely.
Saying he was sorry for what happened, Laithongrien said Plai Ngam was a good-natured elephant that never harmed anyone before. As the incident took place in its den, it might have thought the tourists wanted to harm it, Laithongrien said.
Ayutthaya police investigator Pol Lt-Colonel Pimook Nakkhampan said officers interviewed the beast's mahout and temporarily released him, pending interviews with witnesses and the injured victim.
They may later file a charge of recklessness causing others' death and injury.
F1 noise doesn't rattle Pollution Control Dept
The Nation / Phuket Gazette
PHUKET: The noise of Formula One race cars should not ha
— Phuket Gazette Editors