Phuket Gazette World News: Shopping mall siege leaves at least 67 dead; American jailed for 10 years in Bahrain; Mexican storm death toll 130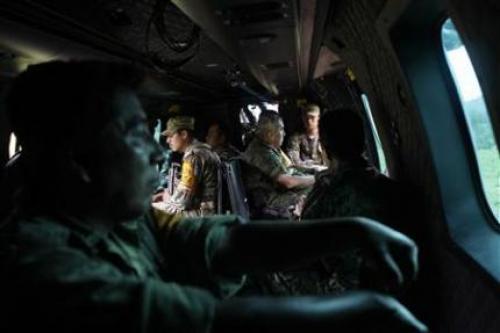 PHUKET MEDIA WATCH
– World news compiled by Gazette editors for Phuket's international community
Kenyan mall siege over but death toll unclear
Reuters / Phuket Gazette
PHUKET: As Kenya began three days of mourning on Wednesday for at least 67 people killed in the siege of a Nairobi mall, it was unclear how many more hostages may have died with the Somali Islamist attackers buried in the rubble.
Declaring final victory over the al Qaeda-linked gunmen from al Shabaab who stormed the Westgate shopping centre on Saturday, President Uhuru Kenyatta said that three floors in a part of the mall had collapsed near the end of the operation, leaving an unknown number of bodies under steel and concrete.
It was not clear what caused the structure to come down.
Five militants had been shot dead, Kenyatta said, and six security personnel died in the four days of fighting.
Sixty-one civilians had so far been confirmed dead, Kenyatta added. Kenyan officials declined to say how many of 63 people whom the Red Cross had earlier classed as unaccounted for may also have died in a showdown with guerrillas, who had threatened to kill their hostages and go down fighting.
Eleven people suspected of involvement with the well-planned and executed assault were in custody, the Kenyan president added. But he did not say how many, if any, were gunmen taken alive and how many may have been people arrested elsewhere.
It was also unclear whether intelligence reports of American or British gunmen would be confirmed. Al Shabaab denied that any women took part, after British sources said the fugitive widow of one of the 2005 London suicide bombers might have some role.
The shattered mall, an imposing, Israeli-built symbol of a new prosperity for some in Africa while many remain mired in poverty, lay largely silent overnight, after days of gunfire, explosions and bloodshed.
"The operation is now over," Kenyatta told Kenyans in a televised address. "We have ashamed and defeated our attackers."
He announced three days of national mourning.
Bodies in rubble

Police said the attackers, who devastated restaurants and shops at a busy Saturday lunchtime, spraying bullets and grenades at Kenyans and foreigners, were now either dead or in custody.
"Now it is for the forensic and criminal experts," said a police spokesman, Masoud Mwinyi.
Some of the 63 people reported to the Red Cross as still missing may simply not have been at the mall, or may have later made it home without the agency being made aware. But some, at least, appear to have been held hostage.
"There are several bodies trapped in the rubble, including the terrorists," Kenyatta said. At the weekend, he had said there were between 10 and 15 militants holed up in the mall.
Several foreigners of many nationalities have already been named among the dead. The mall was a favourite with expatriates.
It is unclear how many foreigners may still be missing.
Survivors of the assault told tales of horror and narrow escapes. Some made it out after hours, even days, of hiding in terror. The uncle of one British four-year-old told the Sun newspaper his nephew had told a militant "You're a very bad man", as the gunman let some children and their mother go.
Officials said the raiders had set a major fire on Monday in a supermarket. Yesterday, a thin trail of smoke drifted into a soggy sky as darkness fell, the result, rescue volunteers said, of soldiers detonating locked doors in a search for militants.
Police let some people retrieve cars they left behind when shoppers fled in panic. Journalists and others were kept well away behind a security cordon.
Foreign fighters

Kenyatta said he could not confirm intelligence reports of British and American militants, adding that forensic tests were being carried out to establish their nationalities. The government denied speculation that women were among the guerrillas, but said some had been dressed as women. That may have been a ploy to smuggle more weapons past mall guards.
It is unusual, if not unknown, for Islamist militants to use female fighters: "We have an adequate number of young men who are fully committed & we do not employ our sisters in such military operations #Westgate," al Shabaab said on Twitter.
It also dismissed comments by a Kenyan minister that two or three of the militants were young Somali or Arab Americans.
A British security source said it was possible that Samantha Lewthwaite, widow of Germaine Lindsay one of the London suicide bombers of July 7 2005, was involved in the Nairobi siege in some way. "It is a possibility. But nothing definitive or conclusive yet," the source said.
Lewthwaite is wanted in connection with an alleged plot to attack expensive hotels and restaurants in Kenya.
Making no mention of gunmen still in the mall, al Shabaab also drew a link to the most recent Islamist attack in London, when a soldier was stabbed to death on a busy street in May in the suburb of Woolwich. Michael Adebolajo and a fellow British Muslim convert of Nigerian descent face trial for murder.
"It's an eye for an eye and a tooth for a tooth…' Remember Mujahid Adebolajo? This is what he meant. His was #Woolwich, #Westgate ours!" read another al Shabaab Twitter post.
"These cowards will meet justice as will their accomplices and patrons, wherever they are," said Kenyatta.
Kenyatta
He thanked other leaders, including U.S. President Barack Obama, for their support and used his address to praise the response of the Kenyan people and call for national unity, six months after his election was marked by ethnic tensions.
"Kenya has stared down evil and triumphed," he said.
Many Kenyans agree that the bloodshed has helped foster a greater sense of national unity.
"We are all talking about it. The one good thing is that the whole of Kenya has become one, except for al Shabaab," said Vipool Shah, who helped pull bodies out of the mall.
Kenyatta's focus on Kenya's troubles, and of his role in a global campaign against terrorism, was a reminder that he faces trial at The Hague in a few weeks time for crimes against humanity over violence that followed a 2007 election. The International Criminal Court adjourned the trial of his vice president this week because of the Westgate attack.
Kenyatta and his government have urged the ICC to drop the case and warm words for the Kenyan leadership from Western allies during the siege may have boosted their hopes that the court might be pressed to shelve proceedings in the interests of shoring up an important partner in the fight against al Qaeda.
The Nairobi attack came at a time when several violent Islamist groups from Mali to Algeria and Nigeria to Kenya have tapped into local grievances. But all have espoused an anti-Western, anti-Christian creed and are striking at state authority and international interests.
Shabaab resurgent?

Regional intelligence experts believe the Nairobi raiders were members of a crack unit loyal to leader Ahmed Godane, who has been seeking to rebrand al Shabaab as a significant international jihadist group.
Al Shabaab had threatened revenge since Kenyan troops joined the war against Islamists in its chaotic northern neighbour two years ago. The group created funding, recruiting and training networks in Kenya. Kenyatta dismissed an al Shabaab demand to pull Kenyan troops from Somalia after the mall siege began.
The attack bears out Western concern that Somalia,
— Phuket Gazette Editors
Keep in contact with The Thaiger by following our
Facebook page
.
Never miss out on future posts by
following The Thaiger
.


Find more SE Asian News courtesy of The Thaiger.

Broke? Find employment in Southeast Asia with JobCute Thailand. Rich? Invest in real estate across Asia with FazWaz Property Group. Even book medical procedures worldwide with MyMediTravel, all powered by DB Ventures.

UPDATE: World Covid cases surge again, US reports 81,000+ cases in past 24 hours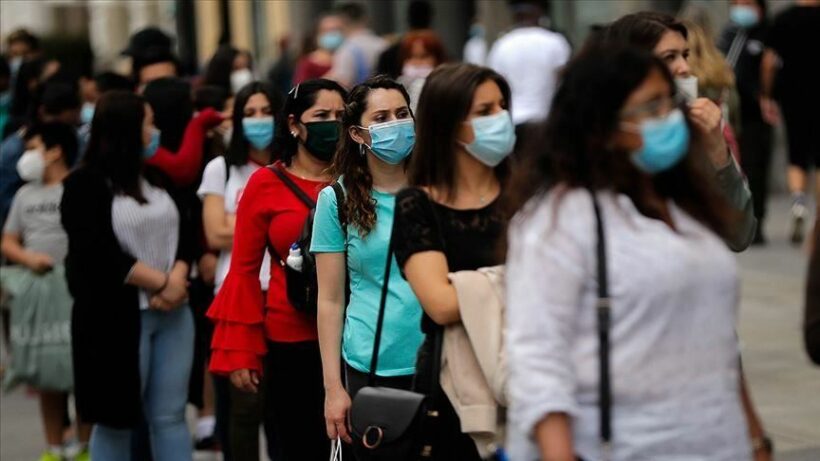 Both the rate of new infections and deaths from the coronavirus has begun to spike in the worldwide totals again with some countries and locations having to go back into lockdowns for a second or third time. In the US and parts of Europe a major new surge of cases is concerning health authorities, especially as these countries are now heading into cooler weather, and people gathering indoors.
As of Saturday morning, Thai time, a total of 42,462,925 people have been infected worldwide with Covid-19, 1,148,698 have died and 31,417,499 have recovered.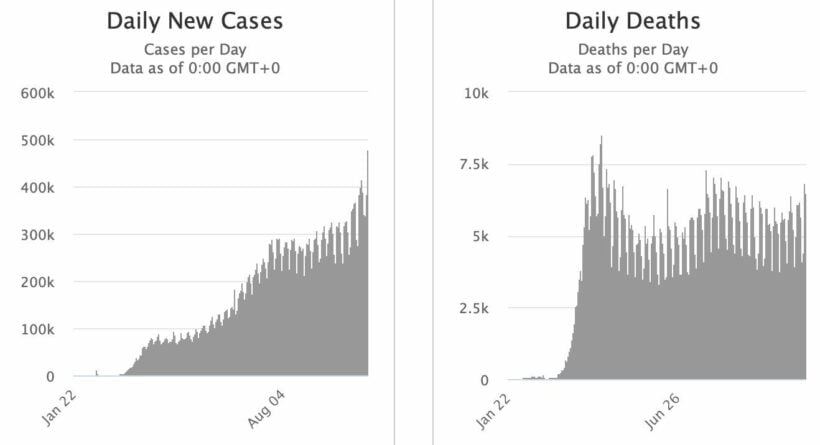 The following graph shows today's top ten countries with the most new infections in the past 24 hours…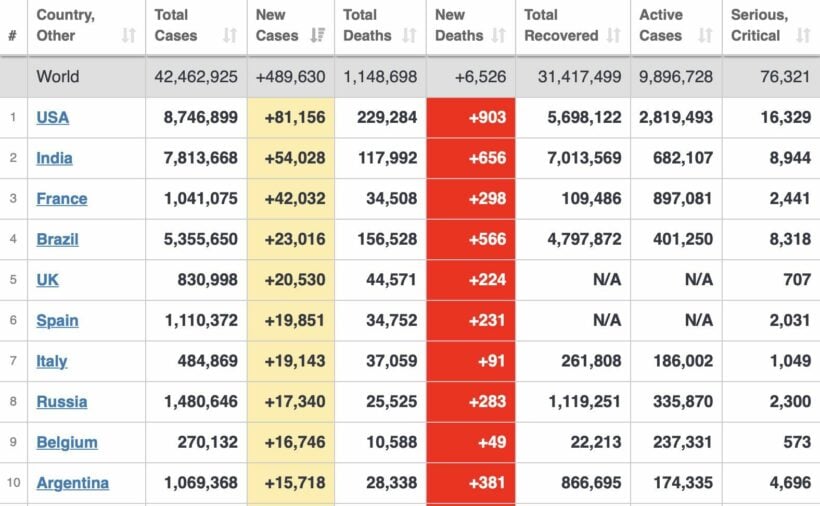 SOURCE: worldometers.info
Here's a summary of some of the main world Covid-19 headlines…
ITALY
Italy has recorded another record with 19,143 new coronavirus cases in the last 24 hours. That's up from Thursday's record of 16,079 new coronavirus cases. 91 coronavirus deaths were also reported on Friday. The governor of Campania in Vincenzo De Luca has made a formal request for a national lockdown and says he will close his region "for 30 to 40 days" to try and control the recent surge.
The governor of Lombardy lamented that it is a "dramatic situation." Lombardy was the epicentre of one of the first, and most dangerous. clusters in the world after the virus first spread out of China.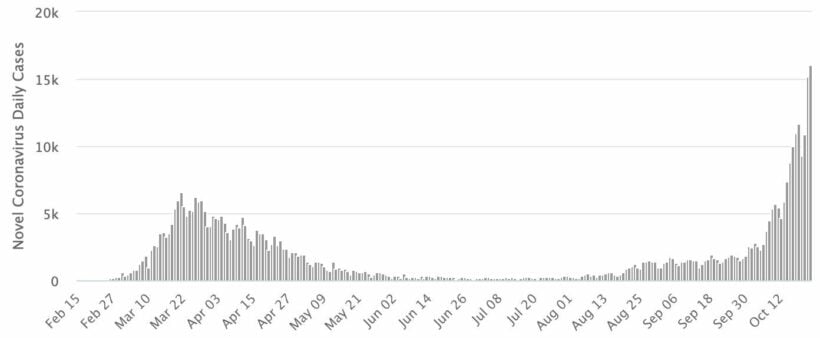 GRAPH: New cases surging across Italy – worldometers.info
US
A study from the Covid-19 forecasting team at the University of Washington's Institute for Health Metrics and Evaluation reports that… if 95% of Americans wore masks in public, more than 100,000 lives could be saved from Covid-19 over the next 4 months.
In a survey done in September, only about 49% of US residents reported that they "always" wear a mask in public.
The study calculated that, if the current extent of mask-wearing were to continue, and states continue with removing social distancing mandates, the death toll across the US from Covid-19 could reach about 1 million deaths by the end of February.
"The study had some limitations, including that the findings are only forecast projections from models and not definitive of what the future holds."
The IHME Director Dr. Chris Murray maintains that the study still helps offer insight into how mask-wearing can make a difference.
URUGUAY
Uruguay is closing its borders during the summer season as a program to help curb the spread of Covid-19. Uraguay's President Luis Lacalle Pou says that it will be "a restricted summer".
"The borders will be basically closed, with exceptions that are already known and perhaps some more.
"Because today there are many cases, or several cases, in the education sector, we have decided to suspend face-to-face classes for two weeks."
"Public safety measures will be enforced… avoid large gatherings and parties. We will be very strict when it comes to the topic of parties."
Uruguay, with a total population of 3.5 million, has reported at least 2,701 confirmed new cases of Covid-19 and 53 deaths as of Friday morning and shares borders with Argentina and Brazil, both heavily impacted with a rise of Covid cases.
FRANCE
The head of infectious diseases at Tenon Hospital in Paris, Gilles Pialoux, says France is paying the price for ending the coronavirus lockdown too quickly.
On Thursday, France announced 41,622 new cases, and on Friday 42,032.
It will be "really difficult to avoid a second lockdown given the circulation of the virus."
Gilles says local lockdowns or lockdowns "by population group" could be the solution. The doctor added the circulation of the virus among the "20-30 year old age group was far beyond the rest of the population".
EUROPE
5 countries with the highest rate of new Covid infections, when measured against population, are all in Europe.
They are the Czech Republic, Switzerland, France, Belgium and The Netherlands. The number of new infections has risen sharply since the start of October, and continues to surge as the European autumn sets in.
As of last Thursday, the Czech Republic had a rolling daily average (across five days) of 10,579 new cases, meaning 988 new infections a day per 1 million population, a four-fold increase since the start of October. Belgium, was in the same situation with an average of 891 new infections per million residents as of last Thursday. The two countries have by far the highest rate of new Covid-19 infections.
UK
The UK has seen a sharp increase in its rolling averages during October, from 9,729 new cases to 19,290 per day. And the situation in Spain is less dramatic "but the daily average remains stubbornly high". Infections per million are lower in other European countries, but they are still rising.
In comparison, the rolling averages of new cases in India and Brazil continue to fall, while the US is seeing a gradual but persistent rise. Its rolling average has risen from 43,089 at the start of October to 59,387 this week, representing 179 new cases a day per million population.
The UK's economic recovery after the first wave of the Covid-19 pandemic has now flattened out and threatens to reverse and trigger a double-dip recession. The government has announced new restrictions to tackle the second wave which are expected to stifle business activity.
A new survey of business activity indicates private sector growth in the UK falling back as hospitality and transport companies struggled to cope with regional lockdown measures.
US
As autumn spreads across North American, 25 states in the US are reporting rising Covid-19 infections. White House Coronavirus Taskforce officials say there are "early signs of deterioration in the Sun Belt and continued deterioration in the Midwest and across the Northern States".
Last Wednesday, at least 14 states had recorded their highest seven-day average of new daily cases, according to Johns Hopkins University. Including Alaska, Colorado, Idaho, Illinois, Indiana, Kansas, Kentucky, Michigan, Montana, New Mexico, Ohio, Utah, Wisconsin, Wyoming.
Meanwhile, more than 41,000 people are currently hospitalised with the coronavirus across the country, according to the CovidTracking Project. Missouri and Idaho health officials say they'll "soon be facing a crisis if hospitalisations continue to surge".
The US reported the highest daily death toll in more than a month, with more than 1,100 new deaths.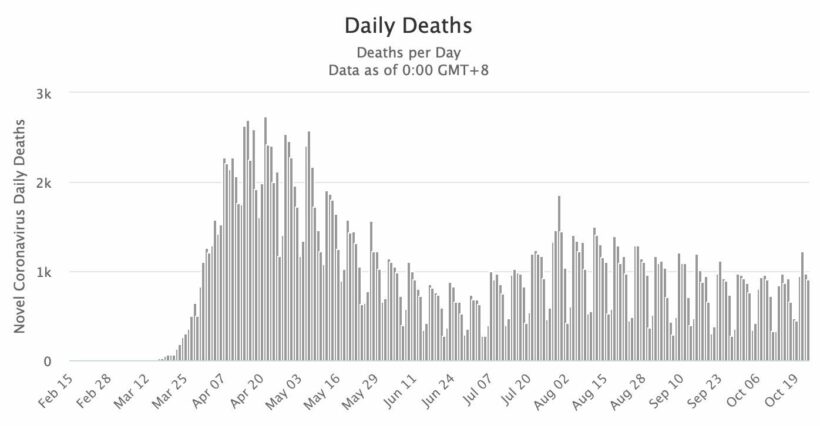 Keep in contact with The Thaiger by following our
Facebook page
.
Never miss out on future posts by
following The Thaiger
.
The World's 50 Best Foods… Thai massaman curry tops the list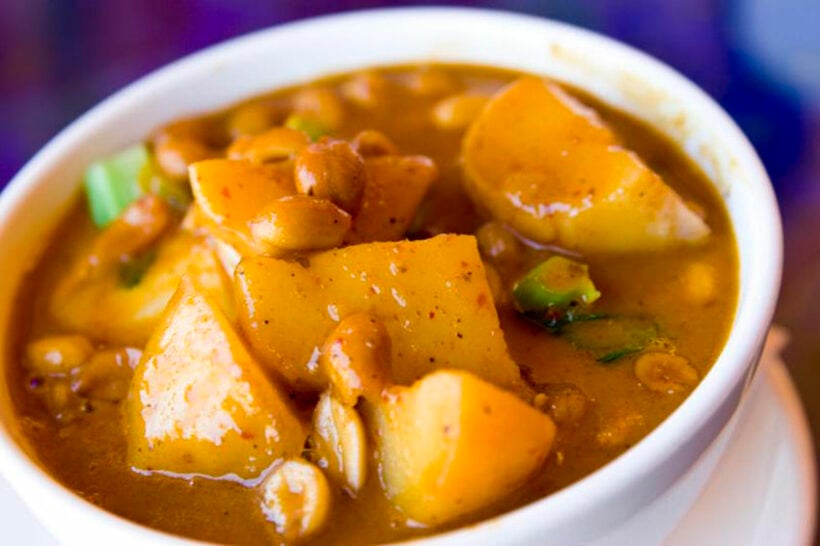 The humble Thai massaman curry has topped a list of the World's 50 Best Foods, compiled by the CNN Travel team. Thailand's smooth coconut milk and potato-based curry (add meat, tofu or vegetables of your choice) comes in at Number 1, with 2 other popular Thai dishes also making it into the World's Best food list.
The hot and spicy shrimp/prawn soup, Tom Yum Goong, comes in at Number 8, with papaya salad, aka somtam, in 46th place (mai phet please!) Tell us your favourite Thai dish, and why, in the comments section (below).
CNN Travel says its staff conducted extensive research on global cuisine to find the 50 best dishes ever created. Nice work if you can get it…
Italian pizza, Mexican chocolate, Japanese sushi, Chinese Peking duck, Penang Assam laksa, Malaysia and German Hamburger also top the delicious list.
Here's what the writers had to say about the 3 Thai dishes that made the top taste grade…
First Place, Massaman curryEmphatically the king of curries, and perhaps the king of all foods. Spicy, coconutty, sweet and savoury. Even the packet sauce you buy from the supermarket can make the most delinquent of cooks look like a Michelin potential. Thankfully, someone invented rice, with which diners can mop up the last drizzles of curry sauce. "The Land of Smiles" isn't just a marketing catch-line. It's a result of being born in a land where the world's most delicious food is sold on nearly every street corner.
Eighth Place, Tom Yum Kung
This best food Thai masterpiece teems with shrimp, mushrooms, tomatoes, lemongrass, galangal and kaffir lime leaves. Usually loaded with coconut milk and cream, the hearty soup unifies a host of favourite Thai tastes: sour, salty, spicy and sweet. Best of all is the price: cheap.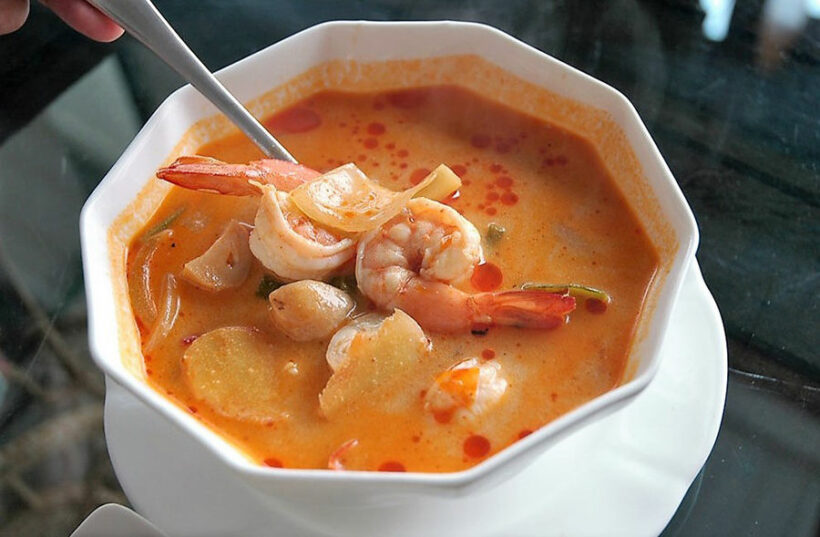 PHOTO: Richard Lee on Flickr
46th Place, Som Tam/Papaya salad
To prepare Thailand's most famous salad, pound garlic and chilies with a mortar and pestle. Toss in tamarind juice, fish sauce, peanuts, dried shrimp, tomatoes, lime juice, sugar cane paste, string beans and a handful of grated green papaya. Grab a side of sticky rice. Variations include those made with crab (som tam pu) and fermented fish sauce (som tam pla ra), but none matches the flavour and simple beauty of the original.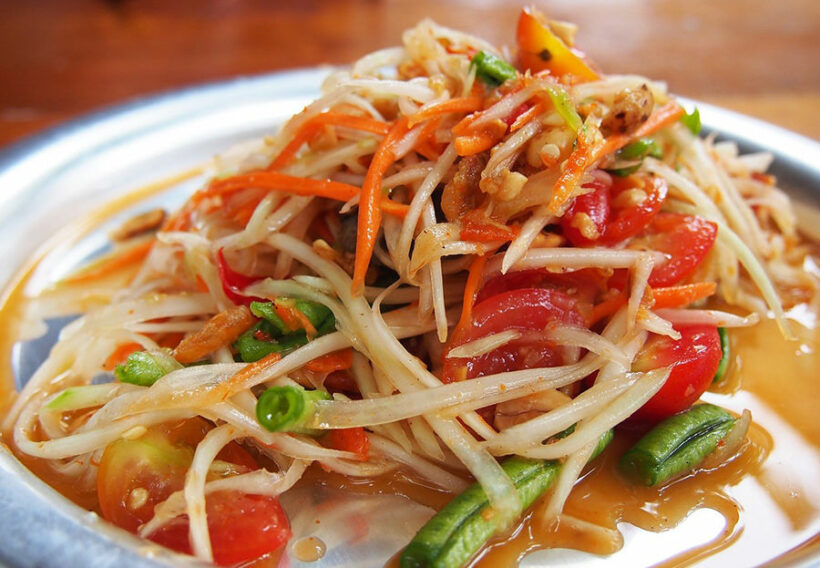 PHOTO: www.needpix.com
SOURCE: Thai Residents | CNN Travel
Keep in contact with The Thaiger by following our
Facebook page
.
Never miss out on future posts by
following The Thaiger
.
AstraZeneca Covid-19 vaccine trial volunteer dies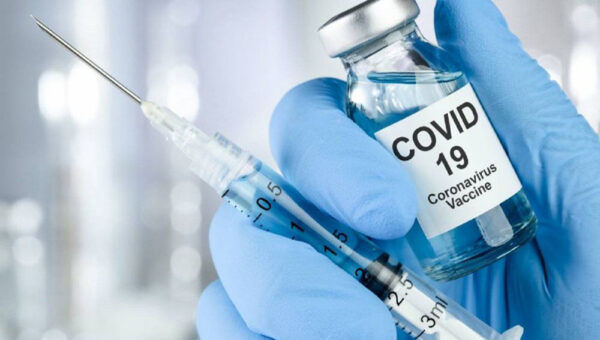 A volunteer for a Covid-19 vaccine clinical trial in Brazil has died. But he never actually received the experimental vaccine, although he was involved in the trial groups. He did, however, die of Covid-19.
But trials on the vaccine, being developed by Oxford University and the pharmaceutical company AstraZeneca, are set to continue. The university says "there have been no concerns about safety of the clinical trial." The vaccine is also planned to be produced in Thailand and be available to the Thai population by the first half of 2021.
The 28 year old volunteer from Rio de Janeiro died from Covid-19 complications, according to CNN Brasil. He was apparently never injected with the experimental vaccine. If the volunteer had been given the Covid-19 vaccine and died, the trial would have been suspended, a source told Reuters, adding that the volunteer may have been part of the control group.
The Federal University of Sao Paulo is helping to coordinate the trials in Brazil and has also recommended the trials continue. So far, 8,000 volunteers have been injected with the first dose of the vaccine and some have already been jabbed a second time, a university spokesperson said.
"Everything is proceeding as expected, without any record of serious vaccine-related complications involving any of the participating volunteers."
Thailand is set to be the Southeast Asia production site for the new vaccine. If the AstraZeneca trials are successful, the vaccine will be available to the Thai population by the first half of 2021. For Thailand, the vaccine is seen as a lifeline to save the country's struggling economy, allowing borders to safely reopen and revive the tourism industry.
The company Siam Bioscience will manufacture the vaccine in Thailand and provide injections for the Thai populations as well as the neighbouring countries Indonesia, Singapore, Malaysia, Philippines, Vietnam, Brunei, Cambodia, Myanmar and Laos.
SOURCE: Thai PBS
Keep in contact with The Thaiger by following our
Facebook page
.
Never miss out on future posts by
following The Thaiger
.