Phuket Gazette Thailand News: PM defends her performance; China wants Asean rail-link; BRN demands; Girl swept away in floods; 3 heists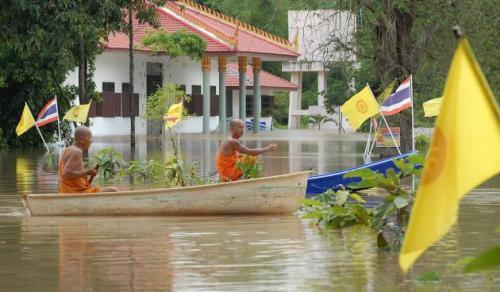 PHUKET MEDIA WATCH
– Thailand news compiled by Gazette editors for Phuket's international community
PM defends performance in 'challenging' first year
The Nation / Phuket Gazette
PHUKET: Prime Minister Yingluck Shinawatra finally delivered her administration's first-year performance declaration to Parliament yesterday, stressing that the period was filled with challenges and problems on many fronts, ranging from politics, society and natural disasters to the global economic downturn.
The premier defended her numerous official trips abroad, saying they were aimed at restoring investor confidence in Thailand and fostering greater investment and economic ties with foreign friends.
Since the government came to power in 2011, it has sought to pursue three key policies – rebalancing the economy to strengthen fundamentals, fostering national reconciliation on the basis on equality and preparing the country for integration under the Asean Economic Community in 2015.
Up to 70 per cent of the economy is dependent on exports so a stronger domestic consumption base needed to be built, while the gap between the rich and poor needed to be narrowed.
This was partly achieved by giving people greater access to capital and pushing for a seven-year major infrastructure investment programme including high-speed train routes.
However, the global economic outlook remains volatile and complex. Spending on flood-prevention measures has led to the cutting of budgets for some ministries although advent of the AEC should help boost trade and tourism.
Deputy Premier and Finance Minister Kittiratt Na-Ranong said employment remained stable with a low unemployment rate and the introduction of a Bt300 minimum wage at the beginning of the year "went well".
Appropriate measures have been introduced to expand the tax base and reduce farmers' debts. Prices of 42 commodities remained under government control and the prices of 140 more commodities have been temporarily frozen.
"The reduction of company taxes has led to the private sector being more honest in their tax payments," he said, adding that the first-car policy also enabled a million people to own a car, which was an important asset, and boosted their quality of life.
Opposition leader Abhisit Vejjajiva presented a starkly different view of the government's 12-month performance, arguing that the administration had failed the people. He said independent figures pointed to Thailand losing competitiveness in all areas.
Petrol prices also became more expensive than what the government promised, causing hardship among the public, while the first-car and first-home schemes failed to boost the real economy. They had led instead to increasing debt.
"The prime minister must rethink how the economy is managed, because populist projects do not work and cannot strengthen the economy. It also created more risk," he said.
Fiscal discipline was also necessary, he added.
China 'serious' about rail link with Asean
The Nation / Phuket Gazette
PHUKET: The new Chinese ambassador to Thailand insisted yesterday that rail-link cooperation with the mainland would be advantageous for Thailand and the region.
In his first press conference since taking the post in Bangkok last month, Ambassador Ning Fukui said: "This is one of the four major projects China will be pushing in the future". Other bilateral cooperation would include education, new energy and water management, he said. The ambassador said China's prosperity would also be linked to the development of its neighbours.
Trade between China and the Asean was worth US$400 billion (12.5 trillion Thai baht) in 2012, and the aim is to boost the value of trade to $1 trillion by 2020.
Beijing has been pushing for an ambitious Trans-Asian Railway link with Southeast Asia, which it says will offer great economic advantages to the Asean bloc.
"We have had close cooperation between the Chinese and Thai sides, but it's still in the stage of consultation," the ambassador said.
He added that cooperating over the high-speed rail link with China would be positive in many ways, given Beijing's ability to build bullet trains, that are already popular in China, as well as low construction costs. Thailand also stood to gain due to its location.
Ambassador Ning also spoke of Beijing's determination to push for stronger ties with the Kingdom, adding that large Chinese firms were planing to boost investment in Thailand in the near future. The envoy said Chinese PM Li Keqiang would visit Asean next month.
Keep checking the Phuket Gazette's
Thailand news pages
, join our
Facebook fan page
or follow us on Twitter
@PhuketGazette
for the latest national news updates.
Be cautious on BRN demands: Army chief
The Nation / Phuket Gazette
PHUKET: Army Chief General Prayuth Chan-ocha said yesterday that Thailand should not rush to conclusions about the BRN's five recent demands – and that a deep South special administration zone was not possible, as the locals didn't want it.
The general made his comments as the National Security Council (NSC) prepared for the October dialogue with the Barisan Revolusi Nasional (BRN).
Prayuth said the BRN's demands had to be reviewed and more information sought before further talks were held. Regarding the fourth demand – in which the BRN reportedly called for a special administration zone – he said that Thailand already had two special zones, Bangkok and the tourist centre of Pattaya, and these two centres needed new administration and budgets.
Nevertheless, he said he believed the budget for the three southernmost provinces wasn't sufficient and still needed the central government's support. He'd explained this to the locals, who didn't want a special administration zone. He claimed if the insurgents laid down their weapons, it would smooth the talks.
Prayuth said the project to bring "misguided" insurgent sympathisers back home had seen 900 people reporting themselves to the authorities. They'd been provided with vocations and safety while officials reviewed their arrest warrants, summonses and evidence.
NSC chief Lt Gen Paradorn Pattanatabut affirmed that Thai negotiators would discuss the BRN demands, as well as the violence during the Muslim holy month of Ramadan, in the peace dialogue with BRN in the third week of October. The NSC had forwarded the BRN's explanation of the five demands to related agencies, including those supervising national security, the people's sector and academics, for analysis. Results could not be expected for some time.
Paradorn said the restive region's situation was in a process of recovery because the dialogue was ongoing. Search operations and public safety measures would remain strict and the insurgents' attacks were declining.
Southern Border Provinces Administrative Centre (SBPAC) chief Thawee Sodsong, during a seminar yesterday on the roles of local media and the Ma
— Phuket Gazette Editors
Keep in contact with The Thaiger by following our
Facebook page
.
Never miss out on future posts by
following The Thaiger
.
'Bread' krathongs are killing the fish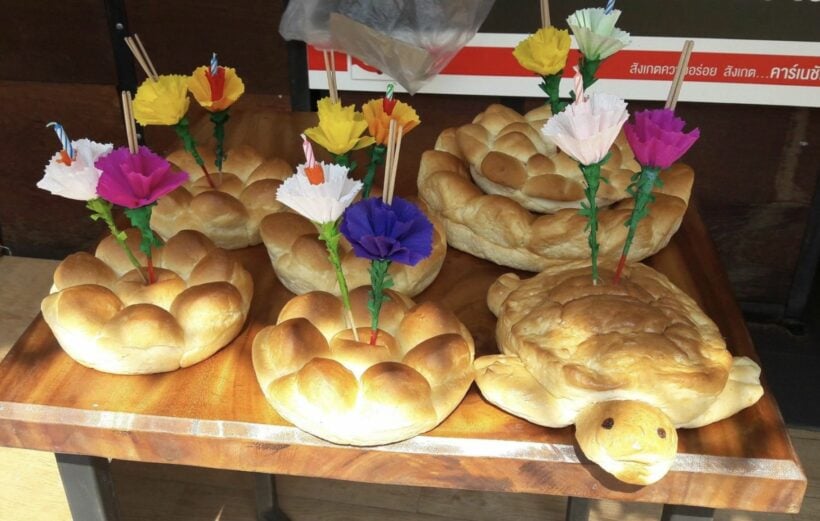 First it was no polystyrene or steel pins. The push was for natural, sustainable ratings as Thais floated away their woes in the annual celebration. Now there is a new warning that the "natural" kratongs, made from bread and edible ingredients, are causing river pollution.
Fish found in the river don't eat bread and the ingredients have broken down before cleaners remove the krathongs from the waters and along the shores.
Department of Fisheries' Wichan Ingsrisawang, is asking Krathong launchers, celebrating Loy Krathong Festival this evening, to be careful what they're pushing out onto Thailand's waterways. He noted that bread and ice cream cone krathongs have become increasingly popular over the past few years because people believed that fish would eat the au natural krathongs. After years of foam and polystyrene krathongs, held together with pins and plastic cable ties, became a clean up nightmare, authorities urged people to consider more environmentally-suitable components of their floating offerings.
Wichan says that the intention behind edible krathongs is good, "but the truth is that not all fish can eat these ingredients".
"Even if they can, there are too many krathongs for the fish to eat and they just end up stinking the river."
The situation is even worse in closed water catchments like temple and school ponds because the food ends up sinking and makes the water rotten over a long period time, killing the fish.
"The only fish that can eat these types of krathongs are herbivorous fish while thai rivers often have a lot of predatory fish including catfish and snakehead fish."
"If you intend to use edible krathongs because that is what you prefer or the kratongs have already been purchased then it is best to float them in open waters.
The best materials for a krathong are natural, plant-based products like banana tree trunk, spider lily plant, banana leaves, flowers, and wooden sticks to join all the materials. In the past krathongs were made from natural materials but the banana tree trunk later became replaced with polystyrene and foam and the krathongs decorated with plastic, sharp needles, and other materials that don't break down and cause pollution and a dangerous, unsightly mess.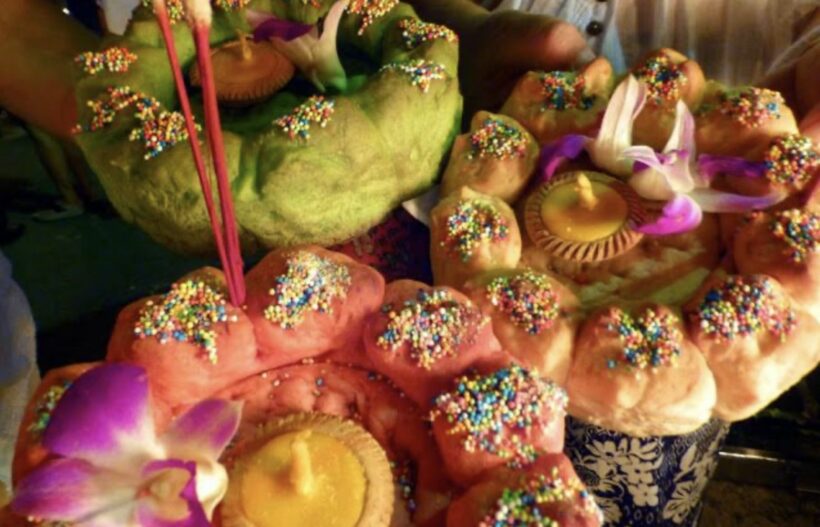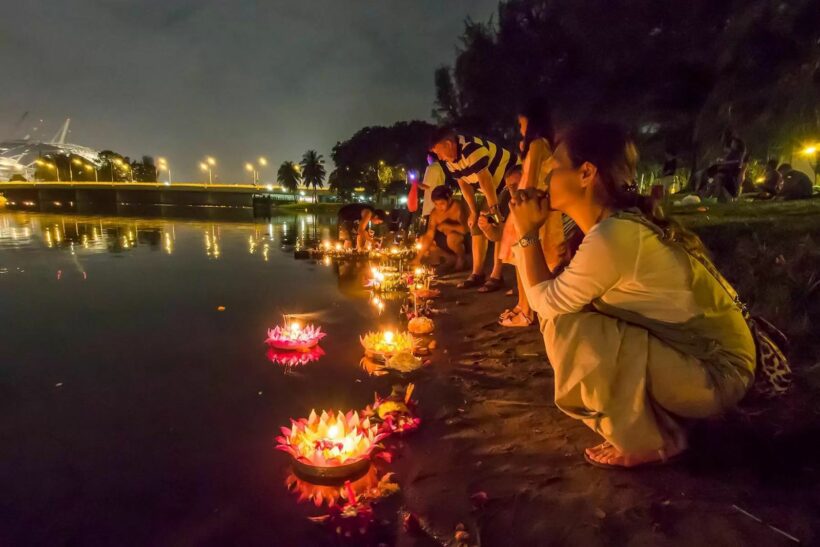 SOURCE: Thai Residents
Keep in contact with The Thaiger by following our
Facebook page
.
Never miss out on future posts by
following The Thaiger
.
Thailand News Today | Immigration deadline, quarantine update?, arrests averted | October 30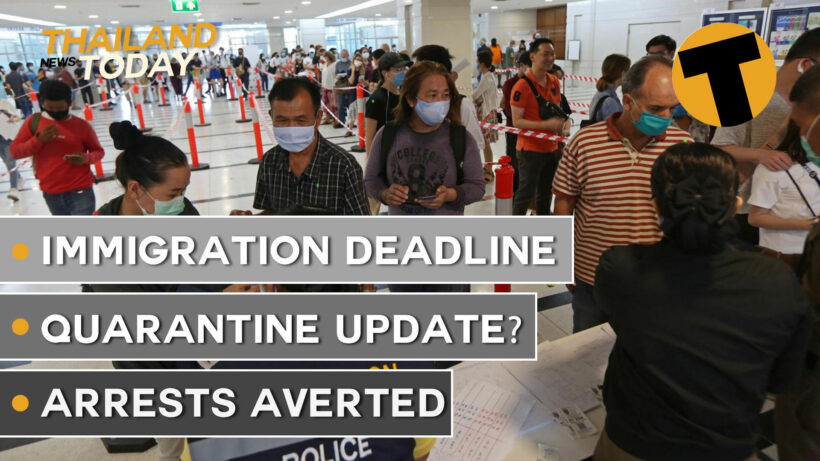 Last day of the week and all the main stories from around Thailand. Thailand News Today, a bit late today but here it is…
Some immigration offices open tomorrow for last minute visa extensions
The latest amnesty is up tomorrow (October 31) and some immigration offices will be open for those who still need sort out their visa extensions.
Those who miss the deadline could face fines for overstay, immigration officials warn. The extensions all go into effect from November 1 and allow a 60 day stay.
Some immigration offices that are typically closed on Saturdays will be open tomorrow for those filing for extensions. Immigration Bureau commissioner Sompong Chingduang says immigration offices on Chaeng Watthana Road in Bangkok and at Muang Thong Thani in Nonthaburi, just outside Bangkok city, will be open tomorrow from 8.30am to 4.30pm. Check with your local immigration office.
Court rejects bid to arrest activists who led march on German Embassy
A bid to apprehend 5 anti-government activists who led a march to the Germany Embassy on Monday has failed, after a court in Bangkok rejected a police application for arrest warrants.
The Bangkok South Criminal Court has turned down the application for arrest warrants.
The 5 would have faced charges of sedition and other offences. But the court told officials to instead issue a summons, given that the protesters are students who only gathered for a short time and are unlikely to flee.
On Monday, protesters marched to the German Embassy to submit a petition calling on the country's government to investigate whether Thailand's Head of State conducted official business while in Germany. Which nicely segues to the next story…
German government does not believe the Thai Monarch broke the law on conducting state affairs
The German government does not believe the Thai Monarch broke the law on conducting state affairs during his time in the German state of Bavaria.
Germany says His Majesty the King has not violated the European country's ban on conducting foreign politics on German soil where he resides. The government in Berlin briefed lawmakers this week, saying the Thai Monarch is allowed make occasional decisions regarding Thai state affairs, but he cannot continuously conduct business from overseas.
So far, the German government says they do not believe the King Maha Vajiralongkorn "continuously" conducted Thailand state business during his residence in Bavaria.
PM to visit Phuket on Monday as island's economy lies in tatters
PM Prayut Chan-o-cha is heading to Phuket on Monday, where he will meet with local business leaders and discuss proposals to help revive the southern island's devastated tourism sector.
Despite Phuket Models and any number of promises from the Thai tourism sector, Phuket remains in a perilous situation whilst the government keeps its borders closed. Almost 100% of Phuket's economy is derived directly or indirectly from tourist traffic.
Health officials propose reducing quarantine to 10 days
Health officials are suggesting cutting mandatory quarantine for international arrivals to 10 days. We've heard it all before but the idea has risen to the top of the Health Minister's file again.
Health Minister Anutin Charnvirakul says the proposal will be submitted to the CCSA for approval. It's hoped that a reduction in the quarantine period could help revive Thailand's battered tourism sector. Only a tiny handful of STV tourists have arrived on the the tourist visa over the past month. The health minister said…
"The priority now is to strike a balance between people's health and the economy. Thailand still has to rely on foreign tourists. Re-opening the country to foreign visitors will help put the economy back on track."
The Minister didn't say where all these tourists might come from or speculate when a reduction on the quarantine period might be introduced.
Police arrest woman for allegedly selling fashion dental retainers
Police have arrested a woman for allegedly selling and fitting fashion dental retainers and braces.
Police seized equipment used for making dental casts and retainers found at her home in Ratchaburi and charged the 27 year old with illegally fitting fashion dental retainers.
The woman has allegedly been selling the retainers on a Facebook page under the name since November 2017, targeting mostly teenage students.
In Thailand, braces and retainers are a fashion trend and also seen as a symbol of wealth. The Thaiger suggests that if you want a set of straight teeth, go to an orthodontist.
Floods in NE Thailand as Vietnam mops up after typhoon
Flooding persists in four north eastern provinces, including Nakhon Rachasima as of this morning. All in the wake of the weakening tropical depression that crossed the Vietnamese coast on Wednesday as Typhoon Molave.
'Molave' was the most powerful typhoon to hit Vietnam in 20 years. The remnants of the tropical depression are now centred over the west of Thailand where it continues to drop plenty of rain.
At least 35 people are dead, 100s injured, and 50+ missing in Vietnam as disaster mitigation authorities are now reaching some of the worst hit areas in central Vietnam.
Keep in contact with The Thaiger by following our
Facebook page
.
Never miss out on future posts by
following The Thaiger
.
Lockdown may contribute to Thailand's rise in dengue fever cases, study suggests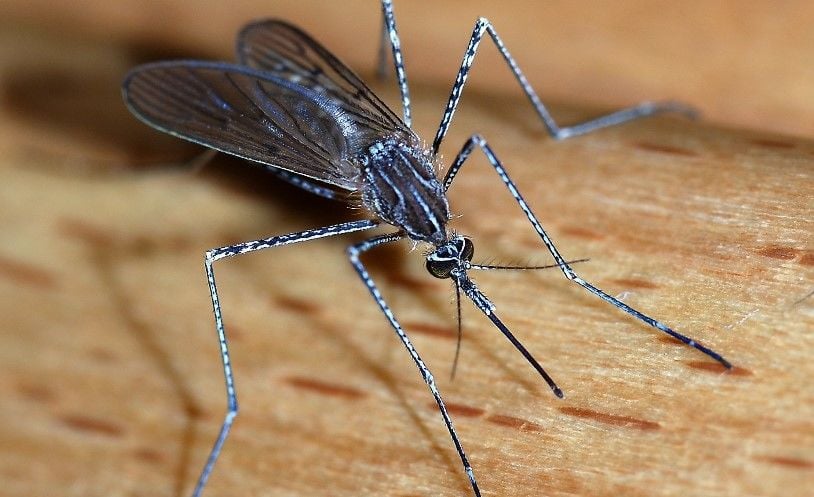 Social distancing and lockdown measures may have contributed to a rise in dengue fever in Thailand, according to a recent study funded by the Singapore Ministry of Health's National Medical Research Council.
Researchers, which included scientists from the University of Singapore, examined dengue fever cases in Malaysia, Singapore and Thailand. No impact on the dengue transmission was found in Malaysia or Singapore, but in Thailand, they found that social distancing may lead to an increase in the number of coronavirus cases. They say the largest impact is in Bangkok Researchers say social distancing is expected to lead to 4.32 additional dengue fever cases per 100,000 people in Thailand each month.
Many people in Thailand stayed at home during lockdown measures put in place to control the spread to the coronavirus, but the study found that people in Thailand are typically bitten by dengue-carrying mosquitos at home rather than at work. Some people even travelled back home to their home provinces to be with their families during the lockdown period.
"Although it is possible for dengue infections to occur in workplaces, it was found in one study that 60% of dengue cases live less than 200m apart came from the same transmission chain, revealing that residential areas are a focal point of transmission."
Reported dengue fever cases in 2019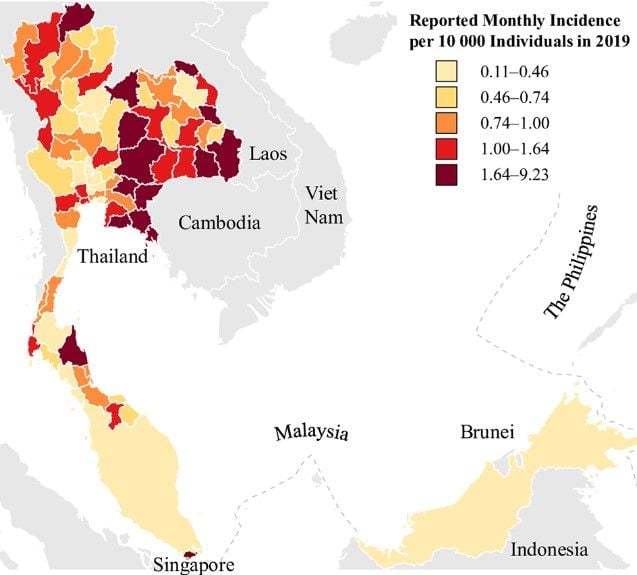 Reported dengue fever cases in 2020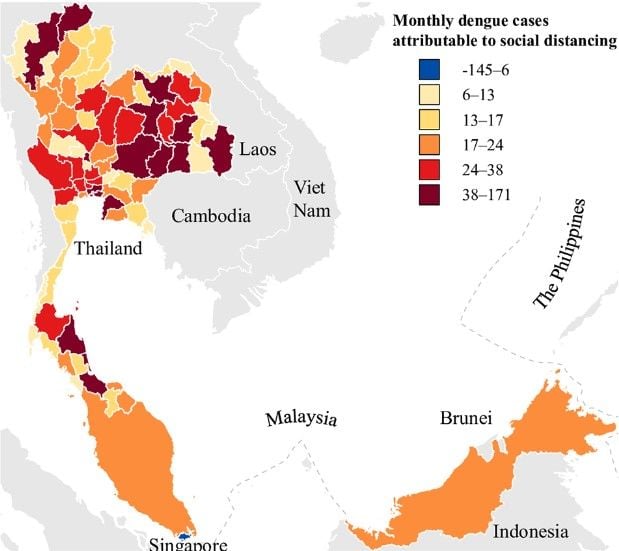 To read the full study click HERE.
Keep in contact with The Thaiger by following our
Facebook page
.
Never miss out on future posts by
following The Thaiger
.