Phuket Gazette Thailand News: PM defends her performance; China wants Asean rail-link; BRN demands; Girl swept away in floods; 3 heists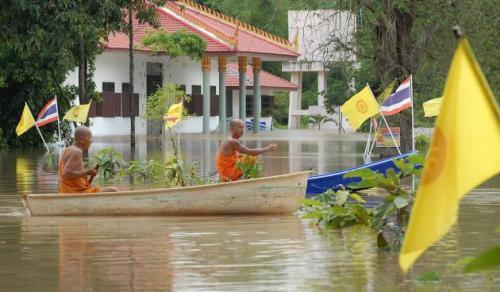 PHUKET MEDIA WATCH
– Thailand news compiled by Gazette editors for Phuket's international community
PM defends performance in 'challenging' first year
The Nation / Phuket Gazette
PHUKET: Prime Minister Yingluck Shinawatra finally delivered her administration's first-year performance declaration to Parliament yesterday, stressing that the period was filled with challenges and problems on many fronts, ranging from politics, society and natural disasters to the global economic downturn.
The premier defended her numerous official trips abroad, saying they were aimed at restoring investor confidence in Thailand and fostering greater investment and economic ties with foreign friends.
Since the government came to power in 2011, it has sought to pursue three key policies – rebalancing the economy to strengthen fundamentals, fostering national reconciliation on the basis on equality and preparing the country for integration under the Asean Economic Community in 2015.
Up to 70 per cent of the economy is dependent on exports so a stronger domestic consumption base needed to be built, while the gap between the rich and poor needed to be narrowed.
This was partly achieved by giving people greater access to capital and pushing for a seven-year major infrastructure investment programme including high-speed train routes.
However, the global economic outlook remains volatile and complex. Spending on flood-prevention measures has led to the cutting of budgets for some ministries although advent of the AEC should help boost trade and tourism.
Deputy Premier and Finance Minister Kittiratt Na-Ranong said employment remained stable with a low unemployment rate and the introduction of a Bt300 minimum wage at the beginning of the year "went well".
Appropriate measures have been introduced to expand the tax base and reduce farmers' debts. Prices of 42 commodities remained under government control and the prices of 140 more commodities have been temporarily frozen.
"The reduction of company taxes has led to the private sector being more honest in their tax payments," he said, adding that the first-car policy also enabled a million people to own a car, which was an important asset, and boosted their quality of life.
Opposition leader Abhisit Vejjajiva presented a starkly different view of the government's 12-month performance, arguing that the administration had failed the people. He said independent figures pointed to Thailand losing competitiveness in all areas.
Petrol prices also became more expensive than what the government promised, causing hardship among the public, while the first-car and first-home schemes failed to boost the real economy. They had led instead to increasing debt.
"The prime minister must rethink how the economy is managed, because populist projects do not work and cannot strengthen the economy. It also created more risk," he said.
Fiscal discipline was also necessary, he added.
China 'serious' about rail link with Asean
The Nation / Phuket Gazette
PHUKET: The new Chinese ambassador to Thailand insisted yesterday that rail-link cooperation with the mainland would be advantageous for Thailand and the region.
In his first press conference since taking the post in Bangkok last month, Ambassador Ning Fukui said: "This is one of the four major projects China will be pushing in the future". Other bilateral cooperation would include education, new energy and water management, he said. The ambassador said China's prosperity would also be linked to the development of its neighbours.
Trade between China and the Asean was worth US$400 billion (12.5 trillion Thai baht) in 2012, and the aim is to boost the value of trade to $1 trillion by 2020.
Beijing has been pushing for an ambitious Trans-Asian Railway link with Southeast Asia, which it says will offer great economic advantages to the Asean bloc.
"We have had close cooperation between the Chinese and Thai sides, but it's still in the stage of consultation," the ambassador said.
He added that cooperating over the high-speed rail link with China would be positive in many ways, given Beijing's ability to build bullet trains, that are already popular in China, as well as low construction costs. Thailand also stood to gain due to its location.
Ambassador Ning also spoke of Beijing's determination to push for stronger ties with the Kingdom, adding that large Chinese firms were planing to boost investment in Thailand in the near future. The envoy said Chinese PM Li Keqiang would visit Asean next month.
Keep checking the Phuket Gazette's
Thailand news pages
, join our
Facebook fan page
or follow us on Twitter
@PhuketGazette
for the latest national news updates.
Be cautious on BRN demands: Army chief
The Nation / Phuket Gazette
PHUKET: Army Chief General Prayuth Chan-ocha said yesterday that Thailand should not rush to conclusions about the BRN's five recent demands – and that a deep South special administration zone was not possible, as the locals didn't want it.
The general made his comments as the National Security Council (NSC) prepared for the October dialogue with the Barisan Revolusi Nasional (BRN).
Prayuth said the BRN's demands had to be reviewed and more information sought before further talks were held. Regarding the fourth demand – in which the BRN reportedly called for a special administration zone – he said that Thailand already had two special zones, Bangkok and the tourist centre of Pattaya, and these two centres needed new administration and budgets.
Nevertheless, he said he believed the budget for the three southernmost provinces wasn't sufficient and still needed the central government's support. He'd explained this to the locals, who didn't want a special administration zone. He claimed if the insurgents laid down their weapons, it would smooth the talks.
Prayuth said the project to bring "misguided" insurgent sympathisers back home had seen 900 people reporting themselves to the authorities. They'd been provided with vocations and safety while officials reviewed their arrest warrants, summonses and evidence.
NSC chief Lt Gen Paradorn Pattanatabut affirmed that Thai negotiators would discuss the BRN demands, as well as the violence during the Muslim holy month of Ramadan, in the peace dialogue with BRN in the third week of October. The NSC had forwarded the BRN's explanation of the five demands to related agencies, including those supervising national security, the people's sector and academics, for analysis. Results could not be expected for some time.
Paradorn said the restive region's situation was in a process of recovery because the dialogue was ongoing. Search operations and public safety measures would remain strict and the insurgents' attacks were declining.
Southern Border Provinces Administrative Centre (SBPAC) chief Thawee Sodsong, during a seminar yesterday on the roles of local media and the Ma
— Phuket Gazette Editors
Keep in contact with The Thaiger by following our
Facebook page
.
Thais go bananas over freak plants in pursuit of lottery numbers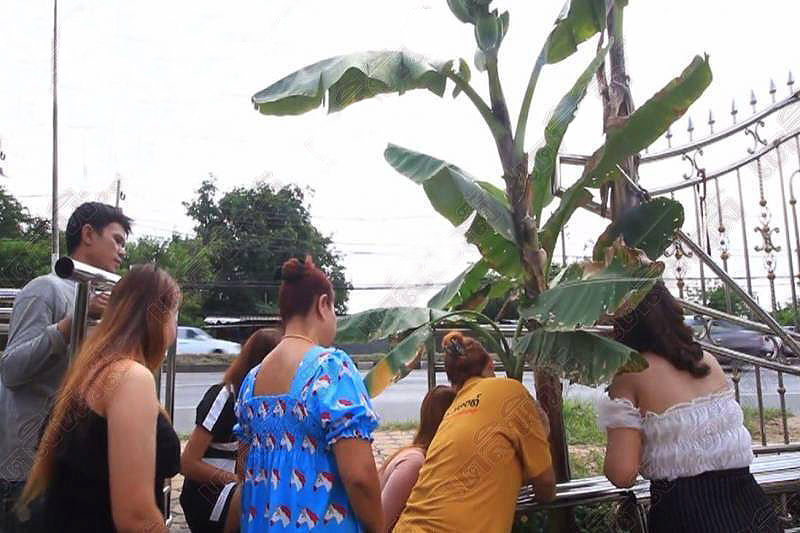 PHOTOS: Daily News
The answers are in the banana leaves.
Thai people LOVE playing the lottery (and gambling generally). In fact they're BANANAS about the twice-monthly lottery (it was drawn again today). Daily News has reported about two unusual banana trees growing in front of a shop in Klong 4 Pathum Thani, just north of Bangkok. The trees did not have blossom and on one plant two bananas were pointing skywards. On another there was a whole bunch pointing up into the sky.
There was a steady stream of the faithful lighting incense, praying and rubbing powder on the trees to get lottery numbers. One group thought '542' was the magic numbers and a path to riches (we're not sure how they came to this conclusion). 53 year old Surachai says the trees had been growing for a few months and that he'd never seen anything like it before.
An unnamed agricultural expert suggested that there was probably something wrong with the banana plants. Trees and malformed animals are a favourite source of inspiration to select numbers for the lottery, as are numbers of houses and vehicles involved in events where people experience "miracle" escapes from danger, or even bizarre accidents.
SOURCE: Daily News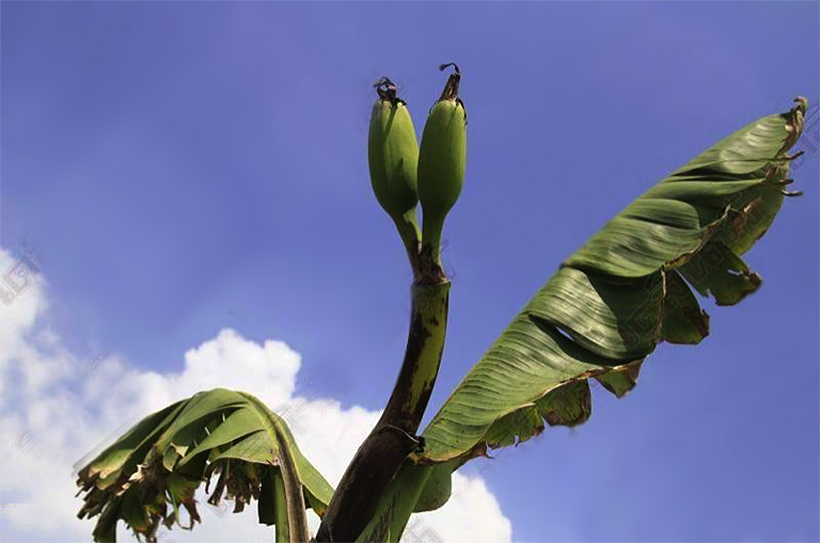 Keep in contact with The Thaiger by following our
Facebook page
.
Clean Up to the Countdown – Crackdown on illegal software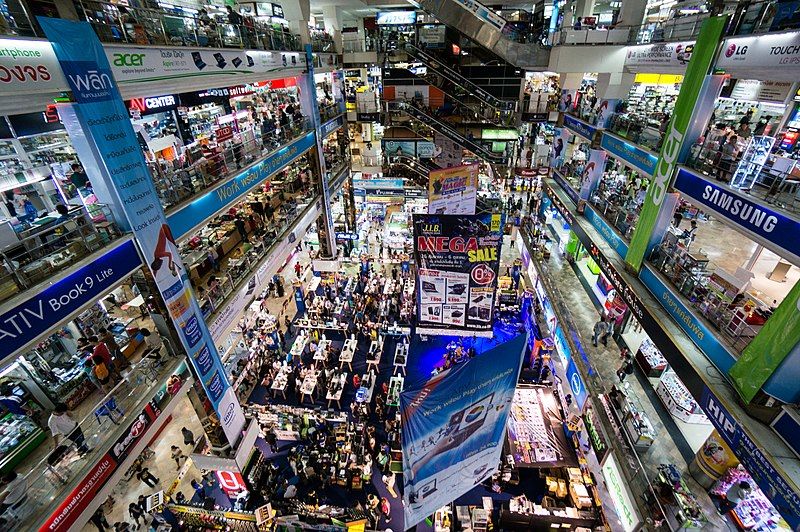 PHOTO: Pantip Plaza, Bangkok
The Clean Up to the Countdown campaign aims to encourage top executives to legalise their corporate software before midnight on December 31, 2019."
BSA The Software Alliance is partnering with Thai police and chief executives on a campaign to crackdown illegal software in the workplace by the end of 2019. Many companies still use illegal, pirated or copied computer software.
This campaign will target 10,000 companies across Thailand that are thought to be using illegal software. This includes corporations in a variety of business sectors, such as manufacturing, construction, banking and finance, engineering, architecture, media, design, IT and healthcare. Many of these companies are known users of software, but lack license agreements from software providers.
The Nation reports that the BSA is working with police to ramp up enforcement against corporations using illegal software and has already helped identify nearly 10,000 companies in 10 provinces suspected of using illegal software.
The Economic Crime Suppression Division wants to see business leaders take a proactive approach to cleaning up their corporate software assets so that they can enter 2020 fully legal and compliant. From now until the end of the year, it will continue to raid companies suspected of not complying with Thai laws protecting software copyright.
While ECD enforces the Thai laws, BSA is contacting thousands of corporate leaders in Thailand to offer guidance and advice in addressing illegal software use in the workplace.
BSA Senior Director Tarun Sawney believes that some CEOs may be aware their company is using illegal software and are wary of investing in genuine software.
"But there are other CEOs whose companies have hundreds or thousands of PCs, who simply may not be aware of the type of software running on their corporation's PCs, and whether it is legal or not."
"BSA wants to help CEOs do the right thing but this requires that CEOs take a hands-on approach to addressing the risk of using illegal software in business operations. Our advice is that CEOs treat the risk of illegal software with the utmost importance. This means being hands-on and proactive. CEOs can and should control this risk factor."
The solution, according to the software industry, includes a better effort by CEOs at self-policing their own use of software by corporations in Thailand. The Clean Up to the Countdown campaign is a part of Legalize and Protect initiative launched earlier this year. So far, the initiative has helped thousands companies in Thailand legalize their software assets and protect data from malware and hackers.
SOURCE: The Nation
Keep in contact with The Thaiger by following our
Facebook page
.
Thai Airways must modify rehabilitation plan to survive: Airline President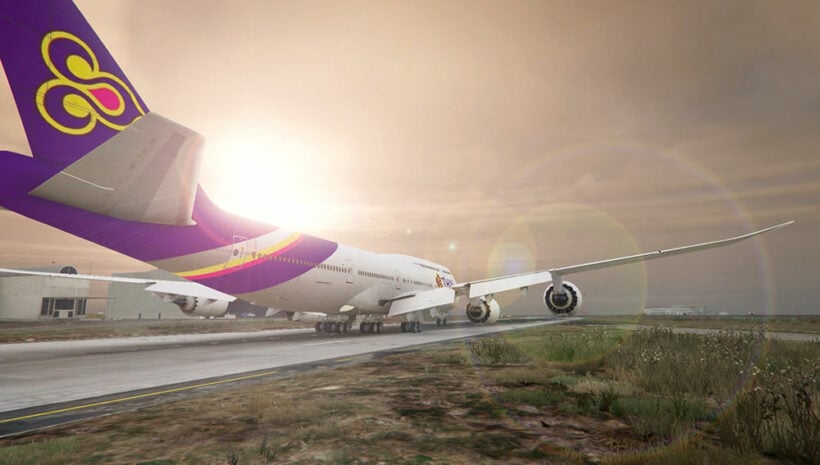 PHOTO: gta5-mods.com
"Thai Airways will have to modify its rehabilitation plans to survive in the face of tight competition." This frank admission by the airline's president Sumet Damrongchaith.
The national carrier is now carrying a total debt of over 2.45 billion baht and losses of more than 20 billion, despite being able to reduce its debts by 48 billion baht over the past five years.
Sumet says the first step will be to restructure the airline's management and finances as well as reconsider its plan to spend 1.5 billion baht on 38 new aircraft. He admits the biggest problem is that Thai Airways has low capital but a high debt-to-equity ratio of eight times.
In order to maintain its competitiveness, the carrier will have to reduce its debts versus assets and boost its working capital with support from the ministries of Transport and Finance. Hence, it plans to borrow approximately 3.2 billion baht in fiscal 2020 in line with the budget limit set by the Office of Public Debt Management.
This loan will be taken to support the airline's investments as well as for its working capital, to update equipment and maintain existing aircraft, but will not be used to repay old debts.
The Nation also reports that the airline is also concerned about maintaining its liquidity because at the end of June this year, its revolving credit line stood at 13.4% of the total revenue forecast for 2019.
Sumet admits that, though the original rehabilitation plan has a set framework, the situation has now changed due to the appreciation of the baht, so in order to achieve goals, the work method has to be redesigned, such as finding a way to procure more passengers.
"We are now in the process of analysing new markets."
Meanwhile, Thai Aiways' board chairman Aek-Niti Nitithan-Praphas says the board is reconsidering plans to procure a new fleet taking into consideration the state of the global and domestic economies as well as the US-China trade war.
"The growth of the tourism industry and the airlines' financial status needs to be reviewed in line with strong competition and routes that are no longer popular. It's better to carefully revise the plan instead of exposing the airline to greater risk. The target should be reduce expenses by 20%."
Meanwhile, Thai Airways aims to boost the sale of tickets, find ways of increasing online shopping of duty-free goods and reducing unnecessary expenses by 10%without affecting the quality of service in the last three months of 2019.
The airline is also negotiating the option of cutting down overtime expenses and is looking into curbing losses incurred by it's semi-budget offshoot Thai Smile by increasing its flying hours to 10.5 hours daily. These steps are expected to help the airline reach breakeven point in the short term.
The airline is also considering long-term goals such roping in more passengers by offering greater benefits to Royal Orchid Plus members, focusing on digital marketing, retiring non-performing assets as well as increasing revenue from related businesses such as kitchens and aircraft repair centres.
SOURCE: The Nation
Keep in contact with The Thaiger by following our
Facebook page
.