Phuket Gazette World News: No Pope as black smoke rises over Sistine Chapel
PHUKET MEDIA WATCH
– World news selected by Gazette editors for Phuket's international community
Cardinals begin voting in earnest for new pope to face Church crisis
Phuket Gazette
PHUKET: Cardinals begin the process of choosing a new pope in earnest today, holding their first full day of voting for a leader to face a major crisis in the Roman Catholic Church.
The 115 cardinal electors return to the frescoed Sistine Chapel, where they are scheduled to hold two votes in the morning and two in the afternoon, seeking to elect a pontiff capable of facing a string of scandals and internal strife.
When a pope is elected, white smoke will emerge from the chapel and the bells of St Peter's will peal.
The cardinals were shut inside yesterday for the first time, after a day of religious pomp and prayer to prepare for the task. Only one vote was held late last night, ending inconclusively as expected, with black smoke billowing from a chimney above the chapel to signal no pope had been elected.
Excited crowds braving rain in St Peter's Square cheered all the same.
"We thought there might not have been any smoke at all so it was fun to see it. I feel very excited to be here at this historic moment," said Stefan Elsen, 50, a tourist from Trappenkamp near Kiel in northern Germany.
No modern conclave has reached a decision on the first day, so the lack of an outcome on yesterday's single vote was no surprise. The initial vote is seen as a way of filtering the choice down to frontrunners for discussions in following days.
Most bets are on a decision by tomorrow although there is still no clear favourite and it could take longer.
No hint is expected to emerge before the pope is chosen. The Vatican has taken precautions, including electronic jamming devices, to prevent any leaks from inside the conclave.
The new pope will take up a burden that Pope Benedict declared in February was beyond his physical capabilities.
The Church is reeling from a child abuse scandal and the "Vatileaks" case in which Benedict's butler revealed documents alleging corruption and infighting inside the Curia, or central bureaucracy. It has also been shaken by rivalry from other churches, the advance of secularism, especially in its European heartland, and problems in the running of the Vatican bank.
Frontrunners include Italy's Angelo Scola – who would return the papacy to traditional Italian hands after 35 years of the German Benedict XVI and Polish John Paul II – and Brazilian Odilo Scherer – who would be the first non-European pope since Syrian-born Gregory III, nearly 1300 years ago.
Before beginning their conclave, the cardinals attended a Mass in the imposing St Peter's Basilica where Cardinal Angelo Sodano, dean of the "princes of the Church", called for unity.
"My brothers let us pray that the Lord will grant us a pontiff who will embrace this noble mission with a generous heart," he said in his homily.
What kind of pope is needed?
In preparatory meetings before the conclave, the cardinals seemed divided between those who believe the new pontiff must be a strong manager to get the dysfunctional bureaucracy under control and others who are looking more for a proven pastoral figure to revitalise their faith across the globe.
Milan Archbishop Scola, who has managed two big Italian dioceses without being part of the Vatican's central administration, could be well-placed to understand the Curia's Byzantine politics and introduce swift reform.
Scherer is said to be the Curia's favoured candidate and would satisfy those who want a non-European, reflecting the future of a Church shifting towards the developing world.
A host of other candidates from numerous nations have also been mentioned as "papabili" – potential popes – including U.S. cardinals Timothy Dolan and Sean O'Malley, Canada's Marc Ouellet and Argentina's Leonardo Sandri.
All the prelates meeting in the Sistine Chapel were appointed by either Benedict XVI or John Paul II, and the next pontiff will almost certainly pursue their fierce defence of traditional moral teachings.
In a ritual reflecting the centuries-old history of the conclave, the red-robed cardinals walked in procession through lavish marble chambers into the Sistine Chapel, accompanied by Latin chants and organ music.
Two rows of Swiss Guards from the papal army, dressed in traditional yellow, red and blue uniforms with helmets and pikes, stood at attention as the cardinals processed past.
The cardinals took an oath of secrecy and the papal master of ceremonies, Monsignor Guido Marini, said "Extra Omnes" or "Everybody Out", meaning all those not involved in the election had to leave before the heavy wooden doors were pulled shut.
The cardinals meet inside a chapel which houses some of the world's greatest art treasures – Michelangelo's luminous frescos. The Last Judgment is depicted behind the altar and the depiction of God giving life to Adam is on the ceiling.
Each night they retire to a Vatican guesthouse, where more elaborate precautions have been taken to avoid leaks.
Some cardinals speculated this week that it might take 4-5 days to pick the new pontiff because of the difficulty of the task and the number of strong candidates.
The average length of the last nine conclaves was just over three days and none went on for longer than five.
— Phuket Gazette Editors
Keep in contact with The Thaiger by following our Facebook page.
Never miss out on future posts by following The Thaiger.


Find more SE Asian News courtesy of The Thaiger.

Broke? Find employment in Southeast Asia with JobCute Thailand. Rich? Invest in real estate across Asia with FazWaz Property Group. Even book medical procedures worldwide with MyMediTravel, all powered by DB Ventures.

Asia's biggest drug kingpin arrested in Netherlands
Asia's biggest drug kingpin is under arrest in the Netherlands after years of authorities chasing him worldwide. 57 year old Tse Chi Lop, a Chinese-born Canadian citizen, was arrested by Dutch police acting on a request by Australia's federal police.
The UN Office on Drugs and Crime named him as the suspected leader of the Asian mega-cartel known as "Sam Gor", a major producer and supplier of methamphetamines worldwide. Tse is commonly compared to the Mexican drug lord Joaquin "El Chapo" Guzman.
Sam Gor is suspected of laundering billions in drug money through businesses such as casinos, real estate and hotels in Southeast Asia's Mekong region. Australia's federal police said Friday's arrest came after a 2012 operation that arrested 27 people linked to a crime syndicate spanning five countries. The groups was accused of importing large amounts of heroin and methamphetamine into Australia, according to police.
"The syndicate targeted Australia over a number of years, importing and distributing large amounts of illicit narcotics, laundering the profits overseas and living off the wealth obtained from crime."
The arrest of Tse Chi Lop almost 10 years after that operation's launch is a major break for Australian authorities. The country's attorney-general will now begin preparing a formal extradition request for the alleged drug lord to face trial.
Most of Asia's meth comes from "Golden Triangle" border areas between Laos, Myanmar, Thailand and southwest China. The production of methamphetamine, either in tablet form or the highly potent crystalised "ice" version, take place in Myanmar's eastern north Shan state. Ketamine and fentanyl are also produced there as well, mostly in 'portable' labs that hide underneath the thick rainforest canopy.
In 2018 alone, Thailand netted more than 515 million methamphetamine tablets, a number 17 times the amount for the entire Mekong region 10 years ago. Traffickers are constantly finding more creative ways to ship their products as drug busts are featured daily on the news in those regions.
SOURCE: The Bangkok Post
Keep in contact with The Thaiger by following our Facebook page.
Never miss out on future posts by following The Thaiger.
Czech 'Covid' sniffer dogs can detect Covid-19 with a 95% success rate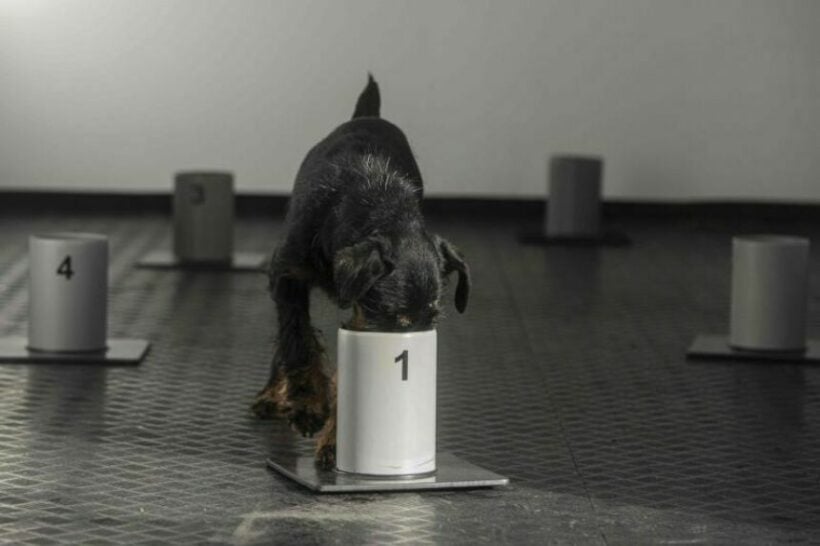 Czech dog trainers say canines can sniff out Covid-19 with an astonishing 95% success rate. The team of trainers in Renda, a Czech mountain village, are working in their own time to teach the dogs to tell the difference between fake samples of Covid and real ones by sniffing pieces of cloth. Lenka Vlachova, a trainer who works at Prague's fire brigade, says the cloths either feature a scent from patients with Covid-19 or from those that tested negative for the virus. They also say they there are cloths with fake samples of the virus that are part of the testing group.
The project head, Gustav Hotovy, says the study is designed to verify dogs' ability to detect the virus and generate a method enabling the use of training dogs in combatting the pandemic.
"The method should also work with other diseases, even more lethal than Covid-19. In the end, we should be able to detect a huge number of people in a very short time with a trained dog."
Hotovy, who is a retired cynologist, whose team started training the dogs last August, says the first study confirming that dogs are able to detect tissue attacked by a virus was conducted in the United States about 10 years ago.
"The virus changes the human tissue, affecting the scent signature of the person."
He says that the signature changes so much that it is immediately picked up on by the dogs. The samples are gathered by rubbing a piece of cotton against the patient's skin and then the team has to make sure the sample is virus-free to keep the dogs from catching the virus.
A Finnish team has also been using dogs to detect the virus at Helsinki airport, reporting its dogs can detect the virus with close to 100% accuracy.
SOURCE: Reuters
Keep in contact with The Thaiger by following our Facebook page.
Never miss out on future posts by following The Thaiger.
Talk show king, Larry King, dies at 87 | VIDEO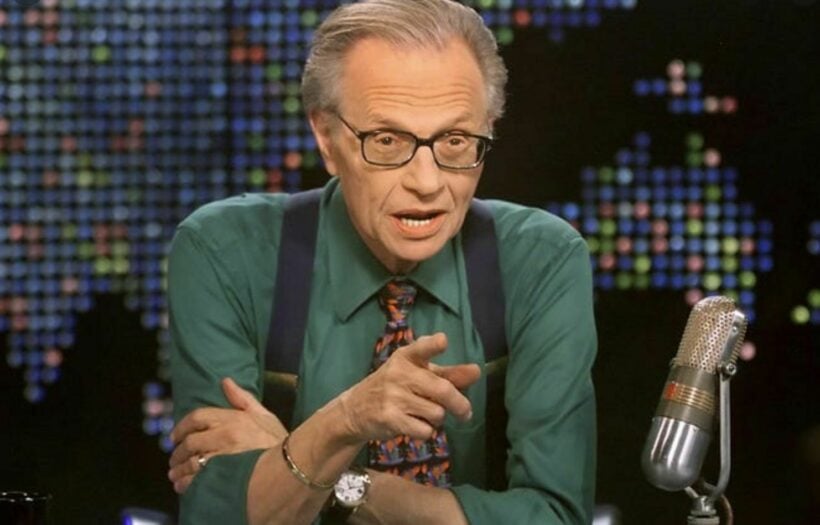 Larry King, the longtime CNN stalwart and talk host has died. He was 87 years of age. He is survived by 3 sons.
"Larry King Live" was a staple on the the young cable TV network for over 25 years, interviewing presidential candidates, celebrities, athletes and high-profile personalities. He retired in 2010 after taping more than 6,000 episodes of the show before moving his voice onto a fledgling streaming service.
His son, Chance, confirmed King's death yesterday morning, US time, on his Facebook page.
"With profound sadness, Ora Media announces the death of our co-founder, host and friend Larry King, who passed away this morning at age 87 at Cedars-Sinai Medical Center in Los Angeles."
"For 63 years and across the platforms of radio, television and digital media, Larry's many thousands of interviews, awards, and global acclaim stand as a testament to his unique and lasting talent as a broadcaster."
King had recently spent time in hospital with Covid-19 at Cedars-Sinai. He had been battling a number of other health problems over the years, suffering several heart attacks. In 1987, he underwent quintuple bypass surgery, inspiring him to establish the Larry King Cardiac Foundation to provide assistance to those without insurance.
With all his health challenges, he continued to forge one of the great talk show careers in US entertainment history.
In 2017 King revealed that he had been diagnosed with lung cancer and successfully underwent surgery to treat it. He also underwent another procedure in 2019 to address angina.
King also suffered personal loss last year when 2 of his adult children died within weeks of each other: Andy King, 65, suffered a heart attack and daughter Chaia King, 52, died after being diagnosed with lung cancer.
With an affable, easygoing demeanor that distinguished him from more intense TV interviewers, King perfected a casual approach to the Q&A format, always leaning forward and listening intently to his guests, rarely interrupting.
Tim Newton from The Thaiger met Larry King in the early 90s whilst working on the 'Australia Overnight' program with the Macquarie Network, using King's 'Larry King Show' radio format as a broad framework for the new radio networked program in Australia, the first of its kind.
"Larry was as affable in personal dealings as he was on air. He was very keen to help a young Aussie at the time who was trying to carve out a similar program to the famous Larry King Show of the 1980s that he hosted. I was happy to get a 30 minute meeting with him after flying to LA to meet him. He took me out to dinner and I walked away with a roadmap for our new radio show and a thousand other tips for the legendary talk show host."
Jeff Zucker, CNN's President, acknowledged King's role in raising the network's profile around the world.
"We mourn the passing of our colleague Larry King. The scrappy young man from Brooklyn had a history-making career spanning radio and television. His curiosity about the world propelled his award-winning career in broadcasting, but it was his generosity of spirit that drew the world to him. We are so proud of the 25 years he spent with CNN, where his newsmaker interviews truly put the network on the international stage. From our CNN family to Larry's, we send our thoughts and prayers, and a promise to carry on his curiosity for the world in our work."
SOURCE: CNN
Keep in contact with The Thaiger by following our Facebook page.
Never miss out on future posts by following The Thaiger.