Phuket Gazette World News: Mexico finds stolen radioactive material; Putin could free Pussy Riot members; France backing prostitution law; Japanese WWII submarine found near Hawaii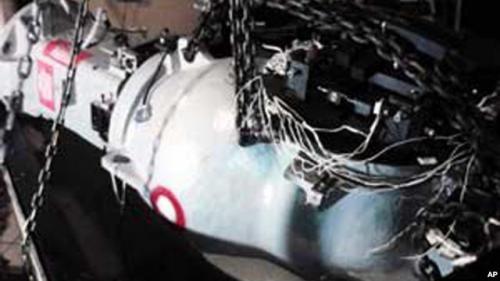 PHUKET MEDIA WATCH
– World news compiled by Gazette editors for Phuket's international community
Mexico finds stolen radioactive material amid dirty bomb fear
Reuters / Phuket Gazette
PHUKET: Mexican police have found dangerous radioactive medical material stolen by thieves that the United Nations said could provide an ingredient for a "dirty bomb," the country's national nuclear safety commission CNSNS said on Wednesday.
The truck was found on Wednesday close to where it was stolen outside Mexico City. The thieves removed the radioactive material from a protective case, exposing them to dangerous levels of radiation then dumped it less than a mile away.
The truck was stolen on Monday while it was taking cobalt-60 from a hospital in the northern city of Tijuana to a radioactive waste-storage center, Mexican officials and the UN agency said earlier.
"Both the container and the radioactive source have been located," said Mardonio Jimenez Rojas, an official at the commission, told Reuters. "The radioactive source was removed from its container and was found a kilometer away."
"The thieves were exposed to radiation," he added, saying those exposed to the material could die. Experts were working on how to secure the radioactive material in a protective container, he said.
The vehicle was seized when the driver stopped at a gas station in the town of Temascalapa, 35 km (22 miles) northeast of Mexico City. Truck hijacking is common in Mexico and the theft occurred in the State of Mexico, which is not a drug cartel stronghold.
"Our suspicion is that they had no idea what they had stolen. This is a area where robberies are common," Fernando Hidalgo, spokesman for the Hidalgo state prosecutor, said earlier.
Mexico's national nuclear safety commission published photographs of the cargo as it was being prepared for shipment, showing a reinforced case containing the medical device, which holds the radioactive material and which looks like part of a car axle. The box is marked with the hospital's name and "radioactive materials."
Apart from peaceful medical and industrial applications, experts say, cobalt-60 can also be used in a dirty bomb in which conventional explosives disperse radiation from a radioactive source.
The International Atomic Energy Agency, which has stepped up calls on member states to tighten security to prevent nuclear and radioactive materials from falling into the wrong hands, made no mention of any such risk in its statement on Wednesday.
The IAEA also did not give details on how much radioactive material was in the vehicle when it was seized. Inside a teletherapy device, cobalt-60 is used to treat cancer.
"At the time the truck was stolen, the (radioactive) source was properly shielded. However, the source could be extremely dangerous to a person if removed from the shielding, or if it was damaged," the IAEA said in a statement.
Cobalt-60, the most common radioactive isotope of the metal, has many applications in industry and in radiotherapy in hospitals. It is also used for industrial radiography to detect structural flaws in metal parts, according to the U.S. Environmental Protection Agency.
The EPA said exposure to gamma radiation from cobalt-60 results in an increased risk of cancer.
Dirty Bomb Could Cause 'Mass Panic'

In 2000, three people died in Thailand after a cobalt-60 teletherapy unit was sold as scrap metal and ended up on a junkyard. About 1,870 people living nearby were exposed to "some elevated level of radiation," according to an IAEA publication.
About the same time in Mexico, homes built with metal rods that had been contaminated by stolen cobalt were destroyed, a spokesman for the attorney general's office said.
"Cobalt-60 has figured in several serious accidents, some of them fatal," said nuclear expert Mark Hibbs of the Carnegie Endowment for International Peace think-tank. "If dispersed, cobalt-60 or other radioactive source material could cause radiation poisoning locally."
More than 100 incidents of thefts and other unauthorised activities involving nuclear and radioactive material are reported to the IAEA annually, the U.N. agency said this year.
It is rare, however, that it makes any such incident public.
Because radioactive material is regarded as less hard to find and the device easier to make, experts say a dirty bomb is a more likely threat than a nuclear bomb in a terrorist attack.
Experts say a dirty bomb carries more potential to terrorise than cause a large loss of life.
At a nuclear security summit in 2012, IAEA Director General Yukiya Amano specifically singled out cobalt-60 among radioactive sources that could be used for such bombs.
"A dirty bomb detonated in a major city could cause mass panic, as well as serious economic and environmental consequences," Amano said, according to a copy of his speech.
Putin could free Khodorkovsky, Pussy Riot in amnesty
Reuters / Phuket Gazette
PHUKET: Former oil tycoon Mikhail Khodorkovsky and two jailed members of punk protest band Pussy Riot could walk free under an amnesty President Vladimir Putin is expected to approve by the end of the year, a Kremlin human rights adviser said on Wednesday.
Putin told his presidential human rights council in September to make suggestions for an amnesty to mark the 20th anniversary of the passage of Russia's post-Soviet constitution in December 1993.
After meeting Putin, rights council head Mikhail Fedotov told reporters he believed Khodorkovsky and two jailed Pussy Riot members, Nadezhda Tolokonnikova and Maria Alyokhina, would be eligible for release under the amnesty.
"I think so," Fedotov told reporters after the meeting. "Those are non-violent crimes."
Khodorkovsky and Pussy Riot are seen by many Kremlin critics and Western governments as victims of political trials. Freeing them could be a bid to improve Putin's image before Russia hosts the Sochi 2014 Winter Olympics in February.
Tolokonnikova and Alyokhina are due for release in March after serving two-year sentences for performing a "punk prayer" in Russia's main cathedral in February 2012, and Khodorkovsky is due for release in August.
Former Yukos oil company chief Khodorkovsky has been in jail since his arrest in 2003 and was convicted of financial crimes in two trials supporters say were part of a drive to punish him for challenging Putin and to put his oil assets in state hands.
French lower house backs new prostitution law
Reuters / Phuket Gazette
PHUKET: The French lower house of parliament passed a reform of a prostitution law on Wednesday imposing fines on clients, a shift to tougher rules which has split the country and angered some sex workers.
Lawmakers voted 268 in favor and 138 against to give France some of the most restrictive legislation on prostitution in Europe – a radical switch away from the nation's traditionally tolerant attitude.
Those seeking to buy sex will now face a 1,500-euro (£1,225) fine, while the act of soliciting itself will no longer be punished.
Women's Rights Minister Najat Vallaud-Belkacem, who has championed the reform, argued that prostitution in any form is unacceptable and said the aim of President Francois Hollande's Socialist government was to sup
— Phuket Gazette Editors
World News

Join the conversation and have your say on Thailand news published on The Thaiger.
Thaiger Talk is our new Thaiger Community where you can join the discussion on everything happening in Thailand right now.
Please note that articles are not posted to the forum instantly and can take up to 20 min before being visible. Click for more information and the Thaiger Talk Guidelines.