World
Phuket Gazette World News: Iran nuclear breakthrough; Children slain in Syria; AK47 runs riot at Yemeni Gangnam Style wedding; Philippine Maoists on hold for Haiyan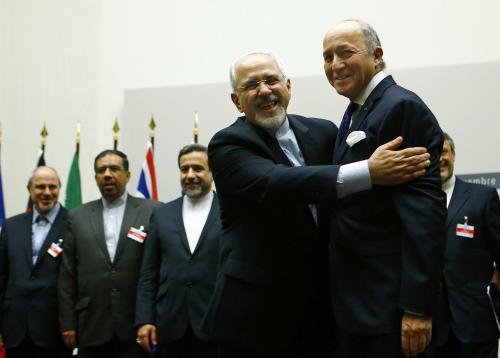 PHUKET MEDIA WATCH
– World news compiled by Gazette editors for Phuket's international community
Breakthrough deal curbs Iran's nuclear activity
Reuters / Phuket Gazette
PHUKET: Iran and six world powers clinched a deal on Sunday to curb the Iranian nuclear programme in exchange for initial sanctions relief, signalling the start of a game-changing rapprochement that would reduce the risk of a wider Middle East war.
Aimed at easing a long festering standoff, the interim pact between Iran and the United States, France, Germany, Britain, China and Russia won the critical endorsement of Iranian clerical Supreme Leader Ayatollah Ali Khamenei.
But Israel, Iran's arch-enemy and a U.S. ally, denounced the agreement as a "historic mistake". Critics in the U.S. Congress were also quick to voice concern, with some raising the spectre of failure to rein in North Korea on its nuclear programmes, but they signalled that Congress would likely give the deal a chance to work.
The agreement was announced in the middle of the night in Geneva after long and tortuous negotiations. U.S. President Barack Obama, who sought to improve ties with Iran even before his first election to the White House in 2008, said it cut off Tehran's possible routes to a nuclear bomb.
Obama sought to reassure Israel on this point, telling Prime Minister Benjamin Netanyahu in a phone call on Sunday that the United States would remain firm in its commitment to Israel, the White House said. Obama said he wanted to begin consultations with Israel immediately on reaching a comprehensive solution to Iran's nuclear problem.
The agreement, which halts Iran's most sensitive nuclear activity, its higher-grade enrichment of uranium, was tailored as a package of confidence-building steps towards reducing decades of tension and ultimately creating a more stable, secure Middle East.
Indeed, the United States held previously undisclosed, separate direct talks with Iran in recent months to encourage diplomacy towards a nuclear deal, a senior U.S. official said.
Washington broke off diplomatic relations with Tehran soon after Iran's 1979 Islamic Revolution and relations have been fraught since then, dominated in recent years by U.S. concern over Iran's nuclear programme.
Any new U.S.-Iranian detente will be opposed by Washington's Israeli and conservative Gulf Arab allies as it could tilt the regional balance of power towards Tehran.
Iranian Foreign Minister and chief negotiator Mohammad Javad Zarif flew home from Geneva to a crowd welcoming him as a hero with flowers and flags, a reflection of the relief felt by many Iranians exhausted by sanctions and isolation.
Zarif said in an interview broadcast on state television that Iran would move quickly to start implementing the agreement and it was ready to begin talks on a final accord.
"In the coming weeks – by the end of the Christian year – we will begin the programme for the first phase. At the same time, we are prepared to begin negotiations for a final resolution as of tomorrow," Zarif said.
Earlier he said the accord was "only a first step," adding: "We need to start moving in the direction of restoring confidence, a direction which we have managed to move against in the past."
U.S. Secretary of State John Kerry, speaking as he began a meeting with British Foreign Minister William Hague in London, also said Sunday's deal was only a start.
"Now the really hard part begins and that is the effort to get the comprehensive agreement, which will require enormous steps in terms of verification, transparency and accountability," Kerry said, according to a U.S. reporter who attended the session.
European Union foreign policy chief Catherine Ashton, who has been coordinating diplomatic contacts with Iran on behalf of the major powers, said the accord created time and space for follow-up talks on a comprehensive solution.
But Israel's Netanyahu, a steady critic of the talks, condemned the agreement as it left intact Iran's nuclear fuel-producing infrastructure. "What was achieved last night in Geneva is not a historic agreement, it was a historic mistake," he said.
"Today the world has become a much more dangerous place because the most dangerous regime in the world took a significant step towards obtaining the world's most dangerous weapon," he said in remarks to his cabinet.
He reiterated a long-standing Israeli threat of possible military action against Iran – even as a member of his security cabinet conceded that the interim accord limited this option.
Obama made plain in a late-night appearance at the White House after the deal was sealed that if Iran did not meet its commitments during the six-month period covered by the interim deal, Washington would turn off the tap of sanctions relief and "ratchet up the pressure".
"There are substantial limitations which will help prevent Iran from building a nuclear weapon," he said. "Simply put, they cut off Iran's most likely paths to a bomb."
Giving Obama room
Some analysts pointed out the risk of hardliners acting to scuttle the breakthrough – whether Iran's elite Revolutionary Guards who see any opening to the West as dangerous, or critics in the U.S. Congress.
But although Republican and Democratic U.S. senators voiced scepticism about the deal, Congress looked likely to give Obama room to see if it works.
The deal does not need to be ratified by Congress and Obama is using his executive power to temporarily suspend some existing U.S. sanctions on Iran. Senators have been discussing for months imposing even tighter sanctions, which could anger Tehran and put Sunday's deal reached in Geneva in jeopardy.
But influential Democrats – who control the Senate – made clear that any new sanctions against Iran would include a six-month window before they took effect.
Democrat Robert Menendez, who chairs the Senate Foreign Relations Committee and is known as a hawk on Iran, said forthcoming legislation would "provide for a six-month window to reach a final agreement before imposing new sanctions on Iran."
Bob Corker, the senior Republican on the Senate Foreign Relations Committee, told "Fox News Sunday," he would hold the Obama administration's "feet to the fire" to ensure that Tehran is not given excessive leeway, and recalled past failed efforts to rein in North Korea's nuclear program.
Corker said the pact allowing Iran to continue to enrich uranium must not "become the norm" for a longer-term agreement. "I think you are going to see on Capitol Hill, again, a bipartisan effort to try to make sure that this is not a final agreement," he said.
The West has long suspected that Iran has been seeking covertly to develop a nuclear weapons capability. The Islamic Republic, a major oil producer, denies that, saying its nuclear programme is a peaceful quest for an alternative source of electricity to serve a rapidly expanding population.
Limits on enrichment
The United States said the deal halts advances in Iran's nuclear programme, including construction of the Arak heavy-water reactor that deeply worries the West as it could yield plutonium, another atomic bomb ingredient, once operational.
The accord would neutralise Iran's stockpile of uranium enriched to a fissile purity of 20 percent, a higher-level stage nearing the threshold needed for a bomb, and mandates more frequent U.N. nuclear inspections, U.S. officials said.
A U.S. fact sheet said Iran had also committed to suspending enrichment above a concentration of 5 percent – the level
— Phuket Gazette Editors

Join the conversation and have your say on Thailand news published on The Thaiger.
Thaiger Talk is our new Thaiger Community where you can join the discussion on everything happening in Thailand right now.
Please note that articles are not posted to the forum instantly and can take up to 20 min before being visible. Click for more information and the Thaiger Talk Guidelines.