Phuket Gazette World News: 45 dead in Iraqi bombings; Mandela family feud twist; Wikileaks trial update; Outsiders are in – Tennis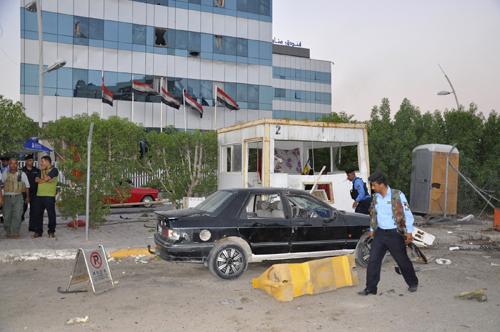 PHUKET MEDIA WATCH
– World news compiled by Gazette editors for Phuket's international community
Nearly 50 killed in Iraq bombings
Reuters / Phuket Gazette
PHUKET: At least 45 people were killed in bomb attacks across Iraq yesterday, most of them in busy markets and commercial areas of the capital Baghdad, police and medics said.
The deadliest assault took place in the predominantly Shi'ite Shaab neighbourhood of northern Baghdad, where two car bombs killed eight people. There were also explosions in the mainly Shi'ite districts of Abu Dsheer, Kamaliya, Tobchi and Shula.
"A blast hit near a crowded market full of people shopping," said Ali Sadoun, a policeman whose patrol was stationed in Shula. "When police and people gathered to help the wounded, a second bomb went off, tearing through bodies."
Sunni Muslims were the apparent targets of blasts in Amriya and Abu Ghraib, on the city's western outskirts.
A sustained campaign of attacks since the start of the year has increased fears of wider conflict in a country where ethnic Kurds, Shi'ite and Sunni Muslims have yet to find a stable power-sharing compromise.
Insurgents including al Qaeda's Iraqi affiliate have been recruiting from the country's Sunni minority, which resents Shi'ite domination since the U.S.-led invasion that toppled Saddam Hussein in 2003.
Intercommunal tensions have been inflamed by the civil war in neighbouring Syria, which is increasingly been fought along sectarian lines, drawing in Shi'ite and Sunni fighters from Iraq and elsewhere to fight on opposite sides of the conflict.
Outside Baghdad, a bomb blast near a funeral tent in the city of Baquba killed six people.
Further south, a car bomb in Amara province killed four people and in the city of Basra, three blasts hit a hotel frequented by foreigners working in the oil industry, wounding three guards.
Violence is still well below its height in 2006-07, but Sunni insurgents are striking on a daily basis, seeking to destabilise the Shi'ite-led government and provoke further confrontation.
On Monday, attacks targeting Shi'ites left at least 27 people dead. The number of people killed in militant attacks across Iraq in June reached 761.
Iraqi military forces are now better equipped and trained, but lack the comprehensive intelligence resources and air cover to track insurgents that they enjoyed before U.S. troops withdrew in December 2011.
South African police investigating Mandela grandson in grave dispute
Reuters / Phuket Gazette
PHUKET: South African police opened an investigation into Nelson Mandela's grandson on suspicion of illegally exhuming the bodies of three of the ailing anti-apartheid hero's children, a police spokesman said.
The investigation is the latest twist in an unedifying family feud that has drawn global attention as the 94-year-old Mandela lies in a Pretoria hospital in a critical condition.
Sixteen members of the Mandela family have already won a court order forcing Mandla Mandela – officially chief of the Mandela clan – to return the bodies that he dug up two years ago from the village of Qunu, where Nelson Mandela grew up.
Mandla had the remains moved 20 km to his Eastern Cape village of Mvezo. He has not commented on why he moved the bodies but Mvezo is where Mandela was actually born and where many South Africans believe Mandla wants South Africa's first black president to be buried.
The three Mandela children buried in Mvezo are an infant girl who died in 1948, a boy, Thembi, who died in a car crash in 1969, and Makgatho, who died of an AIDS-related illness in 2005. In all, Mandela fathered six children from his three marriages.
"We have started our investigation and we will send the case to the senior prosecutor for a decision on whether to prosecute or not," Eastern Cape police spokesman Mzukisi Fatyela told Reuters.
Nelson Mandela has spent more than three weeks battling a lung infection, forcing South Africans to accept that the Nobel Peace Prize laureate who helped end white-minority rule will not be around forever.
Prosecution wraps up case in U.S. WikiLeaks court-martial
Reuters / Phuket Gazette
PHUKET: Court-martial prosecutors wrapped up their case yesterday against the soldier charged with providing a trove of secret material to WikiLeaks in the biggest leak of classified files in U.S. history.
Private First Class Bradley Manning, 25, faces 21 charges, including espionage, computer fraud and, most seriously, aiding the enemy. Manning could face life in prison without parole if convicted.
Judge Colonel Denise Lind allowed the final prosecution witness, Daniel Lewis, a counterintelligence adviser at the Defence Intelligence Agency, to testify in a closed session. An unclassified summary of his testimony – largely about the value of the material Manning provided to WikiLeaks – will be read into the record.
Lewis was the government's 28th in-person witness since the trial started on June 3. More than 50 written statements from witnesses have also been submitted by prosecutors.
Lind set a court recess starting today until Monday, when "we will proceed with the Defence case," she said.
The Defence has listed 46 potential witnesses and the trial is scheduled to run to August 23.
Lawyers for Manning have described him as naive but well-intentioned in wanting to show the American public the reality of war in Afghanistan and Iraq.
Army prosecutors contend U.S. security was damaged when the WikiLeaks anti-secrecy website published classified information supplied by Manning. They say Manning obtained more than 700,000 classified files, combat videos and diplomatic cables while he was a junior intelligence analyst in Iraq in 2009 and 2010.
Among the accusations of harm to the United States, the former head of the Guantanamo Bay prison in Cuba has testified that the leaking of details of prisoners held there threatened "serious" damage to national security.
Dressed in a dark uniform, the slightly built Manning has sat silently throughout the trial so far, dwarfed by his taller Defence attorneys and listening with a chin on his fist or slumped in his chair.
WikiLeaks returned to headlines last month when it helped organize the departure of fugitive former U.S. National Security Agency contractor Edward Snowden from Hong Kong to Moscow.
Wikileaks' founder Julian Assange has taken refuge in the Ecuadorean Embassy in London for the past year to avoid extradition to Sweden, where he faces questioning about allegations of rape and sexual assault.
Assange, an Australian, says the charges are reprisal for WikiLeaks' publication of information embarrassing to the U.S. and other governments.
Opportunity knocks as outsiders reach semis
Reuters / Phuket Gazette
PHUKET: The leading ladies have exited stage left but the understudies kept this most volatile of Wimbledon scripts bubbling along yesterday to ensure a new name will be engraved on the trophy come Saturday.
Emerging from a quarter-final line-up featuring women from eight different nations and with just two grand slam titles between them
— Phuket Gazette Editors

Join the conversation and have your say on Thailand news published on The Thaiger.
Thaiger Talk is our new Thaiger Community where you can join the discussion on everything happening in Thailand right now.
Please note that articles are not posted to the forum instantly and can take up to 20 min before being visible. Click for more information and the Thaiger Talk Guidelines.