Phuket Gazette: Syria confirms deaths; Soldiers kill smuggler; EU tightens sanctions

PHUKET MEDIA WATCH
– World news compiled by Gazette editors for Phuket's international community
Syrian gov't confirms more than 3,800 killed during uprising
PHUKET News Wires: More than 3,800 people have died as a result of violence during the ongoing uprising in Syria, according to figures the Syrian government has provided to the United Nations. Opposition activists claim the actual number has surpassed already 8,000.
UN High Commissioner for Human Rights Navi Pillay briefed the UN Human Rights Council yesterday, voicing her concern about the 'rapidly deteriorating' human rights and humanitarian situation in Syria. "Recent reports further indicate that Syrian military and security forces have launched massive campaigns of arrest, arbitrarily detaining thousands of protesters, as well as activists and others suspected of anti-Government activities," she said.
According to Pillay, the Syrian government has provided the UN with figures which show 2,493 civilians and 1,345 soldiers and police officers have been killed between March 15, 2011, and January 18, 2012. "According to information available to my office, the actual numbers may far exceed these figures," she said.
The United Nations is no longer gathering information to estimate the total number of fatalities as a result of violence in Syria, but the UN's last estimate in January showed at least 5,400 people have been killed during the uprising. Syrian human rights and opposition activists say that figure has since surpassed 8,000 and includes hundreds of children.
Opposition activists claim the vast majority of victims are civilians and pro-democracy protesters, but the Syrian government claims those have been caused by armed terrorist groups who are dressed as soldiers. Pillay said the Syrian government has provided the UN with reports about alleged terrorist attacks on the health and transportation sectors as well as educational institutions.
The UN High Commissioner for Human Rights, during yesterday's briefing, called on the Syrian government to cooperate with the international community and to allow independent international monitors to visit all places of detention and grant unhindered access to humanitarian actors. She also called on the government to release all political prisoners and persons who have been arbitrarily detained.
"The Government must launch prompt, independent and impartial investigations in accordance with international standards to end impunity, ensure accountability, bring perpetrators to justice, and to take measures to ensure adequate, effective and prompt reparation for the victims," Pillay said. She recognized that the Syrian government has cooperated to some extent, such as providing access to the International Committee of the Red Cross and the League of Arab States observer mission.
"However, these steps pale into insignificance in the face of the continuing onslaught of violence and arrest against people by State actors," she said. "In light of this and in the face of the unspeakable violations that take place every moment, I remain convinced that referring the situation of Syria to the International Criminal Court will be a step in the right direction."
She added: "What is urgently needed today is for the killings to stop. For that to happen the international community must unite in sending a clear message to the Syrian authorities and the Security Council must assume its responsibility to protect the population of Syria. More than at any other time, those committing atrocities in Syria have to understand that the international community will not stand by and watch this carnage and that their decisions and the actions they take today ultimately will not go unpunished."
Syria has been part of the wider Arab Spring movement which began in early 2011 and has been riddled by violence ever since. Pro-democracy demonstrations have spread across the country since mid-March, resulting in a fierce government crackdown. Syrian President Bashar al-Assad previously admitted that mistakes were made, but claimed protesters were no longer being targeted.
Israeli soldiers kill smuggler in gun battle on Israel-Egypt border
PHUKET News Wires: Israeli soldiers thwarted an attempt by some 15 smugglers to cross the border with Egypt, killing one of them, the military said.
During routine activity on the border, the Israel Defense Forces (IDF) identified several suspects making their way across. The soldiers told the suspects to stop but they didn't heed the call, the army said.
A gun battle ensued, leaving one of the suspects dead. No casualties were reported on the Israeli side, Haaretz newspaper reported.
The smugglers fled the scene and returned to the Sinai Peninsula. The IDF said in a press release that it would heighten its activity on the border in light of an increase in attempts to infiltrate Israel's southwestern border.
The IDF argues that smuggling has been motivated in the region not only by financial gain but also by 'anti-Israel ideology', possibly because of the influence of fundamentalist Islam.
EU further tightens sanctions against Syria
PHUKET News Wires: The European Union (EU) on Monday announced expanded sanctions and restrictive measures against Syria due to the continued government-sanctioned violence against civilians.
"Today's decisions will put further pressure on those who are responsible for the ruthless campaign of repression in Syria," said EU High Representative for Foreign Affairs and Security Policy, Catherine Ashton. "The measures target the regime and its ability to conduct the appalling violence against civilians. As long as the repression continues, the EU will keep imposing sanctions."
The European Council said it has reinforced its restrictive measures against the Syrian regime with trade in gold, precious metals and diamonds with Syrian public bodies and the central bank no longer being permitted. The EU also stated that cargo flights operated by Syrian carriers will not have access to EU airports, with the exception of mixed passenger and cargo flights.
In addition, the Council also froze the assets of the Syrian central bank within the EU, while "ensuring that legitimate trade can continue under strict conditions." Furthermore, the Council subjected seven ministers of the Syrian government, who are allegedly associated with the human rights violations, to an asset freeze and a visa ban.
Syria has been part of the wider Arab Spring movement which began in early 2011 and has been riddled by violence ever since. Pro-democracy demonstrations have spread across the country since mid-March, resulting in a fierce government crackdown.
According to the most recent figures released by the United Nations in January, at least 5,400 people have been killed as a result of violence during the uprising. Syrian human rights and opposition activists say the figure has since surpassed 8,000 and includes hundreds of children.
The Syrian government has repeatedly claimed that violent acts against protesters have been carried out by 'terrorists dressed as soldiers,' although international observers have rejected these claims. Syrian President Bashar al-Assad previously admitted that mistakes were made, but claimed protesters were no longer being targeted.
— Phuket Gazette Editors
Thai-owned Dusit D2 Hotel under fire in Nairobi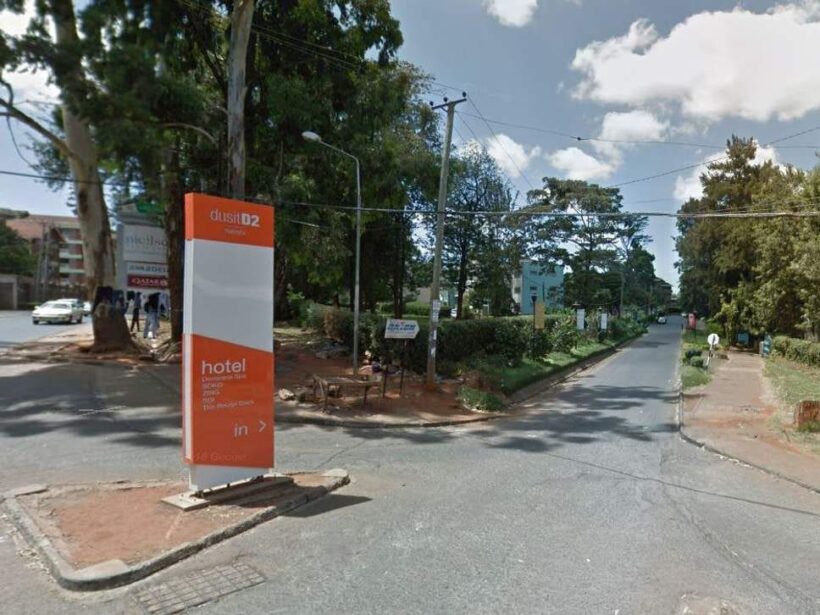 PHOTO: Google Maps
Two explosions and gunfire have been heard amid an apparent attack at an upscale hotel and office complex in Kenyan capital Nairobi. News just in from independent.co.uk
"We are under attack," another person in an office inside a complex in the DusitD2 hotel told Reuters, then hung up. Local television showed smoke rising from the area.
"I just started hearing gunshots, and then started seeing people running away raising their hands up and some were entering the bank to hide for their lives," a woman working in a neighbouring building told the news agency. She also heard two explosions, she said.
Nairobi police commander Philip Ndolo said officers had cordoned off the area around Riverside Drive due to a suspected robbery.
However, police spokesman Charles Owino told local media officials were not ruling out an attack by militants.
Read the rest of the Reuters report HERE.
Paralyzed from rare disease, Caroline returns home from Thailand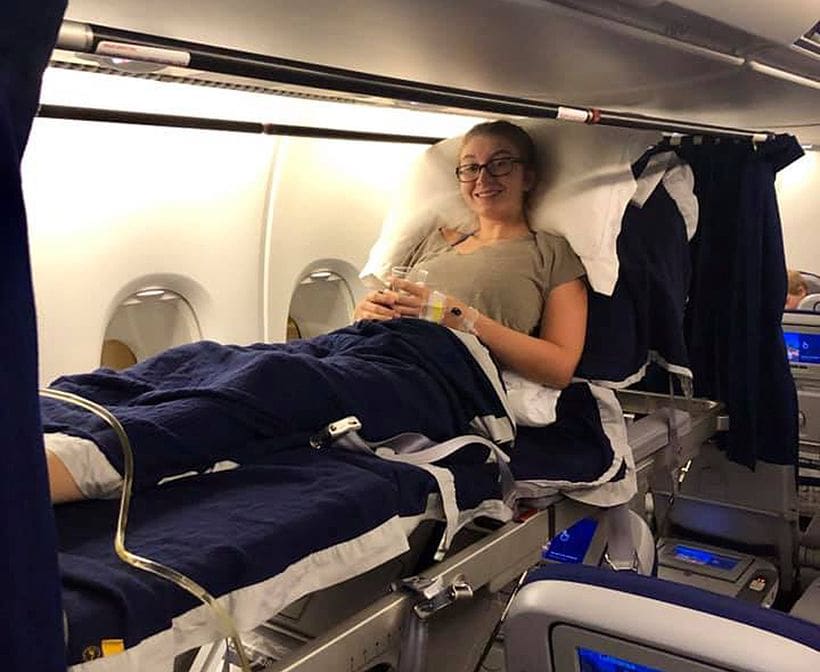 Original report by Karina Bolster and David Hylton. PHOTOS: Facebook/Jim Brader
A 22 year old woman from Virginia, US, who was paralyzed after her diagnosis of a rare auto-immune disease while teaching in Thailand, has arrived back home in the US.
Caroline Bradner was hospitalised in Thailand ever since.
A travel insurance company had agreed earlier this month to help Bradner get home. Caroline had originally travelled to Surat Thani in southern Thailand for a marketing internship but soon fell in love with teaching English to young children.
"She thought that would help broaden herself and also give back to other people," said her father Jim Bradner.
But two months in to her six month stay the unexpected happened.
On December 22 Caroline woke up in her apartment in Thailand unable to move, according to her sister.
"It's a punch in the gut," Bradner said.
Read more about Caroline's condition and the challenge to get her home HERE.

A friend, also from Virginia, took Caroline to the hospital after she started exhibiting symptoms of weakness, abdominal pain and paralysis.
Doctors in Thailand diagnosed her with Guillain Barre Syndrome, a rare auto-immune disease that causes your body's immune system to attack your nerves.
The family found out about Caroline's situation when they were picking her sister up at the airport.
Caroline's mother flew out Christmas Eve to help with her daughter's recovery while the rest of the family focused on finding a way to get her home.
Last night (Saturday), her father posted photos to Facebook as Caroline arrived home.
Friends, family and strangers donated to a GoFundMe page, originally created to help pay for transportation.
"Any additional funds will be donated to GBS/CIDP Foundation International," the fundraising page said.
Original article HERE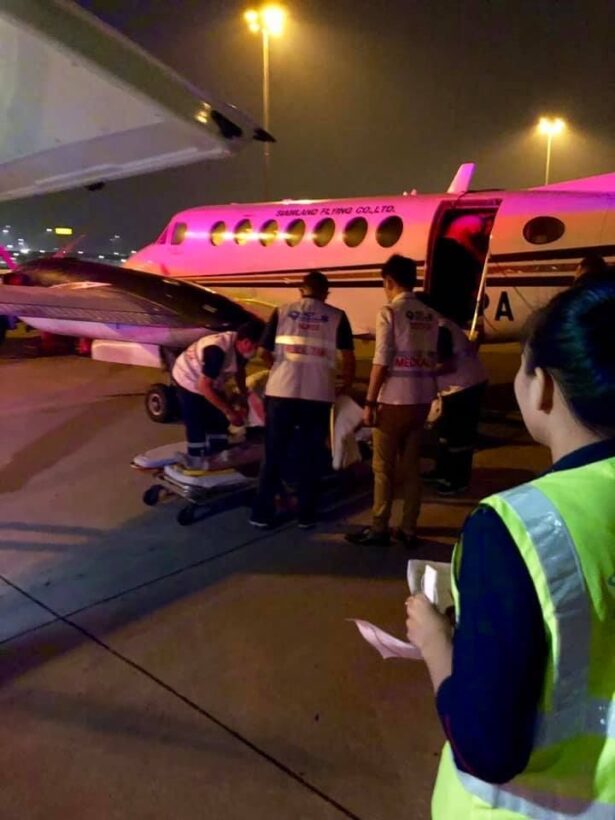 Rahaf al-Qunun arrives in Canada – no mention in Saudi media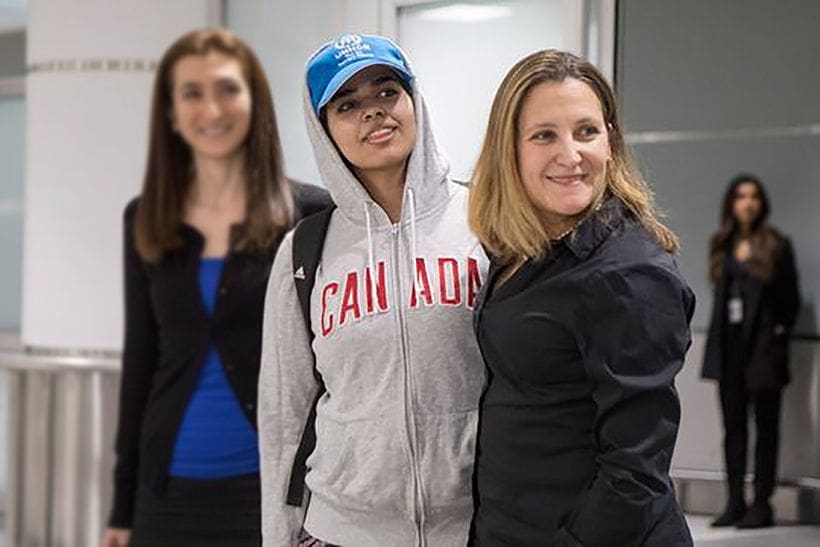 The 18 year old Saudi runaway who says she feared her family and possible death if she was deported back to Saudi Arabia, has arrived in Canada. Canadian officials offered her asylum in a case that became global news after the plucky woman mounted a Twitter storm, barricaded in her airport hotel room last weekend.
The Canadian Foreign Minister Chrystia Freeland met Rahaf Mohammed al-Qunun at Toronto's airport after arriving on a Korean flight from Bangkok, via Seoul.
"This is Rahaf al-Qunun, a very brave new Canadian." 
Al-Qunun smiled as she exited an airport arrival door wearing a Canada zipper hoodie and a UN High Commissioner for Refugees cap.
Her arrival in Canada ended a dramatic seven days that started with her fleeing her family while visiting Kuwait and flying to Bangkok. 
After a week of diplomatic 'push and pull' between the Thai, Saudi, then Australian and Canadian governments, the UN High Commissioner for Refugees was allowed to step in and assess the woman's request for refugee status.
On Friday, Prime Minister Justin Trudeau announced that Canada would accept Al-Qunun as a refugee. The Canadian PM said the situation has highlighted the cause of women's rights in Saudi Arabia.
Upon her arrival yesterday the Canadian FM said Qunun preferred not to take questions.
"It was a pleasure for me this morning to welcome her to her new home."
"She is obviously very tired after a long journey and she preferred to go and get settled. But it was Rahaf's choice to come out and say hello to Canadians. She wanted Canadians to see that she's here, that she's well and that she's very happy to be in her new home."
Freeland said Qunun commented about the cold weather and she responded that it gets warmer in Canada.
Qunun Tweeted two pictures from her flight. One with what appears to be a glass of wine and her passport and another holding her passport while on the plane #I did it and emojis showing plane, hearts and wine glass.
There was no immediate Saudi government reaction, nor any mention of her arrival in state media.