World
Iran paying it back; Anti-coco mission crashes; Sudanese hit with tear gas; Global warming mankind's fault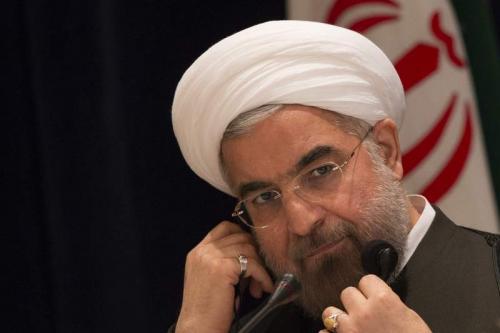 PHUKET MEDIA WATCH
– World news compiled by Gazette editors for Phuket's international community
Iran makes payments on old loans to World Bank
Reuters / Phuket Gazette
PHUKET: Iran resumed payments on old loans to the World Bank, the bank said on Friday, just as the country held the highest level conversation with the United States in more than three decades.
The poverty-fighting World Bank, which did not provide a reason for the resumption of payments, announced in July that Iran had not made any payments for more than half a year, a possible sign of the strain on the sanctions-hit Iranian economy.
At the time, Iran denied that it had failed to make payments on its loans, which now total US$616 million, and blamed Western sanctions for preventing an intermediary from forwarding funds to the global lender.
All of the payments are for old loans, as Iran has not had a World Bank program since 2005. The Washington-based World Bank said it is in compliance with all UN and international sanctions against Iran.
It was not immediately clear why Iran had stopped making payments in July, according to the World Bank, and why it resumed them on Friday. World Bank spokesman David Theis had no further comment.
The World Bank announcement came just as US President Barack Obama and new Iranian President Hassan Rouhani held a historic phone call, a sign that the estranged nations are serious about reaching an agreement on Tehran's nuclear program.
Mr Obama said this was a unique opportunity to make progress with Iran over an issue that has isolated it from the West.
The United States and its allies have imposed hard-hitting sanctions against Iran's oil and banking sectors to choke off funding of a nuclear program which the West says is a drive to achieve a weapons capability. Iran says its nuclear program is entirely for peaceful purposes.
Rouhani, who was in New York for the UN General Assembly this week, urged an end to sanctions crippling Iran's economy and repeatedly stressed Iran's desire for normal relations with Western nations, while denying the country wanted a nuclear arsenal.
During the visit to New York, Rouhani also met with the head of the International Monetary Fund Christine Lagarde to discuss his government's economic policies and a way to deepen relations with the international institution.
Plane crashes on anti-coca mission in Colombia; US pilot killed
Reuters / Phuket Gazette
PHUKET: An American pilot was killed and a US co-pilot seriously injured on Friday when their plane crashed while on a mission to eradicate coca plants in southern Colombia, police said.
Spraying of coca plants to combat the drugs trade has been intensified in Colombia since 2000 with support from the United States, which has provided billions of dollars to help Colombia fight guerrillas who are funded partly by revenue from cocaine.
"Preliminary information we have is that it was a mechanical failure. An American piloting the plane was killed and the one accompanying him was injured," a police source told Reuters on condition of anonymity.
The police source said the two were contractors working for companies hired by the Colombian government to fumigate coca crops. Most of those companies are from the United States, but it was not immediately clear who employed the pilots.
Officials at the US embassy were not immediately available for comment on Friday evening.
The plane crashed in Caqueta province near the township of Montanitas, where the rebel Revolutionary Armed Forces of Colombia (FARC) have a presence.
The group has been fighting the government for five decades in a conflict that began as a peasant movement seeking land reform. More than 200,000 have died in the fighting.
The Caqueta area is one of Colombia's biggest coca-producing regions. The plant's leaves, when exposed to petrochemicals, yield a paste which is refined into cocaine.
Sudanese use tear gas on crowd demanding president resign
Reuters / Phuket Gazette
PHUKET: Police fired tear gas to disperse thousands of Sudanese demanding the resignation of President Omar Hassan al-Bashir after rights groups accused security forces of shooting dead at least 50 people in the worst unrest in Sudan's central region for years.
Around 3,000 people, angered by a police crackdown on protests against the lifting of fuel subsidies, took to the streets after Friday prayers in Khartoum's twin-city Omdurman across the Nile, shouting "freedom, freedom" and "the people want the fall of the regime".
Defying a massive security presence with army trucks parked on main streets, the crowd marched to the central market, holding up banners saying "No, no to price increases."
Police fired tear gas after the crowd had marched some two kilometers through the center. Some protesters ran for cover but the bulk of the crowd remained, some hurling stones at the police, others torching cars.
More than 1,000 people also demonstrated in Khartoum's northern Bahri district, a hot-spot of days of unrest, witnesses said. Hundreds also went out in another area of Omdurman and Khartoum as well as Wad Madani town south of the capital.
In Khartoum's center, there were army trucks mounted with anti-aircraft guns, which are usually used only in strife-torn regions such as Darfur. More than 100 soldiers, policemen and plain cloth agents armed with Kalashnikovs and other guns were patrolling the government district on the Nile banks.
Police said late on Thursday that battles with protesters had killed 29 people, among them police officers. Sudanese opposition activists have put the death toll at over 100.
But London-based Amnesty International and the New York-based African Center for Justice and Peace Studies said at least 50 people had been killed by gun shots to the chest or head, citing witnesses, relatives, doctors and journalists.
Among the dead was a 14-year-old boy, while most other victims seemed to be between 19 and 26 years old, the groups said in a statement. Hundreds had been detained, it said.
"Shooting to kill – including by aiming at protesters' chests and heads – is a blatant violation of the right to life, and Sudan must immediately end this violent repression by its security forces," said Lucy Freeman, Africa Deputy Director at Amnesty International.
Sudanese officials could not be immediately reached for comment but Information Minister Ahmed Belal Osman said late on Thursday any figures higher than 29 were inaccurate.
New York-based Human Rights Watch (HRW) said in a separate statement it had confirmed that the death toll was higher than the official 29. It did not give a number.
"The police and national security forces fired teargas, rubber bullets, and according to credible reports, live ammunition into the crowds," HRW said.
It was not immediately possible to verify the allegations.
Sudan's divided and weak opposition has tried several times to bring to Sudan an "Arab spring" unseating rulers in the region but has failed to mobilise masses seen in Egypt or Libya.
Bashir still enjoys support from the army, security apparatus, his ruling party and wealthy Sudanese with extensive business interests.
— Phuket Gazette Editors

Join the conversation and have your say on Thailand news published on The Thaiger.
Thaiger Talk is our new Thaiger Community where you can join the discussion on everything happening in Thailand right now.
Please note that articles are not posted to the forum instantly and can take up to 20 min before being visible. Click for more information and the Thaiger Talk Guidelines.