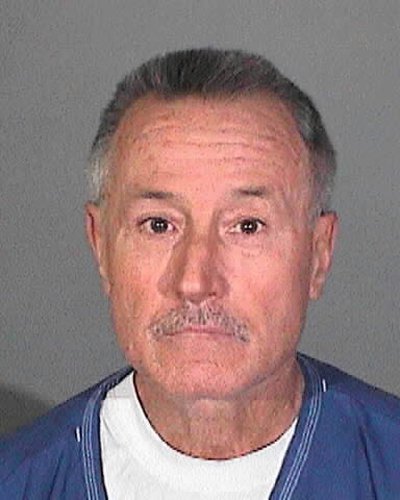 PHUKET MEDIA WATCH
– World news compiled by Gazette editors for Phuket's international community
Former LA teacher charged with molesting 23 children
Phuket Gazette / News Wires
PHUKET: U.S. prosecutors have arrested and charged a former Los Angeles teacher with allegedly molesting at least 23 young children over a two-year period, officials said on Tuesday. The allegations have shocked the local community.
Mark Berndt, 61, was arrested on Monday at his home in the City of Torrance after an investigation which began about a year ago. He had worked as a teacher at Miramonte Elementary School in Los Angeles for more than 30 years until he was fired last year when police launched an investigation.
According to prosecutors, the investigation began in March 2011 when a film processor discovered about 40 photographs depicting children in a school classroom with their eyes blindfolded and their mouths covered with tape. The photos were turned over to law enforcement who identified the adult in some of the photos as Berndt.
Some of the photographs depicted young girls being fed with a blue plastic spoon which was filled with a white liquid substance, believed to be the suspect's semen. "There are also photos of children with large live Madagascar-type cockroaches on their faces and mouths," the Los Angeles County Sheriff's Department said in a statement.
In addition to the 40 photos turned over by the film processor, detectives found more than 100 similar photographs at Berndt's home, where adult pornography was found which mirrored the bondage-type photos of the children. An additional 250 photos were later recovered from the film processing establishment.
So far, investigators have identified a total of 26 children but at least 10 other children are yet to be identified. Of those identified, 23 boys and girls between the ages of 7 and 10 years old have been identified as the victims of crimes which were allegedly committed in Berndt's classroom between 2008 and 2010.
Berndt, who allegedly told the children it was a game, faces 23 felony counts of Lewd Acts Upon a Child and appeared in court yesterday. His bail has been set at $2.3 million.
Phuket Gazette / News Wires
PHUKET: The U.S. government is open to diplomacy with North Korea under the new leadership of Kim Jong-un, a senior U.S. diplomat told reporters yesterday.
U.S. Assistant Secretary of State Kurt Campbell, a key diplomat for Asia, told reporters in the South Korean capital of Seoul that the U.S. government would have no problem strengthening its relationship with North Korea. "We are open to diplomacy with North Korea," he was quoted as saying by the Korea Times.
But Campbell went on to say that such a dialogue would only be possible if North Korea decides to follow a clear set of steps. "There's a very clear set of steps that we think are necessary. The steps have been closely coordinated with Japan and particularly with South Korea and we're still waiting to see whether the new government in North Korea is prepared to take the necessary steps." he said.
Last month, the communist state announced the death of its leader Kim Jong-il. According to the North Korean government, he died on December 17 after suffering an 'advanced, acute myocardial infarction, complicated with heart shock,' while on a train for a 'field guidance tour'. Observers believe the leader actually died at home in Pyongyang.
The United States has been meeting with Asian leaders in Seoul for the past few days and the renewed call for talks, mainly over North Korea's nuclear program, comes just weeks after Kim Jong-un assumed power as Supreme Leader following the death of his father.
Six-party nuclear disarmament talks have been stalled since late 2008 due to North Korea's anger over United Nations sanctions. It was followed by a nuclear test in North Korea's North Hamgyong province on May 25, 2009, as well as a series of test-firings of missiles.
Obama confirms existence of U.S. drone strikes in Pakistan
Phuket Gazette / News Wires
PHUKET: U.S. President Barack Obama on Monday, for the first time during his presidency, publicly acknowledged that U.S. drones regularly strike suspected militants along the border between Afghanistan and Pakistan.
The U.S. government does normally not comment on the CIA drone strikes as they are considered to be a secret, but it is widely known that the government has authorized them. The use of drone strikes has increased substantially under the Obama administration.
Obama made the comments during a web interview which was broadcast live on the video-sharing website YouTube and social networking website Google+. Reports said the White House did not see or approve the questions in advance, and Obama appeared surprised when he was asked the question.
One of the viewers asked Obama's views on the controversial drone strikes and if he felt the 'many' civilian casualties are worth it. But Obama rejected the assertion that U.S. drones have caused many casualties, saying they are precision strikes which target terrorists.
"Actually, drones have not caused a huge number of civilian casualties," the president said. "For the most part they've been very precise, precision strikes against al-Qaeda and their affiliates. And we are very careful in terms of how it has been applied. So, I think there is this perception somehow that we are just sending in a whole bunch of strikes willy-nilly. This is a targeted, focused effort at people who are on a list of active terrorists who are trying to go in and harm Americans, hit American facilities, American bases and so on."
But Obama's response was challenged by another viewer who asked if the drones send the message that the U.S. government is interfering in the affairs of other countries. The Pakistani government publicly condemns the U.S. drone attacks, but intelligence reports indicate they have regularly assisted and allowed the U.S. government to carry them out.
"I think we have to be judicious in how we use drones, but understand that probably our ability to respect the sovereignty of other countries and to limit our incursions into somebody else's territory is enhanced by the fact that we are able to pinpoint strike an al-Qaeda operative in a place where the capacities of the military in that country may not be able to get them," Obama responded.
The president acknowledged that 'a lot of these strikes' have been in the Federally Administered Tribal Areas (FATA) of Pakistan, targeting al-Qaeda suspects who are in tough terrain along the border between Afghanistan and Pakistan. "For us to be able to get them in another way would involve probably a lot more intrusive military action than the one we are already engaging in," he said. "That doesn't mean that we shouldn't be careful about how we proceed on this."
Obama said he is looking forward to a time when al-Qaeda is no longer an operative network, but said it remains an issue to be dealt with. "There are still active plots that are directed against the United States, and I think we are on the offense now," he said. "Al-Qaeda has been really weakened but we still got a little more work to do, and we've
— Phuket Gazette Editors
World News

Join the conversation and have your say on Thailand news published on The Thaiger.
Thaiger Talk is our new Thaiger Community where you can join the discussion on everything happening in Thailand right now.
Please note that articles are not posted to the forum instantly and can take up to 20 min before being visible. Click for more information and the Thaiger Talk Guidelines.