WEDNESDAY MORNING HEADLINES – All your news in 3 minutes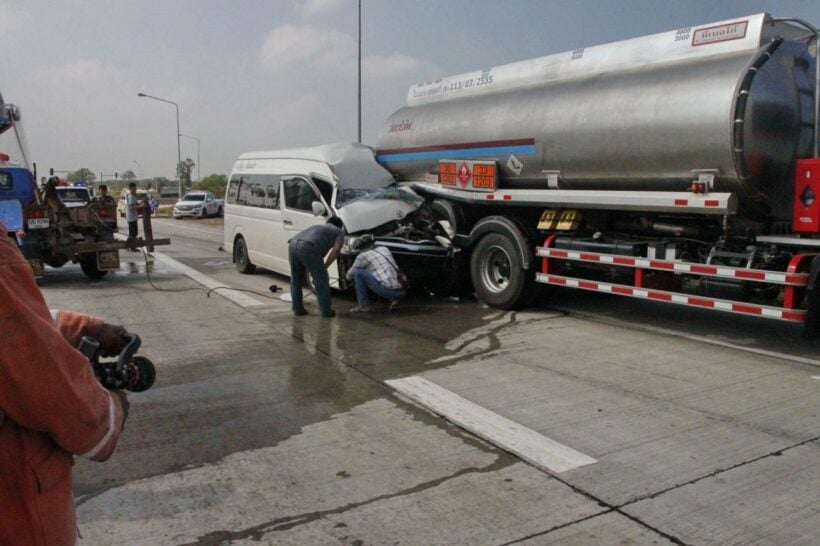 A lot of stories making up our news feeds today, from all over Thailand. Let's ignore the threat of a 100% chance of rain from the forecast and focus on the sunshine in between. Here are today's main news stories…
Minimum wage rise, but…
Debate over a rise in the minimum wage is heating up, with a key battleground opening up on whether payments should be based on the varying costs of living around the country.
Advocates for a more generous policy on minimum pay want any rise to be applied at the same rate nationwide, but those in the opposing camp point to the variations in the cost of living throughout the country.
One labour economist, Yongyuth Chalamwong, says the minimum wage rise should be based on the consumer price index which differs from province to province.
He says that small businesses in provincial areas do not have the means to pay high wages and the country's overall economic growth is not solid.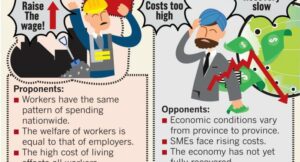 Cabinet approves another poverty-reduction program
The Cabinet has approved a 35.6 billion baht spending package as part of the second stage of the government's poverty-reduction program featuring job offers, vocational training, low-interest loans and personalised services for up to 4.9 million low-income people nationwide.
The Government says there are about 11 million Thais whose annual per capita income is less than 30,000 baht. Instead of just handing out subsidy money to this target group, the second-stage program aims to offer them jobs, provide skill-training, financial help and other pre-requisites to alleviate their poverty in a more sustainable style.
Prime Minister Prayut Chan-o-cha said the second stage, which follows last year's spending of nearly 20 billion baht for low-income earners, would be implemented jointly by the Finance, Agriculture, Interior, Environment and related ministries.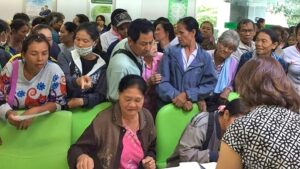 Motorbike accident in Pattaya kills three, including a tourist
Three people were killed when a high-powered motorcycle hit a pedestrian in Pattaya yesterday.
A Russian tourist and a Thai woman passenger were killed when the Kawasaki Z900 motorcycle they were riding hit and killed a South Korean man who was crossing the road. All were aged between 20 and 25 years old.
Witnesses say the Russian was riding the motorcycle at high speed with the woman sitting on the back when it struck the group of tourists.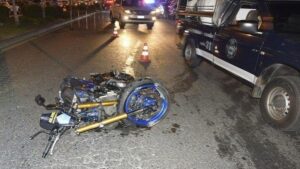 Stolen luxury cars heading back to Malaysia
Thai police have returned 20 stolen luxury cars worth about 30 million baht to Malaysia with both countries pledging to work together to suppress all types of transnational crimes.
The transfer is the second batch of stolen luxury vehicles that had been seized in Thailand and returned to Malaysia. The first batch involved 95 vehicles worth about 75 million baht.
Police say the smuggling of luxury cars from Malaysia into Thailand has been a serious problem impacting both economies with the smugglers avoiding duties.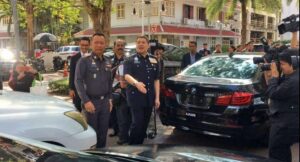 Cat and mouse game continues
Following months of a cat and mouse game with fugitive former PM Yingluck Shinawatra, the junta appears to have lost faith that they can bring her back for prosecution despite knowing she is currently living in London.
PM Gen Prayut Chan-o-cha yesterday admitted that the extradition process was "generally uneasy". Prayut referred to Yingluck's fugitive brother ex-premier Thaksin Shinawatra, who has been on the run abroad since 2008 and living in London a lot of the time.
Meanwhile, Foreign Minister Don Pramudwinnai told reporters yesterday that Thai authorities were in touch with their British counterparts after confirmation that Yingluck was in the UK from the Foreign Minister Bori Johnson back in September. He pointed out the Yingluck's passports have all been revoked and that the process of extradition would continue but admitted it would become more difficult if the British Government approve an application for asylum.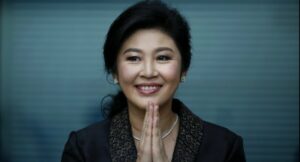 Huge yaba pill seizure in Sa Kaew
Police have arrested four suspects and seized 110,000 yaba pills with a street value of 20 million baht during an attempted drug delivery in front of a Sa Kaew Hospital, right near the Cambodian border east of Bangkok. A 28 year old and two 30 year old females, along with a 19 year old male, have been accused of being linked to a Chon Buri-based drug dealing gang.
The pills were found in five sacks loaded onto a Suzuki sedan parked at the hospital entrance. Police say its the largest batch impounded in the province in a decade.
Van crashes into petrol tanker killing one, injuring eight
A van, chartered to take Cambodian workers home, has crashed into the rear of an oil tanker in Chachoengsao killing a Thai man and injuring eight Cambodians.
The van's left front hit the right rear of the oil tanker at high speed. Rescuers and firefighters rushed to the scene aware that the tanker could catch fire. Although the driver survived, his assistant sitting in the front passenger seat, was killed. The driver claims he was trying to overtake a truck at the time.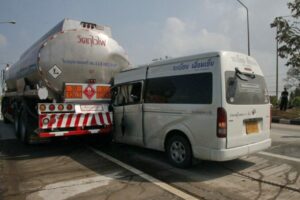 Bangkok boys behaving badly
A Bangkok taxi driver who fired a slingshot and damaged actor Mario Maurer's Porsche, after a traffic dispute, has been fined 1,000 baht and had his licence suspended for one month.
37 year old Cabbie Udon Sitthipol refused to talk with reporters yesterday after meeting with police to hear the charge and pay the fine.
It was reported that the 29-year-old actor and the cab driver were cutting each other off driving around the capital on Monday. Udon fired a stone from a slingshot that smashed Maurer's side window near the Pratunam Intersection and a roadside argument ensued. The actor may still face charges following the incident. Maurer's manager said the actor was busy and would report to police later to hear charges.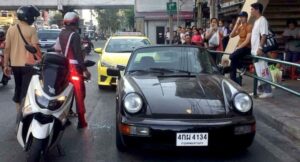 Keep in contact with The Thaiger by following our
Facebook page
.


Do you need help with your business? Are you searching for a new job? Or an employer looking to hire? Try JobCute today.

Read more headlines, reports & breaking news in Pattaya. Or catch up on your Thailand news.

Thai Airways under pressure to deliver workable business plan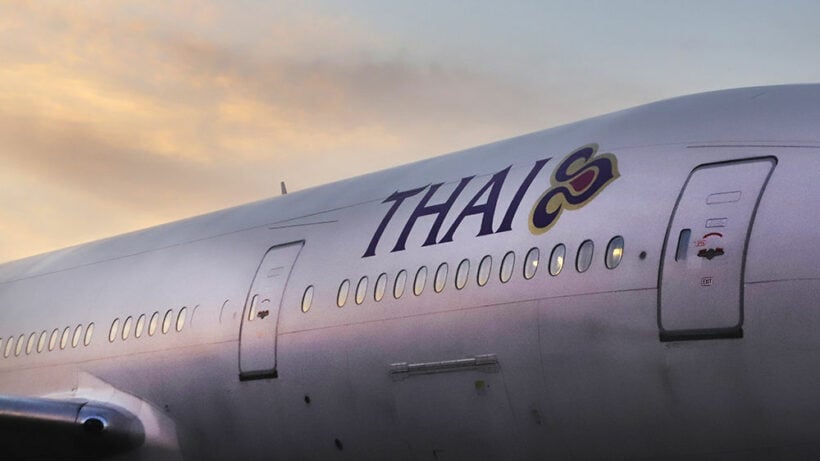 Thai Airways is coming under more pressure, after being given 30 days to deliver its new rehabilitation and business plans.
Thaworn Senniam, the Deputy Transport Minister, gave the instruction yesterday while meeting with the executive of the national carrier for an update on its financial status.
He says the business plan must provide clear information on how the fortunes of the airline can be turned around, with a focus on making it profitable once more, while improving customer satisfaction.
The order comes after Thai Airways President, Sumeth Damrongchaitham, denied last week that the airline was experiencing a liquidity crunch, claiming it had sufficient cash flow "for present and future operations".
Minister Thaworn has previously said he does not believe Thai Airways' existing rehabilitation plan will help it succeed in a turnaround. He has also ordered a monthly progress report on the carrier's plans to buy new aircraft.
In September, the directors of Thai Airways asked the Executive Board to review a plan to order 38 additional aircraft, worth a total of 156 billion baht.
According to their second-quarter 2019 filing to the Stock Exchange of Thailand, Thai Airways and its subsidiaries reported a net loss of 6.878 billion baht, compared to a loss of 3.086 billion baht over the same period last year.
SOURCE: The Nation
Keep in contact with The Thaiger by following our
Facebook page
.
World Economic Forum says lack of critical thinking in Thailand affecting competitiveness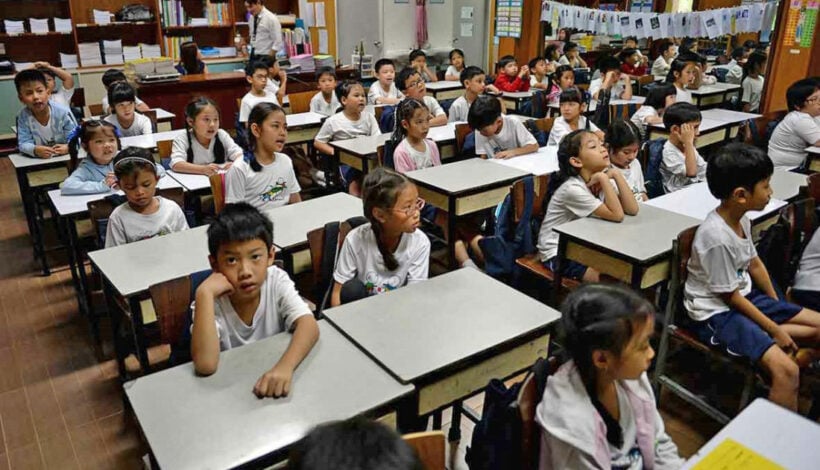 PHOTO: AFP
Thailand's competitiveness ranking has dropped two places in the Global Competitiveness Index just released by the World Economic Forum (WEC) in Switzerland. The country has dropped from 38 to 40 out of a total of 141 global economies ranked.
The WEC claims that a lack of critical thinking in teaching in Thailand, along with its failure to dominate in any markets, plus its unsafe drinking water, is affecting the country's competitiveness.
The Nation reports that Singapore has come top in the ranking, overtaking the U.S. and Vietnam has shot up 10 places to 67.
The deputy secretary general to the PM for political affairs, Kobsak Pootrakool, responded to the findings, saying that as other countries improved their rankings, Thailand needed to work harder to ensure their progress didn't cause it to slip backwards.
"It's like a running competition – if our pace is slower, others will overtake us, so we have to run faster."
The dean of the Chulalongkorn Business School, Assistant Professor Wilert Puriwat believes he knows what the country must do to improve competitiveness.
"The survey found that skills among new university graduates have declined, especially in the area of critical thinking. We've failed the exam and it can't be fixed by simply retaking the test – we need to restart learning."
Assistant Professor Wilert says Thailand needs to change the way students are taught, adding that the country's score on critical thinking in the classroom was the world's lowest at 37 out of 100 points. Finland comes first, with 89 points.
Wilert points out that Thai students routinely perform poorly on tests compared to foreign counterparts, which can be blamed on an old-school reliance on rote learning through memorisation.
The WEF is urging Thailand to adapt a model that encourages creative and critical individual thinking in the classroom instead. It also recommends improvements be made in staff training in Thailand, and more fostering of digital skills.
SOURCE: The Nation
Keep in contact with The Thaiger by following our
Facebook page
.
Samsung Electronics flags 56% fall in third quarter profits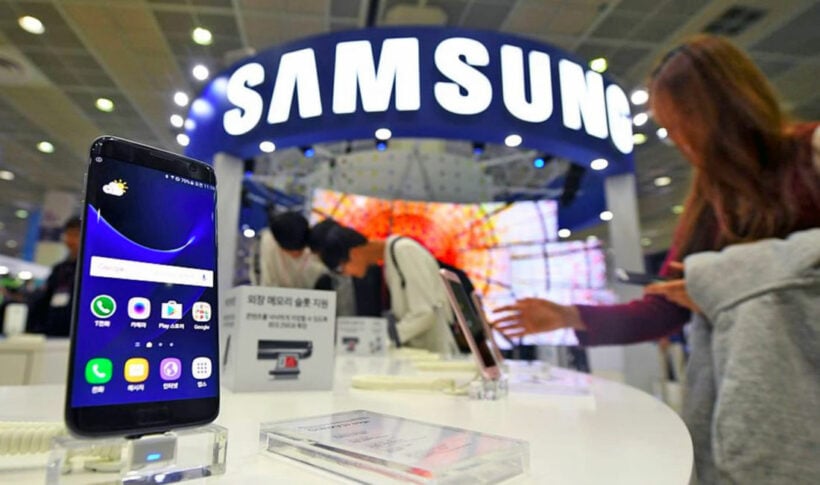 "Samsung took advantage of the US trade ban against Chinese rival Huawei."
PHOTO: CNBC
Samsung Electronics says it expects operating profits to drop more than 50% in Q3 amid a continued slump in the global chip market. Operating profits for July to September was expected to reach 7.7 trillion won (US$6.4 billion), down 56.2% from a year earlier – this from the world's largest maker of smartphones and memory chips.
It marks the fourth consecutive quarter in which the South Korean tech company has recorded a drop in profits in the face of falling semiconductor prices and weakening demand for its mobile devices. Sales for the third quarter were expected to drop 5.3% from the same period last year.
The South Korean tech titan leads the global smartphone market with a 23% share of the sector, trailed by Chinese competitors Huawei and Oppo, with Apple in fourth place, according to sales tracker IHS Markit.
Samsung withholds net profit and sector-by-sector business performance until it releases its final earnings report, which is expected later this month.
The firm is the flagship subsidiary of the giant Samsung Group, by far the biggest of the family-controlled conglomerates that dominate business in the world's 11th-largest economy, and it is crucial to South Korea's economic health. Analysts voiced optimism for the coming months, noting that falling inventory levels for semiconductors – which account for more than half of Samsung's profit – will help stabilise chip prices after double-digit drops this year.
Sujeong Lim, an analyst at Counterpoint Research, said, that in the mobile business, Samsung took advantage of the US trade ban against Chinese rival Huawei, "replacing a strong competitor in crisis" with its mid-to-low tier Galaxy A handsets.
"The new A series has turned out to be an effective weapon to take share from its Android competitors."
Samsung appealed to high-end users with the launch of its first foldable smartphone last month after faulty screens forced an embarrassing delay in April. The firm also rolled out its flagship Note 10 devices which analysts say have sold far better than its previous models, giving Samsung a much-needed boost in its mobile sales.
The premium smartphone market has grown fiercely competitive and overall sales have cooled as a lack of major innovation has caused people to wait longer before upgrading to new models. Samsung has also been caught up in a trade war between Japan and South Korea stemming from World War II disputes.
The row saw Tokyo impose tough restrictions on exports crucial to South Korean tech giants in July, and Samsung vice chairman Lee Jae-yong – who called the situation a "crisis" – has visited Tokyo to secure materials. Adding to Samsung's woes, Lee is currently facing retrial over his role in a massive corruption scandal that brought down former president Park Geun-hye.
He was initially jailed for five years in 2017 on multiple convictions including bribery, which was reduced to a suspended sentence on appeal, only for the Supreme Court in August to order a retrial.
SOURCE: Agence France-Presse
Keep in contact with The Thaiger by following our
Facebook page
.