"US-China trade war will hurt Thai exports" – Economist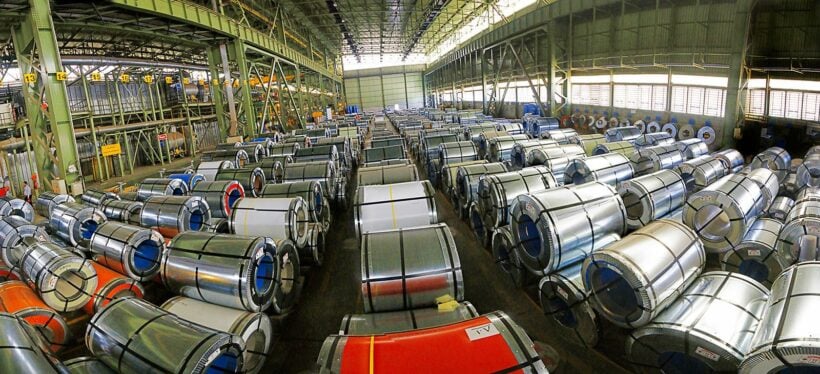 By Wichit Chaitrong, The Nation
The Government has been urged to brace for the impact from a possible trade war between the United States and China with US President Donald Trump planning to impose tariffs on many Chinese goods and China vowing to retaliate.
Sompop Manarungsan, veteran economist and president of the Panyapiwat Institute of Management, yesterday said he was concerned about the risk of a full-blown trade war between the world's two largest economies.
Trump announced on Thursday a plan to impose tariffs on Chinese goods, accusing it of intellectual property infringement. Reports suggest that more than 1,000 Chinese export items are on the list targeted by Trump with a tariff cost of US$60 billion (Bt1.8 trillion). Trump will consult with his party and businesses before making a decisive move.
Sompop said that Trump had issued the new threat, partly to win local support as the US will be having midterm elections in November. Trump also would like to show voters that he was committed to his election pledges. Should China bow to US pressure, it would boost Trump's popularity in his country.
"However, China is unlikely to cave in to US pressure. China has vowed to protect global free trade while the US has chosen unilateral measures, which will put the two at odds against each other," said Sompop.
China is Thailand's largest export market, with export share of 12.4 per cent last year, while the US is Thailand's second-largest market with export share of 11.2 per cent.
A trade war between the two will result in losses for both the US and China.
"Thailand's exports would also be adversely impacted and our export target of 8 per cent growth this year may not be met," warned Sompop.
The government may also look at domestic substitution if exports are impacted, he suggested. The government may need to prepare to boost domestic consumption, he added.
Sompop was worried that international trade would be disrupted by the Trump administration's policies. People around Trump are right wing, who are focused on nationalism and trade protectionism. These include US Secretary of Commerce Wilbur Ross and US Trade Representative Robert Lighthizer, he pointed out.
Pipat Luengnaruemitchai, assistant managing director at Phatra Securities, said the danger of a trade war would become a reality if the leaders of these two giant economies could not settle the conflict through negotiations. And this could mean losses for both sides. Thailand would be indirectly impacted, as Thailand is a part of China's production chain. Thailand exports electronic parts, electrical parts and raw materials such as rubber sheets to China.
The US wants to solve the problem of its huge trade deficit with China after the deficit last year rose to US$375 billion. Investors were worried about a possible trade war, leading to a sharp fall in stock markets around the world.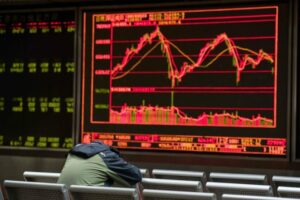 The Dow Jones ended Thursday trade at 23,957.24, declining 2.9 per cent, the S&P 500 lost 2.5 per cent and the Nasdaq shed 2.4 per cent. The Stock Exchange of Thailand yesterday also closed down 4.34 points or 0.24 per cent to 1,794.21. The Nikkei 225 yesterday plunged 4.51 per cent to 20,617.86.
The direction of the market would depend on the outcome of negotiations between the two sides, said Pipat.
Soraphol Tulayasathien, director of economic stability analysis division at the Fiscal Policy Office, said there would only be a minimal impact on Thailand. For example, the latest US tariff on steel imports have only a small impact on Thailand's exports. Steel exports represent only three per cent of total exports and out of that 14 per cent goes to the US.
Teerana Bhongmakapat, former dean at Chulalongkorn University's Economics Faculty, shared a similar view saying the impact would be limited if a trade war does not escalate.
Teerana believed that the US and China would not want the trade war to escalate.
Meanwhile, Somchai Pakapasvivat, an independent political analyst, said the trade dispute may lead to slower growth of the global economy and it would impact Thailand's exports. He said exports may grow only 5-6 per cent instead of the targeted eight per cent set by the Commerce Ministry.
Kasikorn Research Centre said that some Thai items might be adversely affected as they are involved in China's production. They include phone parts, computer parts, integrated circuits and hard-disk drives.
Keep in contact with The Thaiger by following our
Facebook page
.
Never miss out on future posts by
following The Thaiger
.
From Bangkok to Berlin – protesters deliver letter to German Embassy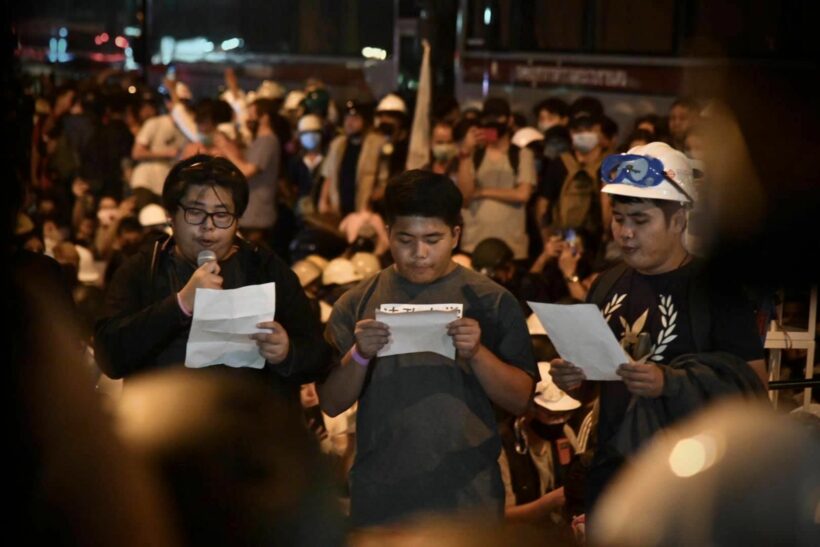 Protesting students last night submitted a letter to the German Embassy, to be passed on to the German Government. The protest started around 4pm when the rally gathered at the Sam Yan intersection, near the Chulalongkorn University, and made its way along Rama IV Road to the German Embassy in Sathorn Road, some 1.5 kilometres.
After some 10,000+ students descended on the Embassy compound in Sathorn Road, the German embassy said it would be "ready to receive the petition and convey it to Berlin on condition it was conveyed in a peaceful manner".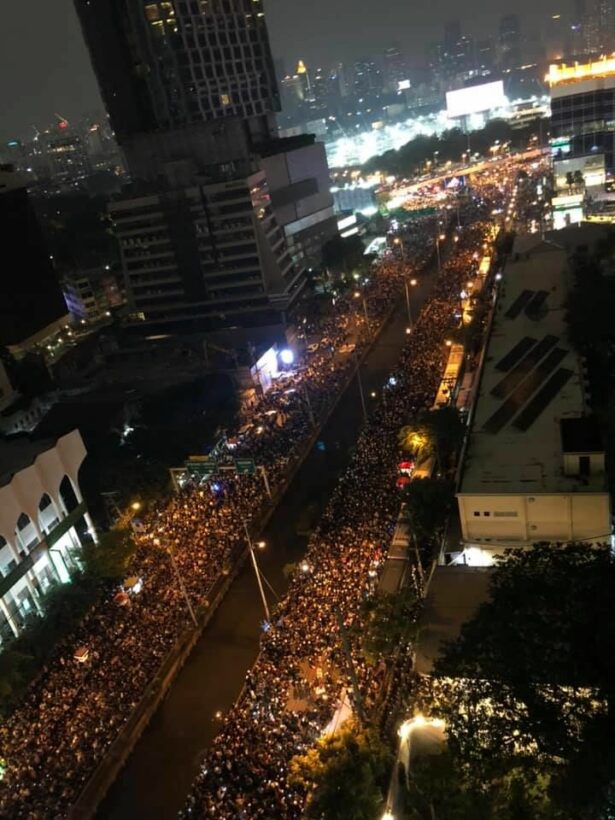 The rally disbanded peacefully at around 9pm after the letter was handed over, in 3 languages, on Khana Ratsadon letterhead. Here is is verbatim, dated October 26, 2020…
His Excellency Georg Schmidt. German Ambassador to Thailand.
On behalf of the association "Khana Ratsadon international, comprised of Thai students and professionals from multiple countries around the world, we would like to urge your excellency to advise the German Government against allowing any further residency of H.M. King Maha Vajiralongkorn in Germany.
During the last few days, we believe that Your Excellency have had the occasion to observe numerous alarming human rights violations in The Kingdom, including the excessive use of force against peaceful protestors and the suppression of free speech.
The protestors. at the receiving end of these egregious violations, were advocating for nothing more than democracy and accountability from the Government.
One of the most significant and courageous demands from the protestors is the accountability of the monarchy as an institution under the constitution. Although punishable by the draconian section 112 of the Criminal Code, the protestors have stood behind this demand, bravely exposing themselves to the arbitrary prosecutions from the palace.
In this regard, we are certain that Your Excellency is well aware of the open secret that H.M. does not habitually reside in Thailand, but rather in Bavaria, Germany. H.M. has conducted Thai state affairs, as well as ordering forced disappearances of oppositions from German soil. Khana Ratsadon International profoundly believes that this violates International custom, law, as well as Article I of the German Grundgese.
As a result, we started an online petition calling for the German Government to declare Maha Vajiralongkorn a persona non grata, which received over 210,000 signatures as of 26 October. An official petition to the Bundestag was also submitted on the 17th of October for consideration. We sincerely hope that Your Excellency would convey our grievances to thc German Government, and advocate for a stronger relationship once meaningful reforms are implemented in Thailand.
Yours Sincerely
Khana Ratsadon International
Yesterday's Germany's Foreign Minister responded directly to the situation out side the German Embassy in the German parliament….
"Of course we are following developments taking place in Thailand, and know there are demonstrations and people taking to the streets for their rights. And, of course, I am also watching what the Thai King gets up to in Germany."
"We've been keeping an eye on that, not only in the past few weeks. But we're continuously checking and if there are things that we find to be illegal then there will be immediate consequences."
Earlier yesterday a group of some 500 supporters of the government and royalists dressed in yellow shirts also demonstrated outside the gates of the German Embassy voicing their support for His Majesty and a continuation of the current system.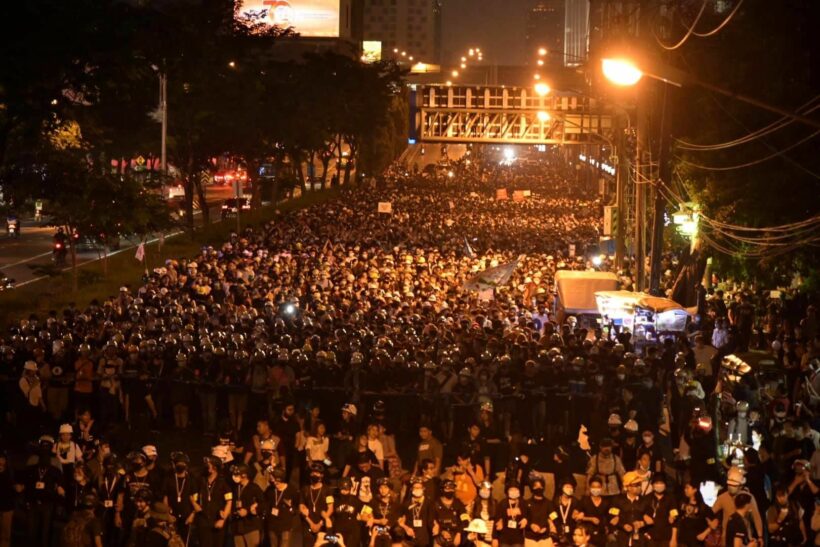 Keep in contact with The Thaiger by following our
Facebook page
.
Never miss out on future posts by
following The Thaiger
.
100+ test negative after Koh Samui Covid-19 case of the Thai/French woman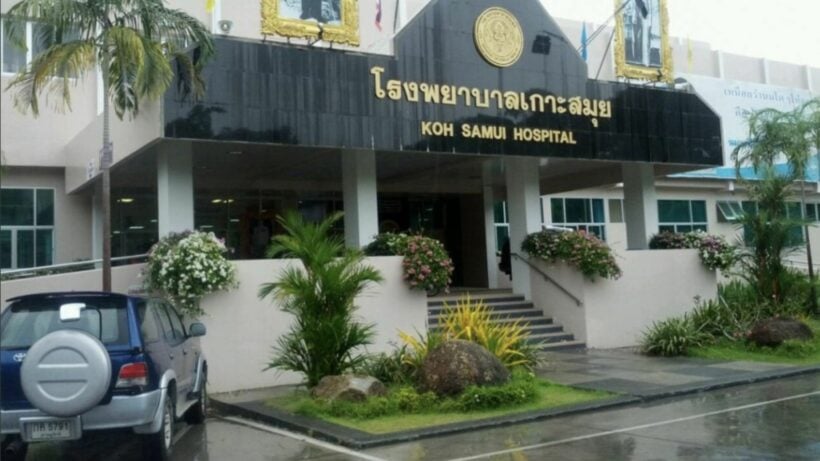 So far, more than 100 people have tested negative for Covid-19 after a 57 year old French/Thai woman tested positive for the virus in Koh Samui. Her case is the first on the island in 7 months and health officials are investigating to determine if she came in contact with the virus on the island, when travelling from France or possibly while in quarantine at an ASQ hotel in Samut Prakan, just southeast of Bangkok.
The woman, born in Thailand, was repatriating back to Thailand with her family. She has dual citizenship.
Meanwhile, 30 people are considered to be at "high risk" of contracting the virus. The Koh Samui Hospital director Veerasak Lorthongkum says those people, including her husband and son, as well as people seated close to her onboard a flight, show no signs of infection.
Traces of the virus were found on gym equipment at the ASQ hotel in Samut Prakan where the woman stayed when she arrived back in Thailand. She spent the mandatory 2 weeks in isolation upon entering Thailand and tested negative for Covid-19 twice during her stay. A few days after she was released, she complained of a fever. A few days later, she checked in to hospital in Koh Samui where she tested positive for Covid-19.
SOURCE: Coconuts Bangkok
Keep in contact with The Thaiger by following our
Facebook page
.
Never miss out on future posts by
following The Thaiger
.
Thousands of protesters descend on the German Embassy in Bangkok awaiting to submit their petition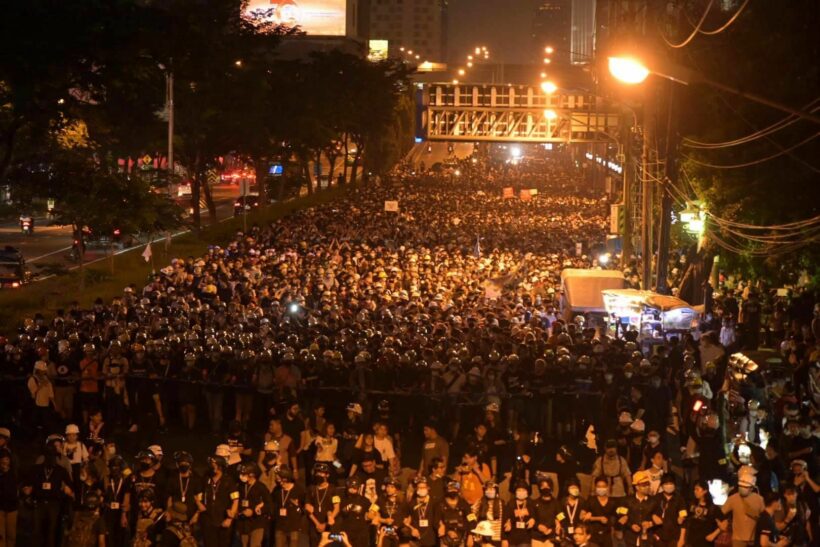 7.15pm and the protesters arrived out the front of the German Embassy. Thousands have blocked the way in Sathorn Road but protesters say they're waiting for more to arrive. Estimates of the crowd say there are up to 10,000 anti government protesters already. Protesters say they're waiting for an invitation by the German Ambassador for representatives to enter the embassy to submit their petition.
Protesters have been met by hundreds of riot police protecting the entrance to the embassy, in fact three lines of police. The ensemble of police is matched by a huge Thai and overseas media contingency.
Protesters are seeking an opinion from the German Government about the residential status of the Thai Head of State in the state of Bavaria, claiming that the monarch has been conducting political business whilst in residence.
Protest leaders asked the demonstrators to show restraint and avoid any violence as the rally moved from the Sam Yan intersection, near the Chulalongkorn University, towards the German Embassy along Rama IV Road.
At this stage no officials have emerged from the gates of the embassy to accept the petition. A number of protest leaders are waiting at the gate with their petition after clearing the way for the representatives to approach the front gate in waiting for someone to come out.
As of 7.15pm, no one had emerged from the embassy buildings although a report has come from Thai Enquirer that the Embassy has agreed to accept 3 protest leaders inside to submit their petition.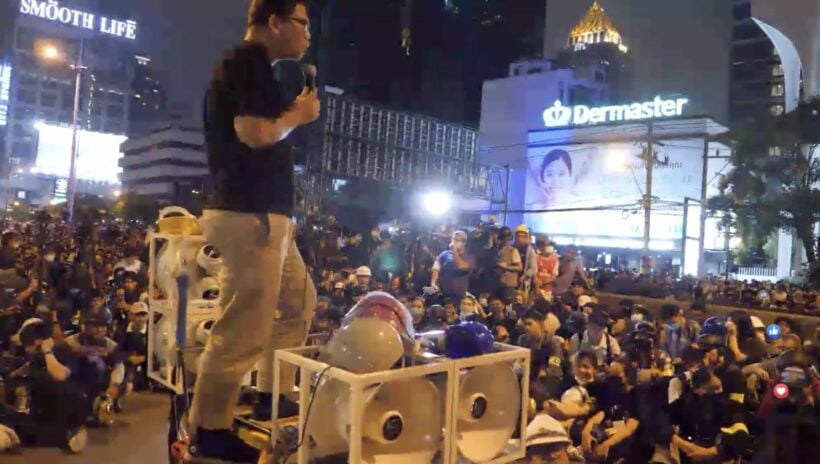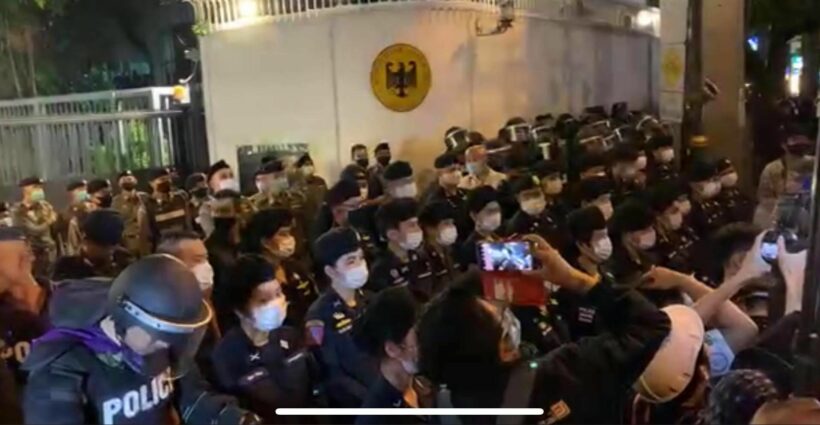 Keep in contact with The Thaiger by following our
Facebook page
.
Never miss out on future posts by
following The Thaiger
.