Three more illegal tour guides arrested in Phuket blitz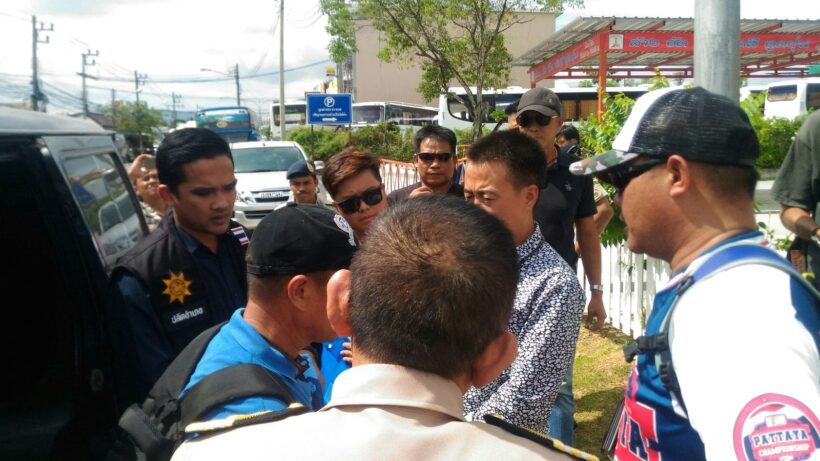 Three more Chinese-speaking illegal tour guides have been arrested yesterday (December 27) and the day before following the illegal tour guide crackdown initiated by Phuket's Governor.
Yesterday in Soi Sakdidech, in Phuket Town, a team of Phuket provincial authorities along with representatives of Royal Thai Navy Area 3, Provincial Internal Security Operations Command and Volunteer Defense Corps checked a Chinese tour bus in front of a Thai buffet restaurant and found 42 year old Chinese, Qiu Qiang, working illegally as a tour guide and 21 year old Jenjira Sealoh, who is a Thai national tour guide. Police claim the Thai tour guide allowed the non-licensed tour guide to work on her behalf. Both were sent to the Phuket Police Station.
On December 26, the team together with tourist police, checked the tourism destinations and found an illegal tour guide at Rawai Pier. 24 year old Awei Saewang, from Chiang Mai, was taking his clients to Coral Island. He was also a non-licensed tour guide.
"The search will continue at tourism attractions across Phuket to crackdown on any tour guides working illegally that takes away the career of the legal Thai national tour guides," said Chief of the Provincial Administration and Justice Enhancement Group, Siwat Rawangkul.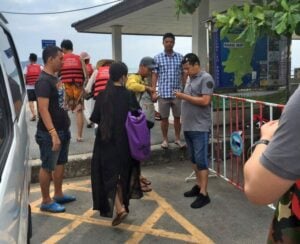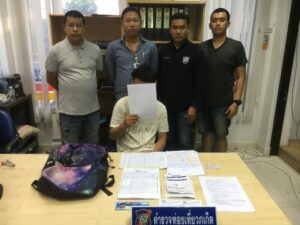 Keep in contact with The Thaiger by following our
Facebook page
.
Lamphun monks ahead of the trend to eliminate single-use plastic bags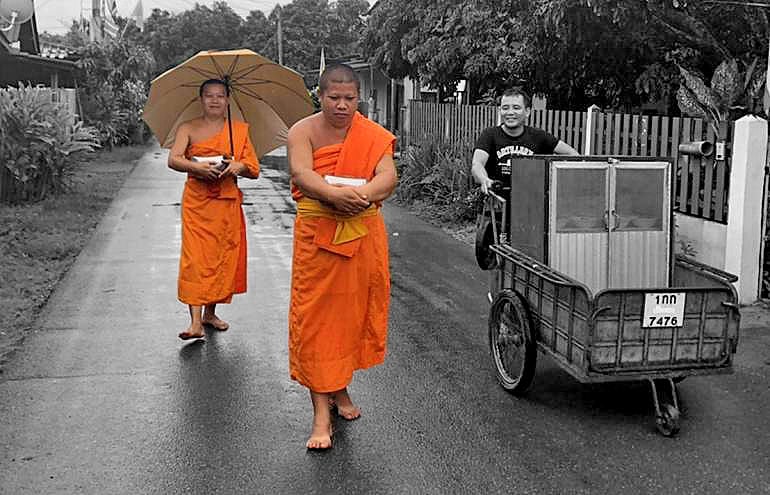 Phra Samutnatthee Suvathato, the deputy Abbot of the Wat Pa Book, in the Pa Sang district of Thailand's northern province of Lamphun, says their temple has been ahead of the trend to reduce the use of plastics for two decades.
Lamphun is just south of Chiang Mai.
They've already been using a portable kitchen cabinet to receive alms from Buddhist disciples for years.
Speaking to Thai PBS, the Abbot says the monks used to carry a Bento lunch box to receive alms from the local community but started using a portable kitchen cabinet placed on a push cart or a tricycle about 20 years ago.
"They say it's more convenient and can carry more food."
The senior monk said that, at first, people put food in plastic bags and gave it to the monks, but he asked them to put food on plates or wrap it in banana leaves. He admitted that, during the initial period, his advice wasn't followed because most people in the neighborhood bought food at the market, because the alms were collected in the very early morning.
So he advised monks at the temple to start their alms round at 7.30am, an hour later, so people had time to prepare food themselves and present it to the monks without the use of plastic bags.
Besides encouraging people in the local area to stop using plastic bags, the deputy abbot said that his monks also work with the people in the area to turn food waste and fallen leaves into compost for cultivation.
SOURCE: Thai PBS World
Keep in contact with The Thaiger by following our
Facebook page
.
65 year old tourist from Finland found dead in northern Thai resort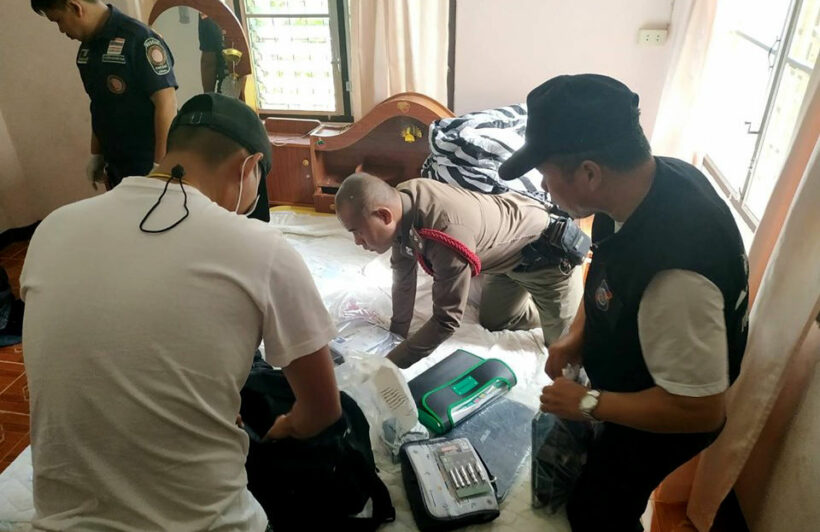 PHOTO: Tourist Police Division 2 กองบังคับการตำรวจท่องเที่ยว 2
A tourist from Finland has been found dead at a resort in Pai, Mae Hong Son, yesterday morning, north-west of Chiang Mai.
The 65 year old, Kari Rajasolo, was found dead in his room by a caretaker at the small resort in tambon Mae Na Toeng about 8am. The resort is situated in the mountainous province in a valley famous for its gorges, hot springs and scenery.
According to the Tourist Police Division 2 the man checked in at the resort on Monday evening.
The manager told police the lights remained on so she knocked on the door to check if he was OK. She eventually opened the door and found the man laying unconscious on the floor.
Police inspected the scene and say they found no traces of a struggle. They also said there were no medications found in their search of the man's room.
The manager told police the man was a frequent visitor to Pai. He usually travelled alone and had stayed at the resort. He arrived in Thailand on Sunday.
Thailand is very popular as a getaway tourist destination among Finns with over 8.2 million visits a year from a population of only 5.5 million.
SOURCE: Tourist Police Division 2
Keep in contact with The Thaiger by following our
Facebook page
.
Mae Sa and Tad Mork waterfalls in Chiang Mai closed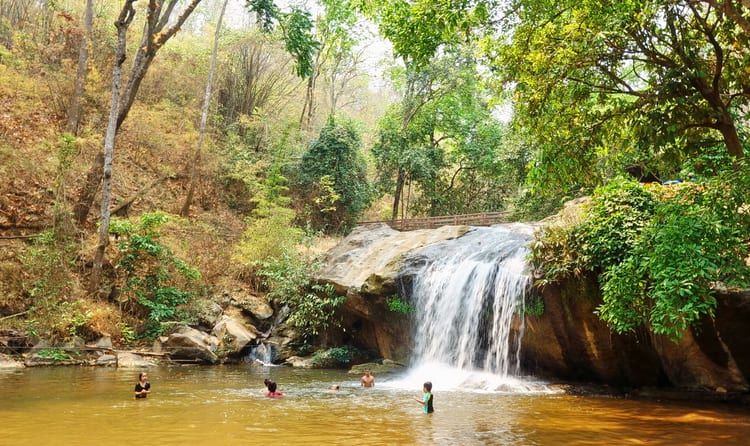 PHOTO: Mae Sa waterfall
Doi Suthep-Pui National Park officials in the north of Thailand have closed the Mae Sa and Tad Mork waterfalls after heavy rainfall have caused high water flows and slippery paths "that may endanger tourists".
Mae Sa waterfall is approximately 30 minutes drive north-west from Chiang Mai and Tad Mork waterfall about an hour drive north-west of Chaing Mai.
The national park chief Wuttichai Soamwipark told Thai Rath that his office will continue to monitor the situation and urged tourists to remain safe, and follow the directions of park signage and officials.
The two waterfalls are very popular with local and foreign hikers who visit the park every year.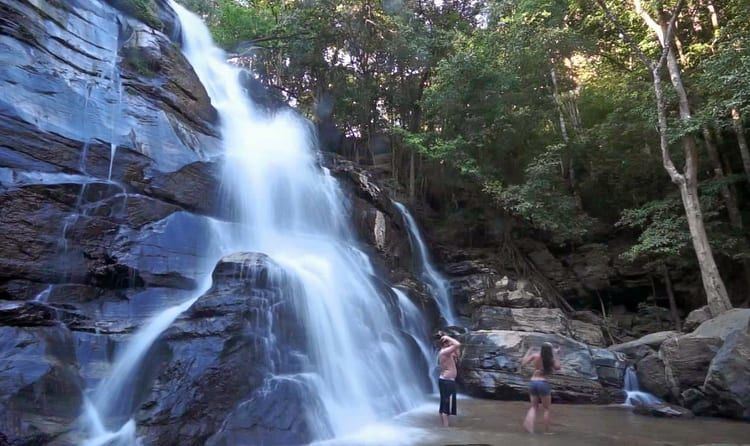 PHOTO: Tad Mork waterfall
Keep in contact with The Thaiger by following our
Facebook page
.