TECNO Mobile and Manchester City Football Club developing Thai youth football talent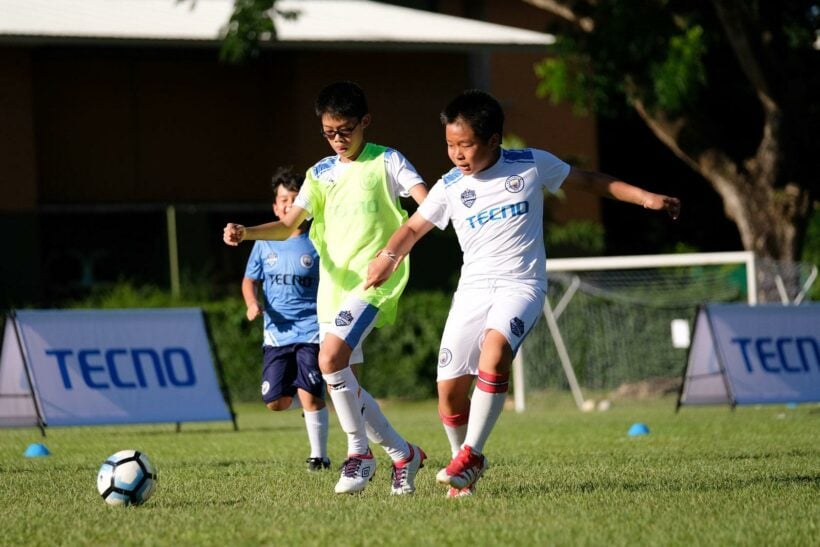 Football inspires Thai people like no other sport. Whether a player, spectator or follower of an English Premier League team, Thai people are passionate about the sport and unwavering in support of their team. Thai youngsters play football from an early age at schools, on the streets, in the parks and dream of one day becoming a professional like their favourite international football stars.
For some Thai youngsters, that dream has just come true courtesy of global mobile phone brand TECNO Mobile.
From June 2-6 more than 70 lucky Thai youngsters are taking part in a once-in-a-lifetime four-day football clinic with coaches from 2018 English Premier League Champions Manchester City Football Club at Prem Tinsulanonda International School School in Chiang Mai.


"Sport, and football in particular, is unique in its ability to bring people together. Through our "TECNO BlueSquad" initiative we want to not only give youngsters the opportunity to learn football skills from the best in the world and develop their talent, but also to develop confidence, leadership and discipline, whilst learning the importance of teamwork. We wish to encourage them to dream big and aim high – perhaps one day they will become professional footballers and play in the English Premier League," said Philex Meng, CMO of TECNO Mobile.
Football has developed rapidly in Thailand. The country is home to some of the best leagues in Asia with Thai teams competing on the regional stage and professional footballers playing in leagues around the world. The Thai Men's team will compete in the Asian Cup in January 2019, the Women's team have qualified for the FIFA Women's World Cup in February 2019, and with the FIFA World Cup due to kick-off in Russia later this month, interest in football is at an all time high.

Leveraging their global partnership with Manchester City FC, TECNO Mobile launched the "TECNO BlueSquad" initiative in 2017 when they hosted 13 youngsters from across Africa to Manchester City FC's Etihad Stadium, in the UK. That was followed with a joint football clinic for school children in Vietnam last month, and now, for the first time in Thailand, TECNO Mobile and Manchester City FC are training Thai youngsters in "The Mancity Way".
The football clinic provides a fun and educational environment away from the classroom in which youngsters can learn and grow, encouraging them to believe in themselves and follow their passion. Participating youngsters will be inspired with then meet football idol and Manchester City FC legend Shay Given, who is in Asia for the first time.
Having launched TECNO Mobile into Thailand in 2017, Chiang Mai is a strategic regional market and David Chan, Country Manager of TECNO Thailand explained: "We wanted to offer something new for Thai football fans and our customers. "Experience More" is at the heart of TECNO Mobile's DNA and that is very much what these football clinics are about. We believe in providing our customers with the best quality product and to enrich their recreational lifestyle. Working with Manchester City Football Club globally and partnering with them on the TECNO BlueSquad initiative allows us to reach out globally while at the same time engage with local communities."
TECNO Mobile's partnership with Manchester City FC brings customers and fans of both closer together. Through the company's "Glocal" approach to development, TECNO Mobile provides customised high-quality products through its sales network covering more than 40 emerging markets around the world.

FACTS ABOUT TECNO:
• For 12 years have focused on a camera-centric smartphone with optical research (the objective is to produce smartphones that can take the most beautiful photos, especially selfies).
• TECNO operates in more than 40 countries globally.
• 167 million sets of mobile phones have been sold from 2006-2017.
• 300,000 units sold per day worldwide.
• 100 days and 12+1 month after-sale guarantee.


Read more headlines, reports & breaking news in Chiang Mai. Or catch up on your Thailand news.
Central and upper Thailand residents warned to stay indoors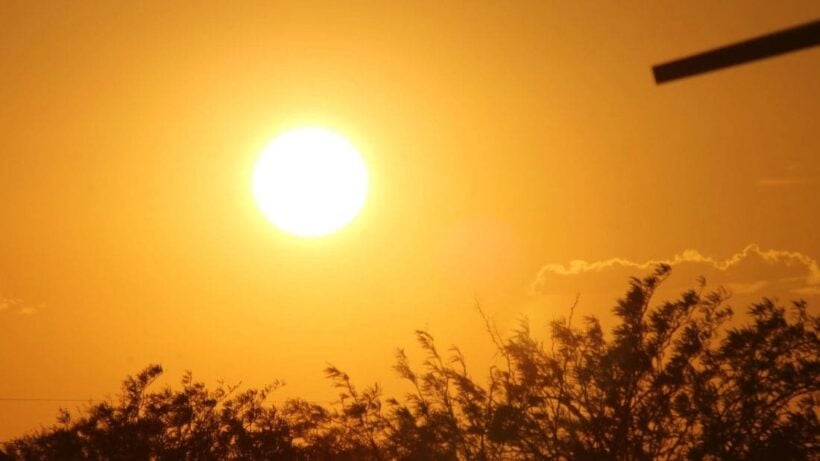 Thailand's Meteorological Department is warning people to avoid out-door activities due to the current high temperatures which are forecast to exceed 43C today in several northern provinces.
They are also advised to stay clear of big trees, poorly-erected structures or large billboards because of freak summer storms and strong winds caused by a low pressure cell over the northern part of the country.
In Bangkok, the TMD predicts that temperatures today will vary from 37-40C, with wind speeds of between 10-20Kph.
Thailand's northern region will experience hot to very hot weather today, with temperatures varying between 39-43C, plus freak summer storms and strong winds expected in about 10% of the region.
Northeastern provinces will also experience high temperatures ranging between 39 and 41C with freak storms covering 20 percent of the region.
Temperatures in the central region are predicted to vary between 39 and 42 C with wind speeds of 10-20Kph.
The eastern coast of the South is partly cloudy today, with temperatures ranging from 25-27C at the low end, with highs of 34-36C.
The western coast is also partly cloudy today, with temperatures ranging from 24 to 37C.
Central and north swelter with threats of summer storms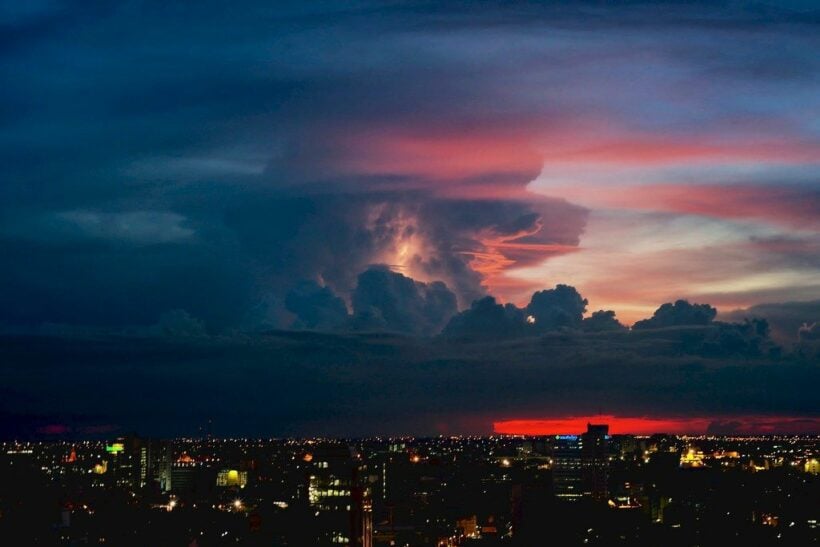 The mercury shot up to 40C in Bangkok yesterday and 35 other provinces in north and north-east Thailand also experienced hot to very hot weather amid brewing summer tropical storms.
The Thai Meteorological Department pointed to the hot low pressure cell covering upper Thailand and the southerly and southeasterly winds prevailing over the North, the Northeast, the Central, the East, and the South regions throughout this week.

Bangkok's forecast
They are warning residents to avoid outdoor activities and beware of gusty winds by staying away from big trees, unsecured buildings, and billboards is there are signs of thunderstorms brewing in the skies.
Today Bangkok will swelter in 37C temperatures with 38C in the next few days whilst the northern regions continue with more hot weather.
Chiang Mai will is forecast to reach 40C today as the unsettled and hot weather preempts the coming wet season… sometime soon.

Chiang Mai's forecast
Developer pulls the plug on 500 million baht retirement project in Chiang Mai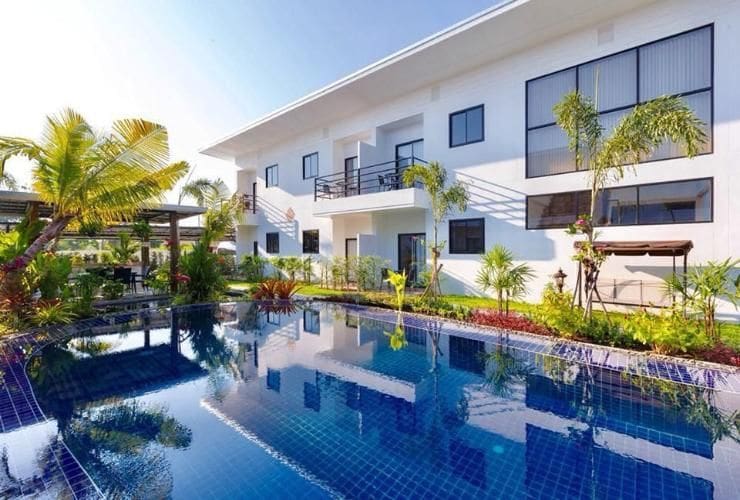 PHOTO: Sunshine International Retirement Residence & Serviced Apartment, Hua Hin
Sunshine International, Thailand's leading brand of retirement residences says that their project which was due to be constructed near Chiang Mai's city centre has now been cancelled.
Sunshine International, a retirement property that included around the clock medical facilities, on site doctors and nurses, and state of the art facilities, was due to be built on a five rai site in central Chiang Mai.
But ThaiVisa reports that the company says, due to the problems the city is experiencing with poor air quality, smog and pollution, it has been forced to cancel the Sunshine International Retirement Residences project.
Andrew Stocks of Sunshine International said they had an increase in people contacting them saying they have been forced to leave Chiang Mai because of the smog.
He said that due to the negative impact the project is currently not viable.
Andrew said his company will now focus on its other retirement projects located in Hua Hin, as well as a soon to be announced project in Phuket. He said Sunshine International would consider returning to Chiang Mai again if the smog situation improved.
Andrew called on the authorities to step in to help protect the livelihoods of local people who rely on income generated by the tourism industry in the region.
SOURCE: ThaiVisa.com