Hua Hin Marriott Resort & Spa donates hundreds of helmets for annual road safety event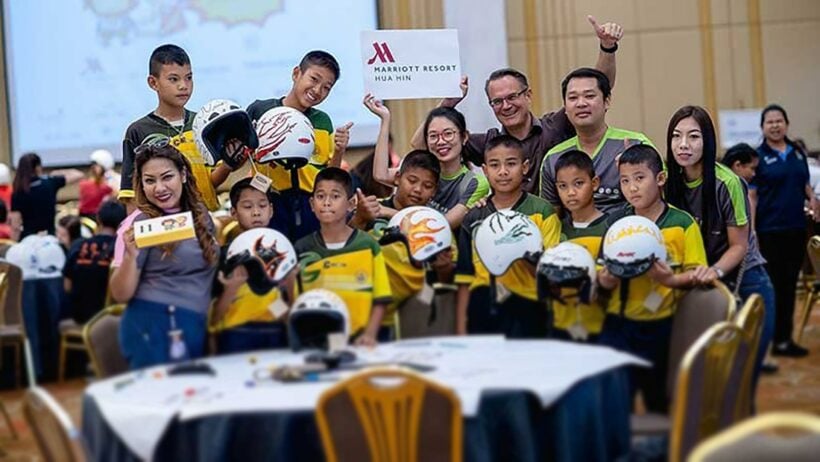 Hua Hin Marriott Resort & Spa is teaming up with several leading hotels and resorts in Hua Hin teach Thai schoolchildren about the importance of motorcycle safety – and specifically, wearing a helmet.
On May 30, 2018, the hotel's associates joined a major CSR activity at the Sheraton Hua Hin Resort & Spa, during which hundreds of kids from local schools will be equipped with motorbike helmets.
Almost 400 children attended the event from three schools in and around Hua Hin: Ban Smor Prong School, Nong Kae School and BoFai School. They were able to enjoy a series of fun activities, including painting their new helmets, while also learning about the critical issue of road safety.
This annual CSR event was supported by the local government, led by Khun Bussaba Chokesuchat, Deputy Mayor of Hua Hin municipality, Khun Sommai Sooksai, Director of Hua Hin Educational Department, officers from the Hua Hin traffic police and officers from tourist police, who helped to educate the children.
This marks the third consecutive year for this important event, as Hua Hin's hotel community comes together once again to improve the safety of its children, many of whom are risking their lives each day simply by traveling to and from school.
"Motorcycle safety is one of the most important issues facing children in rural Thailand today. Many kids still travel to and from school by motorbike, but few wear helmets. Often the reason for this is simply that they don't have a helmet to wear, which is why this initiative is so effective," said Goetz Bauer, General Manager of the Hua Hin Marriott Resort & Spa.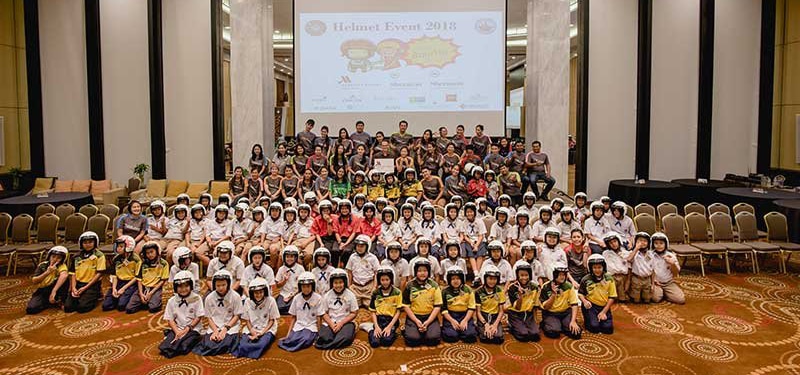 "By participating in this helmet event for the third consecutive year we are aiming to educate even more local children about the importance of road safety and wearing a helmet. If the helmets we donate save the life of just one child, this event will have been a tremendous success. I would like to thank everyone for taking part this CSR activity and helping to tackle such an important issue," Mr Bauer added.
Other hotels taking part in the helmet initiative include Sheraton Hua Hin Resort and Spa, Sheraton Hua Hin Pranburi Villas, Intercontinental Hua Hin, Holiday Inn Hua Hin, Cenrara Grand Beach Resort & Villas Hua Hin, Hyatt Regency Hua Hin & The BARAI, Amari Hua Hin, AVANI Hua Hin Resort & Villas, Anantara Hua Hin Resort and Spa, Ibis Hua Hin Hotel, Chiva-Som International Health Resort and G Hua Hin while San Paolo Hospital Hua Hin also contributes to the event.
Keep in contact with The Thaiger by following our
Facebook page
.
Never miss out on future posts by
following The Thaiger
.
2 million methamphetamine pills found in parked truck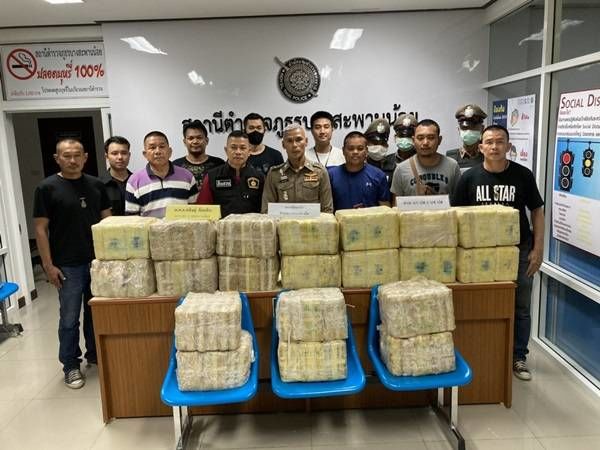 Police found more than 2 million methamphetamine pills in a truck parked at petrol station at Prachuap Khiri Khan's Bang Saphan Noy district. Police are still looking for the driver.
The Narcotics Suppression Bureau alerted local police about a truck in the area suspected of trafficking drugs. Police spotted a truck that matched the description and saw it turning in to a petrol station.
Police followed, but by the time they reached the vehicle, it was parked and the driver was no where in sight. Officers suspect the driver fled the scene.
The truck had a number of cardboard boxes containing thousands of methamphetamine pills. Police say all together they seized 2,002,000 pills. They also found a bank deposit passbook, 2 identification cards and other documents. The evidence was passed on to the Narcotics Suppression Bureau who are now working on the case.
SOURCE: Bangkok Post
Keep in contact with The Thaiger by following our
Facebook page
.
Never miss out on future posts by
following The Thaiger
.
Hua Hin schools close after students get fever, families crossed Myanmar border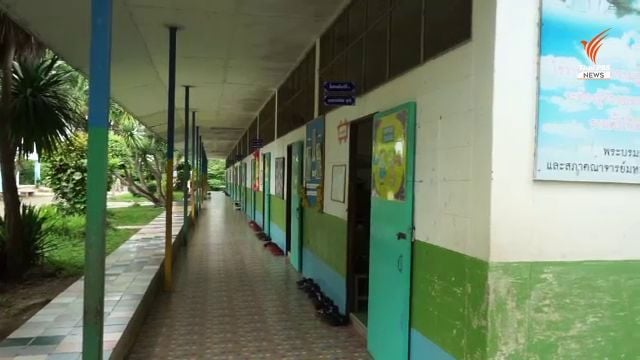 Class is cancelled for a week at 2 schools after some students reported a high fever. School officials discovered many Burmese students and parents have been crossing the Thai-Myanmar border. The Thai government recently told immigration police to patrol the country's natural borders such as along jungles and rivers after Myanmar reported a spike in coronavirus cases.
The 2 Prachuap Khiri Khan schools – Anun School and Wang Ta Krai School – will be closed until at least September 7. Some of the students need to quarantine for 14 days before returning to school. Public health officials have taken fluid samples to test for Covid-19. The results have not yet been released at this stage.
The province is on the Malay peninsula and borders Myanmar's Tanintharyi region. The community has a large Burmese population. Out of the 576 students at Anun School, 300 of them are migrants. Out of the 310 students at the Wang Ta Krai School, 45 of them are migrants.
When students from the Anun School students did not show up in class due to high fever, school officials looked into their case and learned that their families had recently returned from areas around the Thai-Myanmar border. Wang Ta Krai School has not reported any suspected cases.
Most of the cases in the recent spike in Myanmar involve the western Rhakine state, on the other side of Myanmar from the Thai border.
SOURCE: Nation Thailand
Keep in contact with The Thaiger by following our
Facebook page
.
Never miss out on future posts by
following The Thaiger
.
Air Asia and VietJet add some extra domestic routes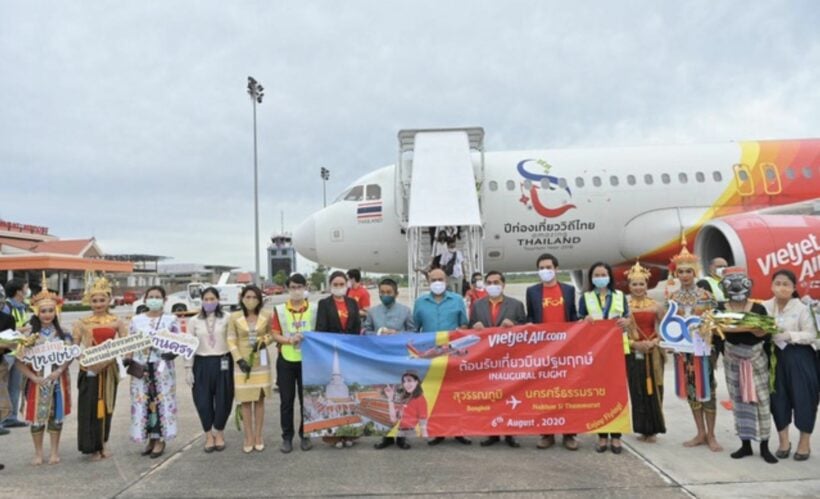 Whilst much of the world waits to get back into Thailand, the local airlines are starting to flex their domestic muscles and add new routes.
Thai AirAsia is launching 2 new routes from Chiang Mai, starting yesterday, offering a one-way fare for as low as 790 baht on flights to Hua Hin, and Udon Thani in the northeast. The cheapie fares will only run until August 16, or when they're booked out. The fares will cover travel from today up to March 26 next year.
Thai Air Asia is attempting to bump up its direct domestic travel from Chiang Mai that will avoid doing a stop-over in Bangkok for these new routes.
The new flight from Chiang Mai to the coastal town of Hua Hin is targeting Thais and expats living in the north who want a seaside break and couldn't be bothered sitting in a bus for 24 hours.
The bi-weekly flights depart every Friday and Sunday which gives travellers at both ends of the route an excuse for weekend travel. Thai Air Asia are now servicing 30 domestic routes that started again in May when Thai-registered airlines restarted limited domestic services.
But the locally-based airlines are still not allowed to fly internationally, and, based on comments from the TAT, that may not happen until early 2021. A deputy governor of the Tourism Authority of Thailand said last Friday there was "no signs to show international tourism would reopen this year and even Chinese New Year in February 2021 was now in jeopardy… It is not a rosy picture."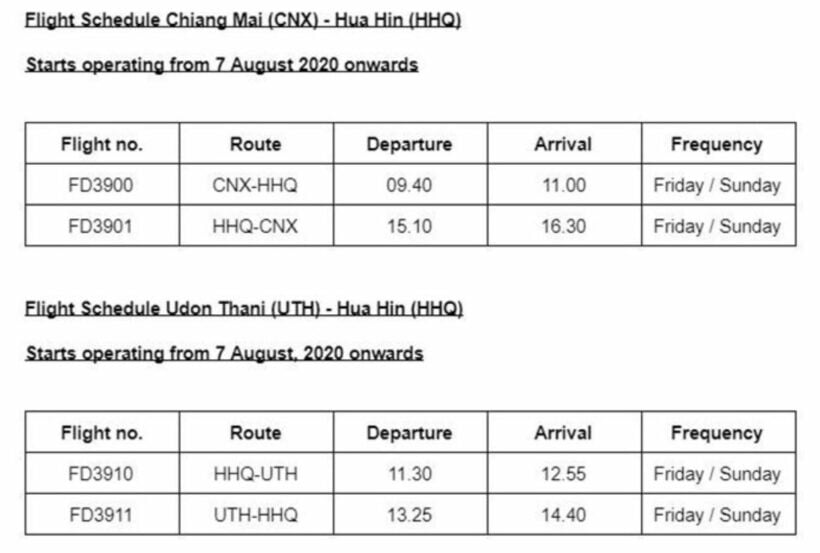 Meanwhile Thai Vietjet has started a new service from Bangkok's Suvarnabhumi Airport to Nakhon Si Thammarat in Thailand's Deep South.
The first flight landed over the weekend to a water salute welcome at Nakhon Si Thammarat Airport. Thai Vietjet's latest service into southern Thailand operates daily but they're hoping to ramp up to four flights a day in October.
A promotional fare of just 199 baht, excluding tax and fees, is on sale at www.vietjetair.com.

SOURCE: TTRWeekly
Keep in contact with The Thaiger by following our
Facebook page
.
Never miss out on future posts by
following The Thaiger
.