Taxi trouble in Hua Hin – Threats, assaults and arrests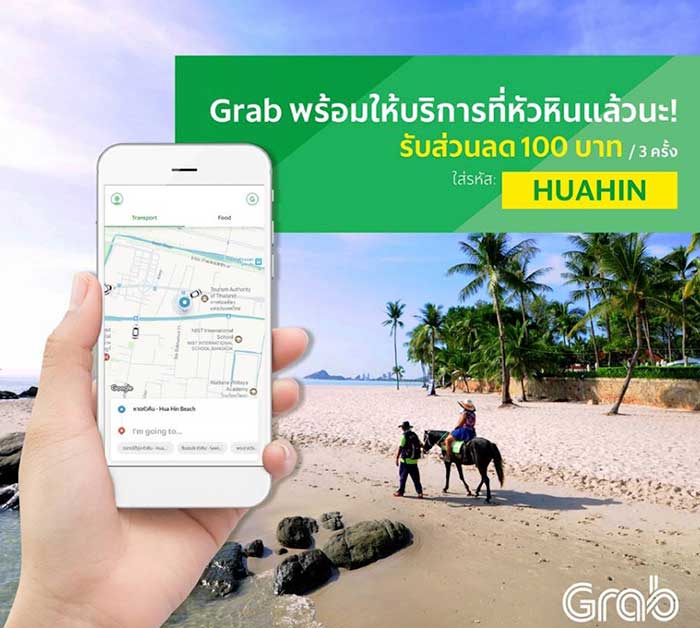 In a story that could be played out anywhere around Thailand, the taxi wars in Hua Hin are heating up with the arrival of the ride-sharing App 'Grab' in the coastal town.
A taxi driver has assaulted a female hotel employee just hours after posting online threats against all Grab taxi drivers working in Hua Hin.
A local taxi driver, apparently angry at the sudden arrival of competition in the form of the Grab ride-hailing app, has led to threats and counter threats played out on social media.
The taxi driver, identified as 'Mr Chakkrit', who has since been arrested, posted a video on Facebook threatening Grab taxi drivers working in Hua Hin.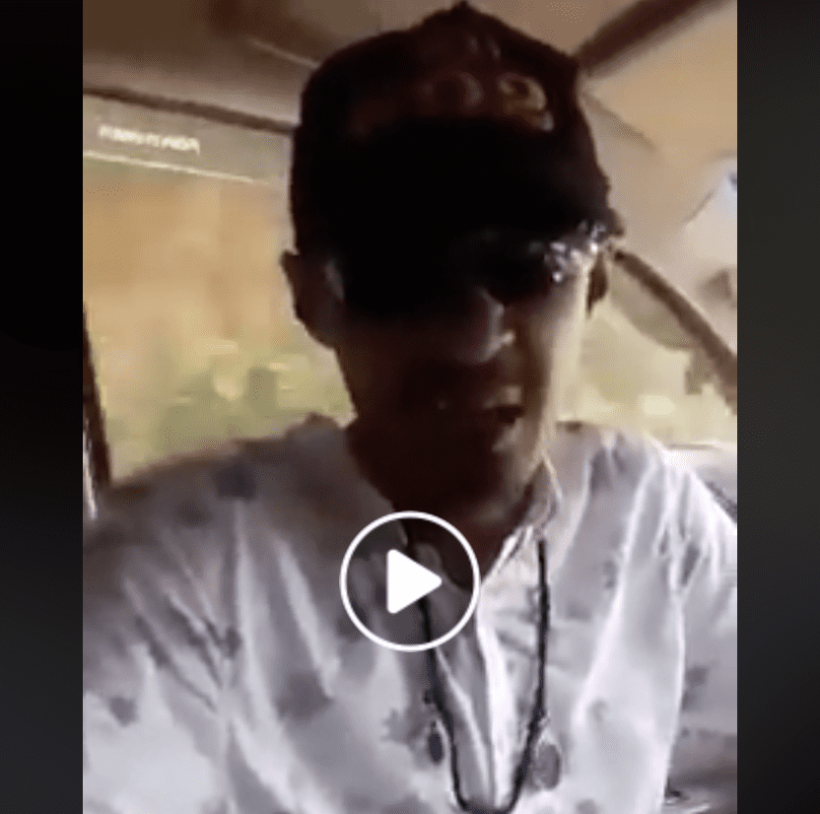 The video has been shared to a local Hua Hin Facebook group by victim Sasiwimon Srikhan who is believed to be known to the attacker.
People commenting criticised the driver and were largely supportive of Grab and any local competition.
The driver and Ms Srikhan then began arguing over social media, which resulted in a confrontation where the woman was assaulted and required medical treatment.
Ms Srikhan then posted photos of her injuries to Facebook, with the story later being picked up by local journalist Kulsawek Sawekwannakorn.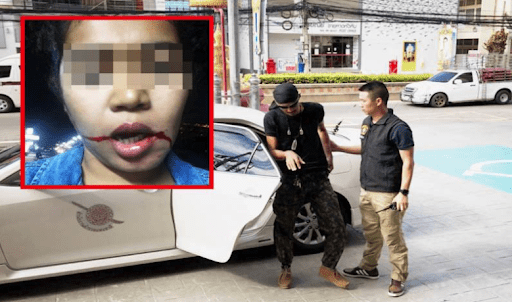 PHOTO: Daily News
Grab, which launched in Hua Hin on May 17, allows people to book one of its taxis through the Grab app. According to a Grab taxi driver who spoke to Thaivisa, more than 80 people have signed up as Grab drivers in Hua Hin.
Story HERE.
One of the new Grab drivers says that his customers were mainly foreigners, including Chinese, Koreans, Russians, British and Australians. But he also said that he had a large number of Thai customers.
People using the service, according to the driver, said they did so because it was cheaper than local taxis, more convenient and that foreigners in particular liked it because they knew how much they were going to pay beforehand and that booking a ride through the app eliminated any confusion or misunderstandings that may occur due to language barriers.
Meanwhile police in Hua Hin on Saturday spoke of their concern regarding the sudden arrival of Grab and potential conflict with local taxi drivers. They said they cannot guarantee the safety of Grab drivers in instances they become involved in a conflict with local taxi drivers.
They added that due to confusion over the legality of Grab that people in Hua Hin should continue to use the local taxi drivers who are properly registered.
Local taxi drivers in Hua Hin are angry at the sudden loss of income since the launch of Grab. They say the Grab drivers are working illegally and are not registered to operate as taxi drivers in accordance to requirements with the Land Transport Department.
There is also confusion regarding insurance should a Grab vehicle be involved in an accident whereby a passenger was injured in what is essentially a private vehicle being used for commercial purposes.
STORY: Thai Visa
Keep in contact with The Thaiger by following our
Facebook page
.
Never miss out on future posts by
following The Thaiger
.
2 million methamphetamine pills found in parked truck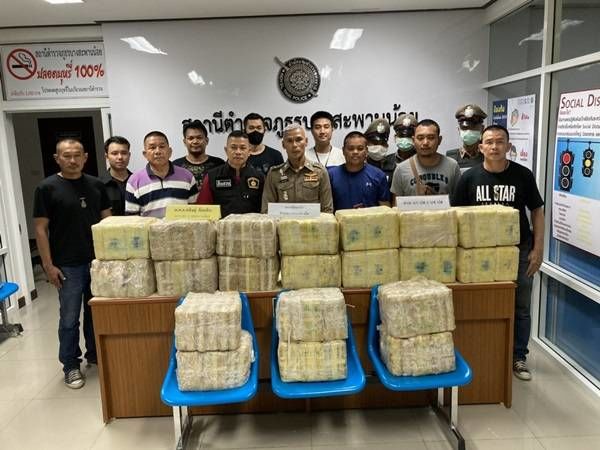 Police found more than 2 million methamphetamine pills in a truck parked at petrol station at Prachuap Khiri Khan's Bang Saphan Noy district. Police are still looking for the driver.
The Narcotics Suppression Bureau alerted local police about a truck in the area suspected of trafficking drugs. Police spotted a truck that matched the description and saw it turning in to a petrol station.
Police followed, but by the time they reached the vehicle, it was parked and the driver was no where in sight. Officers suspect the driver fled the scene.
The truck had a number of cardboard boxes containing thousands of methamphetamine pills. Police say all together they seized 2,002,000 pills. They also found a bank deposit passbook, 2 identification cards and other documents. The evidence was passed on to the Narcotics Suppression Bureau who are now working on the case.
SOURCE: Bangkok Post
Keep in contact with The Thaiger by following our
Facebook page
.
Never miss out on future posts by
following The Thaiger
.
Hua Hin schools close after students get fever, families crossed Myanmar border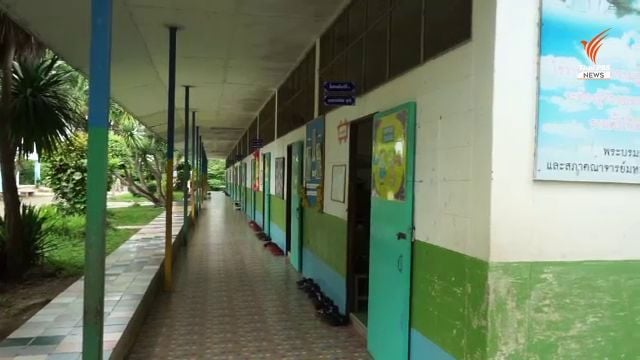 Class is cancelled for a week at 2 schools after some students reported a high fever. School officials discovered many Burmese students and parents have been crossing the Thai-Myanmar border. The Thai government recently told immigration police to patrol the country's natural borders such as along jungles and rivers after Myanmar reported a spike in coronavirus cases.
The 2 Prachuap Khiri Khan schools – Anun School and Wang Ta Krai School – will be closed until at least September 7. Some of the students need to quarantine for 14 days before returning to school. Public health officials have taken fluid samples to test for Covid-19. The results have not yet been released at this stage.
The province is on the Malay peninsula and borders Myanmar's Tanintharyi region. The community has a large Burmese population. Out of the 576 students at Anun School, 300 of them are migrants. Out of the 310 students at the Wang Ta Krai School, 45 of them are migrants.
When students from the Anun School students did not show up in class due to high fever, school officials looked into their case and learned that their families had recently returned from areas around the Thai-Myanmar border. Wang Ta Krai School has not reported any suspected cases.
Most of the cases in the recent spike in Myanmar involve the western Rhakine state, on the other side of Myanmar from the Thai border.
SOURCE: Nation Thailand
Keep in contact with The Thaiger by following our
Facebook page
.
Never miss out on future posts by
following The Thaiger
.
Air Asia and VietJet add some extra domestic routes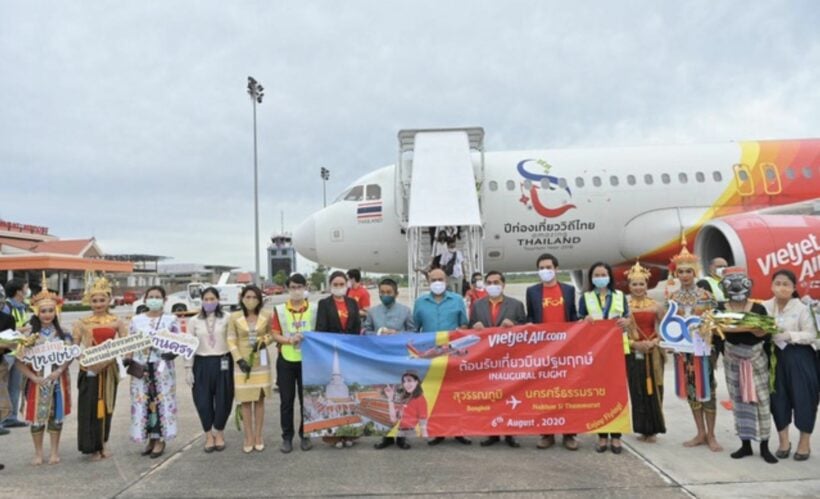 Whilst much of the world waits to get back into Thailand, the local airlines are starting to flex their domestic muscles and add new routes.
Thai AirAsia is launching 2 new routes from Chiang Mai, starting yesterday, offering a one-way fare for as low as 790 baht on flights to Hua Hin, and Udon Thani in the northeast. The cheapie fares will only run until August 16, or when they're booked out. The fares will cover travel from today up to March 26 next year.
Thai Air Asia is attempting to bump up its direct domestic travel from Chiang Mai that will avoid doing a stop-over in Bangkok for these new routes.
The new flight from Chiang Mai to the coastal town of Hua Hin is targeting Thais and expats living in the north who want a seaside break and couldn't be bothered sitting in a bus for 24 hours.
The bi-weekly flights depart every Friday and Sunday which gives travellers at both ends of the route an excuse for weekend travel. Thai Air Asia are now servicing 30 domestic routes that started again in May when Thai-registered airlines restarted limited domestic services.
But the locally-based airlines are still not allowed to fly internationally, and, based on comments from the TAT, that may not happen until early 2021. A deputy governor of the Tourism Authority of Thailand said last Friday there was "no signs to show international tourism would reopen this year and even Chinese New Year in February 2021 was now in jeopardy… It is not a rosy picture."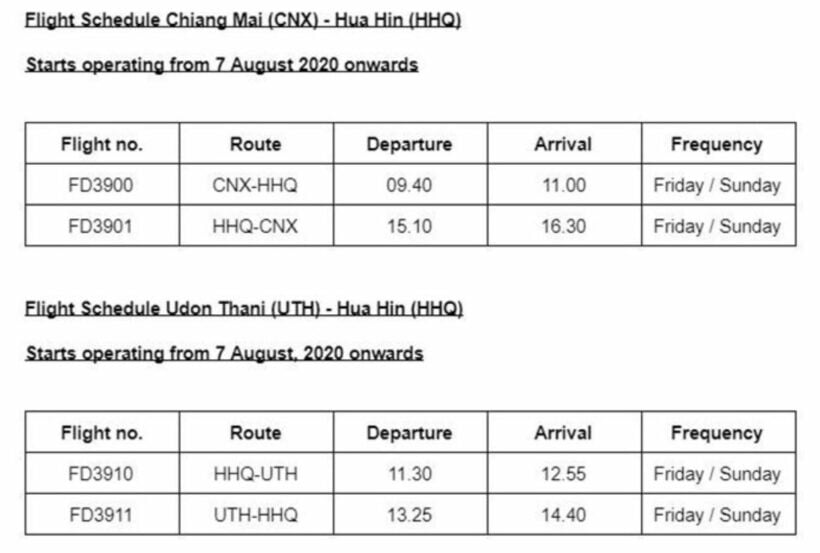 Meanwhile Thai Vietjet has started a new service from Bangkok's Suvarnabhumi Airport to Nakhon Si Thammarat in Thailand's Deep South.
The first flight landed over the weekend to a water salute welcome at Nakhon Si Thammarat Airport. Thai Vietjet's latest service into southern Thailand operates daily but they're hoping to ramp up to four flights a day in October.
A promotional fare of just 199 baht, excluding tax and fees, is on sale at www.vietjetair.com.

SOURCE: TTRWeekly
Keep in contact with The Thaiger by following our
Facebook page
.
Never miss out on future posts by
following The Thaiger
.