French cybercrime suspect arrested in police raid – Samui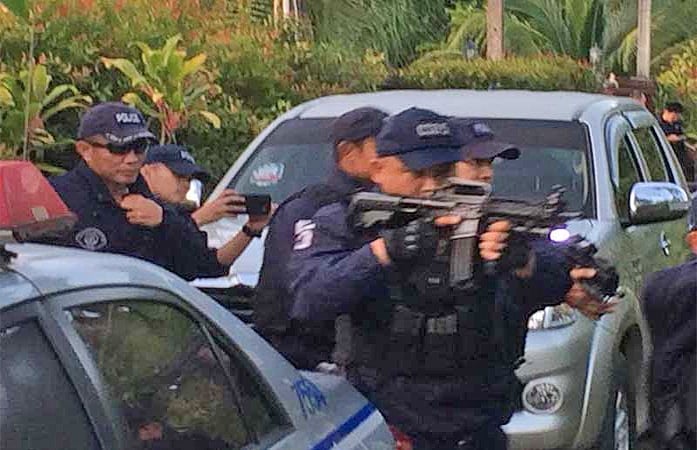 PHOTOS: Samui Police
Frenchman Jonathan Verron, an alleged leader of a hacker group that stole data from a British financial institution and demanded a ransom to keep it secure, has been arrested on Koh Samui this morning (Friday).
Crime Suppression Division Fifth Command and Technology Crime Suppression Division police had French embassy staff on hand when they raided a house in Tambon Mae Nam at 5am.
They seized a quantity of marijuana and 20 pieces of evidence, including a computer, phone and bank passbooks. Verron, initially charged with possession of marijuana, is expected to be quickly extradited to France.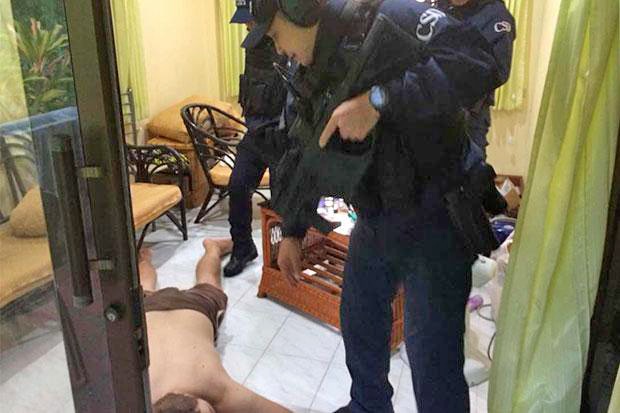 He is alleged to have hacked into the computer system of a British financial institution, stole its customers' personal information and demanded a ransom in exchange for not making the information public.
His two alleged accomplices are in custody in France. French police learned that Verron, who is also accused of trading in narcotics and war weapons on the "dark web", was in hiding in Thailand.
Courts in Surat Thani and Nakhon Ratchasima issued search warrants. The Samui raid was simultaneous with searches of two houses in Nakhon Ratchasima's Pak Chong district.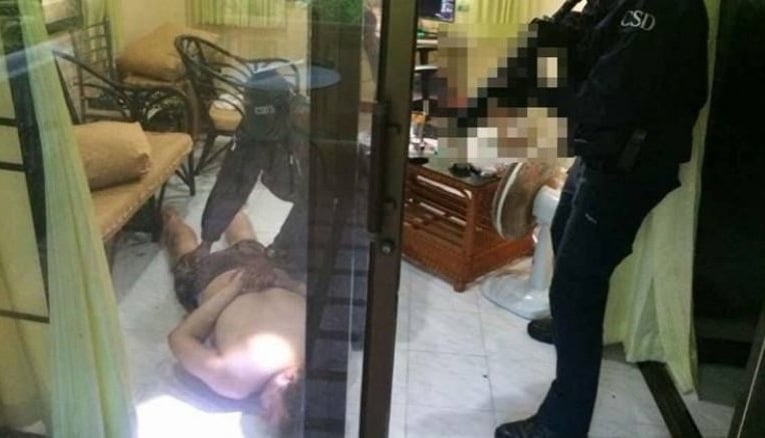 STORY: The Nation

'Rape never happened'. Thai police conclude Koh Tao probe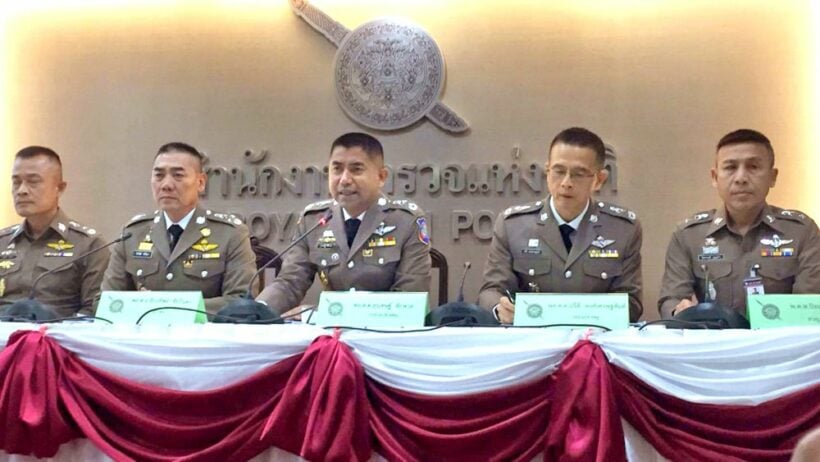 A  teen who claimed to have been drugged and raped on Koh Tao in June has failed to confirm the site of the attack, identity of the attacker or how the attack happened while being questioned in the UK, Thai police officers said.
British police also handed over a T-shirt the 19 year old woman wore on June 25, the day of the alleged attack, and forensic tests found the DNA of a woman and a man but no trace of the attacker's semen, as she claimed. It was not explained, nor was the question asked at the media conference, where the DNA tests were conducted or if the 'male' DNA had been matched.
Pol Lt-Colonel Piyapong Boonkaew, who was among Thai officers who went to the UK, said he talked to the woman and showed her photos of three spots on Koh Tao for her to confirm where the incident happened.
"However, she could not identify the site of the attack nor the identity of the attacker. She could not even provide details on how the attack happened. Therefore, due to the lack of sufficient information offered by the woman, Thai police could not proceed with the investigation."
Photos shown to the 19 year old alleged victim where of three beaches taken during the daytime whilst the alleged rape occurred at night.
Speaking at the same press conference, national police chief Pol General Chakthip Chaijinda said it has been concluded that there was no rape on Koh Tao as claimed by the woman and police considered the investigation closed.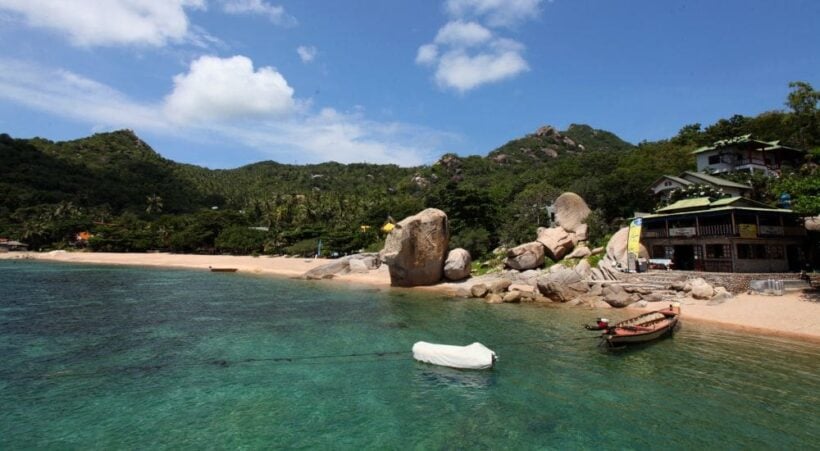 "However if there is any new evidence or the claimant comes to Thailand to provide more information, we will be ready to reopen the investigation," Chakthip said.
The alleged victim did not file a report with Koh Tao police. Instead, she returned to the UK in early July and reported the alleged rape to her mother, who then lodged a report with local police. The mother gave police a blue T-shirt that her daughter claimed contained the attacker's DNA.
It was then that Piyapong's team, which included a policewoman and an interpreter, went to the UK to talk to the girl with the permission of UK police.
Acting Immigration police chief Pol Maj-General Surachet Hakparn said no action would be taken against the woman, even though officials considered it confirmed that the rape report was false.
"The woman did not file any police complaint about the attack, therefore we cannot charge her [with making] a false claim," he said, adding that Thai police had merely tried to clarify facts as the publicity has tarnished the country's reputation.
Police did, however, issue arrest warrants for the administrators of two Facebook pages – CSI LA and Samui Times – as well as Facebook users who shared the pages' information for allegedly distributing false information about the woman's claim.
FB users who shared the information have been arrested and released on bail, while the administrators of both FB pages are still at large.
A comment from the  UK 19 year old victim's parents has been published on CSI LA…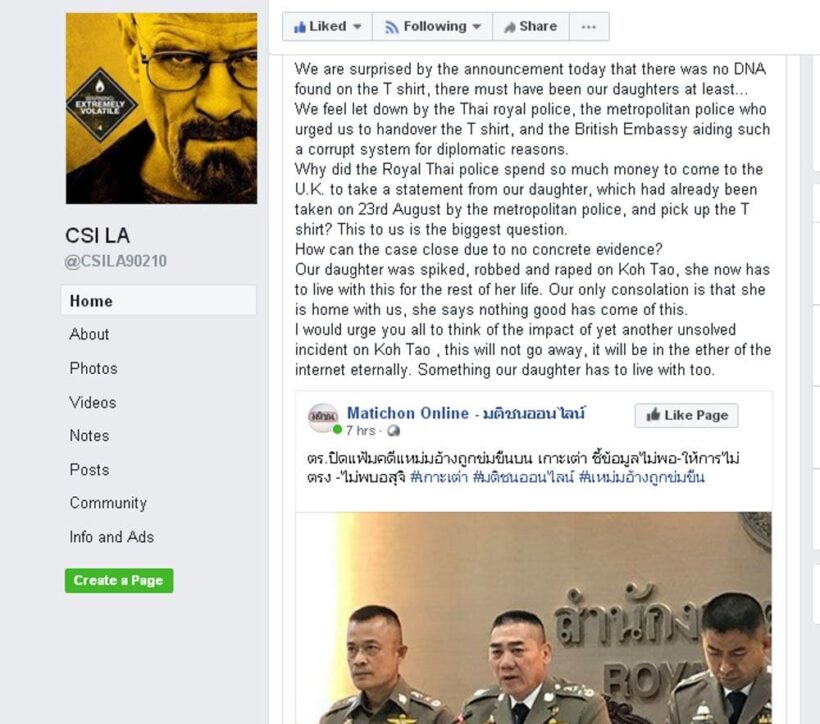 Koh Tao alleged rape case wrapped up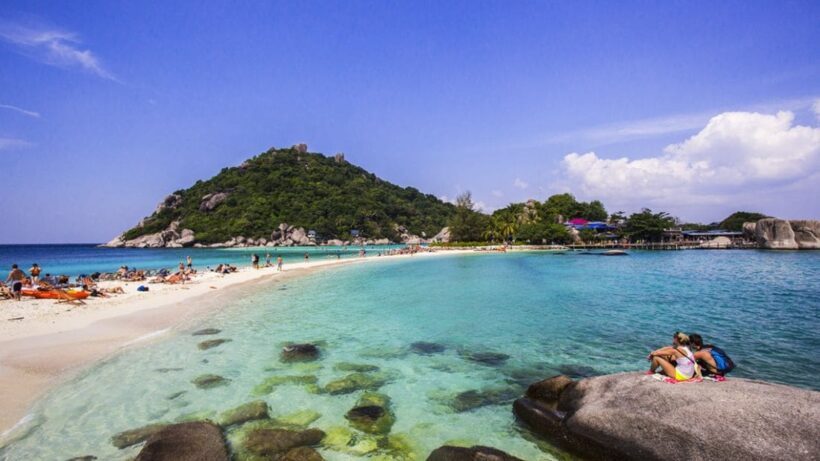 According to Thai PBS, Thai police have wrapped up an investigation into allegations by a 19 year old female British backpacker that she was drugged, raped and robbed on Koh Tao.
Police claim that, following their investigations, there is simply a lack of credible evidence.
Speaking at a media gathering this morning, national police chief, Pol Gen Chakthip Chaijinda, declared the case "closed" due to lack on any evidence.
He said police had conducted their investigations, in Koh Tao and in the UK, including an interview with the alleged victim, and not found any credible evidence that could prove that the alleged crimes ever took place.
A team of Thai police investigators recently returned from the UK after questioning the alleged victim but Pol Gen Chakthip says she was unable to provide any useful information to support her claims.
The police chief says she was unable to recall how the alleged incident took place and couldn't provide descriptions of the alleged assailant.  A T-shirt, which British teenager claimed was evidence of the alleged crime, was not helpful either as it was "found to have only DNA traces of a man and a woman and nothing more".
He says they've already contacted the British Embassy in Bangkok to inform them of the police findings.
Pol Maj-Gen Surachet Hakparn was also in attendance at the conference. He conducted much of the early investigations and says that, even though police have come to a conclusion that the case was a matter of false information, they have no intention to lodge a legal complaint against her.
He said that the alleged victim was probably confused and could not give any useful information to the Thai police about the alleged perpetrator or about the alleged offence when she was questioned by the police.
This is quite different from the detailed information she was able to provide to a reporter from Samui Times in the weeks flooding the alleged incident and reported in numerous Thai and foreign media.
SOURCE: Thai PBS
Stunning new Lux Neo project at Chaweng, Koh Samui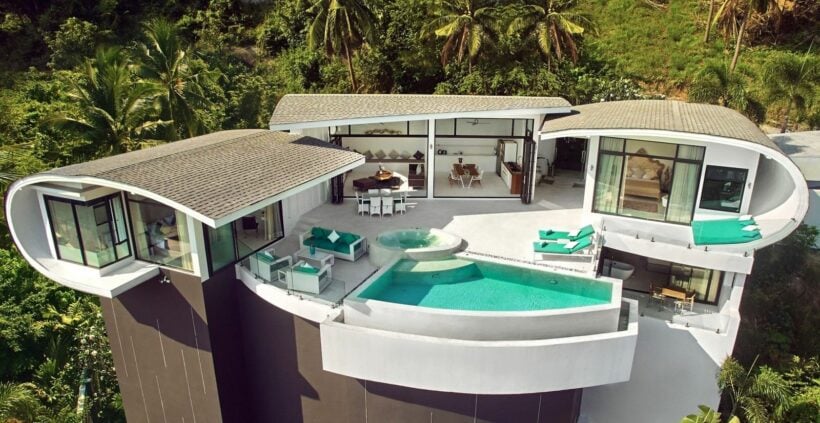 Sun, sea, new, views, pool villa, Samui. All the words you want to hear.
Lux Neo is now available, combining stunning sea views and outstanding modern design. Lux Neo is the newest award winning project by the "Neo" team with critiqued unique villa design and award winning styling. Click HERE to read more about the Neo design team and some of their other award-winning projects.

This magnificent site offers a unique combination for in Thailand – inspired design, value, astonishing views and quality. Designer two or three bedroom villas are now available with sea views to Chaweng Noi and just minutes to the main attractions, beaches, shops, airport and the main Chaweng shopping and beach areas.
The "Lux" location is 18 Rai of premium Chaweng Noi sea view land with "Neo" being a private 12 plot residential development featuring the uniquely inspired villa style. The highly desirable location of Chaweng Noi is just 1 kilometre away from some of Koh Samui's best beaches and restaurants.

These luxuriously designed spaces include vaulted double height ceilings, mezzanine floors, large open airy spaces, modern terrazzo bathrooms and mezzanine bedrooms – all with breathtaking views of Koh Samui offering unparalleled design with nothing else like it in South East Asia.
Prices start from 8.8 million baht for the 2 bedroom villas ranging up to 12.5 million baht for the 3 bedroom villas.
Read more about the details of this stunning Samui development or make enquiries HERE. You will be able to find out a lot more information as well as compare the new Lux Neo to other projects in the area.
Find out more about Samui HERE.

Go to property.thethaiger.com when you want to search for Thailand's largest selection of properties.