Police officer and local leader's son arrested for drugs offences in southern Thailand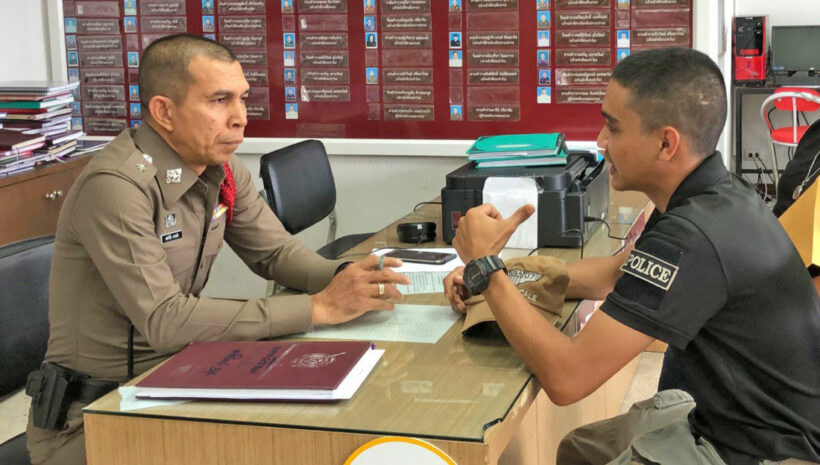 PHOTO: Bangkok Post
A police officer and a local leader's son have been arrested in a drugs raid on a house in Songkla, southern Thailand.
The men were found in possession of 89 methamphetamine pills and 3.5 grams of crystal methamphetamine. A number of other items were also seized at the property, including drug paraphernalia and a pistol.
The arrested men are Pol Cpl Sanyalak Jandam, aged 24, who was based at a police station in Pattani, and 31 year old Piyapong Ruangchuay, son of a local leader.

They have been charged with possessing illegal drugs with intent to sell and breaching the law on firearms.
The Bangkok Post reports that in May, Pol Cpl Sanyalak accused police from Provincial Police Region 9 of kidnapping him and his friends in Hat Yai and demanding a ransom of 500,000 baht.
As a result of that accusation, three police officers were investigated and transferred. At the time, police gathered that Pol Cpl Sanyalak was involved with illegal drugs but had insufficient evidence to charge him.
Deputy chief of Songkhla police, Pol Col Seksan Churangsarit says Pol Cpl Sanyalak faces criminal prosecution and disciplinary action that would result in him being dismissed from the police force.
Pol Cpl Sanyalak denies all drugs charges, claiming he was merely paying Mr Piyapong a visit, having not seen him for a long time. He has admitted to unlawfully being in possession of a pistol.
SOURCE: Bangkok Post
Keep in contact with The Thaiger by following our
Facebook page
.
Thailand's southern provinces suffering Sumatran burn-off smoke haze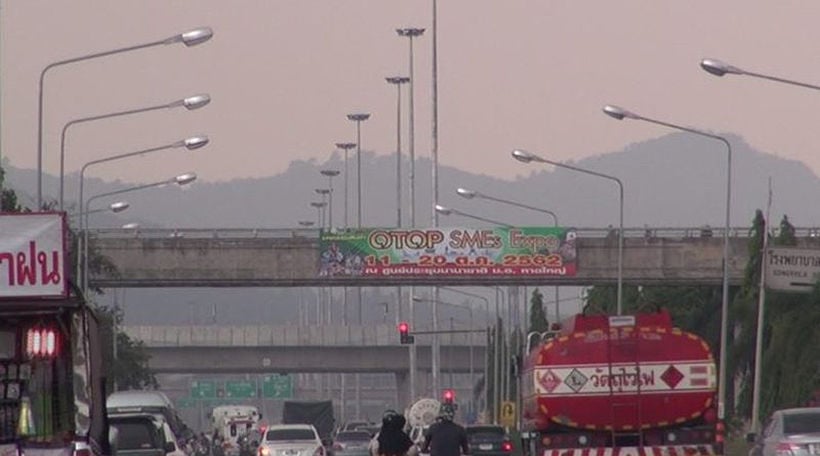 Smoke drifting across the Malacca Strait from Sumatran forest fires in Indonesia is affecting the health of locals and tourists in the southern province of Songkhla.
According to the Pollution Control Department, the volume of dust measured in the Thai tourist district of Hat Yai during the past 24 hours was 51 micrograms per cubic metre. The world-standard upper level is 50 micrograms per cubic metre.
The Provincial Public Health Office has advised locals and tourists to stop burning any kind of materials, shut all doors and windows and wear face masks whilst outdoors.
Check air quality HERE.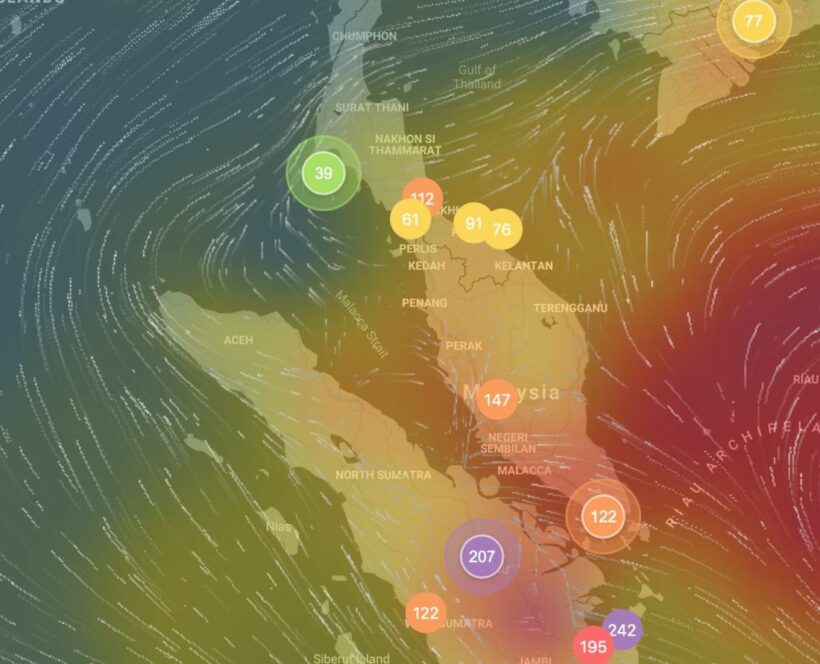 Keep in contact with The Thaiger by following our
Facebook page
.
Songkhla businessman shot dead while taking daughter to school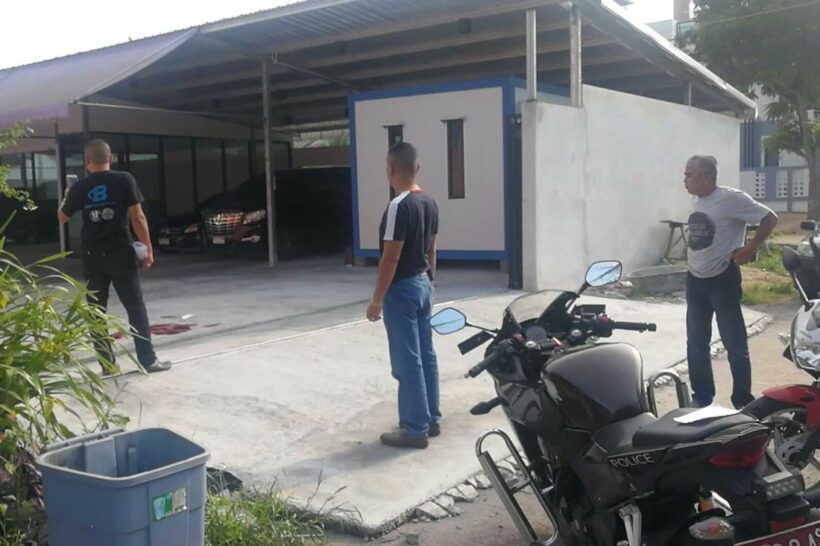 PHOTO: Assawin Pakkawan
A building contractor has been killed while taking his four year old to school in Hat Yai yesterday.
34 year old Thammarat Apilimsiriul was taking his young daughter to pre-school in tambon Khon Hong around 7.30am when he was shot in the back.
Police say he is the owner of Sirikul Land&House, a major construction company in Hat Yai. He was rushed to a hospital but did not respond to treatment and died soon after.
Police report that he was driving his motorcycle with his daughter sitting in front of him. It was a short journey from his home 200 metres away. When he arrived at the school car park, a car drove up behind Thammarat and his daughter. The driver wound down the window and fired a single shot at him, according to witnesses, and sped away. The father, child and motorbike crashed to the ground. Other than the shock, the man's young daughter was unharmed.
Police believe the motive may be related to a business dispute between Thammarat and a contractor over owed money. Witnesses told police they believe there were two people in the car where the shots were fired.
Police have questioned the contractor who is alleged to have been in conflict with Thammarat.
SOURCE: Bangkok Post
Keep in contact with The Thaiger by following our
Facebook page
.
Arrest warrants issued over Saturday's Songkhla 85 million baht gold robbery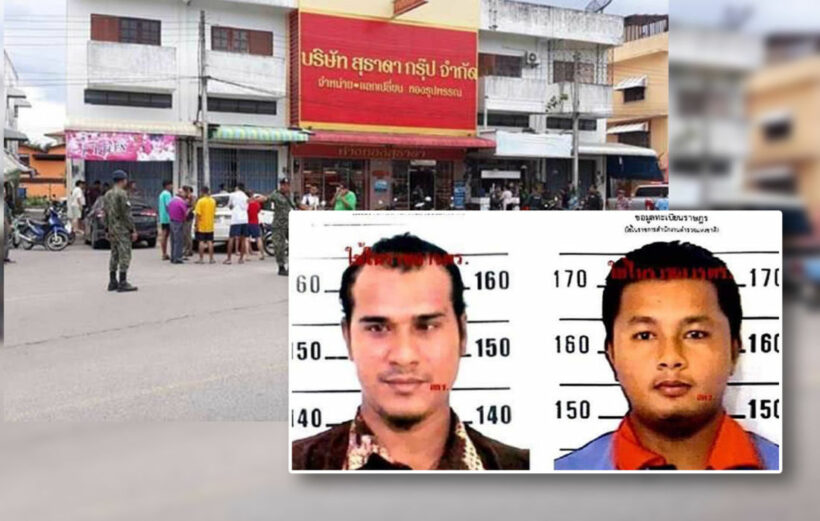 PHOTO: Facebook/Persatuan Pemuda Pemudi Pattani
The Na Thawi Provincial Court in Songkhla has issued arrest warrants for two men suspected to be involved in the 85 million baht gold shop heist on Saturday. Authorities have already linked the robbery to the southern insurgency claiming militants would sell the gold to finance operations.
The warrants have now been issued for Wae-useng Dueraheng and Saifutdin Hayipute.
Police have already named another man, Jae-arong Heng, as a suspect but no warrant has been issued for his arrest at this stage.
The three have been alleged to be among the ten or more thieves wearing military-style uniforms, and armed with assault rifles, that robbed the Suthada Gold Shop in the Na Thawi district in Songkhla last Saturday around midday escaping with gold and jewellery valued at 85 million baht. At the time The Thaiger reported the value around 60 million baht.
One of the men is also wanted on three other warrants for the alleged murder of two security officers and a civilian in Pattani between 2014 and April this year.
The other man has four other warrants outstanding, including the alleged robbery of cars that were used in southern bomb attacks.
The bandits arrived at the Suchada Gold Shop in a white van, stolen earlier in the day from a man in the neighbouring Pattani province. Witnesses say there were three men and two women in the robbery team although later investigation and checking of the CCTV showed that were up to 12 people involved in the heist.
They walked into the gold shop and pointed their weapons at five female staff, disabled the CCTV system, grabbed all the gold on display and escaped in the waiting van in a well co-ordinated attack. The whole event took around ten minutes according to police.
Rawsalee Yohlen, the owner of the van, told police that he was hired by three men to pick up their friend but was bound and dumped by the roadside, at gunpoint, in the Nong Chik district in Pattani.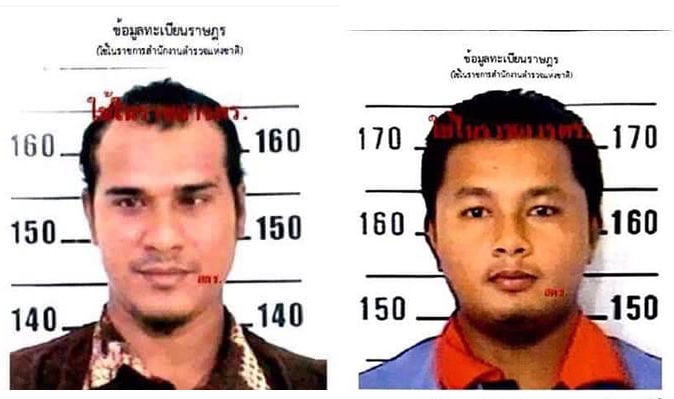 Keep in contact with The Thaiger by following our
Facebook page
.