Foreign tourist dies after falling from cliff at Ranong waterfall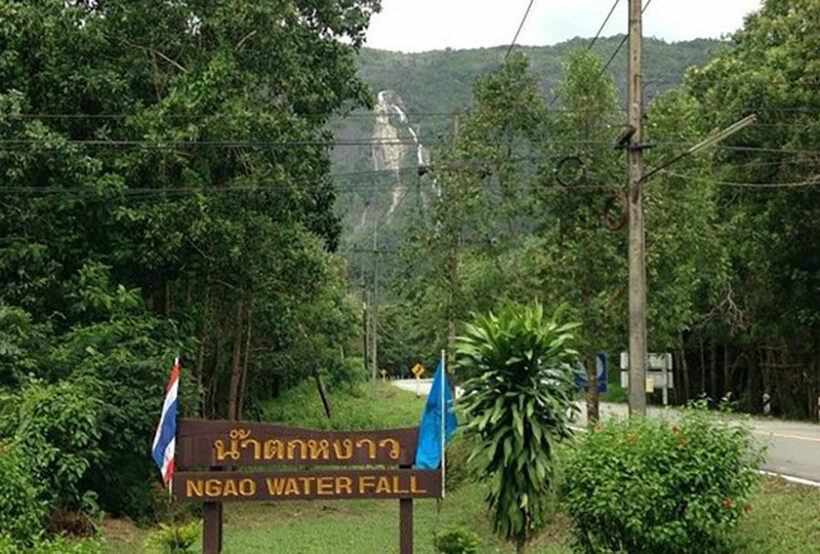 A tourist from Uzbekistan has died after slipping from a cliff edge while taking a photograph in the southern province of Ranong. The man, named in a Nation Thailand report as Soipov Abdullokh, was visiting Ngao Waterfall National Park with 5 Russian tourists. Ngao Waterfall National Park is between Ranong and Chumpon in Southern Thailand.
The incident happened around 1.00pm yesterday. Rescue workers found the man's body in a stream below where he fell. Witnesses say the Uzbek tourist was around 15 metres above ground level and trying to take a picture when he lost his footing and fell off the cliff edge. Signs in the area warn of a slippery surface.
The man's body has been sent for an autopsy.
SOURCE: Nation Thailand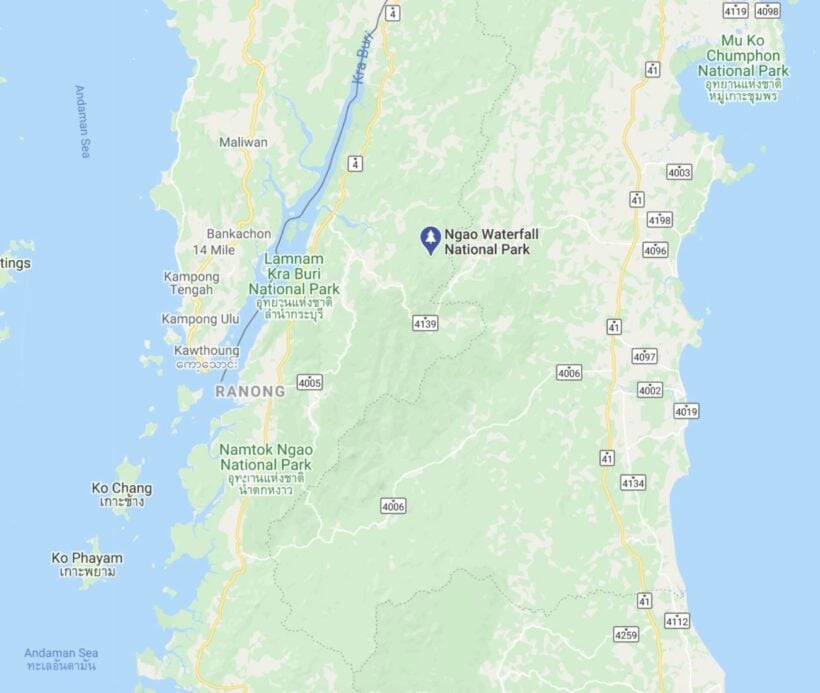 Keep in contact with The Thaiger by following our
Facebook page
.
Never miss out on future posts by
following The Thaiger
.
The man who wrote the bad reviews for Koh Chang's Sea View Resort has a criminal record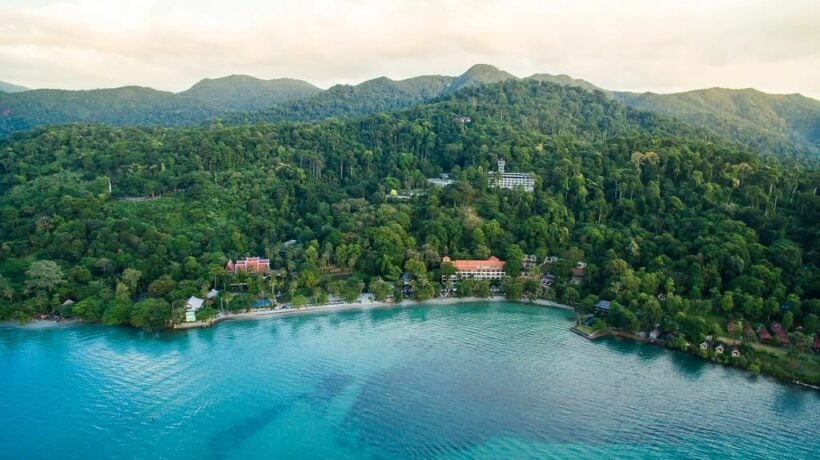 In the ongoing stoush between the American, Wesley Barnes, and Koh Chang's Sea View Resort, the story is now reaching way beyond Thailand's borders, being reported in mainstream media around the world. Much of the media discussion has focused on whether it is appropriate to be able to sue people over a bad review with criminal defamation.
Defamation is a criminal offence in Thailand, and carries a maximum sentence of 2 years in prison, along with a 200,000 baht fine.
Now it's come to light that Mr Barnes has been of interest to the US judicial system in the past, being accused of firing a weapon at a bar in Jackson County, Missouri (below).
But let's get up to speed…
"A US man is facing up to two years in jail in Thailand after posting negative reviews of a hotel he stayed in. He was sued by the resort under the country's strict anti-defamation laws." – BBC
"An American man is facing two years in prison in Thailand after posting negative online reviews of a hotel resort." – The Guardian
Wesley Barnes, who has been working in Thailand, posted a number of negative reviews on different platforms, including Trip Advisor, allegedly accusing the resort of "modern day slavery", amongst other complaints. He stayed at the resort in June this year.
But the Sea View Resort, claims his criticism was "harsh", untrue and damaging to the hotel's reputation.
"The owner filed a complaint that the defendant had posted unfair reviews on his hotel on the TripAdvisor website." – AFP
"Wesley Gene Barnes is an American citizen who worked as a teacher in Thailand while the world was battling against the new coronavirus (COVID-19) pandemic. He made headlines after posting a negative review of a resort in the Southeast Asian country." – Conan Daily
The incident started with an argument over Mr Barnes bringing his own bottle of alcohol while dining in the resort's restaurant. Arguments over the corkage fee "caused a commotion", later sorted out by an on-duty manager. Since his stay at the resort earlier this year Mr Barnes has posted negative reviews of the property. Then the hotel sued him for defamation.
Mr Barnes was detained and says he spent two nights in prison before he was released on bail.
But this isn't the first time Mr Barnes has come to the attention of police.
In the US there was an incident which is now public record. There was an official police complaint against 34 year old Wesley G. Barnes, signed off by JEAN PETERS BAKER, the Prosecuting Attorney Jackson County, Missouri, in October 2017.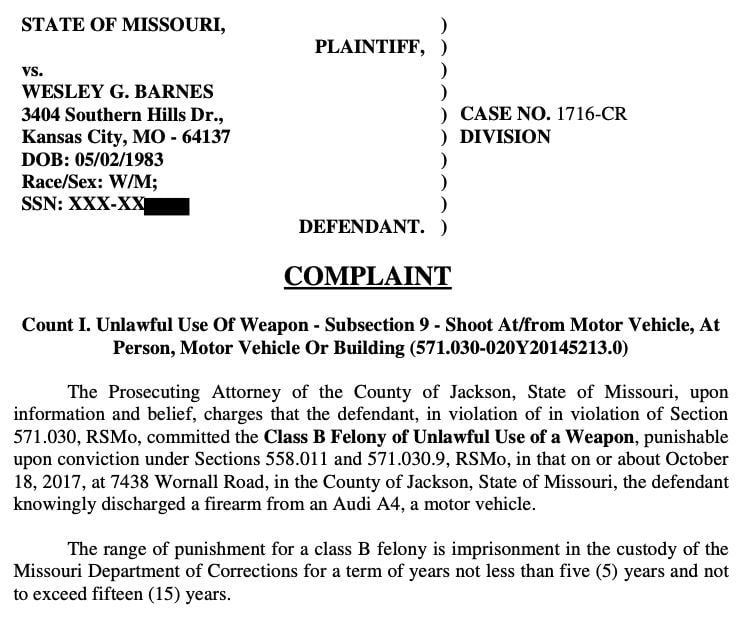 You can read the full complaint HERE.
A Kansas City man accused of firing a weapon near Waldo Bar and later at a convenience store told people he was a federal agent prior to the initial incident, prosecutors said.
Jackson County Prosecutor Jean Peters Baker charged Wesley G. Barnes, 34, with two counts of unlawful use of a weapon and two counts of armed criminal action.
Barnes is accused of firing shots from a gun after leaving Waldo Bar about 1 a.m. Wednesday. The bar is near 75th Street and Wornall Road.
Read the rest of the story from The Kansas City Star HERE.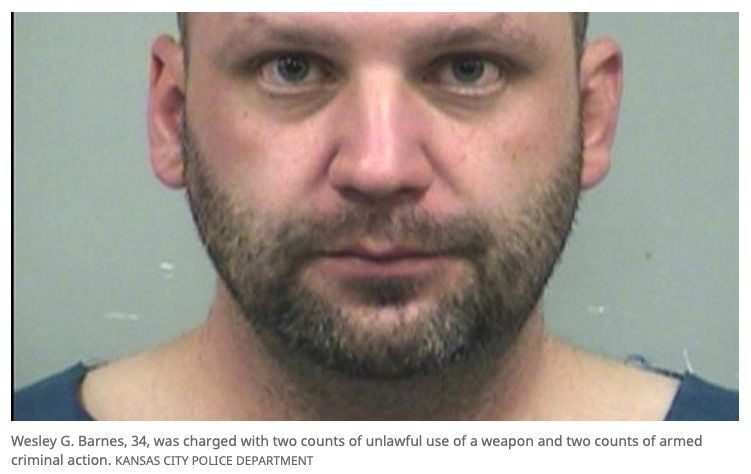 For its part, the Sea View Resort says that, following the reviews, they had received cancellations and inquiries about employee treatment. The management claims that it had told Mr Barnes repeatedly they "would not go ahead with pressing charges if he stopped writing new false reviews".
"Despite our multiple efforts to contact him to resolve the matter in an amicable way for well over a month, he chose to ignore us completely. He only replied to us when he had been notified of our complaint by the authorities," according to the BBC story.
Keep in contact with The Thaiger by following our
Facebook page
.
Never miss out on future posts by
following The Thaiger
.
Bride and groom shot in Nakhon Si Thammarat wedding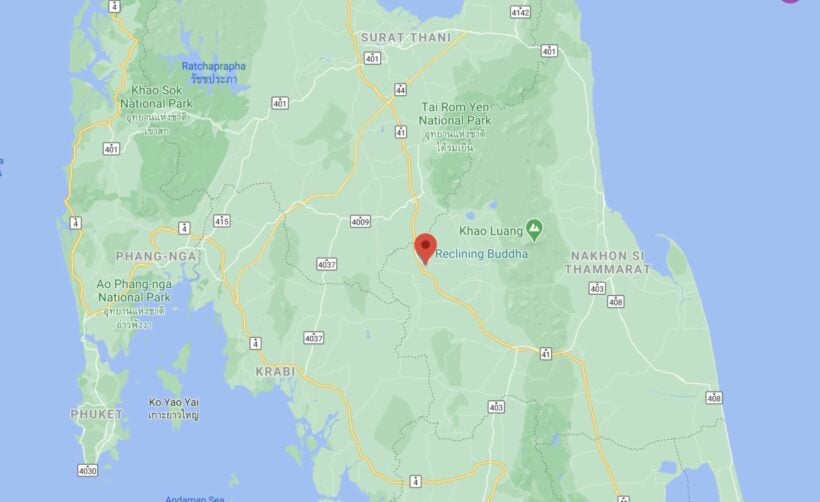 Four people have been killed during a Nakhon Si Thammarat wedding reception in the Tham Phannara district. One other person was seriously injured in the hail of bullets. Local police report that the incident occurred around 11pm on the road outside the house where the reception was being held in the Dusit tambon village.
Two of the dead people were the recently married couple, 31 year old Aroon Phothavorn, and 24 year old Darawan Boonmeechai. Police report that the reception started early in the evening when the bride's ex-boyfriend attended the event. It is not known if he was invited or not. As the evening progressed the groom and the ex-boyfriend started arguing, eventually ramping up into a full fistfight.
Darawan and other guests tried to intervene, eventually expelling the two and letting them sort out their differences on the street out the front of the house. Of course, half the reception followed to witness the fighting, but they quickly fled as shots were fired. Both the bride and groom lay critically wounded on the road, with multiple bullet wounds fired by the shooter. Three other wedding guests were shot and wounded in the incident, all aged between 25 and 47. Spent shells from a reported 3 different guns were recovered from the scene, according to Bangkok Post.
Narongrit and Kanchit were rushed to the Tham Phannara Hospital, in central Nakhon Si Thammarat, where they were pronounced dead. Another guest was admitted to Thung Song Hospital with critical injuries.
Police are now speaking to the wedding party witnesses to determine what happened and who fired the guns.
SOURCE: Bangkok Post
Keep in contact with The Thaiger by following our
Facebook page
.
Never miss out on future posts by
following The Thaiger
.
Koh Chang resort sues American over bad review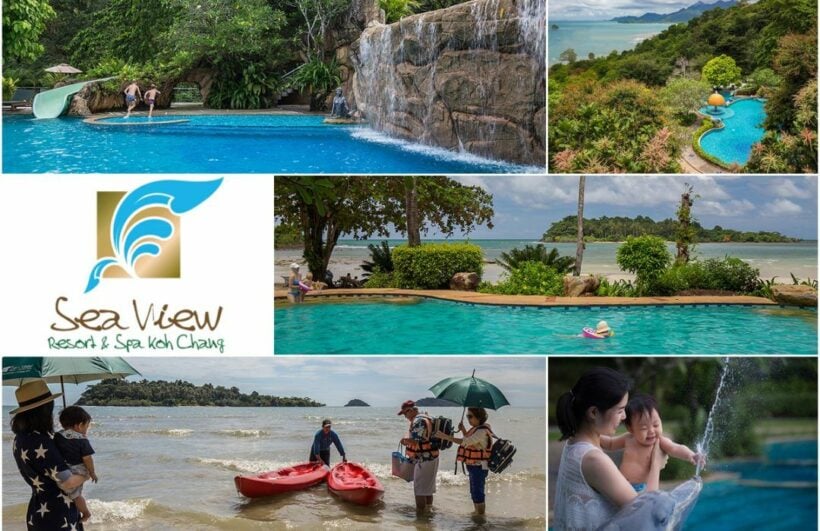 A Koh Chang resort is fighting back and, reportedly, suing an American citizen after posting a nasty online review on TripAdvisor. After recently visiting the Sea View Resort on Trat province island in the Gulf of Thailand, American Wesley Barnes wrote an unflattering, almost bitchy, account of his stay prompting the owner to file an official complaint over the 'unfair' review. Barnes is accused of causing "damage to the hotel's reputation" as well as fighting with hotel staff over refusing to pay a corkage fee for alcohol that he had brought into the hotel. Barnes' review on TripAdvisor below, has got him in hot water with police.
Wesley B wrote a review Jul 2020…
Unfriendly staff and horrible restaurant manager
Unfriendly staff, no one ever smiles. They act like they don't want anyone there. The restaurant manager was the worst. He is from the Czech Republic. He is extremely rude and impolite to guests. Find another place. There are plenty with nicer staff that are happy you are staying with them.
Immigration police detained and arrested Barnes, who works and lives in Thailand, took him back to the island where he was later freed on bail. If convicted, Barnes could face up to 2 years in jail along with up to a 200,000 baht fine under current defamation laws.
Sea View Resort is located on Kai Bae Beach currently ranks 10th out of 85 properties on the island that have been reviewed on TripAdvisor. Out of 1,922 reviews, 1,090 rate the resort as excellent, 580 rate it as very good, 170 as average, 48 as poor and 32 as terrible.
They have published a reaction to the case, featured on Richard Barrow's Facebook page…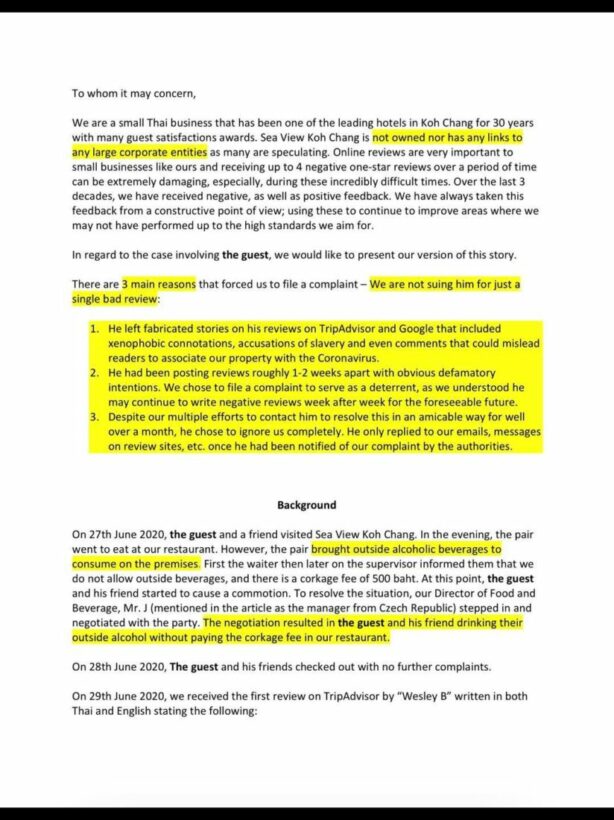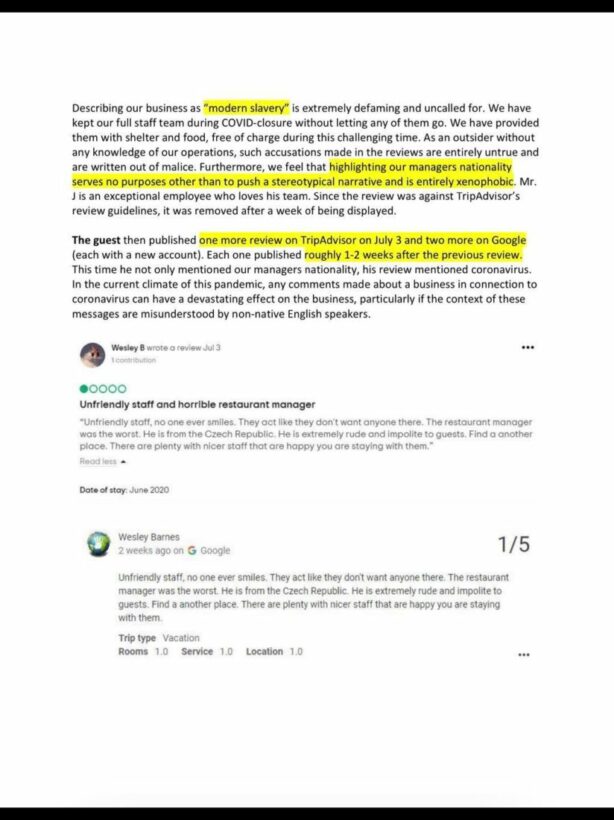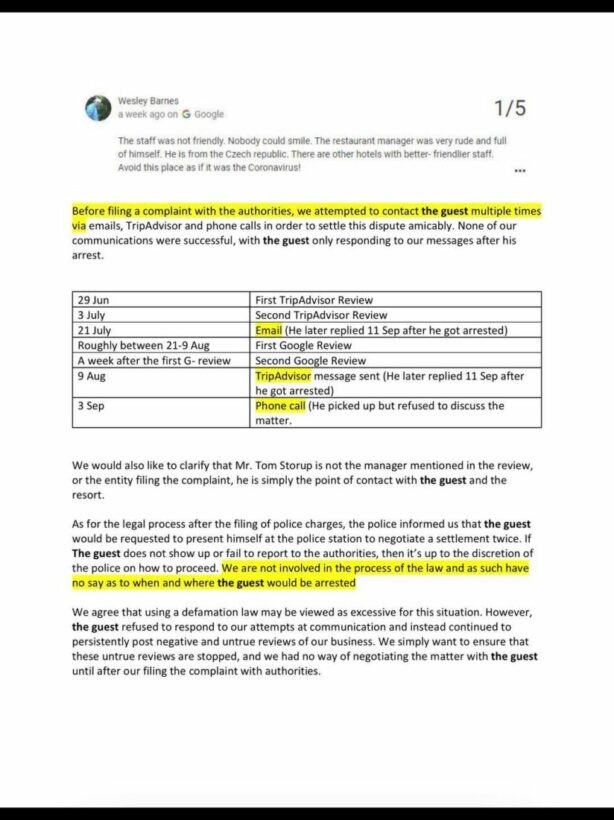 And then….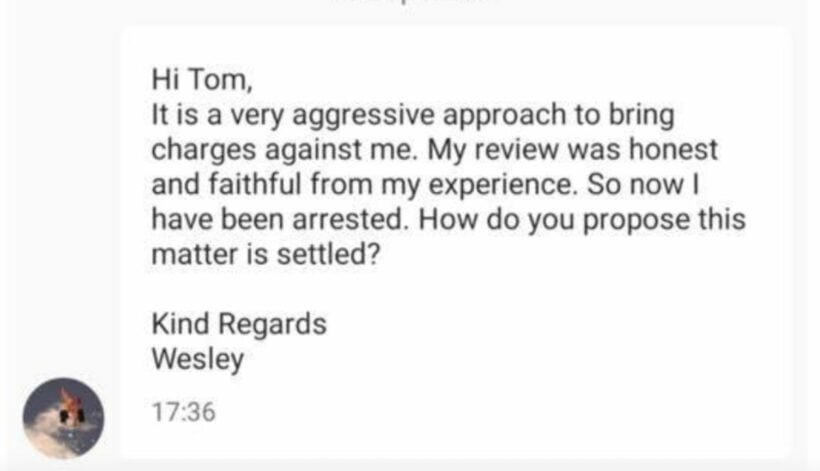 Thailand's defamation laws have often been used as weapons to silence people and are used by businesses and influential figures to intimidate detractors, sometimes over trivial matters.
Keep in contact with The Thaiger by following our
Facebook page
.
Never miss out on future posts by
following The Thaiger
.