Sakon Nakhon floods easing. Authorities worried about more rain.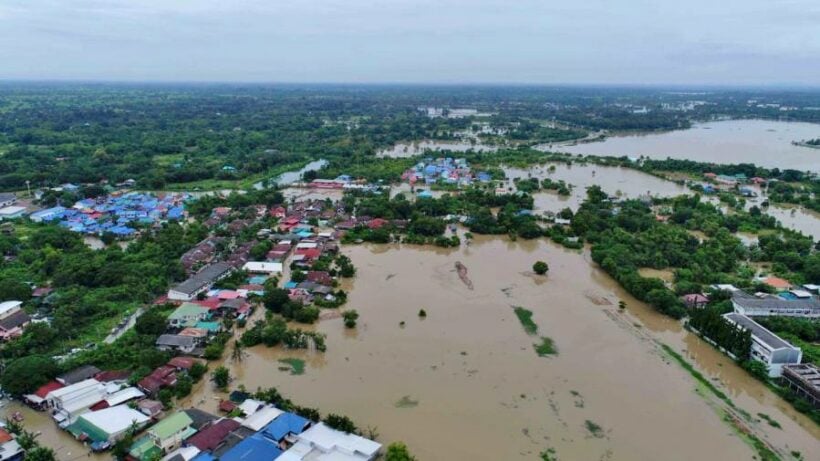 The country's disaster warning system needs to be reformed, experts emphasized yesterday, as there was no warning for the recent flash flood in Sakon Nakhon that resulted from heavy downpours and leakage in a local reservoir.
Meanwhile, experts have reassured the public that there will be no big flood similar to the disaster in 2011, because there was no indication of heavy rainfall in the late phase of the rainy season. The flooding in the Northeastern provinces was due to obstructions to the local water drainage systems and a large downpour in a short period of time.
On Friday morning, Sakon Nakhon residents woke up to find their city being submerged by flash flooding caused by heavy rains. Shortly afterwards, more than 1 million cubic meters of water that leaked from the Huai Zaikamin Reservoir washed down toward the city, intensifying the flood situation and leaving some areas under two meters of water.
Due to the lack of warning, a large number of people were unable to evacuate in time and their belongings were damaged. Hannarong Yaowalers, Thai-Water Partnerships chairman, said that the disaster in Sakon Nakhon was not the first and would not be the last unless the disaster warning system was improved.
"In January, we witnessed the failure of the authorities to warn the people in Prachuap Khiri Khan about the upcoming severe floods from the broken reservoir upstream, which cost people's lives," he said.
"The incident in Sakon Nakhon proves that there are serious flaws in our warning system, which needs to be fixed as soon as possible." Mr Hannarong said that the current disaster warning system was too slow to keep up with the recent floods, and that authorities needed to keep updating it.
"What we have experienced in Sakon Nakhon is that the precipitation in the province increased over 200 millimeters within a short period.
"This signified the critical situation of a flash flood, but it seemed that the local authorities were too complacent and were not ready to cope with the situation, so the damage is great," he said.
Mr Hannarong stated that the system should warn people immediately when there is any indication of disaster. People should be informed in enough time to evacuate and they should be made aware of how long the disaster will last.
"It is quite simple to warn the people about floods because we already have the monitoring system for precipitation and water levels in the reservoirs," he said. "All the authorities need to do is tell people the truth as soon as possible."
However, Disaster Prevention and Mitigation Department deputy director-general Kobchai Boonyaorana said the disaster-warning system was already working well, but the flash flood in Sakon Nakhon occurred "too rapidly". Officers were simply unable to warn the people in time.
"From the information provided by the Meteorological Department, there was a cluster of heavy rain in the Sakon Nakhon area during the time of disaster. When the rain met with the Phu Phan Mountain Range, it caused a heavy downpour within a short period, and triggered flash flooding from the mountain to the city down below," Mr Kobchai explained. "It happened so fast, but after the flood, we dispatched a disaster relief team to Sakon Nakhon immediately to help the people and restore the basic infrastructure."
He said that five evacuation centres had been set up right afterwards and had received 909 people. The authorities also diverted floodwaters to Nong Han Lake and drained the water out to the Mekong River to relieve the flood situation in the city. Chaowalit Chantararat, managing director of the TEAM Group engineering firm, said that the major flooding in Sakon Nakhon was mainly because the local drainage system could not receive a large amount of water.
Despite the severity of flooding in the Northeastern region, there was no indication that there would be major flooding in the Chao Phraya River Basin and Bangkok soon. "This year is actually a normal year in terms of precipitation levels, which means that we will get the normal amount of rainwater and there will be no big flood like in 2011," he assured.


Read more headlines, reports & breaking news in Thailand. Or catch up on your Thailand news.
Krabi pair knock over 20 'top-up' payment kiosks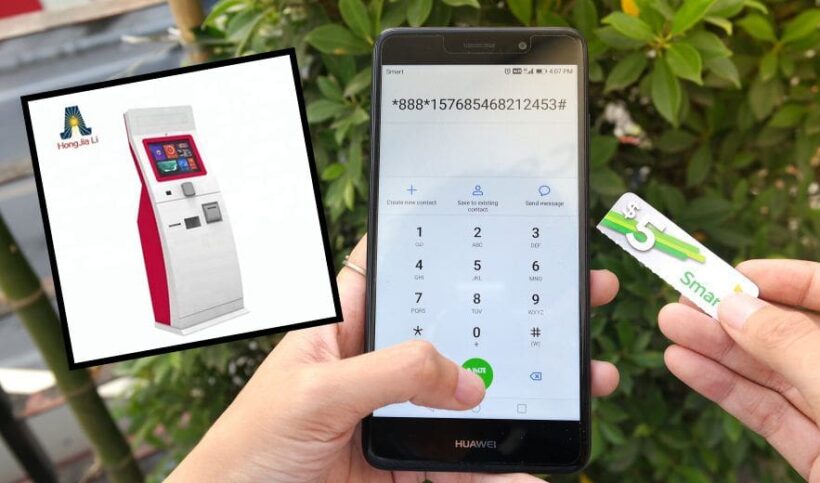 Krabi police have arrested two men for allegedly stealing over 20 mobile phone "top-up payment" kiosks.
Police said 23 year old Patthapong Songnasuek and 26 year old Sompong Phetsawat were arrested at their house in Moo 3 village in Tambon Nua Klong in Nua Klong district.
Police conducted an investigation that led to the arrest after many mobile phone airtime top-up payment kiosks had gone missing in Muang district, Nua Klong district and Khao Phanom district since December 11.
Police say they checked CCTV and identified the two suspects arrive on a motorcycle and spending about 10 minutes using tools to cut through screws securing the small kiosks and taking them away.
The two suspects told police they have stolen over 20 payment kiosks. They would test whether a kiosk contained cash by dropping in coins. If there was no sound they assumed the kiosk contained banknotes and they would take it away.
The pair also told police that they had spent the cash on meth pills.
SOURCE: The Nation
Don't drink and 'sleep' – Thai driver caught napping at the wheel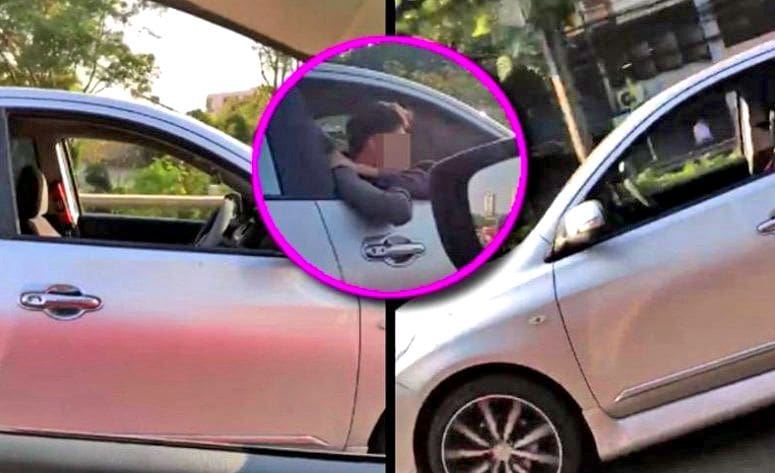 PHOTO: Daily News Online
A video posted online today shows a car being driven by a man who had reclined the driver's seat and was claimed to be sleeping while the car was still moving. The car appears driverless as the driver was slumped out of sight.
The post was on the Facebook page of "Narawut Nakama Thongsong".
He spoke to Daily News Online saying that he was driving between Lat Prao and Prachacheun on Rama 7 Road in Bangkok when he spotted the driver of the car half leaning out and he beeped his horn.
The man looked as though he was nodding off and he say he was trying to alert him.
'Narawut' says he believed the other driver had reclined his seat and was sleeping while the car was in cruise control and still in motion.
SOURCE Daily News
Meth-dealing Koh Samui bar owner attacked in Thai prison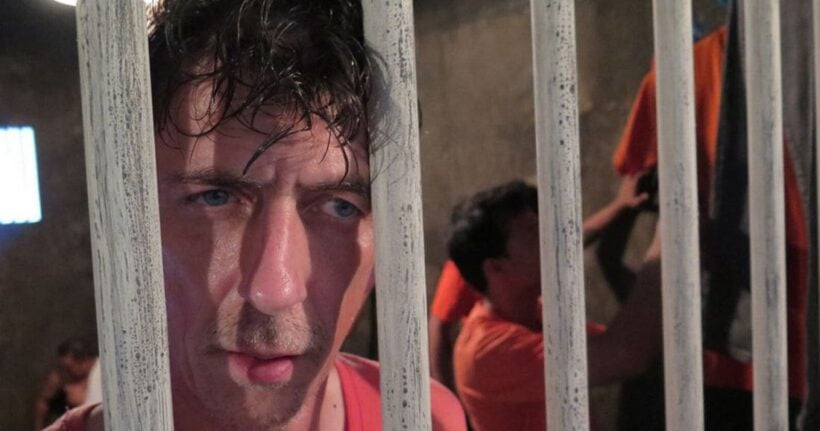 PHOTO: The Mirror
A British man says he had three teeth knocked out and that going to a Thai prison for dealing drugs was 'torture'.
Jimmy Kelly was sentenced to 30 years but ended up spending just three behind bars for selling crystal methamphetamine at the bar on Samui he owned.
His sentence was dramatically cut because his brother Gary allegedly paid 3,280,000 baht in life savings (the article doesn't mentioned who the money was paid to).
Kelly moved to Thailand from the UK and spent a £33,000 (1,353,000 baht) redundancy payment to set up a bar on Koh Samui but says he soon became caught up in the local drug scene.
Speaking to metro.co.uk, he said… "Months ago I was a postman living an ordinary mundane life. Now, I'd taken a bar over and become a pimp.'
When armed officers swooped on his bar, they found the drugs and huge amount of money. 'I read horror stories about Thai prison,' he told the program. (He also claimed that he was seeing woman at the time who was working with the local police.)
Speaking on the National Geographic program "Banged Up Abroad", he said, "I never… thought I'd end up in a Thai prison."
He complains about the cramped cell "caged in like an animal" with other prisoners, some accused of murder.
"I knew I wouldn't be seeing friends or family for a very long time. I wish I could go back to boring old England."
He claims he was attacked by a guard with a baton when a fight broke out in the prison, according to the story in metro.co.uk. Three of his teeth were knocked out and he said he thought he was going to die.
Read more about Jimmy's story HERE.