Robbery fail – thief ended up stabbed to death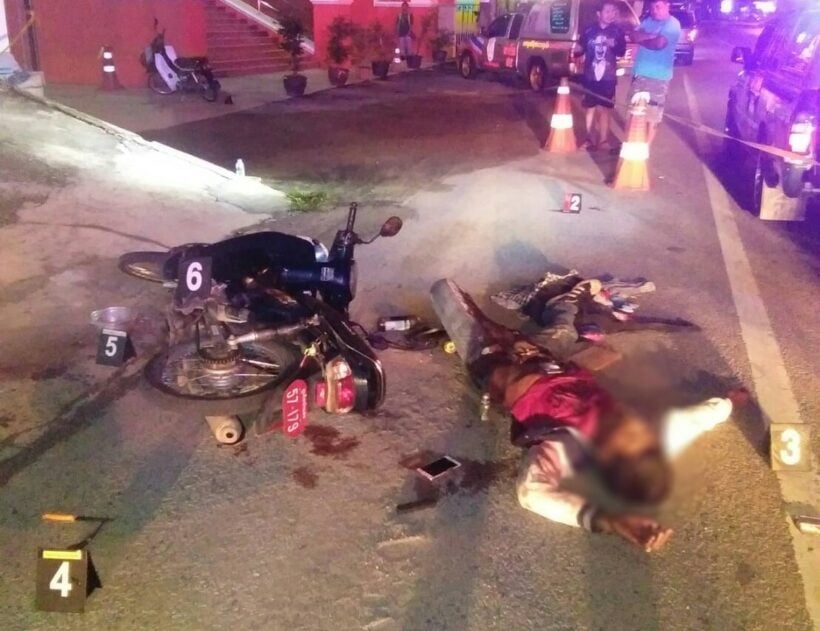 Early this morning (March 6), a 33 year old local man, Attapong Treesuk, was robbed while waiting for his girlfriend, by a man identified as 28 year old Wirat Sakkaew, who was carrying a knife and a gun to threaten him and steal his mobile phone.
During the robbery, they fought and both were injured by the knife before the thief fled on his motorbike with the phone.
According to Attapong, who received a cut on his face and was stabbed in his stomach and left chest, he followed the thief with his motorcycle to try and get his phone back. Wirat fell from the bike on the way and tried to stab Attapong again but there were witnesses this time who helped him and rushed him to Thalang Hospital.
Thalang Police received an incident report at 3am and found the dead body of Wirat at the scene of their last tussle on Thepkasattri roadside. Police found 2 knives and a .38 Thai Pradit gun.
Wirat's fatal injuries were to his left chest, neck, and back.
Police believe that he already robbed other victims in the Thalang area using the same method a few times before.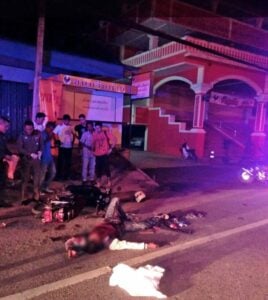 Keep in contact with The Thaiger by following our
Facebook page
.
500 people own 36% of equity in Thai companies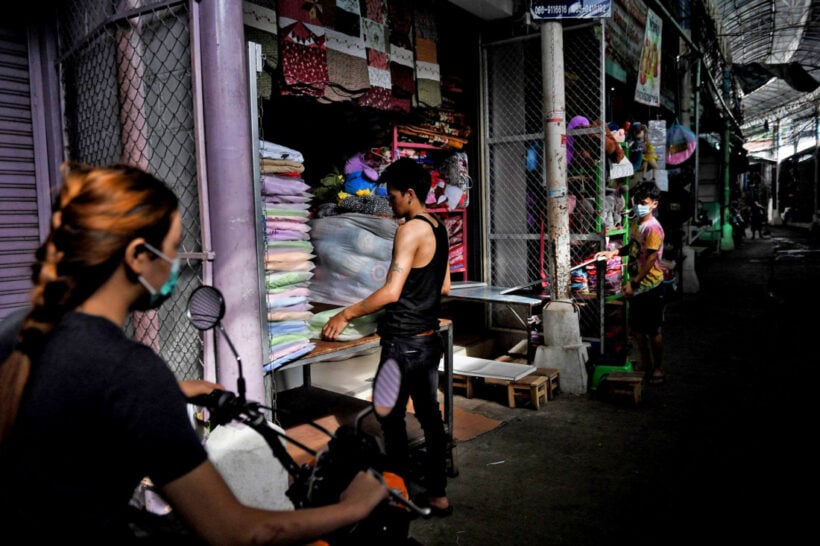 Roughly 36% of Thailand's corporate equity is held by just 500 people, highlighting wealth inequality in the Kingdom, according to a study released by the Bank of Thailand's research institute.
Each of these 500 amass some 3.1 billion baht (102 million USD) per year in company profits, according to the report from the Puey Ungphakorn Institute for Economic Research. In contrast, average yearly household income in Thailand is around 10,000 USD.
A report out this week from the Economic and Business Research Centre for Reform at Thailand's Rangsit University also pointed to divisive and polarised politics being another root cause of the economic divide.
Thailand's private sector is dominated by tycoons running sprawling conglomerates. According to the World Bank, the gap between the mega-wealthy and the rest of the Thai population of 69 million is among the many economic challenges for Thailand. According to Bloomberg, the perception of a divide, exacerbated by an economic slowdown, is a major political fault line.
"Magnates arise in Thailand from institutional factors that privilege certain businesses," said the executive director of PIER, author of the study.
The institute said Thailand needs to promote competitiveness to reduce profits from monopoly power and bolster entrepreneurship to create a more equitable distribution of corporate wealth.
The research is based on analysis of 2017 Commerce Ministry data on the 2.1 million shareholders in Thai firms, and was funded by the University of California San Diego.
SOURCE: Bangkok Post
Keep in contact with The Thaiger by following our
Facebook page
.
Bodies of 8 dead elephants risk contaminating reservoir in Thai national park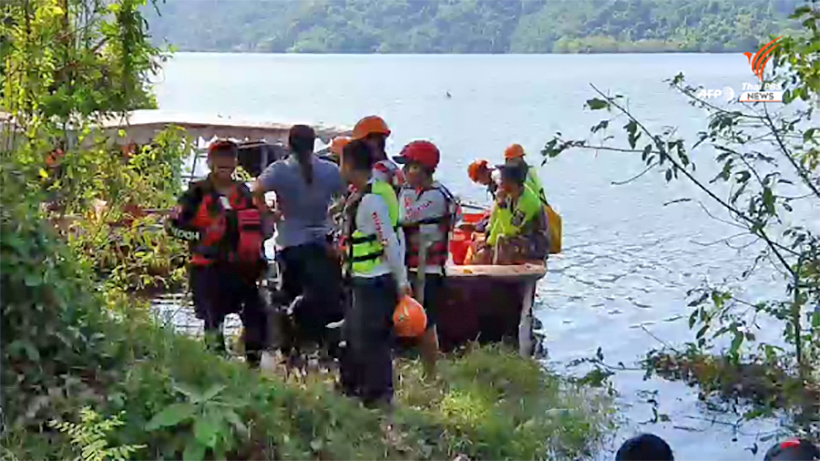 PHOTO: Thai PBS
Officials are concerned that the bodies of eight elephants who died after plunging down a waterfall in Khao Yai national park, central Thailand, now risk contaminating the park's water flowing into a nearby reservoir.
Thai PBS World reports that officials at the Khun Dan Prakan Chon reservoir plan to take a boat upstream to Khlong Ton Sai and scatter anti-pollutant chemicals over the elephant carcasses, which are currently trapped in the water by large boulders. Access to retrieve the carcasses is limited due to the difficult terrain.
Concern was raised after the water started to smell bad, with officials from Nakhon Nayok province conducting constant quality tests on the reservoir's water supply. The reservoir is filled by water from the creek and Khlong Ton Sai and the province relies on it as a primary water source.
Efforts to remove all the elephant carcasses from the water have been hampered after they became trapped by rocks, with officials only managing to remove three so far.
A large net has been used to trap the elephant bodies and prevent them being carried further downstream, but rising water levels has meant the recovery operation has had to be temporarily suspended. Officials have been stationed to monitor the carcasses.
SOURCE: Thai PBS
Keep in contact with The Thaiger by following our
Facebook page
.
True to introduce 5G with help from China Mobile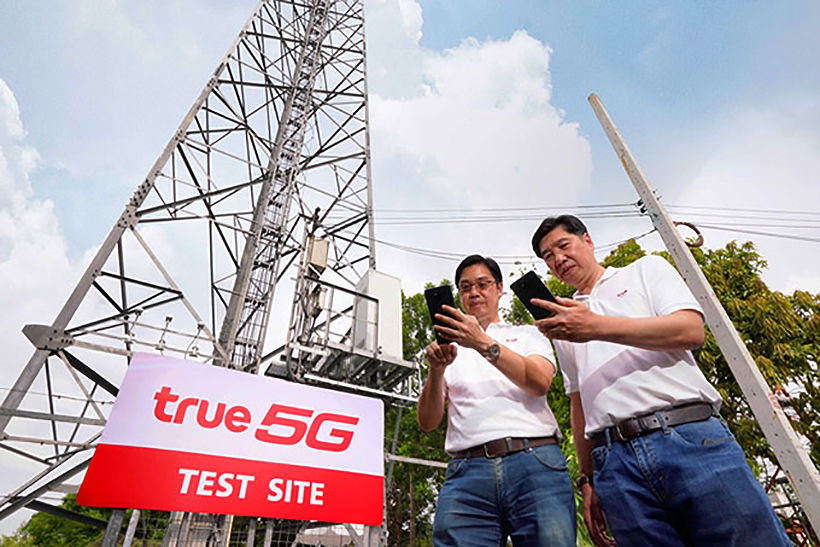 Kittinut Tikawan, president of Thai communication giant True Corporation, says True Move H Universal Communication plans a soft launch of 5G wireless broadband in Thailand within 2-3 months, through close collaboration with China Mobile, the world's largest mobile operator.
5G mobile communications will allow virtually 'instant' delivery of video and services with remarkable leaps in speeds, at least 10-fold. The new technology has also been embroiled in claims of health hazards relating to the new technology but studies remain ongoing without conclusive evidence of any danger. The US Federal Communication Commissions says… "the weight of scientific evidence has not linked cell phones with any health problems."
"China Mobile is a good role model for True, providing services to more than 900 million subscribers."
China Mobile, already a leading commercial 5G provider, has rolled out 5G cell sites in some 40 cities in China, including 3,000 in Chengdu, in south-west China, alone. Speaking in Chengdu at a partnership meeting with China Mobile's representatives, he said full 5G adoption in Thailand is expected by 2021, adding that 5G adoption would provide outstanding new experiences for consumers, including virtual reality and augmented reality, all in real time.
"5G adoption in the beginning stages will be seen in major cities with population and business density, as well as close proximity to industrial zones. The low cost of digital infrastructure for 5G would help promote 5G adoption throughout Thailand.
He said 5G adoption should be added to the Thai national agenda.
"The government is establishing a national 5G committee, which indicates they understand 5G is a critical issue for the country."
Source: Bangkok Post
Keep in contact with The Thaiger by following our
Facebook page
.