Progress on Sea Gypsy Sirinath NP fishing case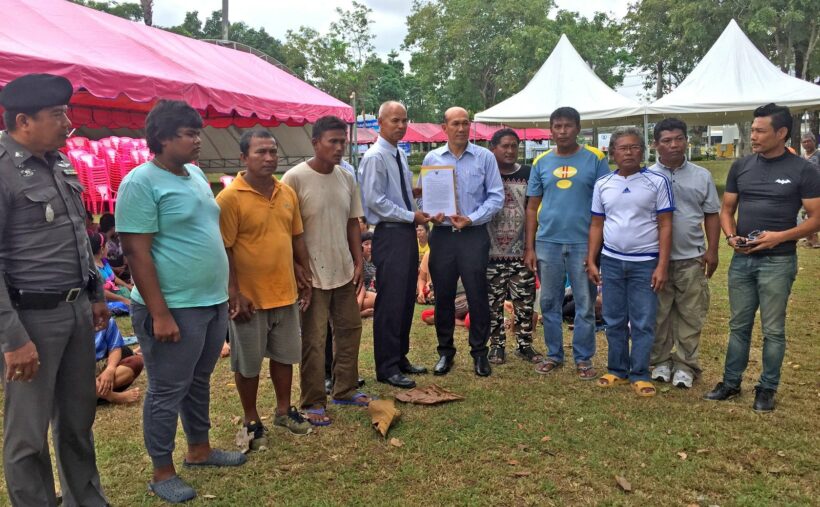 Rawai's Mayor, Arun Solos, led a group of Rawai Sea Gypsies to file a complaint this morning (January 11), in order to call for justice for the 6 fishermen arrested in Sirinath Marine National Park.
The mayor headed a delegation including Niran Yangpan, the community leader, village chief and sub-district chief with the 6 fishermen to hand the letter to Vice Governor Sanit Srivihok, who says he will pass it to the Governor. The letter also asks for details about the cabinet resolution in 2010 about the policy to "restore sea gypsy traditional lifestyle".
"As I talked to the fishermen, they all denied fishing in the National Park area as accused but anchored there to let one of the fisherman recover from decompression. The shellfishes on the boat were from Phang Nga. The officers wouldn't listen to them so we all come here to file a letter and appeal for justice," said the Rawai Mayor.
One of the 5 fishermen arrested in the sea area of Sirinath Marine National Park, 43 year old Pichit Bangjak, explained yesterday (January 10) that the group of 6 (including one 14 year old boy) left from Rawai Beach on January 6 and arrived at the targeted area to fish which was in Kuraburi District of Phang Nga in the evening of the same day. They fished and rested there until the night of January 7 when his nephew, Thanongsak Koh-Ngam started to feel sick and suffered from decompression syndrome after their deep dive at 30 meters to fish, where they stayed about 1-2 hours in the water per time so they decided to come back.
"In the morning of January 8, while the boats were in Phuket sea and were in front of Nai Thon Beach (where is the area of Sirinath Marine National Park), we anchored because my nephew said he felt worse. We decided to let him get into the water to recover following our traditional way of treatment. We couldn't wait until we arrived onshore because decompression can be deadly or cause paralysis."
"When he was in the water recovering, there were other 2 fishermen in the water as well. I was cooking for him on the boat waiting for him when the national park officers parked their boat next to us. They commanded us to stop cooking and pulled my nephew from the water very fast without asking anything which could make his condition even worse," he said.
"The arrests affect their daily life and their work. They also had to find money for the bail. We also seek clarification of the cabinet resolution to make the sea gypsy people clearly understand about what they can do to restore their lifestyle," said the Rawai Mayor.
Meanwhile, the community's leader also commented on the issue.
"I want to insist again that we didn't break the law or destroy any natural resources. We fish for consumption only and the fight for this case is based on the cabinet resolution which already specifies the types of equipment allowed to fish in national parks such as spears, air compressors and fish buckets."
Keep in contact with The Thaiger by following our
Facebook page
.
Never miss out on future posts by
following The Thaiger
.
Man arrested for growing 108 cannabis plants in Samut Prakan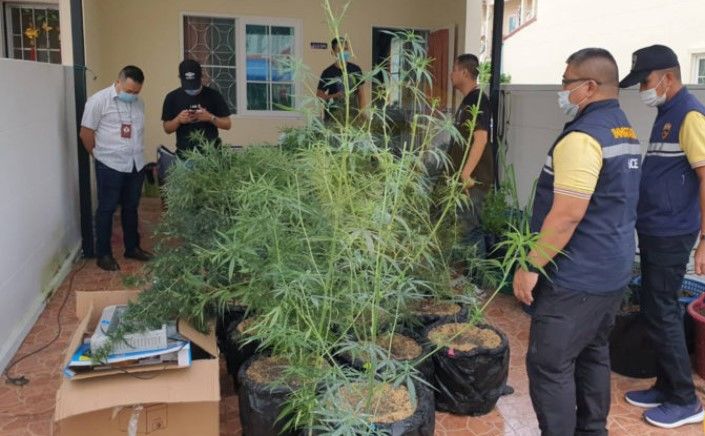 Police arrested an Argentinian man for growing cannabis at his house in Samut Prakan, just southeast of Bangkok. 35 year old Sagas Nur told police he planned to produce cannabis oil.
Medical marijuana is legalised – with limitations – while recreational marijuana is still classified as a category 5 narcotic. Sagas is facing charges of producing a category 5 narcotic. He could face 2 to 15 years in prison and a fine of up to 1,500,000 baht.
Police were tipped off about Sagas' alleged growing operation. They searched the house and say they found 108 cannabis plants that were about 1.5 metre high. Sagas allegedly told police he bought the seeds online with the intention to grow plants and then produce cannabis oil.
Thailand legalised medical marijuana in 2018, becoming the first country in Southeast Asia to do so. Recreational marijuana trafficking and operations continue to be busted by police while the government studies medical marijuana with plans to tap into the global market. The Public Health Minister Anutin Charnvirakul even helped plant cannabis seedlings at a government-run facility with 1,300 plants.
SOURCES: Bangkok Post | South China Morning Post
Catch up with the latest daily "Thailand News Today" here on The Thaiger.
Keep in contact with The Thaiger by following our
Facebook page
.
Never miss out on future posts by
following The Thaiger
.
9 new Covid-19 cases in Thai quarantine, with a possible reinfection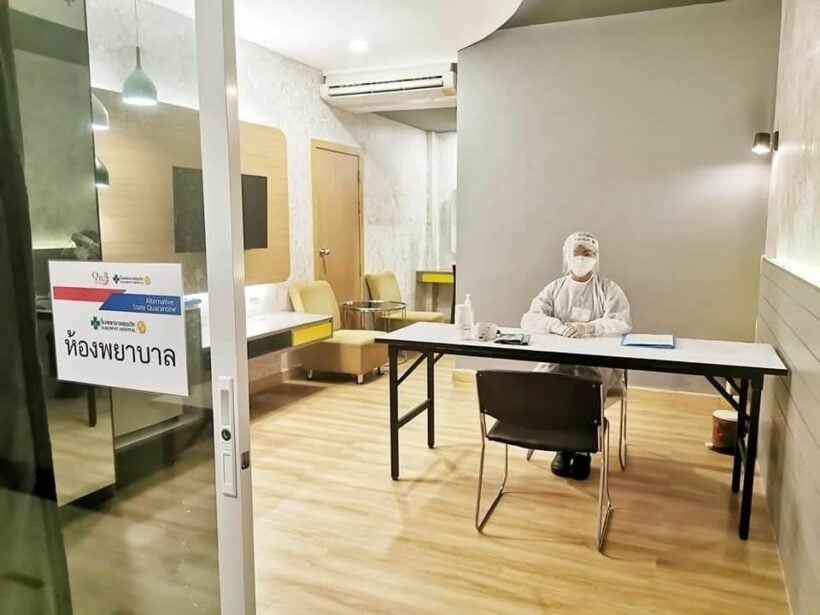 9 new Covid-19 cases were detected in Thai quarantine facilities, including a patient who may have been infected with the virus a second time, or never fully recovered, according to the Centre for Covid-19 Situation Administration. Most of the cases were army engineers travelling from South Sudan.
Thailand's total number of confirmed Covid-19 cases is now at 3,700 with 3,491 recoveries and 59 deaths. 150 people are still receiving medical treatment.
6 army engineers, ages 25 to 49, travelling from South Sudan tested positive for Covid-19. They arrived on October 12 and they tested positive 3 days later while in quarantine in Chon Buri. They were admitted to Phramongkutklao Hospital in Bangkok.
2 people travelling from the United Arab Emirates tested positive for Covid-19. They both arrived in Thailand on October 9 and tested positive 7 days later. A 25 year old masseuse was first diagnosed with Covid-19 on September 1. After arriving in Thailand, she reported symptoms of a cough and headache. She was quarantined in Bangkok and admitted to the Central Chest Institute in the Nonthaburi province, just outside Bangkok, for treatment. A 22 year old student tested positive while quarantined in Bangkok. He was also admitted to the Central Chest Institute.
A 26 year old woman travelling from Oman tested positive for Covid-19. She arrived on October 14 and tested positive for the virus 4 days later. She was quarantined in Chon Buri and then admitted to a hospital in Samut Prakan.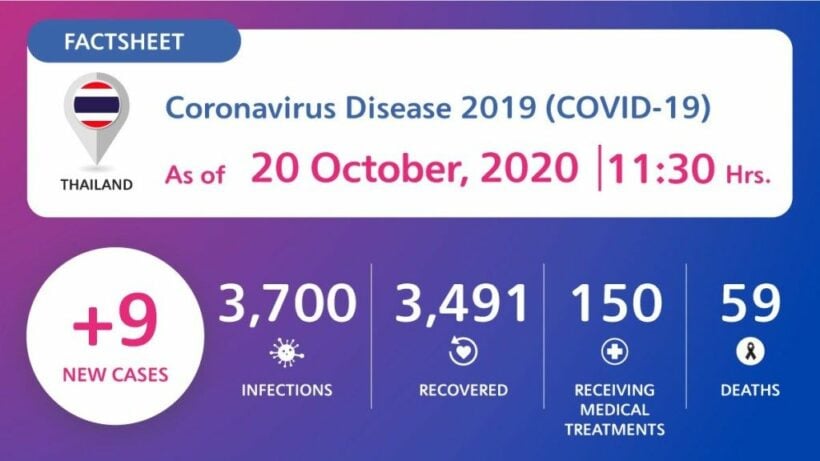 Daily new Covid-19 cases in Thailand
SOURCE: Bangkok Post
Catch up with the latest daily "Thailand News Today" here on The Thaiger.
Keep in contact with The Thaiger by following our
Facebook page
.
Never miss out on future posts by
following The Thaiger
.
Court orders suspension of Thai TV news channel during political protests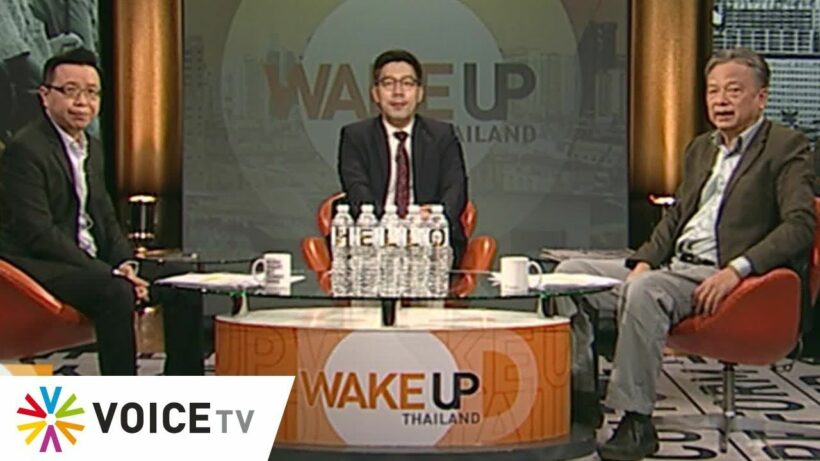 The Criminal Court has agreed to suspend the Thai media company Voice TV for allegedly violating the State of Emergency orders which prohibit media content "considered to be a threat to national security".
Talk about the Voice TV shut down has been circulating on social media. It's not the first time the network has come to the attention of the NCPO, in the past, and the current government. Reuters reporters confirmed the claims with digital ministry spokesperson Putchapong Nodthaisong who said "Voice TV will be suspended". The order applies to all of the company's online platforms, including social media accounts.
The media company also allegedly violated Thailand's Computer Crime Act by spreading "false information," the spokesperson says.
The Chief Executive Officer of Voice TV, Mekkin Phetchapa, posted a statement on the company's Facebook page saying the court ordered to close all of the platforms associated with the media company, but Voice TV has not received any documents yet.
"Voice TV confirms that what we are holding on to as a professional duty. Media has no distortion, misleading or destroying public security and peace."
Mekkin says that for the past 11 years, Voice TV has been openly transparent and responsible for the facts from all parties.
"Let power and responsibility be righteous."
The State of Emergency banning public gatherings of more than 5 people was imposed in the early hours of last Thursday morning, leading up to the breaking up a pro-democracy protest 'camp' outside the Government House in Bangkok. The order also bans news or online messaging that "could harm national security."
"It is extremely necessary to introduce an urgent measure to end this situation effectively and promptly to maintain peace and order."
"Publication of news, other media, and electronic information that contains messages that could create fear or intentionally distort information, creating misunderstanding that will affect national security or peace and order."
Since the decree was announced, police have threatened a crack down on local media outlets covering the pro-democracy protests as well as an activist Facebook group saying they pose a "threat to national security."
A document, signed by National Police Chief Suwat Jangyodsuk, was leaked and circulated on social media. It requested the Telecommunications Commission and Digital Economy and Society Ministry to ban The Standard, The Reporters, Voice TV, Prachatai and the Free Youth movement Facebook page. There have been no reports about the other media outlets being suspended at this stage.
SOURCE: Reuters| Facebook: Voice TV
Keep in contact with The Thaiger by following our
Facebook page
.
Never miss out on future posts by
following The Thaiger
.