Tenth Multihull Solutions Regatta gets underway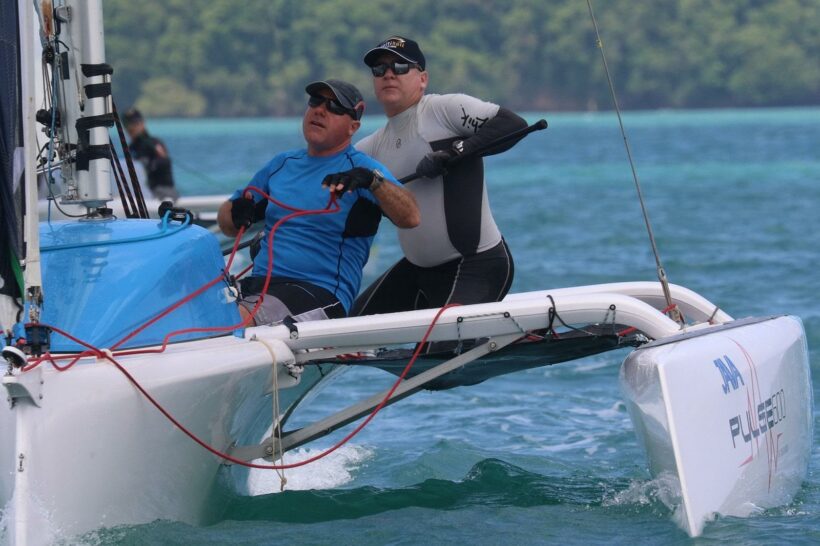 Day one in the 10th Multihull Solutions Regatta saw fifteen boats divided into four classes compete off the shores of host organizer Phuket Yacht Club in Chalong Bay in the 'Boat Lagoon' Race Day.      
Before the regatta started, Multihull Solutions' Andrew de Bruin said, "We are back for the 5th year as title sponsors to the Phuket Yacht Club's Multihull Regatta and, as usual, we look to be in for the windiest and friendliest regatta in the region. There will be some very exciting racing out on Chalong Bay. It's a great event for us and of course a natural fit for a company specializing in multihull yacht sales as we do, and I'm sure our involvement will continue."
The Racing Multihulls and Firefly 850 Sportboat classes had six boats each, while the Pulse 600 had two entries and Cruising Multihulls had three boats. 
Principal Race Officer Simon James ran windward-leewards for most classes for the first two races but sent the Cruising Class off a trip around Koh Lon for their second race of the day; the racing multis, including the Pulses, plus the Fireflies headed out and around the Cape Panwa safe water mark for their third and final race of the day.          

Dan Fidock's trimaran Fugazi (formerly Three Itch) jumped off the start line and never let up as its main hull spent most of the day kissing the water's surface as it cruised to line honours in each race. Bob Garner's Blade Runner with two seconds and a third, held on to second spot overall in Racing Multihulls with seven points after three races while Peter Wilcox's Cosmo was in third spot with eight points. Mick Tilden's 4-4-5 placings gave him fourth overall with 13 points, while Glywn Rowlands 6-5-4 finishes and 15 points gave Twister 2 fifth overall and Andrew de Bruin's Multihull Solutions H30 finished sixth with his 5-6-6 placings and 17 points.           
They come in all shapes and sizes in this year's Racing Multihull division ranging from Andrew de Bruin's and Mick Tilden's Pulse 600s to Peter Wilcox's recently launched 12m foiling-assisted Stealth Cosmo to Bob Garner's DM24 Blade Runner, Glywn Rowlands Stealth Twister 2, and Dan Fidock's, Fugazi, built by Dan Moore, which always draws plenty of attention.   
Cosmo, built by Asia Catamarans, has been in the water for less than two weeks, and suffered through a 40-knot bashing on a recent trip to Langkawi. There are only two Stealths in this race, but much Stealth news as Hurricane was recently sold to a fellow in San Diego and was being shipped there by Sevenstar via New York. And past Multihull Solutions competitors Top Cat and Gale Force have both been re-sold so lots of movement for Alan Cawardine's creations.

In the Firefly division, John Newnham's Twin Sharks renewed its heated rivalry with Hans Rahmann's Voodoo and race one saw the familiar Twin Sharks-Voodoo one-two finish. Twin Sharks continued to shine throughout the day capturing all three races while Voodoo faltered slightly earning 2-4-6 finished for third overall. George Eddings Blue Noze had a great day finishing 3-2-2 to hold on to second spot. Neil Ayre/Mick Coleman's recently purchased Advanced CAE (Mamba) and their 4-6-3 finishes were good enough for fourth place. Ray Waldron's Surf Patrol with a revamped crew was back to avenge its nose dive and capsize of last year and finished 6-3-4 on the day to hold down fifth spot. Jonathon Kingdon's Moto Inzi took three fifth-place finishes to hold down sixth. The Fireflys were designed by Phuketian Mark Pescott, who is racing on Surf Patrol for this regatta.
Mick Tilden's Pixalux and lead sponsor Andrew de Bruin with his Multihull Solutions H30 did battle in the two-boat Pulse 600 division. Tilden, who used to own a share in Fujin, put his competitive monohull racing career on hold when he discovered the joys of sailing a Corsair Pulse 600. Today's racing saw Mick take all three races with Andrew coming a close second. 
The Cruising Multihull three-boat class saw Anthony Passmore's DaVinci, Bill Kane's The Sting, and Rick Fielding's Mojo finish 1-2-3 in the two races they sailed.  
This event is a veritable who's who of sailing in Phuket, as everyone who is anyone is involved in the regatta in some way.



- The Thaiger & The Nation
Singapore Airlines back on top. Thai Airways in 10th place.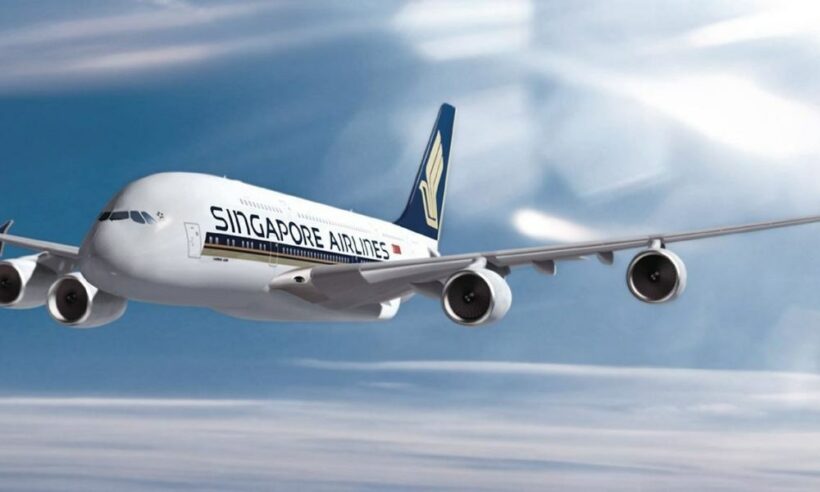 PHOTO: Flyer Talk
Singapore Airlines is back on top after a decade held out of the top airline position by middle-eastern competition. It's their fourth win since the Skytrax World Airline awards started back in 2001.
The island nation's national carrier was named Airline of the Year at the 2018 Skytrax World Airline awards. Singapore Airlines was last top of the list in 2008. This year it forced out last year's top honours winner, Qatar Airways, into second place.
Yeoh Phee Teik, Singapore Airlines's senior vice president of customer experience, said "We're very ecstatic."
The airline  also claimed best airline in Asia, best first class and best first class seat.
Asian airlines made a return to the winner's list this year with ANA All Nippon Airways receiving third place, Taiwan's EVA Air in 5th position, Cathay Pacific in 6th, Hainan Airlines in 7th, Garuda Airlines in 9th (an extraordinary achievement considering their reputation only a decade ago) and Thai Airways in 10th place.
Singapore's victory marked a resurgence in Asian carriers in the annual UK-based aviation industry review. Skytrax began its awards in 2001 and is recognised for its fairness due to passengers voting in all categories. Aside from a win by Hong Kong's Cathay Pacific back in 2014, all past seven years have all gone to middle east based airlines.
"We're glad that our work has been recognised and our customers have voted for us to be the world's best," said Yeoh.
Garuda Airlines, which has turned its service around since the early days of Skytrax, when it was banned from flying into European airspace, was presented with the prize for best cabin staff along with its 9th place overall.
Not one US airline picked up a single award.
Locally Air Asia picked up an award for Best low coast airline – Asia, Thai Airways won the award for best airline catering in Economy Class (The Thaiger thinks the voters weren't flying on the same flight when Thaiger experienced the economy class 'food') and Bangkok Ailines won Best Regional Airline – Asia.
The top 10 world's best airlines for 2018
1. Singapore Airlines
2. Qatar Airways
3. ANA All Nippon Airways
4. Emirates
5. EVA Air
6. Cathay Pacific
7. Lufthansa
8. Hainan Airlines
9. Garuda Indonesia
10. Thai Airways
Best airlines by global region
Northern Europe – Finnair
Western Europe – Lufthansa
Eastern Europe – Aeroflot Russian Airlines
Africa – Ethiopian Airlines
Australia / Pacific – Qantas Airlines
Central Asia / India – Air Astana
China – Hainan Airlines
Central America / Caribbean – Copa Airlines
South America – Avianca
North America– Air Canada
Asia – Singapore Airlines
Middle East – Qatar Airways
Europe – Lufthansa
Best low-cost airlines
Africa – Mango
Australia & Pacific – Jetstar Airways
Asia – AirAsia
Central Asia / India – Indigo
China – West Air
South America – Sky Airline
North America – WestJet
Middle East – Flynas
Europe – Norwegian
Best airline catering
Economy – Thai Airways
Premium economy – Aeroflot Russian Airlines
Business – Austrian Airlines
First class – Air France
Best airline seats
Economy – Japan Airlines
Premium economy – Air New Zealand
Business – Qatar Airways
First class – Singapore Airlines
Best regional airlines
Africa – Royal Air Maroc
Asia – Bangkok Airways
South America – Azul Brazilian Airlines
Central Asia / India – Azerbaijan Airlines
Europe – Aegean Airlines
Best airline lounges
First class – Qatar Airways
Airline alliance lounge – Star Alliance Los Angeles
Independent airport lounge – Plaza Premium Heathrow Terminal Two
First class lounge dining – Air France
Airline lounge spa facility – Thai Awards
Best airlines staff service by global region
Africa – South African Airways
Australia / Pacific – Qantas Airways
Central Asia / India – Vistara
China – Hainan Airlines
Central America / Caribbean – Copa Airlines
South America – Azul Brazilian Airlines
Asia – ANA All Nippon Airways
Middle East – Emirates
Europe – Austrian Airlines

Burmese maid returns bag containing $11,000 to tourist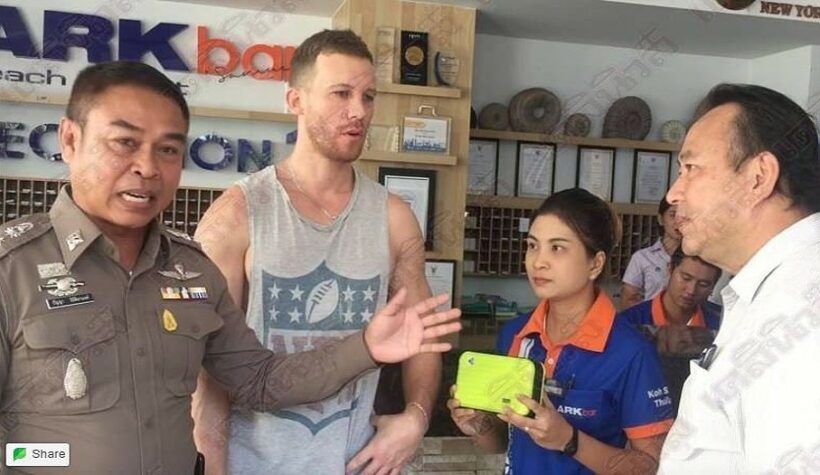 Daily News is reporting that a tourist from the Netherlands has thanked a Burmese maid at his hotel on Koh Samui. 37 year old Sawee Let Mau showed it was not just the Thais who are high up in the honesty stakes.
Sawee found the green bag under some stairs – it contained AUD$ to the tune of 280,000 baht – several years wages for a maid.
Police were called to the Ark Bar Hotel in Chaweng and CCTV was checked before 31 year old Alexander Joseph was confirmed as the rightful owner.
He gave the honest maid $100 as a reward. Daily News praises the maid for helping the tourist image of Thailand.
SOURCE: Daily News
Sangkhla Buri floods declared a disaster zone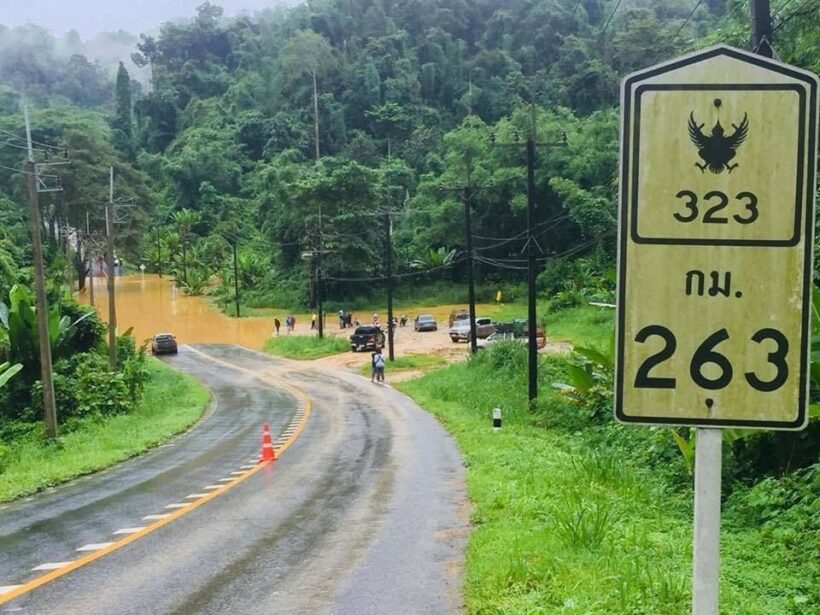 Kanchanaburi Governor Jirasak Phumsawat has declared Sangkhla Buri a flood disaster zone to speed up help to affected villagers.
The governor took the action after seven villages in Tambon Nong Lu and three villages in Tambon Laivo were hit by floods on Friday morning following heavy rains that hit 70 per cent of the district.The disaster-zone declaration allowed the provincial administration to bypass the bureaucratic process to send help and compensation directly to the affected villagers.