Tenth Multihull Solutions Regatta gets underway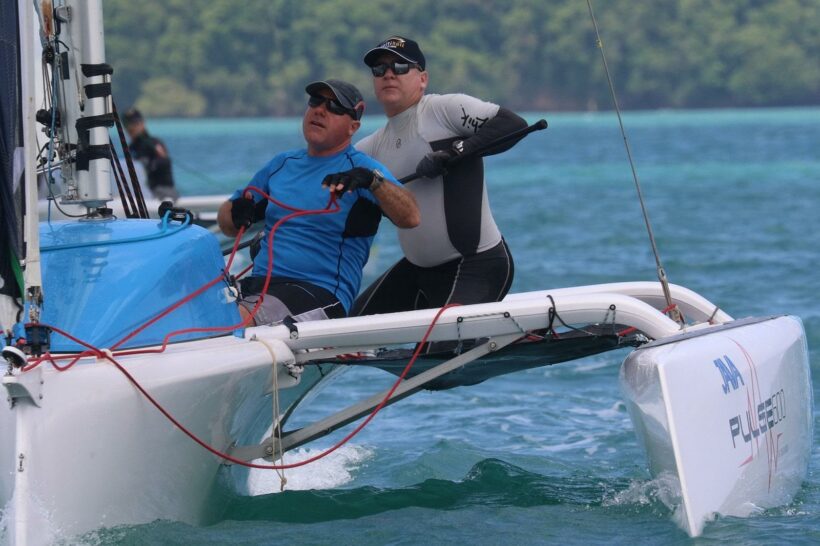 Day one in the 10th Multihull Solutions Regatta saw fifteen boats divided into four classes compete off the shores of host organizer Phuket Yacht Club in Chalong Bay in the 'Boat Lagoon' Race Day.      
Before the regatta started, Multihull Solutions' Andrew de Bruin said, "We are back for the 5th year as title sponsors to the Phuket Yacht Club's Multihull Regatta and, as usual, we look to be in for the windiest and friendliest regatta in the region. There will be some very exciting racing out on Chalong Bay. It's a great event for us and of course a natural fit for a company specializing in multihull yacht sales as we do, and I'm sure our involvement will continue."
The Racing Multihulls and Firefly 850 Sportboat classes had six boats each, while the Pulse 600 had two entries and Cruising Multihulls had three boats. 
Principal Race Officer Simon James ran windward-leewards for most classes for the first two races but sent the Cruising Class off a trip around Koh Lon for their second race of the day; the racing multis, including the Pulses, plus the Fireflies headed out and around the Cape Panwa safe water mark for their third and final race of the day.          

Dan Fidock's trimaran Fugazi (formerly Three Itch) jumped off the start line and never let up as its main hull spent most of the day kissing the water's surface as it cruised to line honours in each race. Bob Garner's Blade Runner with two seconds and a third, held on to second spot overall in Racing Multihulls with seven points after three races while Peter Wilcox's Cosmo was in third spot with eight points. Mick Tilden's 4-4-5 placings gave him fourth overall with 13 points, while Glywn Rowlands 6-5-4 finishes and 15 points gave Twister 2 fifth overall and Andrew de Bruin's Multihull Solutions H30 finished sixth with his 5-6-6 placings and 17 points.           
They come in all shapes and sizes in this year's Racing Multihull division ranging from Andrew de Bruin's and Mick Tilden's Pulse 600s to Peter Wilcox's recently launched 12m foiling-assisted Stealth Cosmo to Bob Garner's DM24 Blade Runner, Glywn Rowlands Stealth Twister 2, and Dan Fidock's, Fugazi, built by Dan Moore, which always draws plenty of attention.   
Cosmo, built by Asia Catamarans, has been in the water for less than two weeks, and suffered through a 40-knot bashing on a recent trip to Langkawi. There are only two Stealths in this race, but much Stealth news as Hurricane was recently sold to a fellow in San Diego and was being shipped there by Sevenstar via New York. And past Multihull Solutions competitors Top Cat and Gale Force have both been re-sold so lots of movement for Alan Cawardine's creations.

In the Firefly division, John Newnham's Twin Sharks renewed its heated rivalry with Hans Rahmann's Voodoo and race one saw the familiar Twin Sharks-Voodoo one-two finish. Twin Sharks continued to shine throughout the day capturing all three races while Voodoo faltered slightly earning 2-4-6 finished for third overall. George Eddings Blue Noze had a great day finishing 3-2-2 to hold on to second spot. Neil Ayre/Mick Coleman's recently purchased Advanced CAE (Mamba) and their 4-6-3 finishes were good enough for fourth place. Ray Waldron's Surf Patrol with a revamped crew was back to avenge its nose dive and capsize of last year and finished 6-3-4 on the day to hold down fifth spot. Jonathon Kingdon's Moto Inzi took three fifth-place finishes to hold down sixth. The Fireflys were designed by Phuketian Mark Pescott, who is racing on Surf Patrol for this regatta.
Mick Tilden's Pixalux and lead sponsor Andrew de Bruin with his Multihull Solutions H30 did battle in the two-boat Pulse 600 division. Tilden, who used to own a share in Fujin, put his competitive monohull racing career on hold when he discovered the joys of sailing a Corsair Pulse 600. Today's racing saw Mick take all three races with Andrew coming a close second. 
The Cruising Multihull three-boat class saw Anthony Passmore's DaVinci, Bill Kane's The Sting, and Rick Fielding's Mojo finish 1-2-3 in the two races they sailed.  
This event is a veritable who's who of sailing in Phuket, as everyone who is anyone is involved in the regatta in some way.




Kitten rescued from wall space after being stuck for three days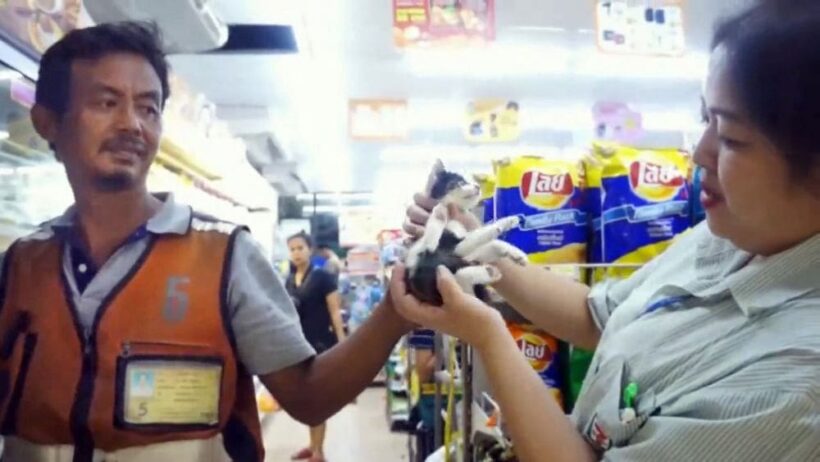 A kitten was rescued last night after it got stuck in a narrow five-inch wall space behind a 7-11 convenience store in Samut Prakan's city district.
Staff of a 7-Eleven shop in Bang Pu Industrial Estate called the Bang Pu 811 Rescue Unit for help.
The staff say they had heard a kitten's faint meows behind the wall for three days. A rescuer climbed up on top of the wall and lowered a rope with a noose to carefully pull up the kitten.
The space between walls was only five-inch wide and about three metres high.
So, that's eight live left.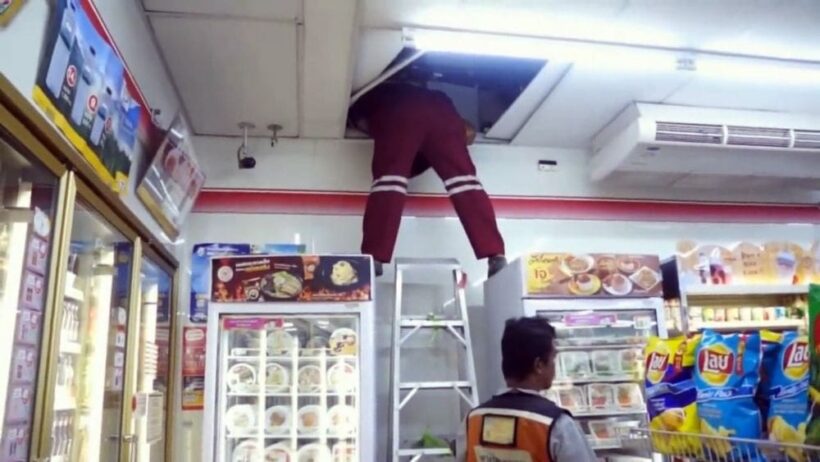 Tourist Police service centres being set up on Phuket beaches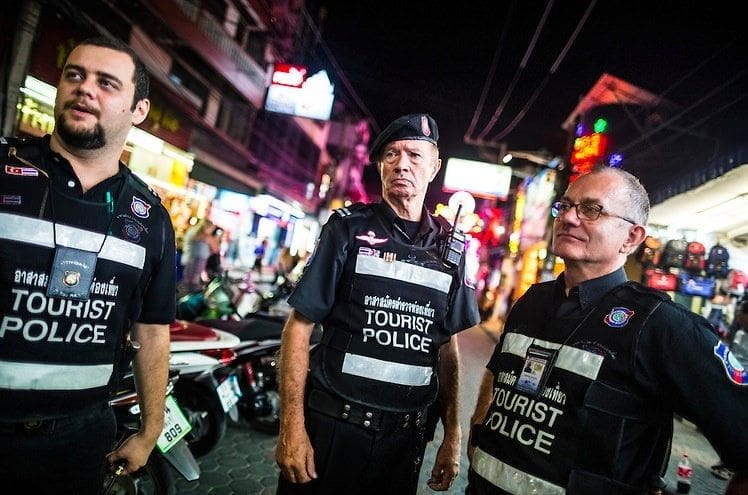 PHOTO: TravelScams.org
The Phuket Tourist Police are poised to improve marine and coastal safety by setting up service centres on Phuket beaches, starting initially with Kamala and Karon Beach.
The Tourist Police Division 3 Chief Major General Unggoon Klaiklueang says, "We have been planning on the project to set up the tourist service centres at Phuket's busiest beaches."
"The centres will be based in mobile modified shipping containers. Each centre will has two tourist police with an ATV vehicle (All-Terrain Vehicle)"
"We are planning to set up these centres on 12 Phuket beaches. We will start with Kamala and Karon Beach first. It is expected to be done before New Year as there will be a lot of tourists during that time, especially those locations."
"By providing tourist police on beaches we be able to improve beach safety, for example if swimmers don't listen to the warnings from lifeguards."
Phuket Police officer transferred after gambling den raid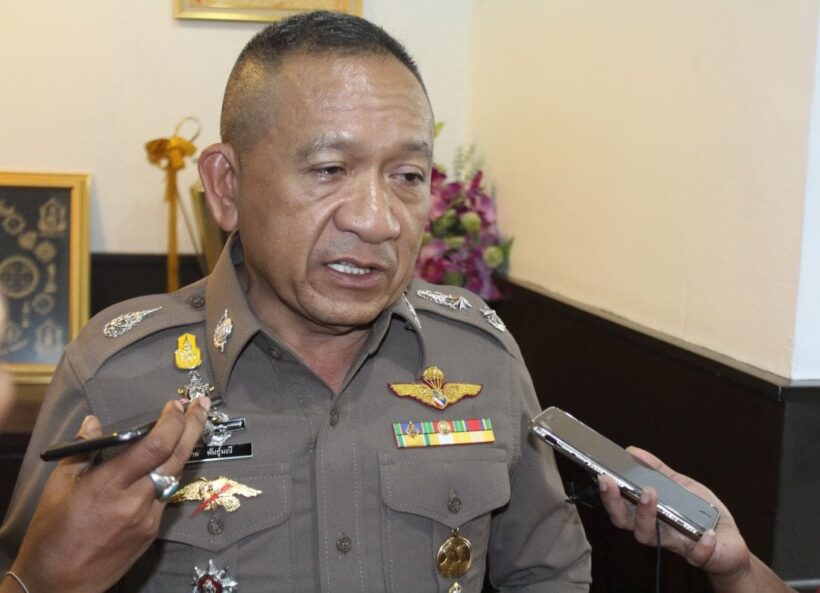 Five Kathu Police have been transferred to the Phuket Provincial Police Station after a gambling den raid. Soldiers raided a gambling den in Kathu on Tuesday night. More than 56 gamblers were arrested.
Read more about the raid HERE.
The order issued yesterday was signed by the Phuket Provincial Police commander Maj Gen Wisan Panmunee stating that five Kathu Police have been moved to the Phuket Provincial Police Station.
The five Kathu Police have been named…  Kathu Police Chief Col Jakkrawat Boontaveekunsawat, Kathu Police Deputy Chief Lt Col Chalermchai Hernsawat, Lt Col Chao Pomna and Maj Nopparut  Sukkree, and Inspector of investigation Police Maj Jaronthorn Donnayanrit.
Maj Gen Wisan says, "All five police are now working at the Phuket Provincial Police Station while an investigation is being undertaken on allowing gambling den in the area. We have been strictly enforced on preventing any gambling den in Phuket."