Ten reef sharks found off Phuket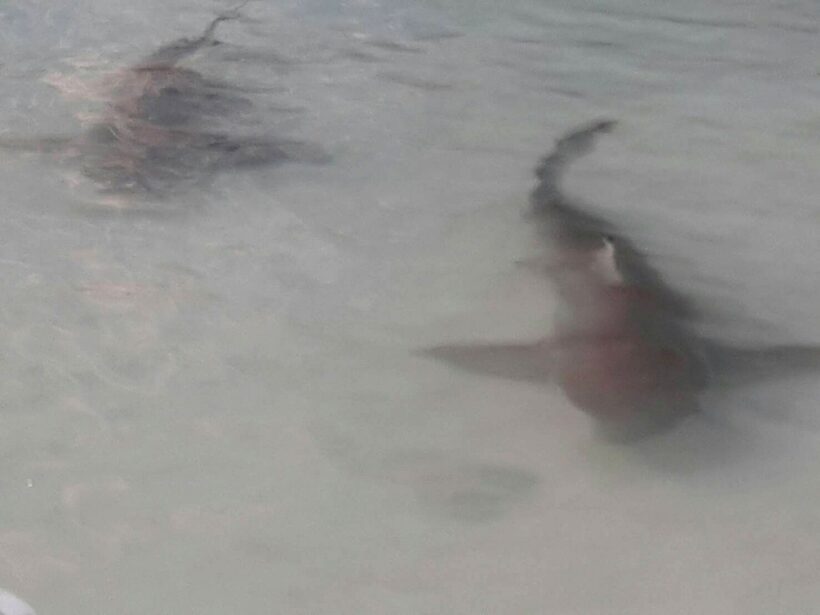 Blacktip reef sharks have been found in shallow water in Koh Hong area, Krabi, today (September 5).
The sharks were about on metre long and weighing an estimated 10 kilograms each. They were spotted at the beach in Koh Hong where they hunt for small fish in the shallow waters. The national park officers were able to get some pictures of them while the hunt was on before heading out for deeper water about 30 minutes later.
"The sharks routinely come to find food around Koh Hong Beach as the area is lush and full of small fish. Mainly they come into the shallow waters at night," said Jumpen Pompakdee, head of the Koh Hong National Park.
"Blacktip reef sharks are not aggressive nor harmful. This year they visited the beach less often. We found them only 2 or 3 times. I believe they live around Koh Hong area and it is prohibited to fish right across this national park area."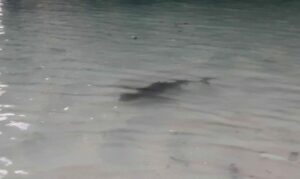 PHOTOS: Wichai Mungkhala, Krabi Press
Want more from the Thaiger family?
📱 Download our app on Android or iOS for instant updates on your mobile
📧 Subscribe to our daily email newsletter
👍 Like/Follow us on Facebook
🔔 Subscribe to or Join our YouTube channel for daily video updates
Thai woman admits to stealing lottery tickets from blind ticket seller in Bangkok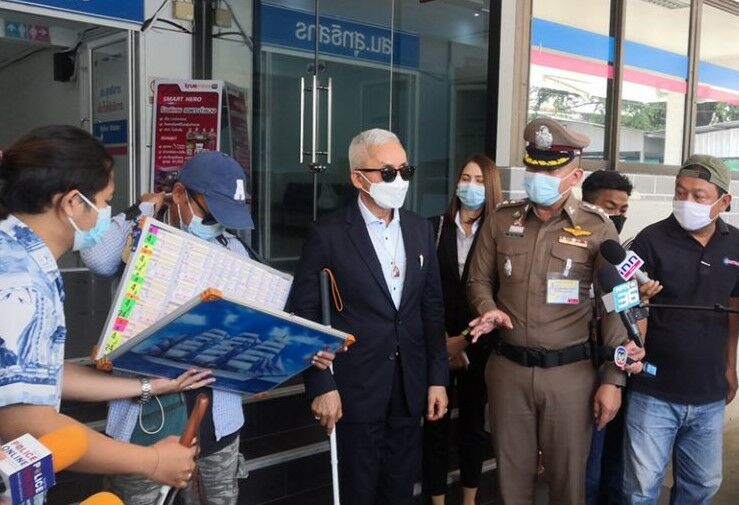 A 57 year old Thai woman is admitting to stealing lottery tickets from a blind seller in Bangkok. The woman, Sumali Muangpluem, is now under arrest for allegedly stealing from the disabled seller in the underground Sutthisan Station train between November 25-27 of last year. Sutthisan police say they collected evidence of the same type of theft in many districts, leading them issuing an arrest warrant for Sumali.
Police say their investigations revealed that the suspect would approach blind lottery ticket sellers while holding several tickets in her left hand. She would then use the right hand to pretend she was choosing a ticket and pull all of the tickets off at once so that the lottery seller would only hear one ticket being pulled. She would then hand some tickets to the seller while she hid the rest so onlookers wouldn't notice. She would then put the tickets in her bag while talking to the seller at the same time to keep her from noticing.
They say the suspect would then tell the seller she would be back to get the tickets and would leave money for the seller in the form of a deposit. One seller said he was keeping in regular touch with police as the same woman kept stealing lottery tickets from other blind sellers. He says he is afraid the suspect may hurt him because he filed a police report against her.
Police say Sumali has stolen about 450 tickets, valued at over 45,000 baht. They say she has stolen tickets at Victory Monument, Payathai, and Bang Na train stations in Bangkok.
SOURCE: Thai Residents
Want more from the Thaiger family?
📱 Download our app on Android or iOS for instant updates on your mobile
📧 Subscribe to our daily email newsletter
👍 Like/Follow us on Facebook
🔔 Subscribe to or Join our YouTube channel for daily video updates
Thailand to remain on US Trade watch list over online piracy and intellectual property violations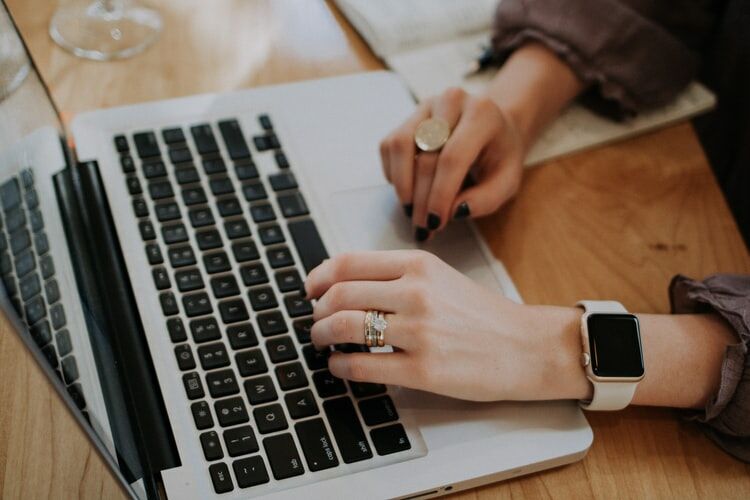 Thailand is to remain on the US Trade Representative's watch list as it tackles intellectual property violations and online piracy. Director-general of the Intellectual Property Department, Vuttikrai Leewiraphan, says the USTR made the announcement in its annual report that was released April 30. The report includes findings for more than 100 trading partners after engaging with stakeholders and further research.
"The US government admires the Thai government's and Commerce Ministry's progress in preventing IP infringement, the continuous development of IP protection and crackdowns on violations in both the offline and online markets."
The report indicated that Thailand continues to make progress by seizing counterfeit and pirated goods and has increased efforts to combat the sale of those goods online, and publishing its efforts. It also noted that Thailand increased its efforts against online piracy, through intra-agency coordination, but concerns still remain as counterfeit and pirated goods are still readily available in markets and online.
In addition, the US has urged Thailand to ensure that amendments to its Copyright Act address concerns expressed by the US and other foreign governments and stakeholders, including overly broad technological protection measure exceptions, procedural obstacles to enforcement against unauthorised camcording, and unauthorised collective management organisations.
Vuttikrai has pledged to work with US agencies to build an IP work plan to remove Thailand from all US lists in the future. He said IP rights protections should lead to more Thais benefitting from IP, leading to an increase in the country's competitiveness and economic development. But he has not released details on the counter-measures to be taken that would ensure the government is continuing to make strides towards addressing the issue of counterfeit and pirated goods even further.
Last year, the USTR released its annual report on Intellectual Property Protection and Review of Notorious Markets for Counterfeiting and Piracy, with Thailand being included among 22 other countries on the Watch List:
Barbados, Bolivia, Brazil, Canada, Colombia, Dominican Republic, Ecuador, Egypt, Guatemala, Kuwait, Lebanon, Mexico, Pakistan, Paraguay, Peru, Romania, Thailand, Trinidad & Tobago, Turkey, Turkmenistan, the United Arab Emirates, Uzbekistan and Vietnam
SOURCE: Bangkok Post/USTR.gov
Want more from the Thaiger family?
📱 Download our app on Android or iOS for instant updates on your mobile
📧 Subscribe to our daily email newsletter
👍 Like/Follow us on Facebook
🔔 Subscribe to or Join our YouTube channel for daily video updates
WHO gives emergency authorisation to China's Sinopharm Covid-19 vaccine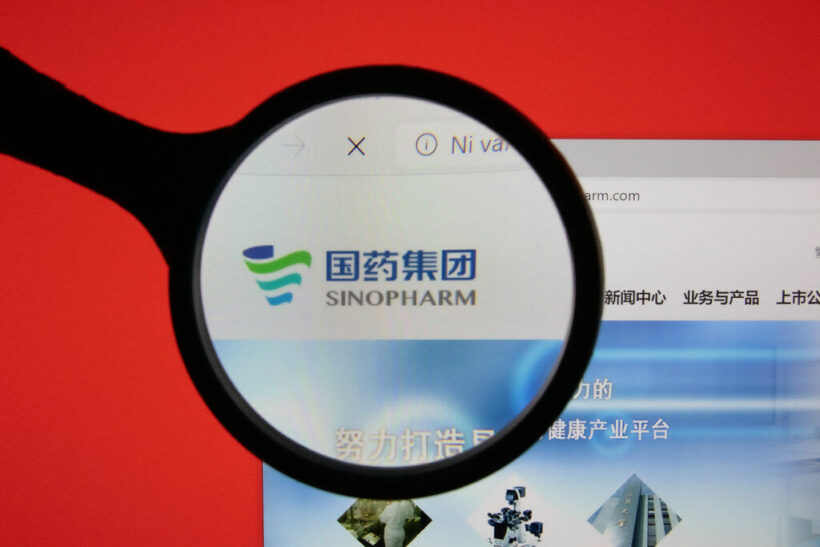 China's Sinopharm Covid-19 vaccine has been given the green light by The World Health Organisation for emergency use. The director-general Tedros Adhanom Ghebreyesus, made the announcement yesterday in Geneva. The Chinese vaccine joins Pfizer/BioNTech, Astrazeneca-SK Bio, Janssen, Moderna, and Serum Institute of India in being authorised by the WHO for emergency use.
"This afternoon, WHO gave emergency use listing to Sinopharm Beijing's Covid-19 vaccine, making it the sixth vaccine to receive WHO validation for safety, efficacy and quality."
Tedros says the Sinopharm vaccine is eligible to be purchased by COVAX, the initiative to provide equitable global access to Covid-19 vaccines. COVAX also gives countries confidence to expedite their own regulatory approvals and imports. The WHO's Strategic Advisory Group of Experts on Immunisation reviewed the data and is recommending the vacccine for use in adults aged 18 or older, with a 2 dose schedule.
Meanwhile, the other Chinese-made Sinovac Covid-19 vaccine is now approved in Thailand for adults over 60 years old. Doctors had initially advised that the vaccine to only be for adults 18 to 60 due to limited research on the elderly. The recommendation from doctors led Thailand's 67 year old prime minister, Prayut Chan-o-cha, to wait and take the AstraZeneca vaccine.
After Prayut backed out of plans to be the first to be injected with the Sinovac vaccine, Public Health Minister Anutin Charnvirakul, who is 55 years old, stepped up to be the first in Thailand to be vaccinated against Covid-19. The Sinovac vaccine has not been used on those over 60 years old since Thailand launched its Covid-19 immunisation campaign in late February.
Thailand is also set to receive 10 to 20 million doses of the Pfizer vaccine, according to Public Health Minister Anutin Charnvirakul. The minister posted an announcement on his Facebook page along with a photo after a meeting with Pfizer representatives. Anutin says the Thai Food and Drug Administration will facilitate the registration process as soon as possible. The Pfizer vaccine is expected to arrive in Thailand in the third or fourth quarter of the year.
SOURCE: CNN
Want more from the Thaiger family?
📱 Download our app on Android or iOS for instant updates on your mobile
📧 Subscribe to our daily email newsletter
👍 Like/Follow us on Facebook
🔔 Subscribe to or Join our YouTube channel for daily video updates