Special Delivery: Drug network uses social media, post office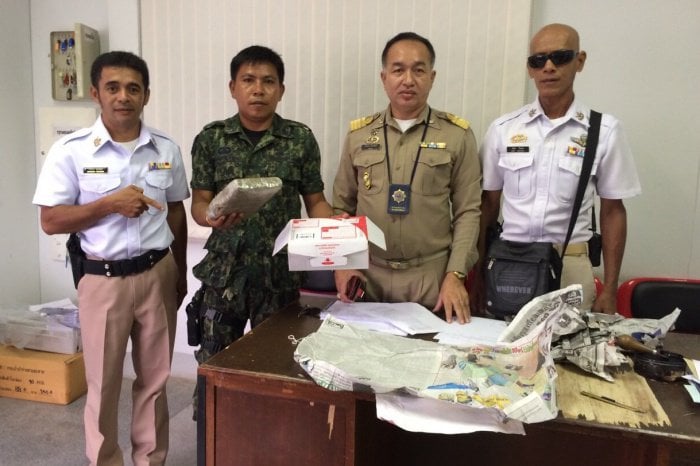 PHUKET: Enormous quantities of drugs are being shipped to Phuket through the Thai Postal system as island dealers buy in bulk through online social media platforms.
"It has become more difficult catching drug dealers after they started using social media applications such as LINE and Facebook to buy and sell their products," Director of the Narcotics Control Board (NCB) Sithisak Kallyanapradit told Phuket Gazette on Tuesday.
"These platforms are very broad, anyone can use fake identities and evade identification."
NCB officers are now hot on the trail of those running the operation out of Bangkok, confirmed Mr Sithisak.
"After receiving the initial report from Phuket officers, we have been able to identify a number of the people posting the packages in Bangkok via CCTV footage of them at the post office," Mr Sithisak said.
"We are in the process of strengthening our case by collecting more evidence and identifying more people in the network. We expect to make sweeping arrests soon."
The nationally-operated network, which supplies marijuana, ya ice (crystal methamphetamine) and a variety of other drugs, was first identified in Phuket's Thalang District.
"According to the evidence, it is a very big system that distributes to many places outside Phuket," Thalang District Chief Veera Kerdsirimongkol said. "Based on the way the drugs are packed, it seems like they have a machine doing it – it's clearly a big [and well organized] business."
The NCB and Thalang District officers started unraveling the operation after they put Phuket drug dealer Pichet Thipbamrong, 24, under surveillance.
After about a month of surveillance, Mr Veera and Chief Administrative Officer (Palad) Siripong Leeprasit moved in with a team to arrest Mr Pichet at his rental home in Cherng Talay on June 30.
"In his possession we found 1kg of marijuana, 400 grams of kratom leaves and 1.02g of ya ice [crystal methamphetamine]. Additionally, we found a digital scale and the phone he used to place orders," Mr Veera said.
Mr Pichet was initially charged with the possession of Categories 1 and 5 drugs.
"He confessed to the charges, and agreed to assist in our investigation," Mr Veera said.
On Mr Pichet's phone police found records of his drug orders on the application LINE. On June 29, Mr Pichet had ordered 3kg of marijuana.
Mr Pichet had only 1kg of the 3kg order at the time of the arrest. The remaining 2kg arrived at the Thalang Post Office on July 1.
The message that revealed the shipment was coming in also tipped police off that a shipment would be made from Bangkok to Nakhon Sri Thammarat.
On July 2, Nakhon Sri Thammarat officers moved in and arrested technical college student Nattapon Nuanprajak at the Srichon Post Office as he picked up a 1kg package of marijuana.
That same day Panchat Sangkhao,19, was arrested at the Thungsong District Post Office with 1kg of marijuana. Officers discovered more drugs stashed in his room, confirmed Mr Veera.
Following the successful raids, police asked Mr Pichet to use his phone to place additional orders with the suppliers identified by Mr Pichet only by their nicknames: 'Tai' with the LINE name 'RabbitGirl' and 'Dam'.
"We wanted to track down 'Tai' and 'Dam', so Mr Pichet placed an order for 100g of ya ice and 2kg of marijuana," Mr Veera explained. "Mr Pichet told us that he had been working with these suppliers for more than a year."
The order of ya ice arrived at the Thalang Post Office on July 2, while the first kilogram of marijuana arrived on July 4. The last kilogram of marijuana in the order arrived on July 6. Police seized the packages.
To combat the 'Post Office Drug Service' Mr Veera has suggested that new security measures be taken and new regulations be put in place.
"Post offices should have scanning machines, as well as a drug dog to help put an end to this," Mr Veera said.
"Currently, if a package is less than 2kg, the sender doesn't have to present an identification card. However, I think this weight needs to be changed and a copy of the card needs to be made – this can help prevent dealers from using fake names."
Mr Veera also pointed out that there are a number of private postal companies, whose services could also be abused.
The NCB confirmed to the Gazette that it will be sending letters to all government and non-government postal delivery providers in Thailand asking them to review their policies to help prevent drugs from being shipped throughout the country.
As social media platforms have created an easy method for drug dealers to take orders and coordinate shipments anonymously, Mr Sithsak explained to the Gazette that officers were being trained and prepared specifically on monitoring social media activity in order to help crack down on crime.
"Once all SIM cards are required to be registered by the end of this month, it will help us to track down [a lot of] these criminals," Mr Sithsak said. "I understand that we should be able to follow the IP address used when they are accessing fake Facebook or LINE accounts to track down the phone and the suspect. However, the technical systems we have access to in Thailand are limited, so we will just have to see how effectively we can manage the situation."

This article and another relating to it are in the current (July 11-17 issue) issue of the hard-copy Phuket Gazette newspaper, out on the streets of Phuket and across the nation this morning.
Digital subscribers may download the full newspaper, this week and every week, by clicking here.
Keep checking the Phuket Gazette, join our Facebook fan page or follow us on Twitter
@PhuketGazette for the latest news updates.
— Kongleaphy Keam
Keep in contact with The Thaiger by following our Facebook page.
Never miss out on future posts by following The Thaiger.
Another drug bust near the Mekong River, 500 kilograms of cannabis seized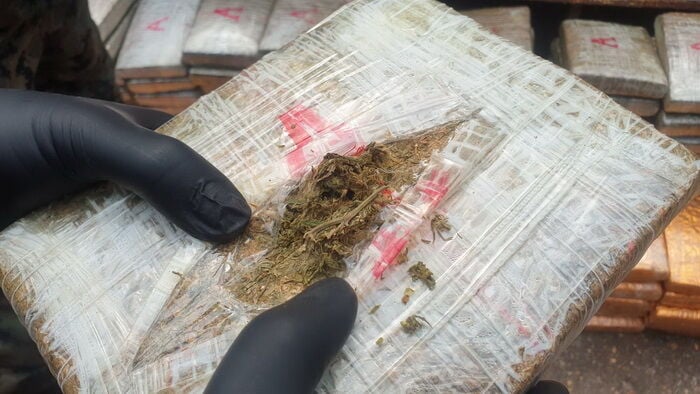 In another drug bust in Northeastern province Nakhon Phanom, police arrested a man and seized 500 kilograms of compressed cannabis. Just yesterday, border patrol police in the province seized 920 kilograms of compressed cannabis from a boat on the Mekong River. In both cases, police suspect the cannabis came from Laos, just across the river.
Police say they searched a black Nissan Navara pickup around 1am in the province's Na Kae district. Police opened the truck's bed cover and found 12 sacks with 500 packages of dried, compacted cannabis. Each package of cannabis weighed 1 kilogram, similar to the previous bust on the river.
28 year old Saravut Butngam was arrested. Saravut previously worked in construction, but has recently been unemployed. He allegedly told police that a man called him with an opportunity to make 50,000 baht. He was told to drive the pickup truck from a petrol station in the Na Kae district to a specified location in the neighbouring province Sakon Nakhon, police say. From there, another driver would take over.
Border police commander Sippanan Sornkhunkaew says he suspects the cannabis seized in the province was trafficked from Laos across the Mekong River. He says he believes the cannabis was planned to be trafficked to Southern Thailand and then smuggled across the border, possibly to Malaysia.
On Sunday morning, police confiscated 920 kilograms of cannabis from a boat on the Mekong River. When police approached the boat, men jumped off onto a smaller boat and fled the scene. The dried, compacted cannabis was wrapped in 1 kilogram packages.
SOURCE: Bangkok Post
Keep in contact with The Thaiger by following our Facebook page.
Never miss out on future posts by following The Thaiger.
Police seize 920 kilograms of cannabis smuggled across the Mekong River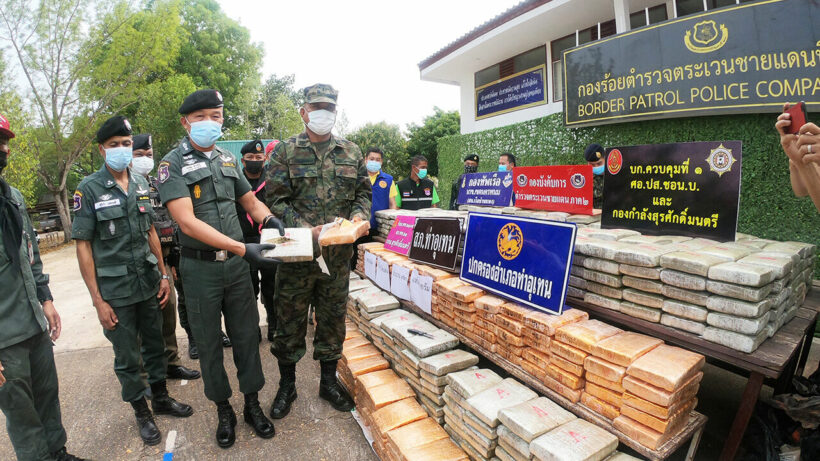 In a major bust on the Mekong River, notorious for drug smuggling, border patrol police seized 920 kilograms of dried, compacted cannabis from a boat along the Nakhon Pathom riverbank, bordering Laos.
Police were tipped off about a large shipment of drugs being trafficked across the Thai-Laos border. Police spotted a boat around 4am yesterday. When police moved in, men onboard the boat jumped onto a smaller boat and sped off. Police found 23 sacks filled with 1-kilogram packages of compressed cannabis.
In the recent months, police have seized more than 5 tonnes of cannabis. While the Thai government has been loosening measures on cannabis, allowing parts of the plant with low traces of the psychoactive component tetrahydrocannabinol, or THC, to be used in food and medicinal products, trafficking cannabis is still illegal. Cannabis with high amounts of THC is still classified as a Category 5 narcotic.
SOURCE:Bangkok Post
Keep in contact with The Thaiger by following our Facebook page.
Never miss out on future posts by following The Thaiger.
Thai FDA expedites the process to list cannabis as an "essential medicine"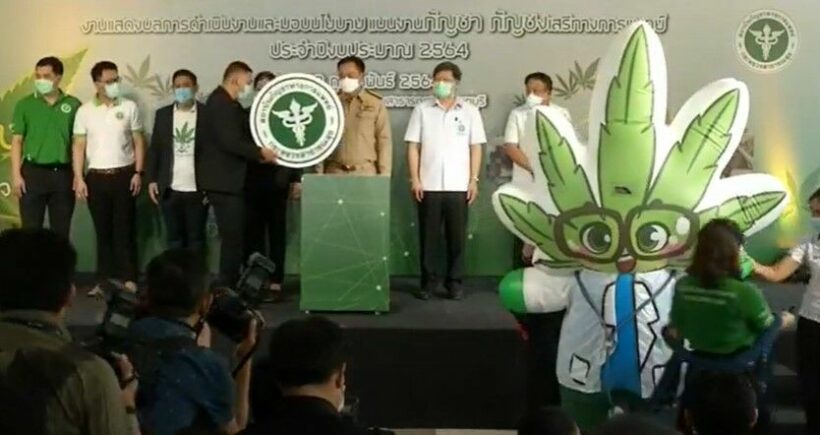 Cannabis could soon become an "essential medicine" in Thailand. While the plant's euphoria-inducing buds are still illegal and classified as a narcotic, other parts of the plant that do not cause a "high," like the leaves, are being pushed into the food and medicine industry.
The Thai Food and Drug Administration is even trying to speed up the process to include cannabis on the National List of Essential Medicines and to also allow it to be used in food, according to the FDA secretary general Supattra Boonserm. Yesterday, the FDA committee approved a draft ordinance to allow the once-criminalised plant to be on the essential medicines list as well as to be an ingredient in food.
"Users can put oil extracts from cannabis in breakfast cereals, bakery products, beverages, snacks or butter as well as in food supplements."
There are 2 main components in cannabis: tetrahydrocannabinol, known as THC, and cannabidiol, known as CBD. THC is the psychoactive component which causes the "happy-hungry high" while CBD is understood to have health benefits and has been used to treat anxiety and insomnia. THC is still illegal in Thailand.
Since the Public Health Ministry approved the use of cannabis and hemp for medical and research purposes, more than 50,000 patients in Thailand have been prescribed cannabis-based treatments, according to Public Health Minister Anutin Charnvirakul.
Anutin says the FDA's move to expedite the process of listing cannabis as an essential medicine is intended to make sure there is a sustainable supply of cannabis and the products are available to those who need it.
"The efficacy and safety of medical cannabis will continue to be reviewed, and the findings will be used to support further changes to medical cannabis laws."
The health minister spoke at the official opening of the Ministry's Institute of Medical Cannabis, which will be the coordinating agency to make sure cannabis-based products are in line with government policies.
"The institute will also provide accurate information about the plants and their use, as public interest in the plants have grown."
More than 300 community enterprises have joined with the ministry to grow cannabis for medical and research purposes, Anutin said. He adds that households with permission from a local hospital can grow up to 6 cannabis plants on the property.
SOURCE: Bangkok Post
Keep in contact with The Thaiger by following our Facebook page.
Never miss out on future posts by following The Thaiger.