Serious class warfare on final day of King's Cup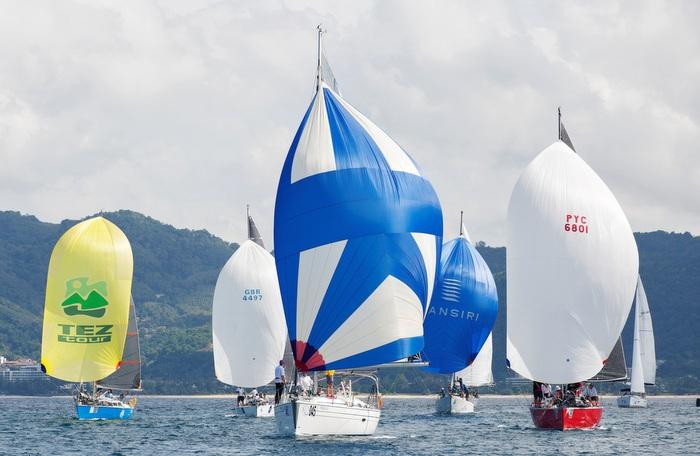 PHUKET: On the final day of the 29th Phuket King's Cup Regatta 2015 there was some serious class warfare played out in Kata Bay. Keelboats and multihulls hit the water for one last run, as teams fought for the honor to claim Phuket King's Cup victory in the name of HM King Bhumibol Adulyadej.
In IRC0, Windsikher II skippered by Sarab Jeet Singh of Singapore made a great fist of challenging for King's Cup glory with a string of first and second place finishes. Windsikher II carried an advantage in both points and momentum going into the last day, and seemingly only an unexpected upset could derail their run. They took both race 10 and race 11, two bullets, as if underlining the completeness of the week's massive performance.
Mr Singh was delighted to finally win a Phuket King's Cup Regatta, after coming in second and third place in many past runs since 1997.
"We had the points advantage going in, but anything can happen, any equipment failure or other issue en route. Second place is a threat, and so we decided to sail the same way, no messing about, with keen roundings," said Mr Singh. "This is my sixteenth King's Cup since 1997, and my first win. Our Welbourn 52 custom boat had the same crew as my other boat (Sydney 40), and we've basically enjoyed ourselves and done really well.
"Courses were well organized but the light breezes are always challenging here. The team did well and the only reason I bought this boat was that I knew we had a team that could step up."
Among the IRC1 entrants, Kenn Eyears and Rerefine (formerly Windsikher) led the class ahead of Kevin Whitcraft's Wan Ma Rang, chasing by a single point. Wan Ma Rang took line honors in race 10, but placed 90 seconds behind Rerefine on corrected times. In race 11, Rerefine won again to finally nail their regatta trophy.
Japanese team Karasu, skippered by Yasuo Nanamori, lead IRC2 with a total of four race wins, just one point behind was Roland Dane's Jessandra II, but Mick Tilden's Fujin team threw a spanner in the works by claiming race ten, leaving the two leaders to fight it out for second place.
An incredible battle ensued with Jessandra II beating Karasu by 24 seconds on elapsed time and a skinny 9 seconds on corrected. In race 11, Karasu struck back, the resulting final day's points scramble seeing Karasu sitting pretty and three points clear. A classic Phuket King's Cup finale.
Pine Pacific had already won the Premier Class after another two victories – although, true to form, still took line honors (and then another win, just for luck). Audeamus skippered by Kim Ramen & Adrian Fini took a consolation win in race 7.
Andrey Novikov skippering Alexa in Bareboat Charter put in another predictable first, securing a King's Cup Regatta win for the Russian team. Their run of 6 wins out of 7 races put them miles ahead of any rival in final scoring for the class.
Vladimir Oleynikov's Open Charter entry Popeye had a marvelous run. The Russians took another seemingly sweat-free run, finishing fastest on both elapsed and corrected time – twice. Their victory had been emphatic, dominating the class by winning their first four races at the beginning of the week – and never looking back.
The Royal Thai Navy entry, Thai Navy 1, skippered by Chief Petty Officer First Class Wiwat Poonpat, achieved regatta glory in Modern Classic Class. The team finished well ahead of the rest of the fleet again to win both of their races.
IRC Cruising Class race six was won by Thai-registered Slipstream skippered by Rod Mulcahy. Slipstream and Mustang Sally were tied up after the last race, and on countback, Slipstream's race win from the previous day proved invaluable; an edgy final day decider.
Cruising Class race six fell to a Chinese entry named Atom, skippered by Jian Quan Tong. Tony Byrnes and Mohawk, who won the first four races in spectacular fashion, had done enough by midweek, and were named winner of the Class.
Of the two Classic entries this year, Cedric Rimaud skippering Selma took every race in the regatta apart from on the first day's racing. The boat did well, completing every course in allotted time limit.
Firefly 850 Sports had been absolutely owned by John Newnham skippering Twin Sharks all week, with seven wins before the final day. Hans Rahmann's Voodoo team took a consolation win in race 9 but were 8 points adrift at the close.
In the Multihull Racing Class, Alan Carwardine and his team led the Class by three points ahead of Team Java. Asia Catamarans Hurricane claimed a narrow victory over another very well sailed boat, Three Itch, in race 9. Race 10 completed their two bullet performance and well-earned Regatta honors.
In Cruising Multihulls, Japanese entry Minnie, which has performed brilliantly this regatta, came second behind Star Fruit, but the team had done enough to win the class by four points.
Performance Multihulls was won by Australian Elizabeth Schoch on Sudu3, and she had been on exceptional form throughout the regatta. She enjoyed first and a second on the last day of the King's Cup, completing a magical run in this new Class.
As is Phuket King's Cup tradition, the week ended with a fantastic beach-side party at Kata Beach Resort & Spa.
"We are proud to continue to support the Phuket King's Cup Regatta for the last 17 years, as it is one of the most internationally significant regattas in the world of yachting," said Pramookpisitt Achariyachai, president of Kata Group Resorts Thailand. "This event is a great opportunity to support Phuket's policy to make this province a world-sports paradise through which it attempts to attract notable sporting events. The Phuket King's Cup remains the biggest highlight of the calendar."
While Kevin Whitcraft, president of the Phuket King's Cup Regatta Organizing Committee noted, "Over the past three decades, there is no question that the King's Cup, with HM The King's imprimatur, has been the catalyst for the enormous advance of water sports in the Kingdom, resulting in many world class competitions coming to our shores, the latest being the international Optimist class, approving a world championship next July to be raced at the Royal Varuna Yacht Club in Pattaya.
"I congratulate all the winners and all who have competed in a fair, friendly sail fest and urge all to return to Phuket for next years' 30th Phuket Kings Cup Regatta."
Keep in contact with The Thaiger by following our
Facebook page
.
Never miss out on future posts by
following The Thaiger
.
City officials plan to demolish abandoned Pattaya condo project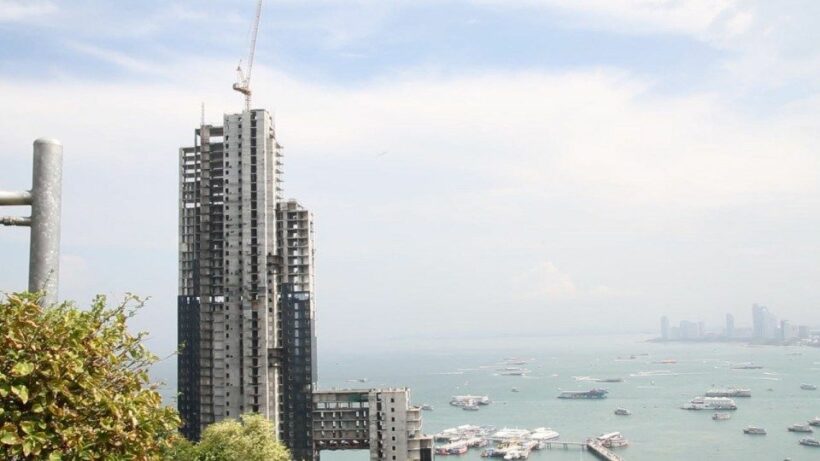 After years of talks, threats, and complaints, the abandoned Waterfront condo development at Pattaya's Bali Hai pier looks set to be demolished. The Waterfront Suites and Residence is a half-finished condo project that was stalled in 2014 after safety inspectors discovered that the building's fire escapes and elevator systems designs varied from the already approved construction designs. Read an earlier story about the eyesore HERE.
Pattaya's mayor, Sonthaya Khunplume, says officials plan to tear down what many have condemned as an eyesore, "as soon as possible" – and charge the owners for it. According to a Pattaya News report, the date of the demolition, along with the name of the company being hired to carry out the work, have not yet been confirmed.
The controversy surrounding the development dates back to 2014, when construction was halted following multiple legal threats and complaints from local residents. The Israeli-owned development company, Bali Hai, are accused of violating building regulations, by building a structure that exceeds the legal height limit, as well as restrictions on proximity to the beach. Local residents have also complained that the development obstructs the panoramic vista of the bay from Pattaya Hill, and the view of the memorial to the renowned Admiral Abhakara Kiartivongse, Prince of Chumphon.
For their part, the developers insist they have complied with all regulations and had the necessary paperwork and permits for the project. It seems however, that Pattaya officials have had enough, and, ignoring the developer's claims of bankruptcy, they say the whole Waterfront saga must end. They say the demolition will not affect lawsuits being brought by those who paid for condo units that never materialised, insisting that court hearings can still go ahead, regardless of the condition of the building.
SOURCE: The Pattaya News
Keep in contact with The Thaiger by following our
Facebook page
.
Never miss out on future posts by
following The Thaiger
.
Pandemic has washed away Pattaya's "soapy" massage parlours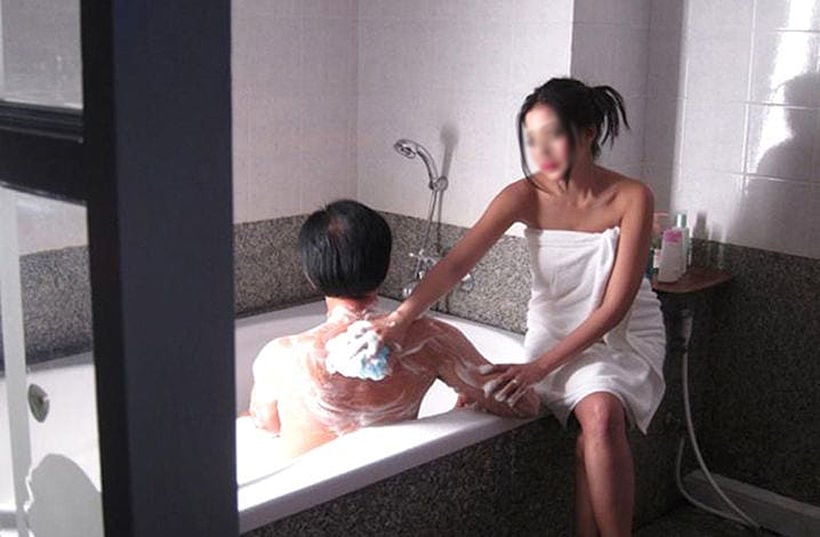 While the Covid pandemic has hit Thailand's businesses hard, it has also washed away its not-so-legal soapy massage parlours after tourism has dried up its clientele. Such places, known as glorified brothels, have left many masseuses out of work as boards have barricaded the once booming establishments.
Soapy Massage (àap-òp-nûat, อาบอบนวด, literally bath, steam, massage)…
These are the bigger massage parlours where girls are presented in the fishbowl and you get the full program (including sex) for a fixed price, depending on the girl starting from 1,500 and up to 5,000 Baht.
Only a few of the soapy services have survived the pandemic in Pattaya, with Honey Massage Parlour being one of them, according to The Pattaya Mail. After adjusting to the new requirements for social distancing, the business has re-opened on November 19. However, its largest shop has closed, once known as Honey 1 on Soi Honey, or Soi 11, the windows are dark and barricaded. Honey Inn is also up for sale.
25 year old masseuse Maywadee, says she used to work in such parlours where she would get a cut of the 1,500 to 2,500 baht fee. She says she used to see up to 7 clients a day, but now that number has been cut in half as Chinese and Japanese tourists, who were her largest group of customers have dwindled. Now, she is thinking about heading back to her home city of Chiang Mai, to sell handicrafts, as her Pattaya income has dried up.
Such parlours feature masseuses that are usually not native to the area, as many come from lower socio-economic areas such as Thailands northeastern provinces, otherwise known as Isaan. Many make the trip to tourist-driven cities like Pattaya, Koh Samui, Bangkok and others, in an attempt to make a higher salary than they would if they were back in Isaan.
SOURCE: The Pattaya Mail
Keep in contact with The Thaiger by following our
Facebook page
.
Never miss out on future posts by
following The Thaiger
.
Phuket sees 300 million baht boost over long holiday weekend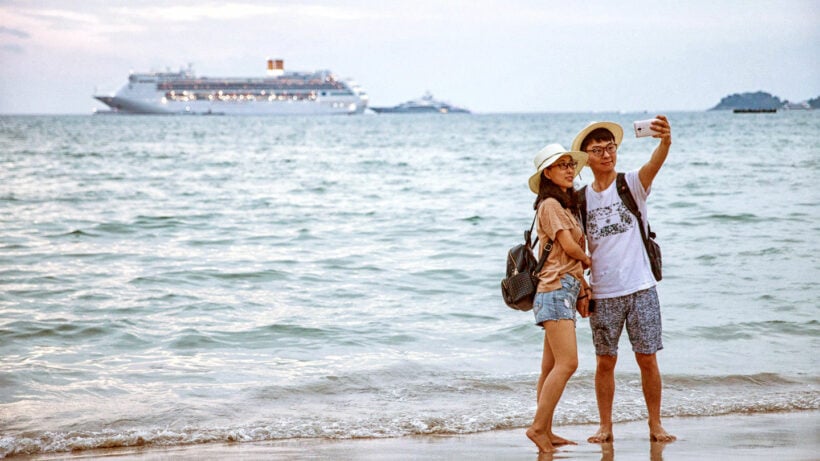 The Tourism Authority of Thailand says that Phuket has received a much-needed 300 million baht boost over the 4 day long weekend with around 54,000 tourists flocking to the island from last Thursday through to yesterday.
Phuket Office Director Nanthasiri Ronnasiri, reports that the average expenditure per visitor was about 5,500 baht, which was higher than the average spend for a Thai tourist to Phuket 2 years ago. She also noted that random checks on hotels showed that occupancy rates climbed to about 35%, with most guests staying 2 nights. But most of Phuket's hotels remain closed.
Nanthasiri also says that many of the tourists concentrated themselves in the Phuket Old Town area, especially around Thalang Road, Phang Nga Road, and Dibuk Road in order to enjoy at the Sino-Portuguese shophouse architecture and historical locations. In fact much of Phuket Town, including its many markets and alley eateries, were doing roaring business, The Thaiger can vouch for the heavy traffic, on the roads and footpaths, over the past 4 days.
"This special holiday made Phuket tourism livelier, even though it was not as same as the situation before the Covid-19 pandemic."
In fact, despite the welcome surge of visitors, it was still a long, long way from its previous tourist levels with much of the west coast, which has largely catered for the international tourist traffic, was still very quiet in places like Patong, Kata and Karon.
Phuket wasnt the only destination that has profited off of the long weekend as Chiang Mai saw droves of Thai tourists visiting its Royal Park Rajapruek as well as the northern city's other nearby national parks and tourist areas. Visitors came from all over to see the blossoming of flowers in a beautiful display at the park as well as enjoying the air-purifying flowers as they relaxed. Tourists were able to rent a bicycle for 60 baht if they wanted to exercise while taking in the scenery and could also pay a visit to the orchid greenhouse, which hosts a variety of orchids in bloom. TripAdvisor recommends to set aside 2 hours to visit the park.
Next holiday weekend, on November 27 and 28, Pattaya is expected to get a tourism boost as its annual fireworks festivalis set to bring in travellers who have taken advantage of package deals offered by some beachside hotels. Such packages were offered for advance bookings, where holidaymakers could view the firework shows on the rooftops of their hotels. The firework displays are said to be long with breaks of entertainment-packed shows, featuring live music and student bands amongst others.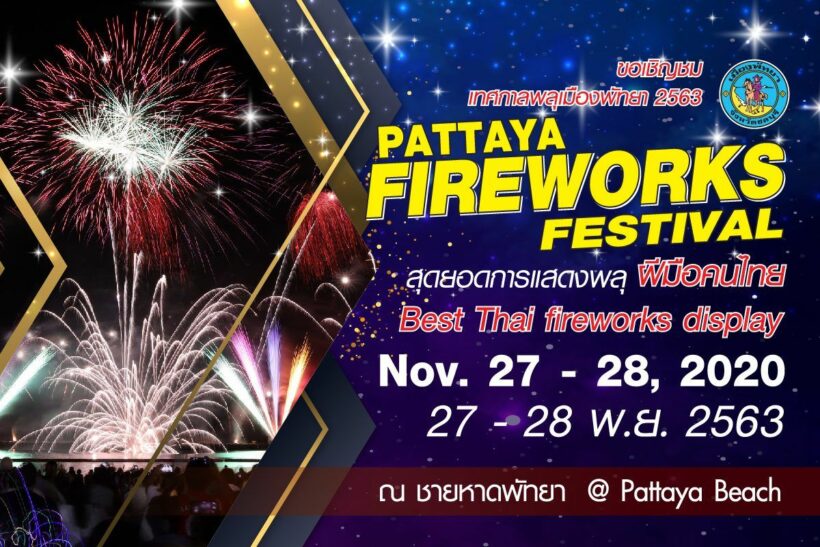 SOURCE: The Phuket News
Keep in contact with The Thaiger by following our
Facebook page
.
Never miss out on future posts by
following The Thaiger
.