Phuket's The 9th Floor wins three top awards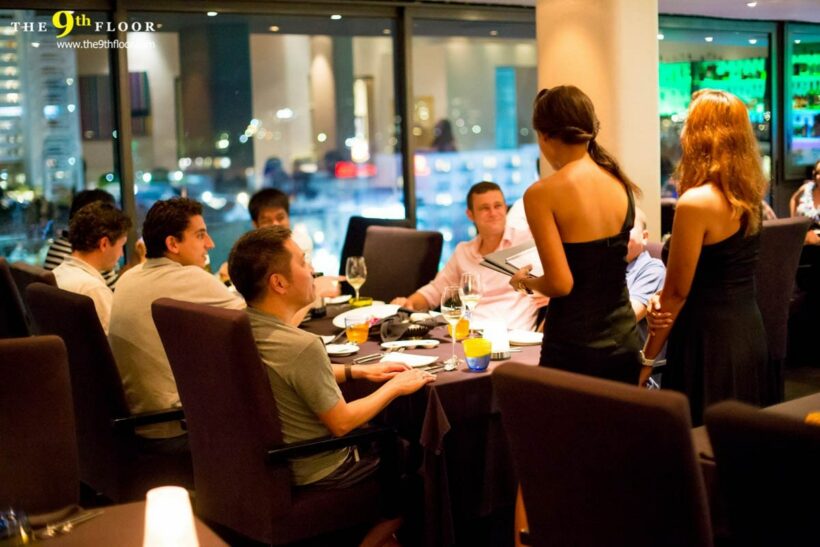 The 9th Floor, one of Phuket's long established fine dining restaurants, has won three top awards in the 2018 World Luxury Restaurant Awards.
The restaurant won awards for best fine dining cuisine (country, Thailand), best wine selection (continent, Asia) and best Mediterranean cuisine (regional winner, South East Asia).
The 9th Floor owner Bart Duykers commented: "This is a tremendous tribute to the hard work of our staff who are proud of the consistently high level of cuisine and service we deliver to create the type of dining atmosphere the awards are looking for."
The World Luxury Restaurant Awards aim to highlight special features to raise the standards of service in luxury restaurants by imposing strict selection criteria on the standard of interior design, food quality–to haute cuisine level–and positive service reviews. 
The 9th Floor has one of Phuket's most extensive wine lists (300+ labels) from France, Chile, Spain, Italy, New Zealand, South Africa, North America, Switzerland, Germany, Austria, Portugal, Argentina and Australia.
The Mediterranean based menu has an extensive offering of seafood, poultry, meat, pasta, rice, salads, cheeses, Thai, soups, fondue and desserts.
The 9th Floor's "Angels" are highly trained Thai waitresses who are renowned for their high level of service. A number of them are trained sommeliers who can advise on wine.
The interior atmosphere is a subdued elegance with an uninterrupted, open window evening view across Patong to the Andaman Sea.
"The World Luxury Restaurant Awards aims to promote culinary excellence and a memorable experience to create an outstanding atmosphere. We believe winning these awards confirms our aim of providing the best possible dining experience."
The awards are based on the food experience as a whole, combined with aspects of service excellence, presentation quality and menu choices.
Voting for the awards is mainly from guests and also industry professionals. 




Find restaurant and food listings around Phuket at Thaiger Bites.

Read more headlines, reports & breaking news in Phuket. Or catch up on your Thailand news.
Na-Oh, taking off daily into a brand new culinary adventure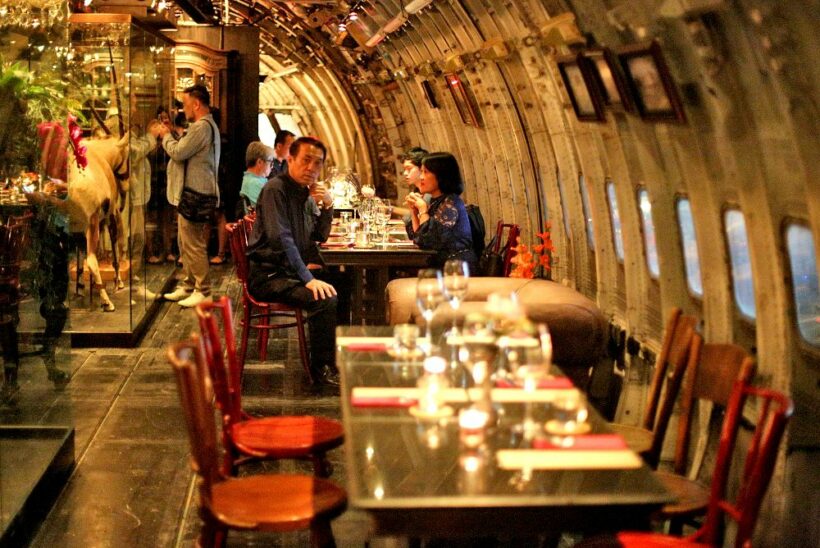 PHOTOS: The Nation | Na-Oh
A restaurant with a theme, a grand gothic theme – a flying vessel taking survivors of a post-apocalyptic world to a safe zone.
Na-Oh (a play on Noah and his journey-to-safety story) promises that its menu will constantly change to reflect a new theme set by the restaurant every three or four months, usually reflective of the various destinations the 'journey' will take you.
This flight of fancy is an old Lockheed L10-11, an 80s domestic flyer in the US now re-imagined as a restaurant in Bangkok's Thonburi district as part of the Chang Chui Bangkok Plane Night Market, on the west side of the Chao Phraya.
The 55 metre, 150 tonne former jet that's been permanently parked at ChangChui since 2017 is finally whisking passengers off on culinary adventures.
Formerly flying for Thai Sky Airlines fleet, the L10-11 was about to be scrapped when Somchai, the celebrated clothing designer and founder of fashion label FlyNow, flew to its rescue.
Upon boarding for what's billed as a "futuristic food journey", guests have five and five-course dinners to choose among – ranging from 1800 – 2800 baht.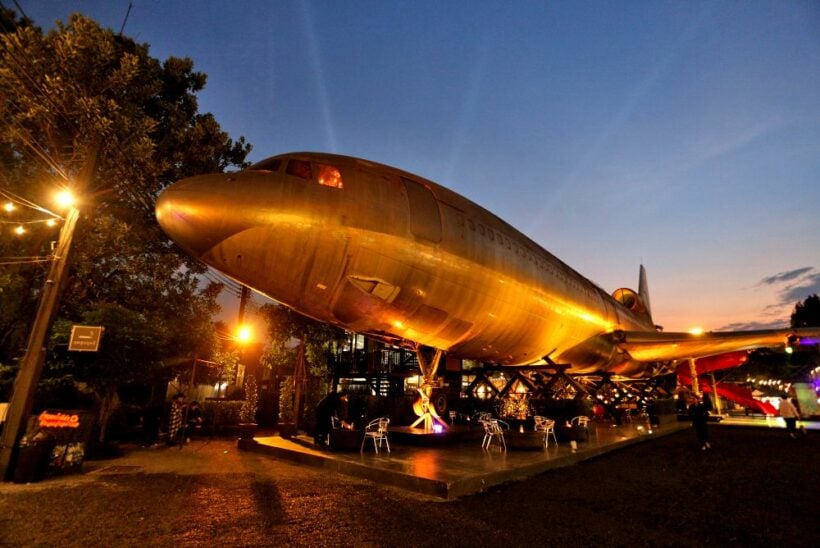 But when boarding the plane this time you're entering a whole new world of imagination – the look is gothic, sumptuous, art-deco, eclectic and lush.
The restaurant owners have replaced the 400 airline seats with vintage sofas and chairs and added fancy chandeliers. Old steamer trunks serve as tables.
And adding to the 'weird' is a range of taxidermy hanging on the sides of the old plane –  all are certified legal and ethical, meaning they died of natural causes.
Once upon a time surly baggage handlers would hurl your luggage onto a waiting trolley at an airport, but here the former luggage compartment is now a 10 seat lounge with high-backed maroon sofas.
The cockpit is a private dining room with a classic chesterfield.
You get the idea, Na-Oh is high on style, but what about the food? It's fine dining with a thematic twist. Mostly Asian-inspired simple flavours, the owners describe the culinary experience as a futuristic food journey. So, expect the unexpected. Check out the current menu at Na-Oh HERE.
Compared to the dramatic interior and wow-factor, the degustation menu-style offerings are a secondary matter. But if you're looking for that different dining experience in Bangkok strap yourself in, stow your tray table, open up your window covers and open up your mind to a new culinary experience.
Na-Oh is open daily, except Wednesday, from 6 to 11pm.
Bookings on 02 007 7070 or find out more HERE.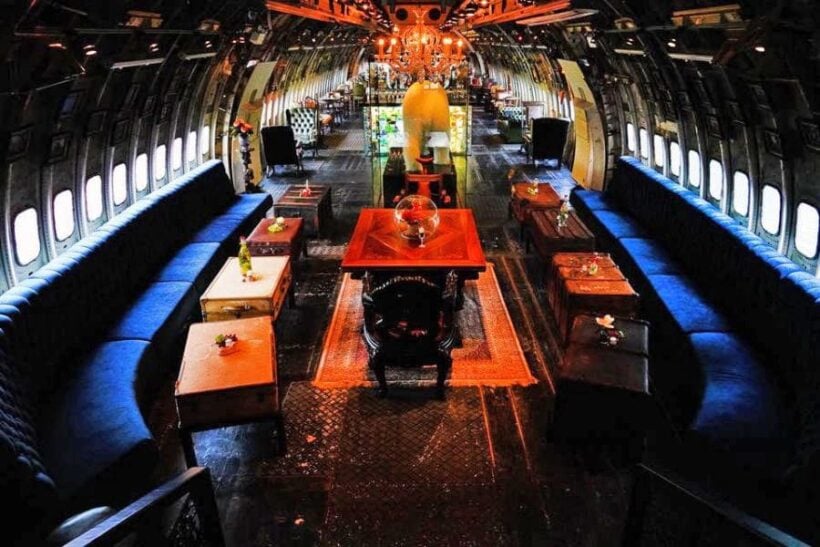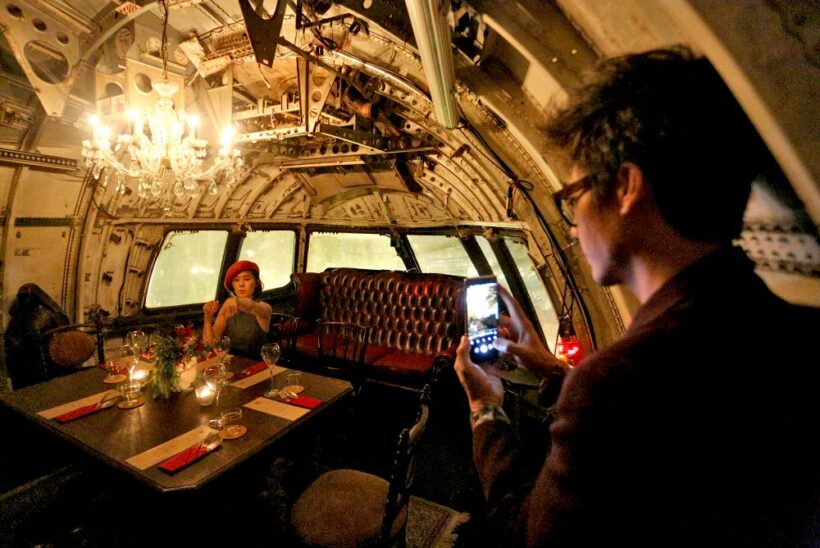 Thong Dee, the Kathu Brasserie loved by foodies and Phuket locals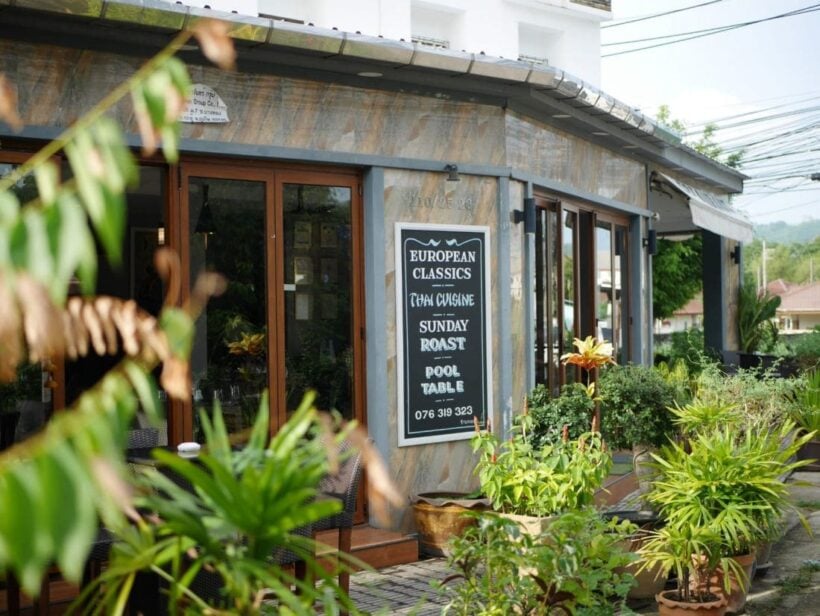 The Thaiger was invited to a special 'taster' at one of our favourite restaurants on the island of Phuket, Thong Dee. As usual, the food spoke for itself – no fuss, classy, so so tasty, eclectic. The Thaiger was a guest of the hosts Patrik and Ponchan for the evening.
Thong Dee – The Kathu Brasserie, located in Kathu in a quiet soi less than 15 min drive from Patong or Phuket Town has become a popular go-to foodie destination, away from the hustle and bustle of Phuket. The atmosphere at Thong Dee is certainly friendly and relaxed but also chic and stylish. The restaurant offers open-air dining where locals and visitors comfortably sit and watch the tiny world of Kathu go by.
The restaurant is currently ranked #1 on TripAdvisor (April 2019), undoubtedly a favourite for foodies looking for quality in a breezy brasserie which doesn't burn their wallets. But the journey to finding this perfect balance was certainly not a smooth one.
Established on the 25th December 2010, married couple Patrik Lundgren, from Sweden, and Phonchan Chiarram, originally from the Buriram province, opened "Thong Dee Restaurant & Bar", literally meaning "Good Gold" in Thai, a colloquial expression that better translates as "Good Quality".
Thong Dee began as only a dream for the two. Phonchan already owned her own bar at only 21 and Patrik always considered himself a devout foodie. He was the one to make the bold decision to become restaurateurs. With the help of Patrik's mother, the couple, with their love for F&B and strong entrepreneurial spirit, made that dream into reality.
"I consider myself a genuine foodie and always had a huge passion for food. I rather have a big bill from a fabulous restaurant then a trendy nightclub" – Patrik
Phonchan never had any formal training as a Chef but with Patrik's belief in her skills and Patrik's mother's training, Phonchan started in her own restaurant as the cook. Here she not only had the opportunity to develop her delicious family recipes but began experimenting with Western and European cuisine.
The menu opened with 80 % percent Thai food until Patrik realised it was an already over-saturated market. "We had to be different from that "green curry" you can eat anywhere in Phuket". Over the next 6 years the restaurant went through huge changes, both in layout and in menu.
Through the first stages, they enlisted the talents of André, a young chef who worked in France & Scandinavia at Michelin fine dining establishments, most notably, at Restaurant Kiin Kiin in Copenhagen. It was from him that Phonchan learned the fundamentals of fine dining, such as mise en place and creating stocks and sauces.
"He also taught me about the art of plating and classic dishes from French cuisine as well as fusion creations" – Phonchan
In 2016 they partnered up with an experienced Irish chef, from whom they learned about the strict operations of running a restaurant and creating a positive flow in the kitchen.
"He also taught me a lot form the European and English kitchen, such as the Sunday roasts, chicken liver parfait and desserts" – Phonchan.
The couple found their groove through their own culinary explorations, research and development combined with the knowledge of experienced chefs.
"…almost all of the dishes on our menu are different from how I learned from the start, both in Thai cuisine and European. I discovered in the world of cooking, all dishes can be made from the chef's own interpretation." – Phonchan
Patrik describes the cuisine at Thong Dee in detail as – "European with French, English & Swedish influences in addition to authentic Thai dishes with premium main ingredients."
You will find Patrik at the front of house being the charismatic host, paying close attention to detail and customers' every need. Thong Dee's client's range from local expat families and friends looking for a taste of home, and tourists looking for finer Thai food and good wines to match. Thong Dee has also become a favourite spot for local F&B industry management staff.
People flock from around the Island and even globally to experience Phonchan's signature Thai duck dishes, even stews and Swedish meatballs. The also offer ever-changing weekly specials. Their Sunday Roast is also a drawcard, that attracts playful groups and families looking for a wide variety of succulent roast meats.
In the future, Thong Dee are considering to expand into Phuket Town, where the offering will be much more focused on classic European Brasserie cuisine, with starters, salads and steaks and a high value wine list and of course, the same friendly service in a stylish and relaxed atmosphere.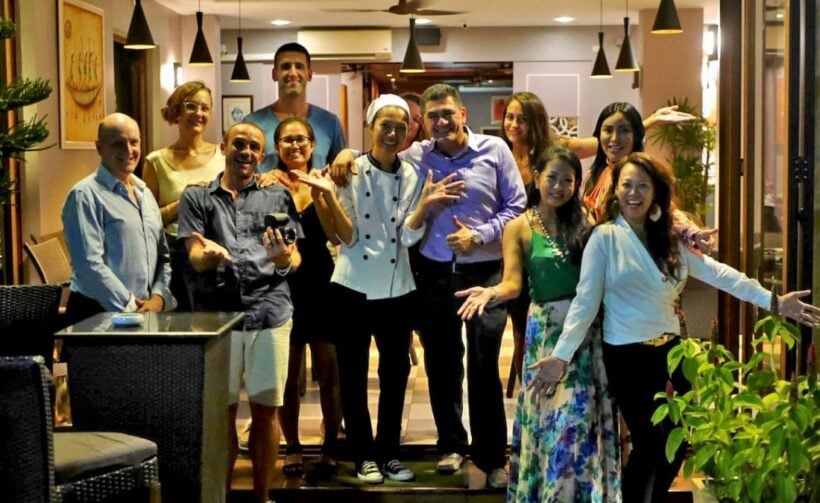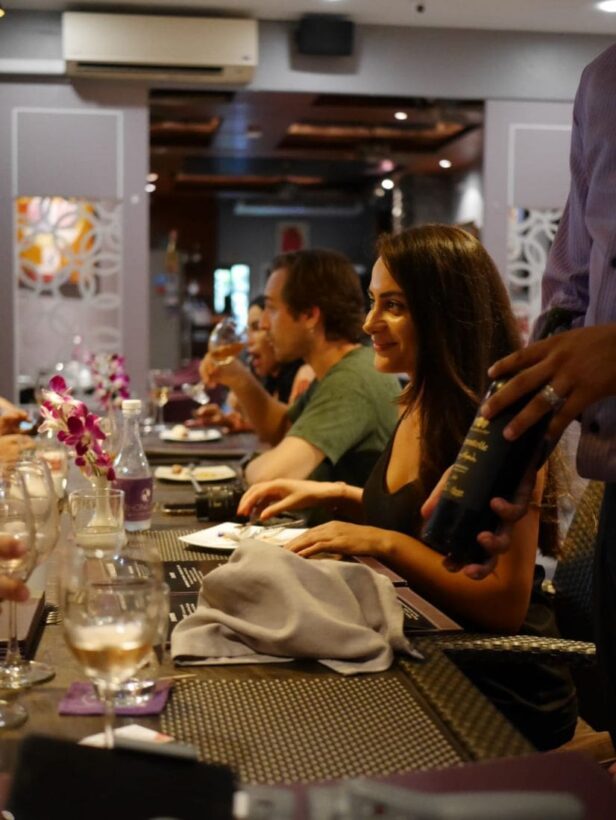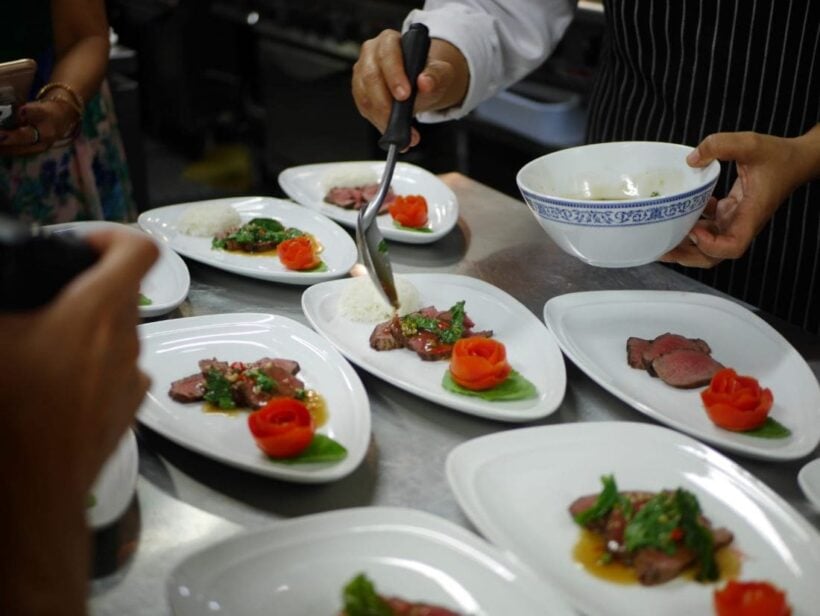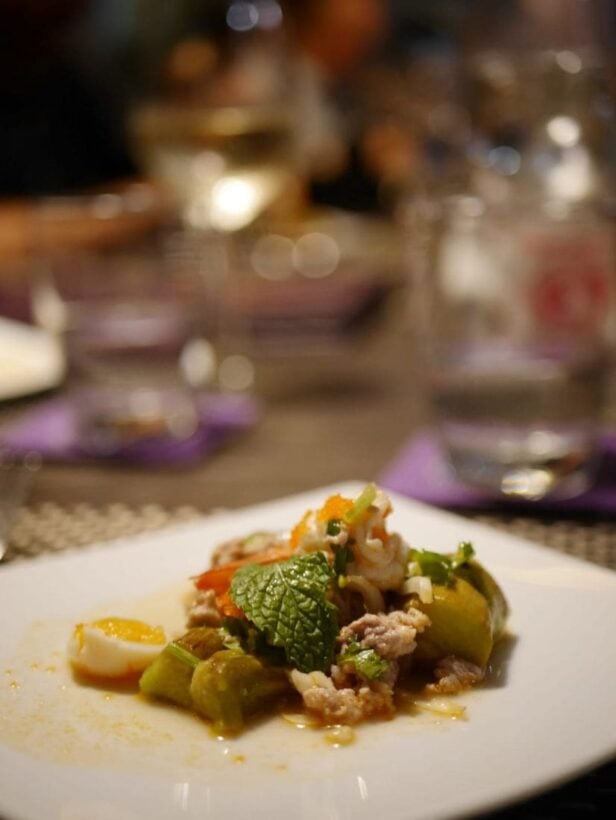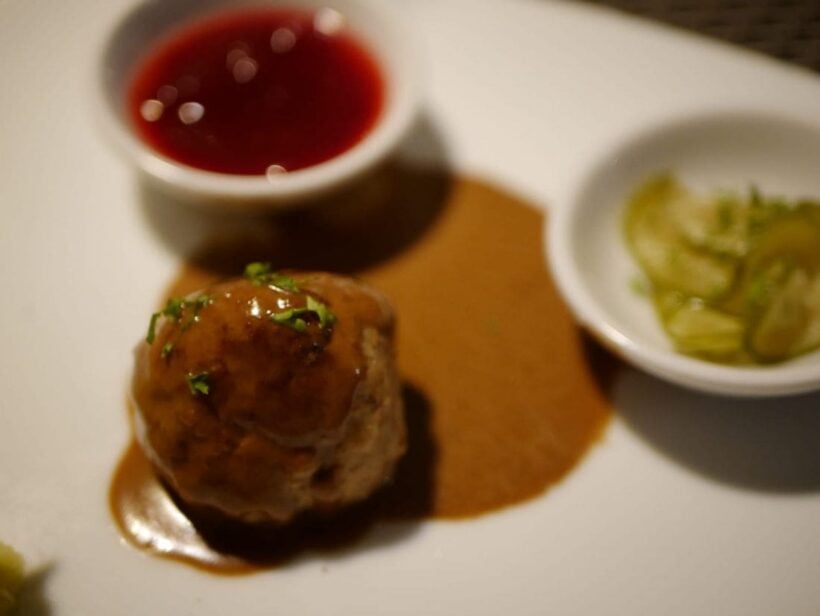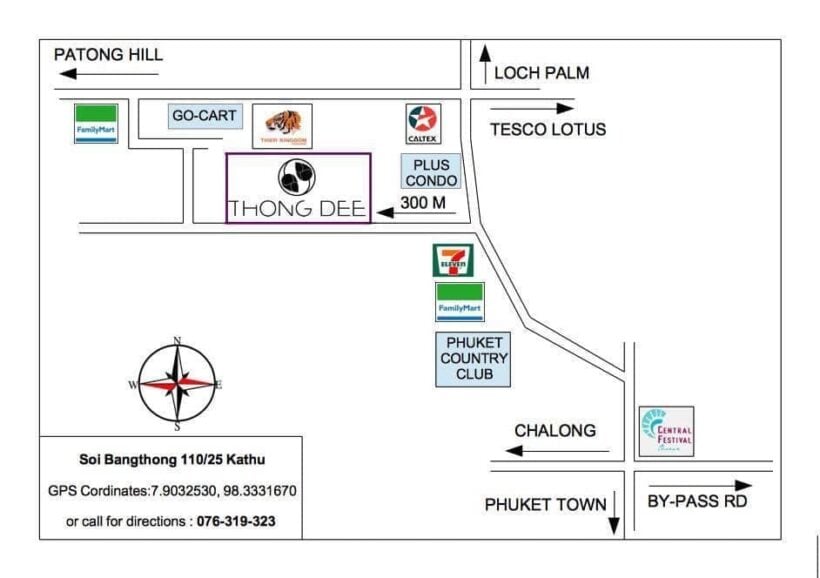 Thai suki restaurant customer injured as gas cooker explodes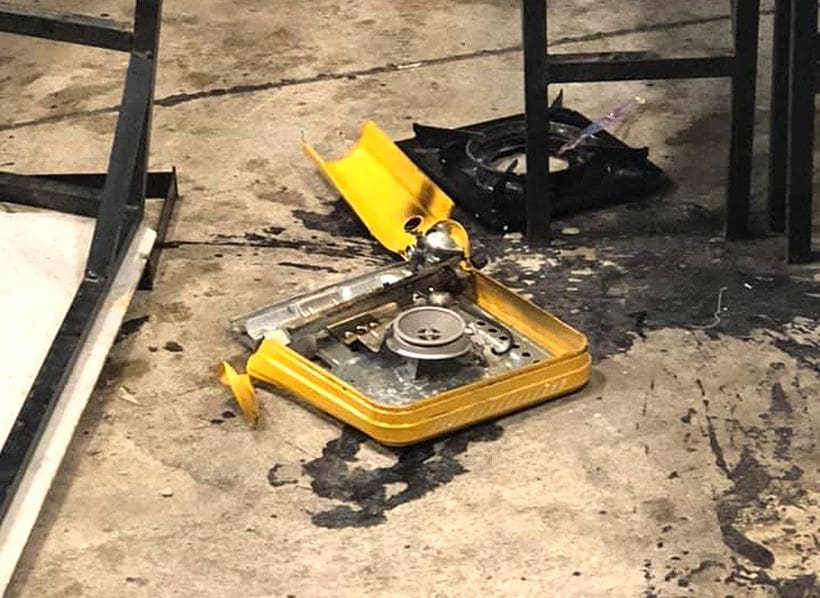 PHOTO: Facebook.com/สมพงษ์ เเก้วอาจ
A gas canister has exploded at a Moo Katha or 'suki'  restaurant in the Ram Inthra area of Bangkok. Moo Katha is a very popular kind of restaurant around the country.
Thai Rath reports that Sompong Kaew-art posted on his Facebook that he had been near the restaurant when he heard an explosion. Passersby first thought a tyre had blown out somewhere. But later they found out that a gas canister, used to heat the pan on the table, had exploded.
Poh Teck Tung foundation medics treated a woman at the scene before taking her to hospital. His Facebook post has since been read 40,000 times with 27,000 comments as Thais warned their friends about the exploding gas canister at the restaurants.
SOURCE: Thai Rath