Phuket Vegetarian Festival dates announced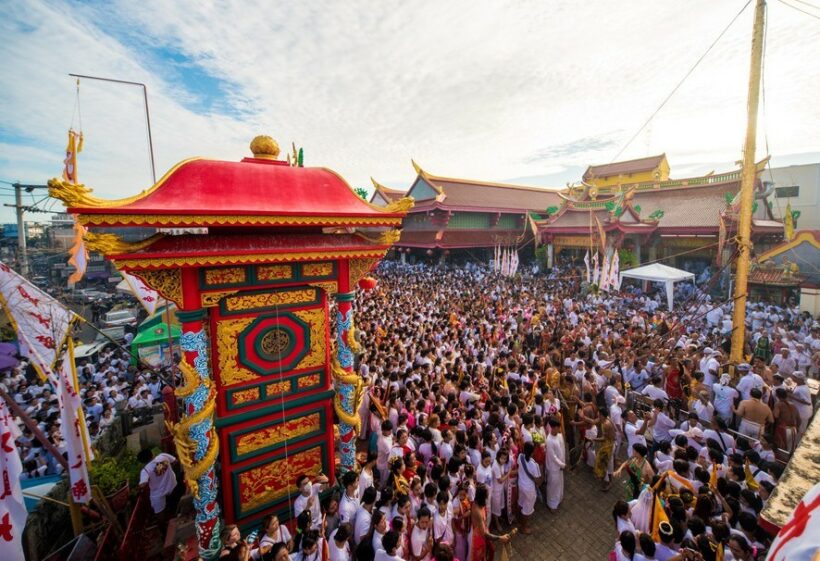 FILE PHOTOS
Phuket Vice Governor Prakob Wongmaneerung has announced the dates for this year's Vegetarian Festival.
The nine day festival will take place from October 9-17. The event attracts thousands of visitors to Phuket to witness the festivities, which include fire-walking, bladed-ladder climbing, daily parades, body piercings and, of course, hundreds of stalls fully stocked with vegetarian foods
Vice Governor Prakob says, "Many organisations will join in the annual festival. This festival is an ancient tradition which has been passed down through generations for over a hundred years."
Here's a look at the launch of last year's Vegetarian Festival.
The Vegetarian Festival is steeped in Chinese mythology, local animism, pagan ceremonies and cleansing rituals.
"An important additional ceremony for this year is a mass prayer session to honor HM King Maha Vajiralongkorn on October 10 at Shaphan Hin."
"We have to make sure that we provide quality, clean food. The Phuket Provincial Public Health will check the food quality.
"The Phuket Provincial Commerce Office will also check the price of vegetable and fruits so that we can be sure there is no price-gouging during the festival."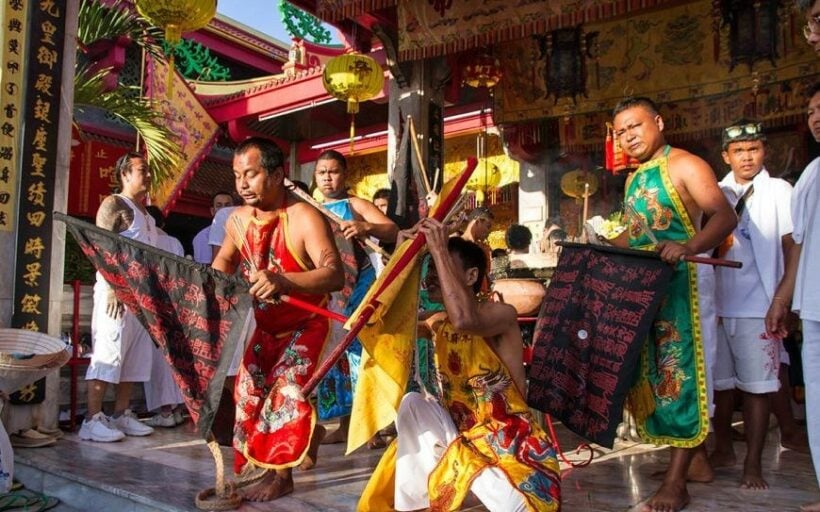 Read more headlines, reports & breaking news in Phuket. Or catch up on your Thailand news.
Residents protest the Phuket Governor over water shortages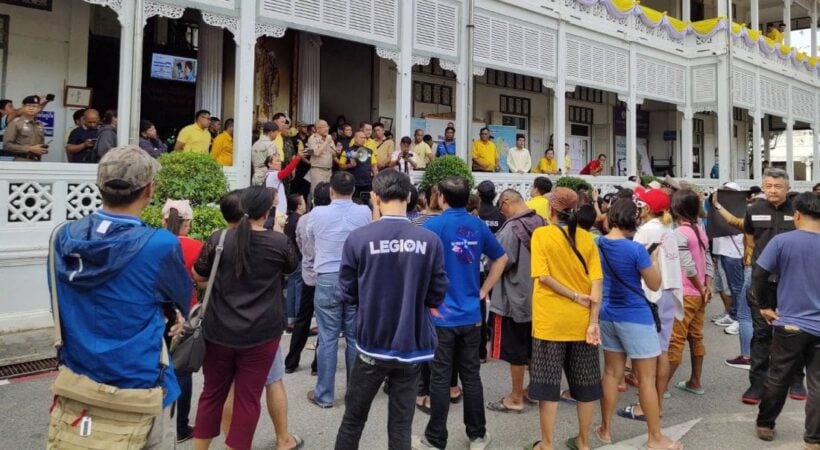 Local residents in Rassada have picketed the Phuket Provincial City hall to demand answers from the Phuket Governor over the current water shortages.
Phuket Governor Pakkaphong Tavipattana told the media yesterday they are managing to solve water shortage problems in Phuket throughout this dry season.
Whilst claiming that there was no 'drought crisis' in Phuket the Governor said… "All local administrative organisations must use their own plans to solve the drought by yourself."
The Governor even mentioned the 'C' word, whilst denying that there was any 'Crisis', blaming the media for beating up the story and saying the bad publicity will damage the island's tourist reputation.
The 'shortage' or 'management problems', or whatever you want to call it, are problems stemming from earlier inaction to foresee the water shortage problems and manage them appropriately. Instead of a plan to ration water earlier in the year, the island now faces critical water shortages with tankers rolling across the Sarasin Bridge in a convoy to assist in the non-crisis.
Today 15 water trucks from Rassada Municipality, the Phuket Water Work Authority (PWA), the Department of Disaster Prevention and Mitigation Phuket Office (DDPM), The Department of Rural Road Phuket Office and the Water Resources Region Office 10 Surat Thani rolled into Rassada. These water trucks are helping to distribute free water for residents in the east Phuket Town area.
Locals in Rassada, who have suffered most water shortages in Phuket, are now receiving free water instead of having to buy water following their protest.
Residents in Kathu, Chalong, Rawai, Koh Kaew, Thalang and parts of Phuket Town have been complaining over the past month that their water supply has been either cut off completely or reduced to a trickle.
So, no matter what Phuket's Governor wants to call it, thousands of residents around the island have been struggling with basic water supplies for up to two months.
On February 6 this year, the Phuket Water Authority announced water restrictions.
And then the day after, cancelled them.
In retrospect, the rationing would have been prudent water management and would have avoided the need for Rassada residents to protest and water trucks to be rolling across the Sarasin Bridge.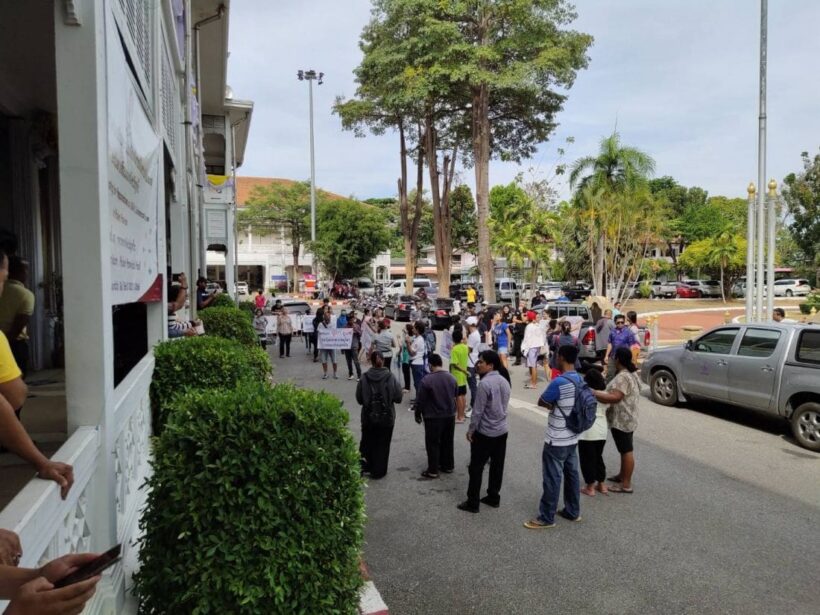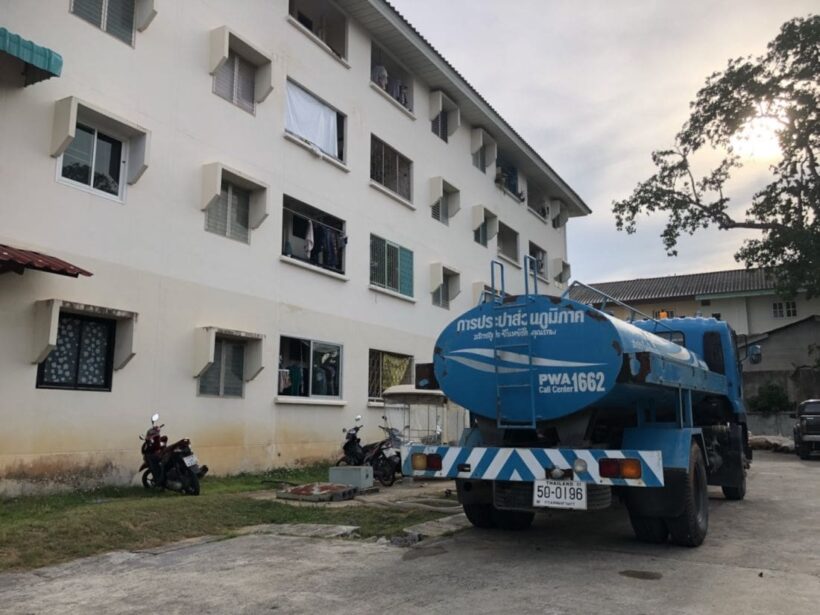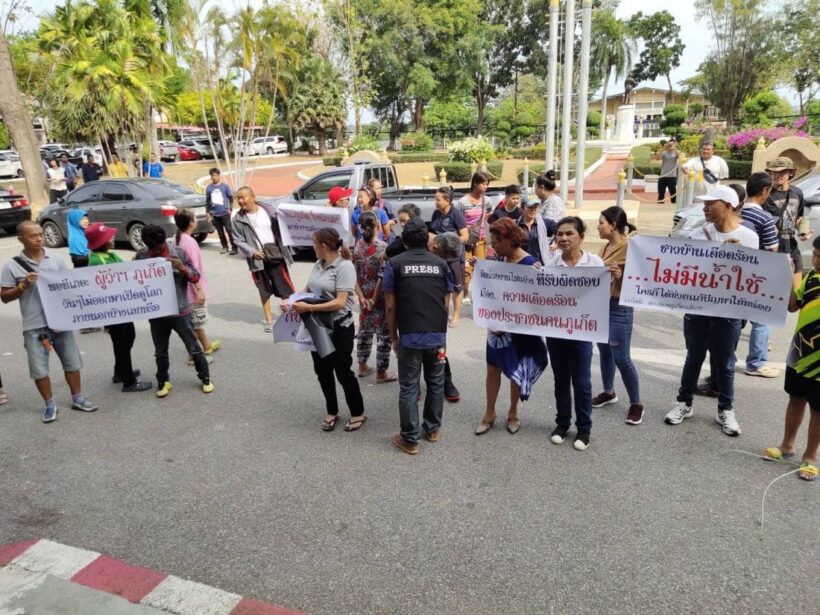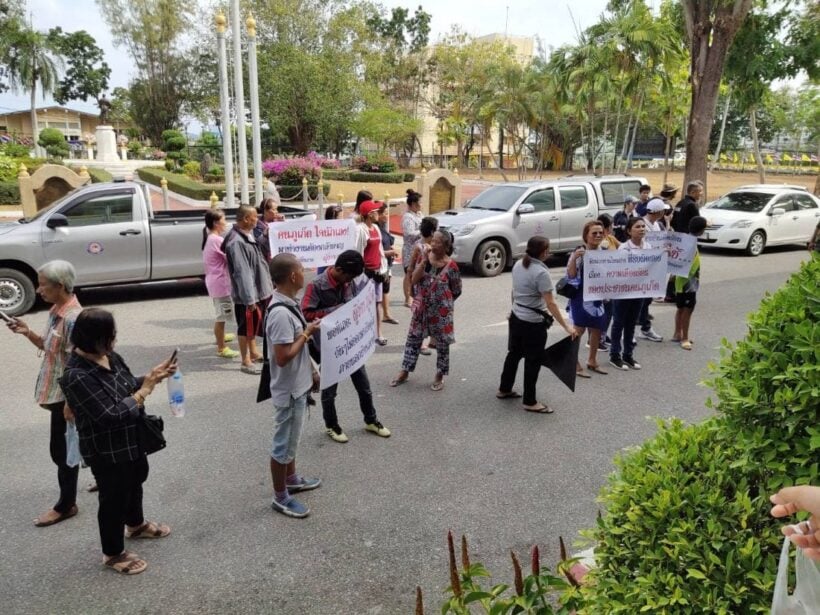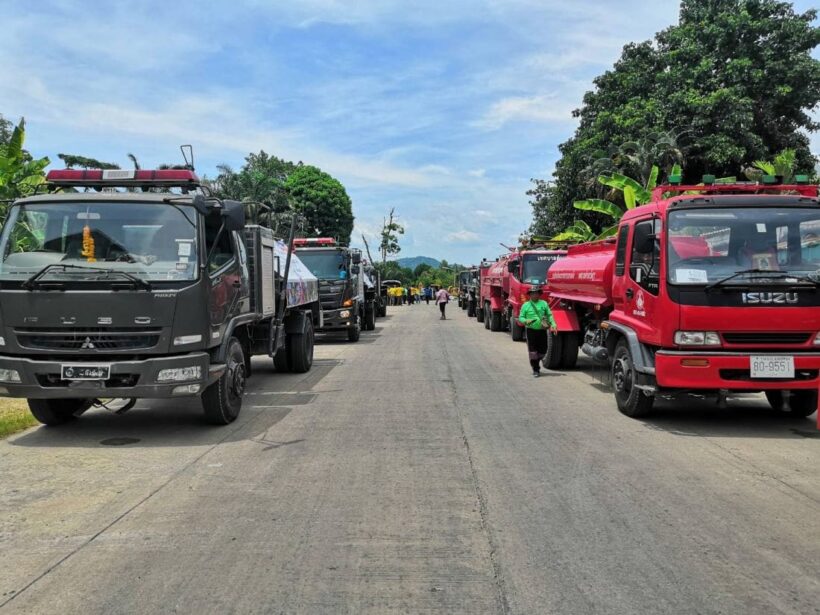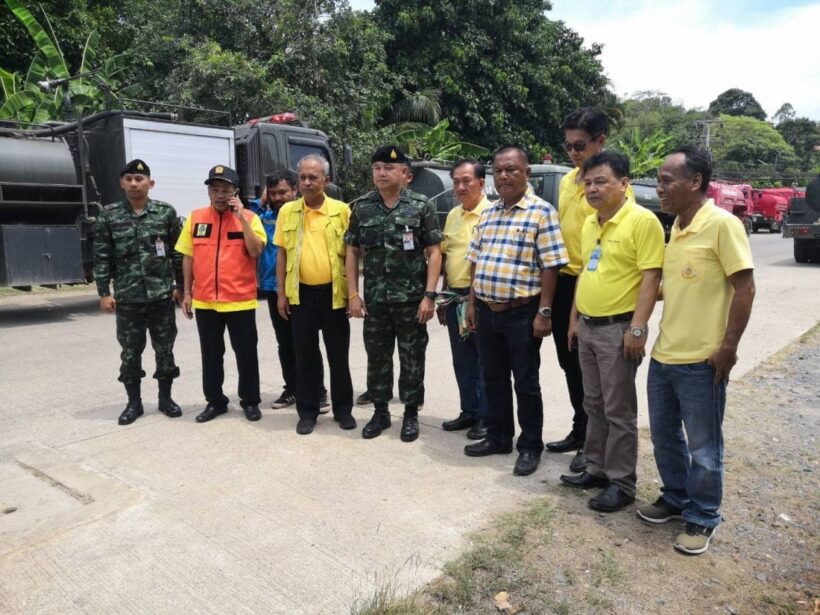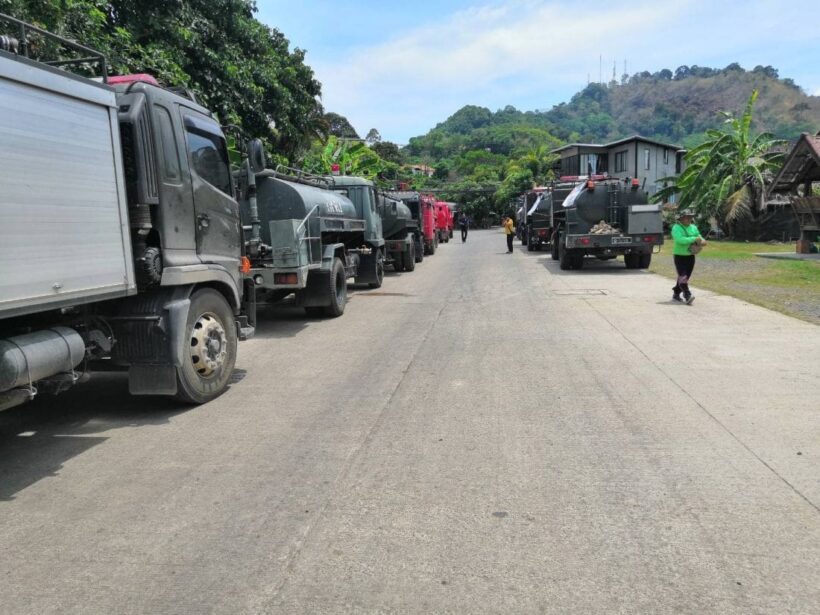 American arrested at airport after stealing speedboat in Krabi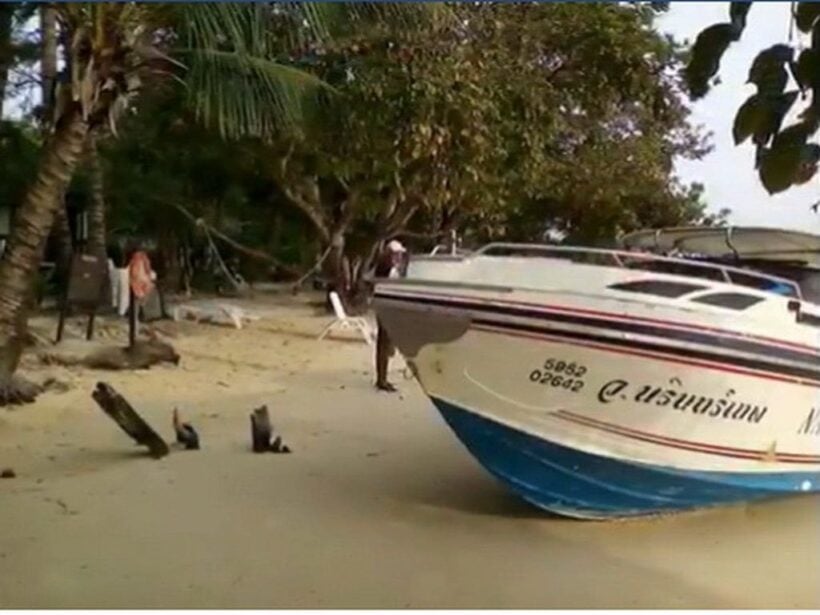 PHOTOS: Pudam News
An American tourist has been arrested after stealing a speedboat on Koh Phi Phi to drive to Krabi.
Koh Phi Phi Police Chief Col Kritsapas Detinthasorn says, "We received a report from Ms Apissamai Sangjan that her speedboat, which was moored at Ao Nang Beach, was stolen on April 19.  An allegedly drunken tourist jumped in, started the engine and drove away."
"On April 20 morning the boat was found 15 kilometres from Ao Nang. It had sustained damage. The value of the repairs was around 350,000 baht."
Police continued their investigation and identified the tourist, and aspiring speedboat captain, as 25 year old American man Parker Wilson Bishop. An warrant was issued for him over the theft and damage of the vessel.
Col Kritsapas says, "This morning we were notified from the Immigration Police at Suvarnabhumi Airport that Bishop was arrested at the airport. He has now been taken back to Koh Phi Phi Police to face legal action."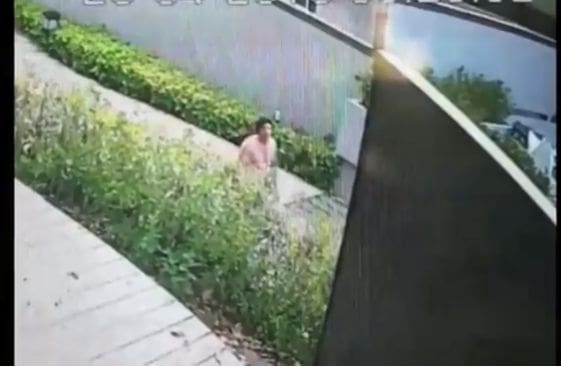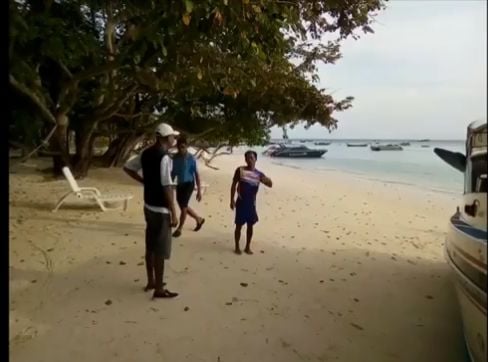 Phuket's seastead couple remain elusive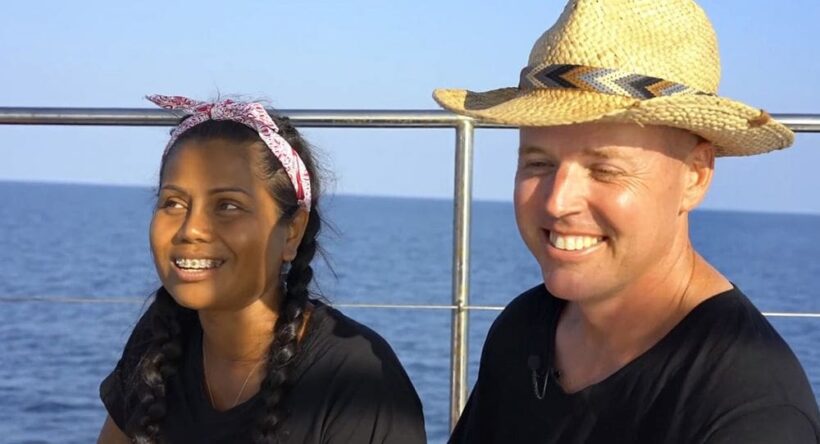 The Seastead may be under 24 hour guard at the Port of Phuket but the couple who were staying in the structure offshore from Phuket, and have become the international face of the seastead experiment, remain elusive.
According to Phuket's deputy police chief Pol Colonel Witoon Kongsudjai, their mobile phone signal identified the couple's last known location as Tarutao Island in Satun province.
"We are going to track them down," he warned in a familiar threatening tone to that of the Thai government who see the seastead project as a threat to national sovereignty and security.
Chad Andrew Elwartowski, an American bitcoin investor, and his Thai girlfriend, Supranee 'Summergirl' Thepdet have been accused of several laws violation, including taking action that diminish Thailand's sovereignty.
The authorities have already removed their floating 'home' from the Andaman Sea south east of Phuekt's Koh Racha Yai, and are keeping it as evidence for future court cases.
Police say they have prepared sufficient evidence ready and arrest warrants for the couple should be issued soon. At this point, police are waiting for the Office of the Attorney-General to appoint its officials to join the investigation into this case. The office's representatives are necessary because the alleged crime took place outside Thailand territory.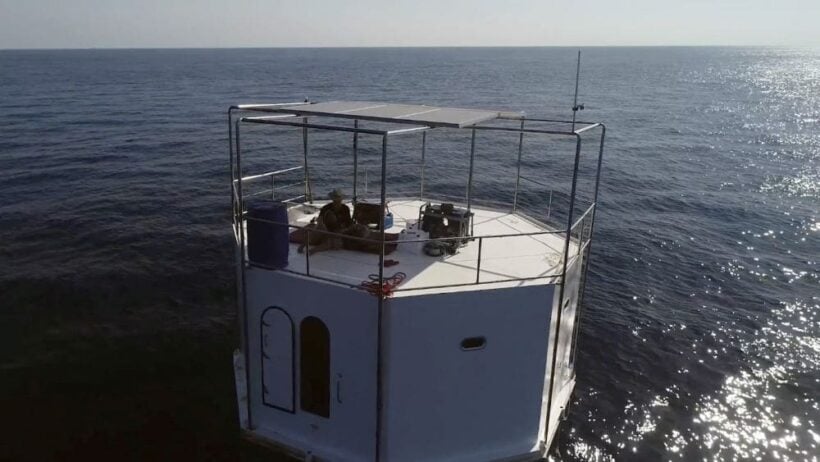 SOURCE: The Nation