Phuket Surf Series kicks off in Patong today

Surfing Thailand and the Phuket Surfing Club, is association with the Tourism Authority of Thailand is organising the "Phuket Surf Series 2018+ Khao Lak" that runs from today (June 30) to October 2018.
This falls during the annual 'Green' or monsoon season in Thailand's Southern Region, when swells out of the Bay of Bengal are most consistent for both beach and reef breaks along the Andaman coast. Phuket is Thailand's best surfing destination but is not yet on any of the international surfing tour circuits. Nonetheless, there are an estimated 300 Thai and foreign surfers in the region.
The "Phuket Surf Series 2018+ Khao Lak" will be held at Patong, Kamala, Kalim, and Surin Becahes in Phuket, as well as Pakarang Beach at Khao Lak, Phang-nga province, which will be the final event in the competition.
Ms. Kanokkittika Kritwutikon, Director of TAT Phuket Office, says: "The Phuket Surf Series 2018+ Khao Lak will further reinforce Phuket's image as a sports destination and generate tourism revenue for the province. The event will also help encourage surfers from around Asia and overseas to visit and participate in this series of amateur surfing competitions."
The Phuket Surf Series 2018+ Khao Lak will comprise six competitions during June to October 2018 as follows:
Pearl of the Andaman Surfing Championship 2018
30 June to 1 July, 2018, at Patong Beach, Phuket
Features four divisions: Short Board Man Open; Long Board Man Open; Short Board Women Open; and Long Board Women Open.
For more information, contact:
Mr. Decha Sithidej
Tel. +66 (0) 89 973 2161
Facebook: Dede Decha Sithidej
E-mail: [email protected]
14th Kamala Go Surfing Contest 2018
7 to 8 July, 2018, at Kamala Beach, Phuket
Comprising Open Short Board, Open Long Board, and Grom Under 14.
For more information, contact:
Mr. Aod Penmit
Tel. +66 (0) 89 866 7683
Mr. Vissanu Madsatool
Tel. +66 (0) 62 243 6953
Facebook Fanpage: Kamala Go Surfing Club
E-mail: [email protected]
REnextop 2018 (RAST) Asian Surfing Tour
18 to 21 July, 2018, at Patong Beach, Phuket
With four divisions: Short Board Man Open; Long Board Man Open; Short Board Women Open; and Long Board Women Open.
For more information, contact:
Mr. Chanin Aiyarak
Tel. +66 (0) 99 469 7896
E-mail: [email protected]
2nd Kalim Reef Surfing Contest 2018
3 to 5 August, 2018, at Kalim Beach, Phuket
Featuring five categories: Open Short Board; Open Long Board; Grom Under 14; Beginner; and Women Division.
For more information, contact:
Mr. Prasert Hamra
Tel. +66 (0) 64 948 3352
Mr. Santi Hasun
Tel. +66 (0) 83 107 0151
E-mail: [email protected]
Facebook Fanpage: Kalim Reef Surfers
www.kalimreefsurfers.com
2nd Surin Beach Surfing Contest 2018
22 to 23 September, 2018, at Surin Beach, Phuket
With three categories: Open Short Board; Open Long Board; and Grom Under 14.
For more information, contact:
Mr. Sayan Bureerak
Tel. +66 (0) 94 593 2107
Mr. Jumlong Sittichok
Tel. +66 (0) 81 270 8683
Facebook Fanpage: Surin Surfer Club
E-mail: [email protected]
4th Khao Lak Surfing Contest 2018
26 to 28 October, 2018, at Pakarang Beach, Khaolak, Phang-nga province
Also with five categories: Open Short Board; Open Long Board; Grom Under 14; Beginner Open (board cannot be over 7 foot); and Beginner Women (no board size limit).
For more information, contact:
Mr. Montree Na Takuathung
Tel. +66 (0) 86 403 6564
Facebook Fanpage: Pakarang Surf School
E-mail: [email protected]

STORY: The Nation


Read more headlines, reports & breaking news in Phuket. Or catch up on your Thailand news.
Air Asia apologises for its "Get off in Thailand" promotion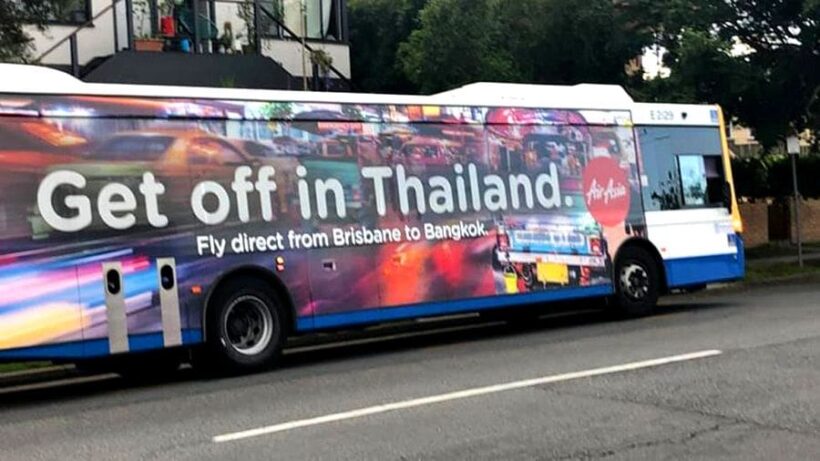 AirAsia has now apologised following an advertising campaign using the phrase "Get off in Thailand" was posted around the city of Brisbane to promote the airline's direct route to Bangkok.
Collective Shout, a campaign movement against the objectification of women says the marketing gaff promoted sex tourism in Thailand.
Melinda Liszewski, a campaigner at Collective Shout accused the airline of "promoting sex tourism."
Air Asia has responded… "AirAsia takes community feedback extremely seriously and the airline sincerely apologises for any inconvenience caused from recent concerns raised."
"AirAsia can confirm the advertising campaign has ended and we instructed our media partners to have the advertising removed as soon as possible today from all locations."
Brisbane City councillor Kara Cook branded the campaign an "absolute disgrace" and said "it should never have appeared on our city's streets."
The Australian regulator Ad Standards said while it had not received any complaints about the advertising on the bus, it had received one complaint about the same advertisement on a billboard.
The same ad is still on a billboard at Brisbane Airport, however the airport tweeted on Monday afternoon that it was being removed as a priority.
AirAsia began a new direct flight route between Brisbane and Bangkok in February this year.
An AirAsia spokesman said the campaign had since ended and the last advertisements were being removed around the city.
Petition aims to impeach Election Commissioners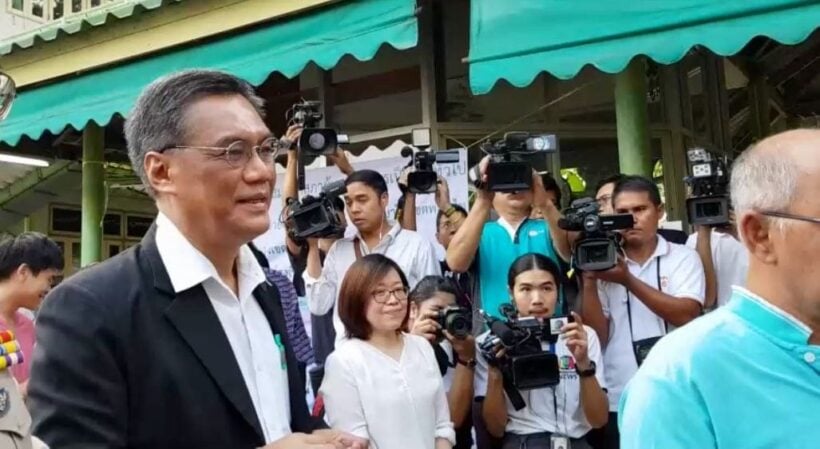 PHOTO: Election Commission chief Ittiporn Boonpracong – The Nation
More than 670,000 people have signed a petition at the change.org website calling for the Election Commission's five commissioners to be 'stood aside' pending an investigation in the aftermath of the March 24 Thai election.
Petitioners contend that the election was marred by mistakes, blunders and tampering.
The campaign could actually become a legitimate threat to the five commissioners due to the large number of signatories.
The petition may be submitted to the NLA speaker in the hope he would submit it to the National Anti-Corruption Commission. The NLA Senators would require 60% support to recommend impeachment of the EC commissioners, according to the Thai Constitution (Charter).
In the meantime the five commissioners would be suspended from duties throwing the election outcome into confusion.
Yesterday, former PM Thaksin Shinawatra, mostly silent during the campaign leading up to March 24, wrote an opinion piece in The New York Times alleging the number of ballots seemed to exceed the number of voters in some booths while in other areas voter turn-out was reported to be twice as many people registered.
His claims were made without evidence.
For their part, the EC claims they were cyber-hacked on Sunday evening.
Deputy EC secretary-general Nat Laosisawakul says, "There were three attacks that caused the system to crash twice."
"Some poll station staff also made errors in compiling the votes."
Parties race to cobble together a working coalition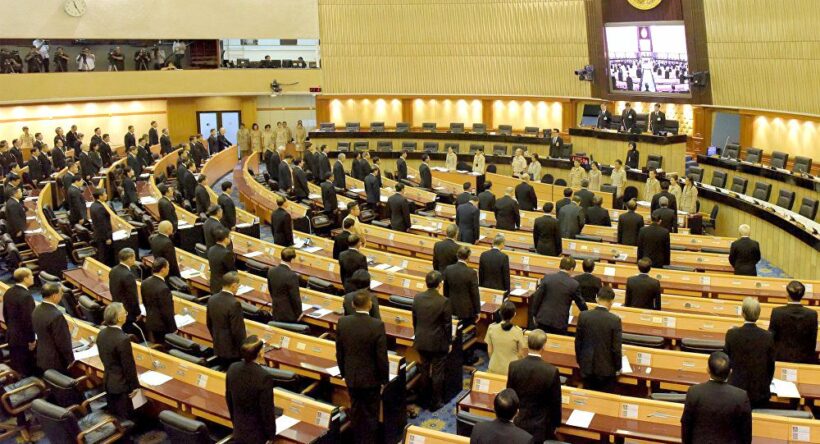 Day Two following the election and the only thing that is clear is that nothing is clear at this stage.
Pheu Thai and Phalang Pracharat are both claiming the right to form a government with support of like-minded parties.
The two rival parties, the pro-democracy Pheu Thai and the pro-Junta Phalang Pracharat, are locked in a close battle to form the next government with little difference between the two in terms of strength in Parliament.
The Phalang Pracharat Party claims it has secured the "popular vote" from people nationwide. But Pheu Thai argues it has won the most number of MP seats and therefore should be invited first to form the government.
With 95 per cent of votes counted as of last night, the pro-junta party grossed 7,939,937 votes nationwide while the Shinawatra-backed Pheu Thai was second with 7,423,361 votes.
In this election, under the new Constitution, the total number of votes for each party, irrespective of whether its constituency candidates win or not, are combined to determine how many MPs each party gets in total.
The Election Commission yesterday announced unofficial results of constituency winners. Pheu Thai Party became the single-largest party with 138 seats from all 350 constituencies. Phalang Pracharat, meanwhile, came second, winning 96 seats.
According to current media calculations, the total number of seats from constituency and party-list, Pheu Thai will get the most number at 138 while Phalang Pracharat will have 119. The EC has not calculated the number of party-list seats at this stage and may take the rest of the week to come up with a published result.
Though both parties can make equally strong claims to form the government, analysts believe it will not be easy for either to form the next Parliament.
According to the latest figures, the pro-junta camp can gain around 242 seats with support from parties who are clearly opposed to Pheu Thai.
The Pheu Thai camp can also muster 242 seats with support from anti-junta parties like Future Forward, Seri Ruam Thai and Prachachart.
"Only the winning party should lead the coalition," say the Pheu Thai' de facto leader Khunying Sudarat Keyuraphan.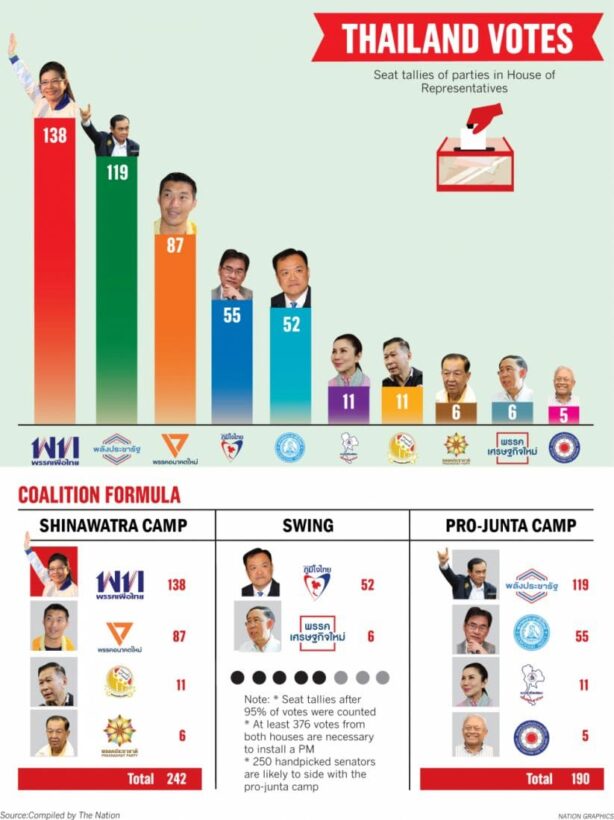 INFOGRAPHIC: The Nation
Pheu Thai secretary-general Phumtham Wechayachai said that the party was seeking collaboration with other pro-democracy parties and would discuss the PM candidate to find the best option for the country.
Pheu Thai leaders have also started putting pressure on the junta-appointed Senate, stressing that senators must be free of any influence and respect the people's voices as reflected in the election.
Later yesterday, Phalang Pracharat Party leader Uttama Savanayana claimed his party had won the right to form the next government as more than 7.9 million people nationwide had voted for them. He also said he was confident his party could successfully form the next government.
"Every vote is counted and has meaning. We have legitimacy, as we have gained the most trusted votes. Our winning results (with the most votes nationwide) show that voters have given us the mandate to govern the country," he said at a press conference after the EC announced the unofficial results.
"We will ensure that we will do everything according to the mandate of the voters who want us to move the country forward peacefully," he said.
A Phalang Pracharat source said negotiations were on with Bhumjaithai leader Anutin Charnvirakul, Chartthai Pattana leader Kanchana Silpa-archa, Suthep Thaugsuban of Action Coalition for Thailand and Suwat Liptapanlop of Chartpattana. The Democrat Party is also negotiating.
Anutin yesterday did not commit to joining any side, saying he would do whatever was in the people's interests.
Meanwhile, the Future Forward Party celebrated victories in 30 constituencies in its electoral debut. But its leader, Thanathorn Juangroongruangkit, said he had no intentions of bidding for the top job.
"The prime minister must be nominated from the party with the most MPs," Thanathorn said firmly at a press conference yesterday.
"I'm ready to be the PM. But we want to uphold democratic traditions and we won't bring in any conditions that would lead the country to another deadlock."
SOURCE: The Nation